When Sarah Hill first announced she was quitting her job and creating a startup, it was hard to imagine the equipment in her hands had the potential to revolutionize the technology industry. After all, she was holding a cardboard box.
"My friends and family are often confused when I tell them why I quit my job," Hill says. "They ask, 'Wait, you quit your job to sell cardboard boxes?' But once they see the technology, they get it."
Hill's spent so much time with this box that, now, she's dropped everything else to devote her life to it.
So perhaps it wasn't just a cardboard box. Hill was carrying Google Cardboard, a virtual reality viewer made of cardboard. This equipment opened the door to her new business, a virtual reality journalism company that seeks to "combine story and technology to raise awareness of the stories that hurt our hearts," Hill says.
This startup, appropriately titled StoryUp VR, became her full-time project in August, when Hill quit her job at Veterans United Home Loans. Since then, Hill's worked tirelessly with Google Cardboard — the cardboard box that changed her life.
The device, built like a pair of goggles and reminiscent of a '90s-style View-Master, works using a smartphone and smartphone app. When demoing the equipment, Hill taps an app on her iPhone, inserts the phone along a slit in the Cardboard and holds the device up to her eyes.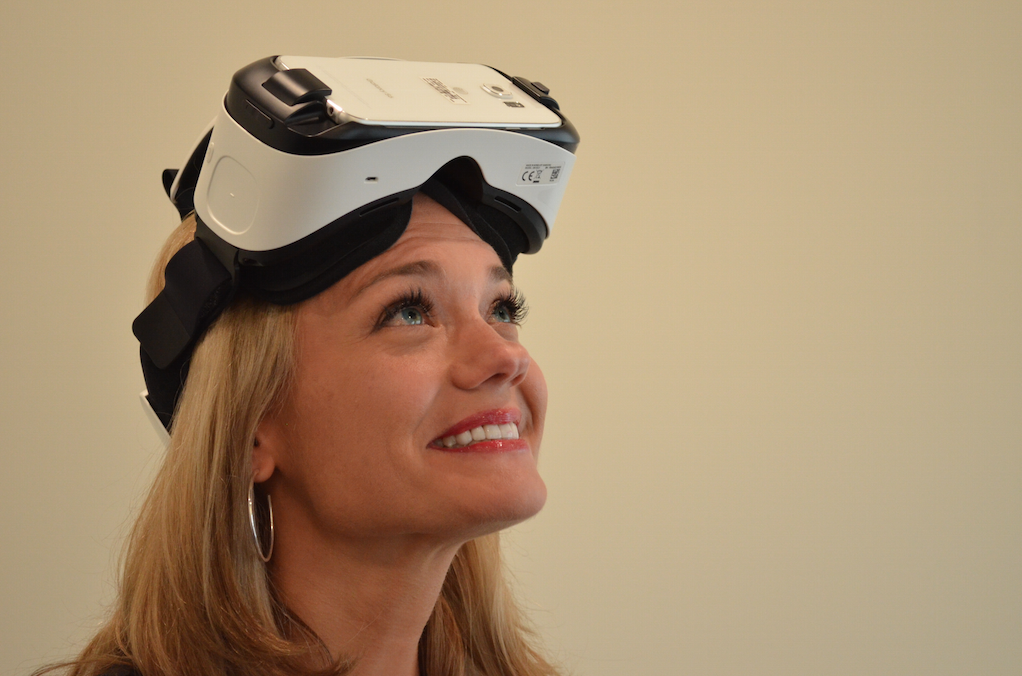 In the next moment, she's in a completely different place.
Swiveling her head to the right, the 360-degree, 3-D VR video follows her line-of-sight to show her a mountain range; tilting her head up, a flock of birds; blinking down toward the ground, a rocky plateau on which she "stands" — and a drop-off only inches from her feet.

A new technology, new company, new future

Collaborating with both Google and the VR company Jaunt, Hill uses equipment including Google Cardboard, Oculus Rift, Samsung Gear VR and Zeiss VR One. While operating as the sole employer at StoryUp VR, she hires freelance editors and videographers to assist her in her projects. As VR is "at the intersection of gaming and journalism," Hill says, she requires a lot of technical know-how from computer-savvy groups who can sift through production issues.
Those production issues were an incessant problem in the long history of VR. Initial experiments with VR began in the 1950s, according to an article by The Verge, when researchers saw the potential for video screens that could closely imitate human vision. However, late '50s stereoscopic screens were crude. VR demanded more advanced programming.
Decades later, in the late '80s and early '90s, VR found its foothold again. Designers began composing digital landscapes that simulated immersion in a video. VR companies bloomed across the Unites States, all hoping to grab a fistful of cash when this technology showed promising advances. But the digital images weren't lifelike enough to capture a nation's attention, and many of the companies went out of business within a few years.
Now in the 21st century, VR may have finally found the tools to survive. With events such as Facebook's 2014 purchase of high-profile VR company Oculus VR, it seems virtual reality may become the "next big thing."
But Hill wasn't looking to get caught up in virtual experiences when she first picked up Google Cardboard. In fact, she was interested in something else entirely: she wanted to get aging World War II veterans out of Columbia and to Washington D.C., where they could see their memorials.

The story that started it all
Hill's grandfather, a World War II veteran, died before he could see his war memorial. This tragedy stuck with Hill for years to come, influencing her storytelling until it led her to the doorstep of the Honor Flight.
As a news anchor and reporter at KOMU/Channel 8 for 11 years, she told "Sarah's Stories" on the air, and several of them focused on Honor Flight.
Honor Flight, a nonprofit organization created to fly veterans to visit their memorials, lacked a mid-Missouri chapter when Hill first encountered the program. Hill reached out to the community and asked anyone touched by her stories to help create a chapter near Columbia.
One of those audience members was Steve Paulsell. After having served for 31 years as the fire chief of the Boone County Fire Department, Paulsell was looking for "the next big adventure," he says. He called Hill, saying he'd be willing to help establish a local chapter.
Now, years later, the Central Missouri Honor Flight is alive and well, having produced 34 flights and sent more than 2,100 veterans to Washington, D.C. Paulsell is the current vice president of the local chapter and has traveled on all 34 flights.
"We've seen the impact the flight has had on all of these [veterans]," Paulsell says. "The vast majority [of veterans] tell us it's the greatest day of their life."
But though Hill was consistently touched by the efforts of the Honor Flight, she wasn't completely satisfied. Something continued to frustrate her: Not all veterans were physically able to make the trip. In the past, she'd tried live streams to bring the Honor Flight experience to immobile veterans, but bandwidth issues made the process difficult, sometimes impossible. Broadcasting a lifelike video stream to older men from miles and miles away wasn't working. She needed another solution.
So when she had the chance to test Google Cardboard one day, she knew the cardboard box could change everything. Immediately after demoing the technology for the first time, she called Paulsell and his wife and told them, "I have to show you this right now." She was already en route to their home.
After trying the VR technology for themselves, Paulsell and his wife agreed it could be life changing to veterans.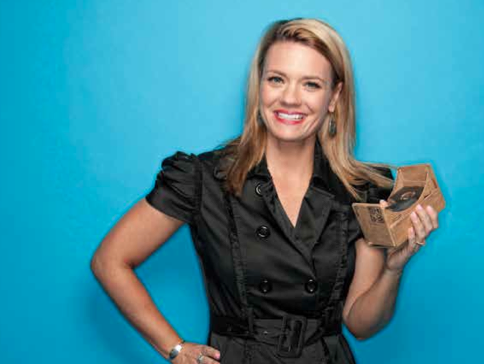 Using VR technology and grant money from the Veterans United Foundation, Hill collaborated with Central Missouri Honor Flight to create Honor Everywhere 360, a VR experience for veterans who cannot make the physical flight. The virtual video allows veterans to turn their heads and see the memorials as if they were really standing there.
Although Honor Everywhere 360 is still in the production process, Hill quickly realized her dabbling in VR could be more than just dabbling.
Now, she's invested her life and career into VR, moving StoryUp VR into the Missouri Innovation Center at the University of Missouri Life Science Business Incubator on Aug. 15.
A home base for a world-spanning business model
As the local "safe space" for startup businesses, the Missouri Innovation Center seems the perfect place for StoryUp VR to call home. Companies such as Hill's are provided with support, a business model, introductions to partners and even assistance fundraising as they get started.
Working with the center, Hill was able to create her business model for StoryUp VR. She plans to use YouTube ads on her spherical video experiences as a starting point, along with selling Google Cardboard on her website. But Hill believes investors will provide the real cash when they see the kind of work StoryUp VR is doing. She also says there's a possibility for creating paid, branded content that allows businesses to "StoryUp" their favorite cause or charity.
"Smart brands know they need to sell their story, not just their product, if they want to endear themselves to their customers," Hill said in an email. "It sounds counterintuitive, but a brand can endear itself to its customers by taking the mirror and turning it away from itself."
President and CEO of the Missouri Innovation Center Bill Turpin was no stranger to VR when Hill first approached him with this model for StoryUp VR. He'd spent 10 years in Texas and 25 years in California working with technology businesses and had even created his own VR company,The Multiverse Network, in 2004.
Although his startup went out of business in 2010, Turpin knew VR had potential, but he didn't know when it would bloom.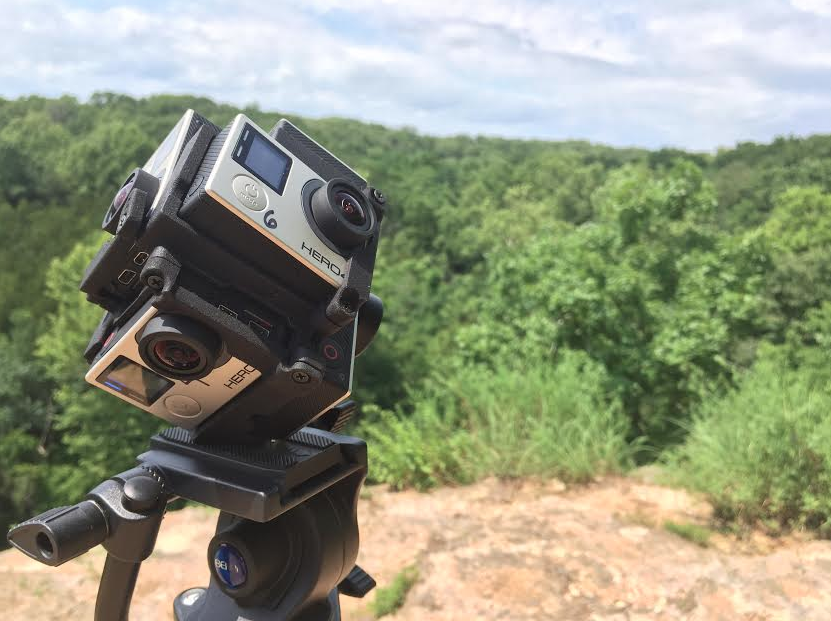 Perhaps he still doesn't know the exact moment when VR might change the world, but Turpin says he got a better idea when Hill first stepped into his office.
"There are a few times in my life when I remember seeing something for the first time," Turpin says. "One of those was seeing the Internet when it first came out, thinking, 'Wow, this is the future.' I had the exact same feeling when Sarah showed me her VR technology."
Turpin is also inspired by Hill's philanthropic mission to tell stories that "hurt our hearts," Hill says. By traveling around the world, she seeks to raise awareness of causes people might not otherwise know about, and Turpin says the Missouri Innovation Center is 100 percent behind her.
"A lot of a startup is the person who starts it, and [Hill] is a person I would bet on," Turpin says.

'Stimulating reality by capturing reality'
From Oct. 24 to Nov. 4, Hill plans to travel to Zambia, where she will record VR video of Zambian residents who lack mobility.
Forced to crawl on the ground using their arms, these people are often the result of tragic accidents or birth defects, and their lack of mobility can make them ostracized members of their communities.
Hill will film a fully immersive, first-person VR video from the perspective of one of these citizens. She hopes viewers will be prompted to empathize — and with VR 360-degree technology, they literally won't be able to look away.
"There are compelling reasons to use VR that can make a difference in the world," Hill says. "There are places and causes that people don't even know exist, and if people can't step inside them, they won't understand the real need."
After filming this experience, Hill will document the work of the P.E.T Project in Zambia.
The P.E.T Project, started in Columbia in 1994, builds devices that "go where wheelchairs can't go," says Director Gary Moreau. The devices, made out of yellow pine lumber and steel, look a bit like the child of a go-kart and a bike. The device is operated by a chain pulley, which users can twist with twin handles to move the P.E.T forward, backward and around.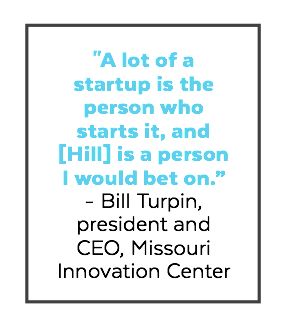 The P.E.T Project has made more than 50,000 P.E.T devices, averaging about three devices every two hours. P.E.Ts have been transported to more than 100 locations across the globe, delivered directly to communities with people who lack mobility.
Although the P.E.T Project continues to be successful, it struggles to find funding. And though Moreau admits he doesn't completely understand the technology behind Hill's VR ventures, he's excited about what opportunities her storytelling presents.
"What [P.E.T] needs and what we're really struggling to do is to grow into the digital age, and maybe with this VR, we can make big strides," Moreau says. "If Obama can fund his campaign on Facebook, maybe P.E.T can do the same thing through VR."
'The beginning of the beginning of the beginning'

Above all, Hill looks forward to the enormous possibilities VR presents. She counts future VR options off with her fingers: school fieldtrip experiences, live concert and sports footage, real estate home tours, choose-your-own-adventure games, distractions for young kids at the dentist's office and more.
Although StoryUp VR may not cover every one of those areas of VR, Hill is ready to see where her startup takes her.
"The world needs to be reshot using this technology because it creates empathy," Hill says. "Story, to an organization, is sometimes more important than any money."