Stankowski Field's Evolution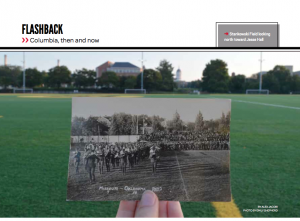 Although Stankowski Field is used today for MizzouRec programming, it began as the place for University of Missouri Football in the late 1800s.
In 1891 the space was set aside for Mizzou Athletics, but it wasn't until 1895 that money was appropriated to complete the football field. When $1,300 proved to be insufficient, James Sidney Rollins, a local politician and lawyer as well as one of the earliest supporters of MU, stepped in with additional funds and assistance in leveling the field. For this reason, the area was named Rollins Field.
In addition to the field, the area could hold 13,000 spectators and was the site of MU's first homecoming game in 1911, where 9,000 fans gathered to watch Mizzou play KU (the teams tied 3-3).
In 1926 Faurot Field at Memorial Stadium was completed, and Rollins Field began playing host to intramural sports for MU students. At the time, the area was just natural fields of grass.
Then in 1996, MizzouRec opened Stankowski Field under the architectural direction of Theis Doolittle Associates Inc. of Kansas City. The design for Stankowski Field then was exactly as it looks today, with a one-third-mile track, synthetic turf field and sand volleyball courts. Over time, turf and scoreboards have been improved, but otherwise, it has been used as is for almost 20 years. One significant change on the horizon for Stankowski Field is that the parking lot on the field's northwest corner will be home to the Trulaske College of Business's new expansion, the Applied Learning Center.
The center was named after Anton Stankowski, an accomplished Mizzou Football player in the early 1900s who lettered for Missouri in 1915, 1916 and 1919 and was an All-Missouri Valley Conference choice in 1916. He was also captain of the team that won the MVC championship in 1919.
As a part of MizzouRec, Stankowski Field is maintained through student recreation fees, $141.80 per student per semester, which also includes access to the Mizzou Student Recreation Complex.
Laura Salerno, associate director of sports, competition and facilities for MizzouRec, says creating Stankowski Field allowed the department to grow and has provided 150,000 visitors annually with more recreational opportunities.