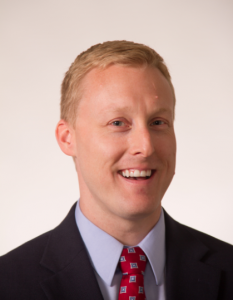 Name: Philip Naught
Title and company/organization: Benefits manager with Naught-Naught Agency
Age: 36
Job description: I help people navigate the ins and outs of today's complex health insurance world by providing customers a resource for quality insurance products, compliance needs and a superior service team.
Years lived in Columbia/mid-Missouri: 18 years in Columbia
Original hometown: Eldon, Missouri
Education: I graduated from the University of Missouri with a B.A. in psychology in 2000. In 2005 I earned the designation of Certified Insurance Counselor. I continue to educate myself on the changing insurance landscape by attending seminars and webinars related to health care reform.
Community involvement: I currently serve on the Columbia Chamber of Commerce Advisory Board and am a representative for Partners in Education for Oakland Middle School. I also help out with the annual Boost BBQ in Jefferson City that raises funds to provide nutritional supplements to cancer patients.
Professional background: I got my insurance license right out of high school and became a full-time insurance agent after graduating from MU. Since then I have worked with employers and individuals on their health insurance needs.
A favorite recent project: With the passing of the Affordable Care Act, there has been a lot of information for employers and individuals to digest. For the past few years, I have been helping to make complying with the law less stressful. I am currently working on a project that should help streamline the health insurance enrollment process.
A Columbia businessperson I admire and why: For sure there are many people in this town whom I admire, including Ruth Stone, who has been a mentor of mine since I began work in the Columbia office. That being said, my biggest admiration is for my father and how he has done so much to help the people in my hometown. I try to emulate what I have learned from him in a small-town setting and put those lessons to work for others in Columbia.
Why I'm passionate about my job: Insurance is important! Sure, not many people love talking about it, but I've seen firsthand how it helps the people who have a good plan in place and, even worse, what happens when they don't.
If I weren't doing this for a living, I would: Be a travel agent. I enjoy doing the research and planning our family adventures.
What people should know about this profession: It's a great way to help others protect their families and businesses. If you think insurance is a commodity, then you have been dealing with the wrong agent. A good insurance agent gives you options while bringing new ideas to the table.
What I do for fun: Fun is spending time with my family. I love to walleye fish with my dad and brother in Canada, take surfing lessons with my beautiful wife and watch the Tigers win. When I need some down time, I enjoy riding my bike on the Katy Trail.
Family: My wife, Autumn, and I recently celebrated our seventh wedding anniversary. We have our hands full with our 4-year-old daughter, Zoe, and our 3-year-old son, Oliver.
Favorite place in Columbia: One of our family's game-day traditions is to head to Shakespeare's Pizza. The kids love the pizza dough to play with while we wait.
Accomplishment I'm most proud of: Outside of my family life, I am proud to be part of a fun-loving team that is dedicated to our customers and community.
Most people don't know that I: Collect classic books on personal development and sales. Some of my favorites are