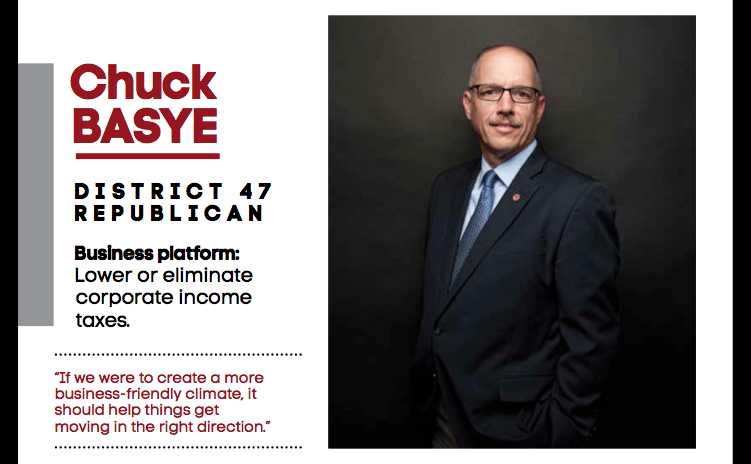 In 1993, Chuck Basye's brother started a carpet business in St. Charles, Missouri. Although he'd been very successful, when the economic downturn hit in 2008, he was forced to let workers go and began to personally man his shop for many extra hours. For a time, he made payroll from a home equity line of credit. Although economic forecasts show a bit of sunshine, Basye says the next priority for the Missouri House of Representatives to assist mid-Missouri businesses would be to reduce or eliminate the corporate income tax.
"It would allow businesses to reinvest that money back into their business, hire more people, which means more people paying taxes and fewer people unemployed, and it might encourage other businesses from other states to choose Missouri," he says.
Basye is a sixth-generation mid-Missourian from a farming family and operates a small farm with his wife, Rhonda, outside of Rocheport, Missouri, after retiring from working for the Federal Aviation Administration. "I haven't made a lot of money in my life, but I keep a close eye on the taxes I pay, and I think they are way too high," he says.
"That's why Burger King decided to move to Canada," he says. According to the Tax Policy Institute, Missouri has a 6.25 percent flat rate corporate income tax; neighboring Kansas has a flat rate of 4 percent as of the beginning of 2014.
"Whether it's sales tax, property tax or income tax, it seems like it's the first instinct of politicians to raise taxes to solve a problem, and I think we should look at that totally differently," he says.
Basye expects pushback on the issue; he admits it might be a "tall order" to get through the legislature. "I can almost envision what the argument would be against it: a reduction in revenue to the state coffers," he says. Basye says he hears that a lot; it was the argument used against the personal income tax cut that was passed in May. He counts that cut as a starting point for his initiative.
"I think the legislature's response [to this issue] would depend on the makeup of the legislature," he says. "Being that the Republicans are in control of the House and Senate, I think they would be receptive to at least consider it."
The race between Basye and incumbent John Wright has been projected as one of the closest races for the State House this year, but Basye has high hopes.
"[Wright] is very well funded," Basye says. "I can't outspend him, but I'm going to outwork him. We're going to be very aggressive moving forward. The way it's setting up, the dynamics are setting up in Republicans' favor."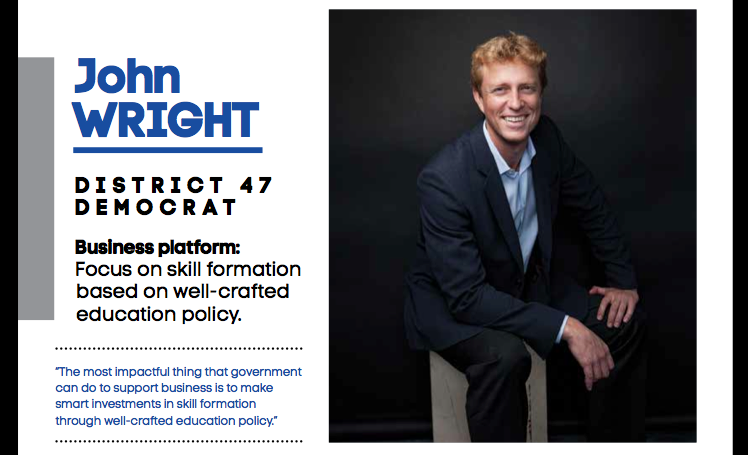 When John Wright sat down to talk with Brant Bukowsky, one of the owners and founders of Veterans United, he asked, "What can we do from a policy perspective to support your business and other entrepreneurs like you?"
"He said, without hesitation, 'Double the number of IT grads coming out of the University of Missouri in the next five years because that talent is the lifeblood of our business and other rapidly growing businesses like ours,'" Wright reports. "We're very fortunate in mid-Missouri to have great educational institutions, but we don't always have the commitment from the state level that those institutions deserve."
Education has been one of the main tenets of Wright's first two-year term in the Missouri House of Representatives. He was the ranking minority member on the House Higher Education Committee. This year, the House voted for a 5.2 percent increase in funding for MU, the largest increase in state support since 2001. Although the university has had a rapid rise in enrollment — up by one-third since 2000 — state funding remained stagnant for a decade, so funding per person had declined by one-third as well coming into this year.
"That put a lot of pressure on tuition rates and student-to-faculty ratios through the 2000s," he says. "If we want to have a great university, we have to be committed to it, not just in Columbia but as a state." This year, the legislature also voted to increase funding to the state's two primary college scholarship programs by 25 percent.
For K-12 education, Wright also authored a bill passed earlier this year, signed by Gov. Jay Nixon in July, which will enable public school districts around the state to add voluntary early childhood education programming in elementary schools. This was one of the top legislative priorities not only of education groups but also the Columbia Chamber of Commerce and the Missouri Chamber of Commerce.
Moving forward, Wright would like to see continued commitment to funding for higher education and, at the same time, "take a hard look at university budgets to make sure those dollars are being spent wisely."
He would also like to see additional changes in early childhood education on the private side, allowing for the Missouri Department of Education to assess the quality of private early childhood educational programs that receive state funding.
"People often observe that Columbia appears recession proof, and sometimes they mistakenly think it's because we have a large public employer here," Wright says. "But Jefferson City has a much larger public employer than we have, and Jefferson City is almost 'expansion proof' — it hasn't grown in decades. Columbia is a vibrant economic community because we have great public schools and a great university that functions as a skill-producing machine, fueling local business."
Caleb Rowden will be the first to celebrate the economy's continuing recovery, but he's also the first to admit there's more to be done.
"Many businesses are hesitant to take the leap, whether those are existing businesses or entrepreneurs — they have to have confidence to hire more people or start something new," he says.
"I know that's a generic problem," he says, "but it manifests itself in specific ways.
The first? "Lower taxes so businesses will have more money to invest back in their businesses."
The second, a very high priority for Rowden, would be to create a "reassuring regulatory environment," he says. "There are so many new regulations on a plethora of industries right now. They're dealing with new things every day, and they often have to hire more people just to stay on top of growing regulations."
His suggested solution is to take a hard look at the regulations on the books and determine those that are out-of-date. For example, during his first term in the State House, regulatory focus was on the alcohol industry. Many of the regulations were set up decades ago, when there were still many dry counties.
"Folks in that industry were still living under some weird regulations and some that were even contradictory of each other," he says. "We can't just put [a regulation] on the books and keep it there forever."
Review is only the first step for Rowden.
"We also need to be more mindful in Jefferson City when we introduce changes, anything that causes businesses to change their habits," he says. This begins with industry input on potential regulations. Not only does he speak of the value of a variety of backgrounds in the House but also actively pursuing input from the private sector.
"If we're talking about introducing something that's going to affect our banks, then I come back to Columbia and talk to my friends at Boone County National Bank or Commerce because I'm not in the banking realm," he says.
During Rowden's first term, he has experienced a "broad coalition of support from across the business community," he says. "And that's what affords me easy access to people with expertise in these industries." He was also fairly intentional while creating an inner circle of eight to 10 individuals from a variety of industries, both private and public. "And they aren't all Republicans," he adds.
In the next two years, if elected, Rowden would like to host more public forums and issue-driven public events. On September 4, Rowden, along with the rest of the Boone County delegation, hosted an infrastructure forum where anyone with an opinion — from business owners to cyclers — could share their input on transportation issues.
"Columbia is so engaged and educated," he says. "It makes Columbia what it is. People here are willing to engage and be a part of the solution."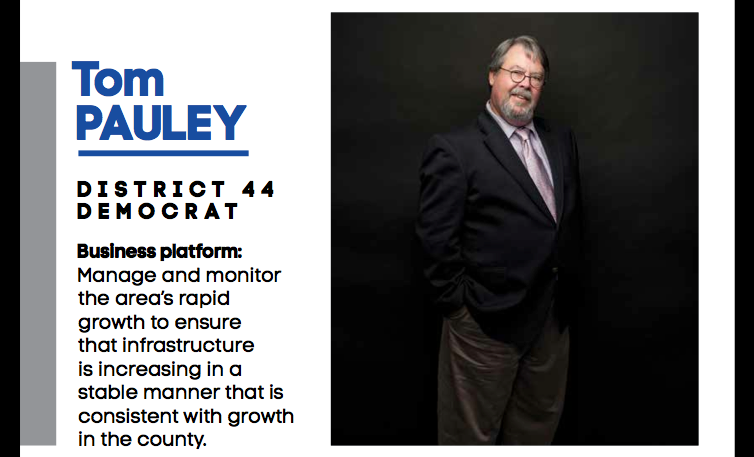 For more than two decades, Tom Pauley worked in the sheet metal industry, until a career-ending injury and a passion for public service thrust him onto the political stage. A Boone County native, Pauley returned to school to receive his political science degree from the University of Missouri. Throughout his time living and working in Boone County, Pauley has seen firsthand the sometimes-negative effects that rapid growth has had on the community. "The more people and businesses that move to Columbia and Boone County, the more we need to monitor growth and infrastructure issues so we know what services need to be provided," Pauley says.
Pauley believes that rapid growth from incoming university students, graduating students entering the workforce in Columbia, developers moving into the area and an increase in businesses entering the Boone County area have caused a strain on local infrastructure, which presents potential problems as to what services need to be provided to accommodate the sudden growth.
To manage growth, Pauley states that representatives need to present a well-researched and educated plan that balances strong financial planning and measured growth. "The most responsible course of action is to look at where we are in terms of growth, where we want to go and then practically and pragmatically lay out a plan to get there," Pauley says.
However, Pauley is quick to warn against quick fixes that are implemented haphazardly. "You don't cut spending by cutting income," Pauley says, adding that slashing budgets and cutting taxes only hurts the economy by diminishing income for both the state and the county.
Pauley believes that growth also needs to be constantly monitored. He says this will ensure that infrastructure is increasing in a stable manner that is consistent with growth in the county. "As in any political situation, compromise is essential, and the extremes will not accomplish the goals," he says.
Although he concedes that radical measures can sometimes be the means to an end, he believes that bipartisan plans are the most logical way and have the best chance of getting through the legislature. "My guiding principle is that with every piece of legislation you present, you need to ask yourself the following questions: What is good about this? What is bad about this? Who does this hurt? Who does this help? Who is paying for it?"
In the end, Pauley says the most important thing he can do while in office is to protect the type of environment in Boone County that is conducive to business and offers an affordable cost of living without, as he puts it, "giving too much credence to groups that may not have the interests of our community at heart."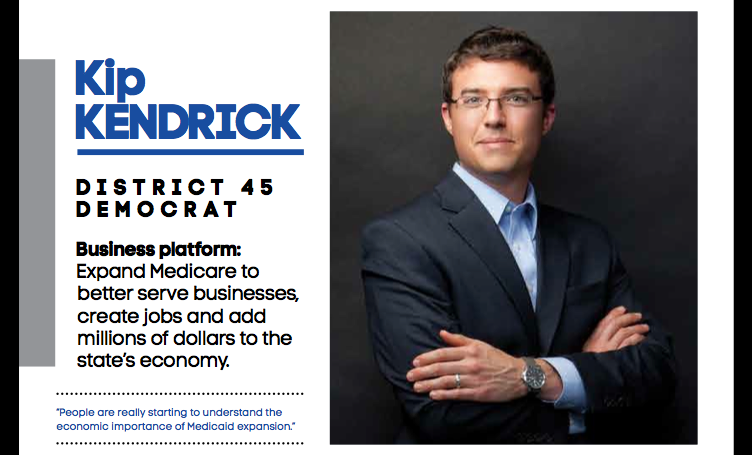 Since moving to Columbia in 2004, Kip Kendrick has positioned himself throughout the community as a neighborhood association president, as an employee of two of Columbia's higher education institutions and through involvement with the office of Boone County Family Resources. After seeing all these different facets of life in Columbia, Kendrick says he believes the biggest problem facing business in mid-Missouri, and Missouri residents in general, is Medicaid expansion.
"First and foremost, it is the right thing to do for Missouri, but more than that, there is a purely economic argument to be made for Medicaid expansion," Kendrick says, stating that expanding Medicaid will add $50 million a year to Boone County's economy and create 2,400 jobs a year in central Missouri, primarily in Boone County.
"We need to quit dragging our heels on this issue and get past the philosophic divide," Kendrick says. He says the longer expansion takes to get approved, the more economic benefits the state loses out on. Kendrick predicts that over the next six years, Medicaid expansion will add $855 million to the state budget, which he says will help with dwindling general revenues and Boone County's increasing infrastructure issues.
Because Kendrick believes Medicaid expansion is closely tied with job creation, he has been using his time as a candidate to reach out to more than 190 local business and community leaders to get their opinions on Medicaid expansion and the issues they believe need to be addressed in the legislature.
"Overwhelmingly, from the people I spoke to, I heard time and time again how important Medicaid expansion was to the people in this community," Kendrick says. Kendrick plans to use the information he gathered from these community members to help him inform his decisions in Jefferson City.
Although, if elected, Kendrick with be part of a super minority in the House, he believes the legislative climate in the House is conducive to approving Medicaid expansion.
"People are really starting to understand the economic importance of Medicaid expansion, and I strongly believe we can get it approved in the very near future," Kendrick says. He believes the most important task in getting Medicaid expansion through the legislature is learning to work across the aisle and compromise with Republican party leaders.
"There are a lot of smart, dedicated people in Jefferson City right now, and I'm looking forward to continuing their work," Kendrick says.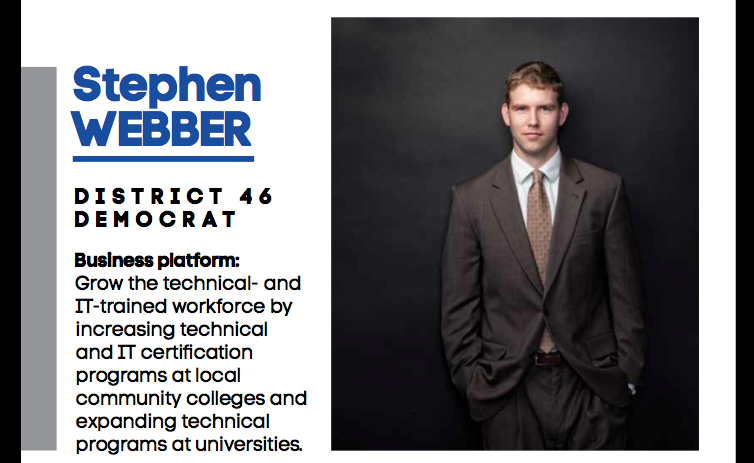 In November 2008, at the age of 25, Stephen Webber was elected to his first term in the Missouri House of Representatives. Three terms later, Webber says that his experience in the House has given him the opportunity to discover the issues that are truly important to business leaders in Columbia. "Over the last few years, when I've talked to business leaders, a lot of them have complained about not having enough people trained in IT and technical fields," Webber says, adding that he received formal letters from about 20 mid-sized and large companies throughout the area that stated this was an important issue to them.
Webber says that the disparity between the types of applicants companies in Boone County need and the types of positions that local job-seekers are qualified for is inhibiting the possibility of expansion for many companies, which in turn hurts the economy for the entirety of Boone County. "It's incredibly frustrating talking to business leaders who tell me they have positions to fill but no qualified candidates to fill them and then later the same day talking to people who are unemployed or underemployed and can't find anywhere to work," Webber says.
Webber says the issue of underqualified or unqualified candidates boils down to an educational output problem. To fix this, Webber says legislators need to consider both short-term and long-term solutions. "In the short-term, legislators need to increase IT and technical certification programs at local community colleges. Increased training output at these can be done very quickly at the community-college level, with qualified applicants completing their programs and entering the job market within two years," Webber says.
However, for a longer-term solution, Webber says technical programs at universities, specifically the engineering school at the University of Missouri, need to be expanded. First, Webber says funds need to be raised to expand the capacity of the engineering school by adding an additional building. Secondly, he says the number of graduating engineering students also needs to be increased to 500 graduates a year. To raise these funds for expansion Webber says legislators have two options. The first is to increase the amount of bonds that are allocated to the engineering school, work that Webber started during his last term.
"We took a huge step last year in expanding the bonding capacity of the engineering school so we can complete an expansion, but those bonds have yet to be issued," Webber says. This money is part of a proposal to approve almost $1 billion in bonds that would be used to improve infrastructure throughout the state.
Webber says the second option for raising funds would be to increase the amount of money for the project that would be allocated from general appropriations.
Although there is high competition for funds, Webber is confident that through the work he and his fellow representatives have completed in previous sessions and with the support of the more than 20 local business leaders who have expressed a need for qualified IT and technical personnel, he can use his last term as a state representative to see the project fulfilled. "It boils down to: Do we have enough confidence to invest in ourselves?" he says. "And I think Missouri has the talent and the potential to be a great investment."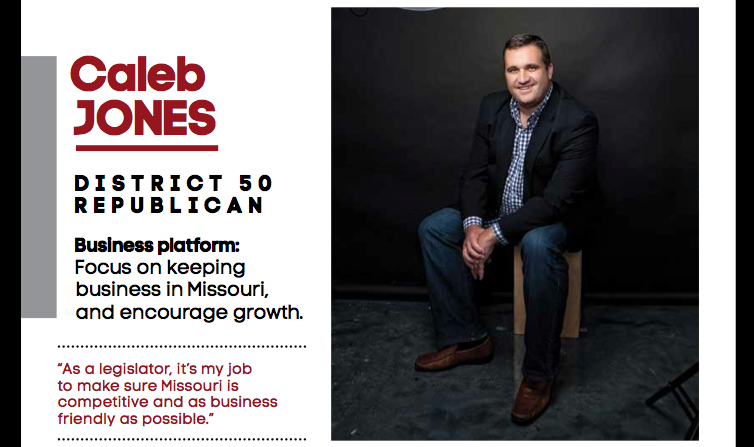 Caleb Jones views economic development as a three-pronged approach: having lower taxes, less burdensome regulations and a skilled workforce.
"We have quite a toolbox of economic incentive packages to entice companies to move here," Jones says, "but we need to focus more on promoting the expansion of businesses we already have here.
"They're already a part of our community. If they want to expand or grow, they need to have an environment that allows and promotes that growth."
Although there are already some economic benefits small to mid-size companies can receive by hiring more workers, Jones would like to see that program expanded. He would also like to see less burdensome regulations to keep operating costs down and "make sure we're competing on at least a similar playing field as other states throughout the country."
His primary goal would be to continue to review current regulations and make sure they "do what they're supposed to do." According to Jones, one recently changed tax policy provides a perfect example.
"Say you build widgets here and shipped them all to Oklahoma; you're paying Missouri taxes if it's made here, even if it's not distributed or sold here," he says. During his second term, a bill was passed that exempted products made in Missouri, but not sold in Missouri, from state taxes. But the Department of Revenue ruled that only applied to manufactured products. "So companies like H&R Block providing services in California were still being taxed in Missouri," he says. Last year, the House passed a bill exempting services, too, although Governor Nixon vetoed it and an effort to override the veto failed.
"This is just one regulation out there; there are more regulations that need to be reviewed, and we need to spend more time looking in depth at how they affect day-to-day business," Jones says. "And the only way to do that is to talk to business owners."
During his time in office, the House passed its first income tax cut since 1921. Moving forward, Jones would like to see the House "take a serious look at tax structure in Missouri and update it."
When it comes to the third prong, having a skilled workforce, Jones believes Missouri — and particularly mid-Missouri — is a leader.
"We have many business in Boone County and mid-Missouri that are data oriented, and those technical jobs require very intense specific training," he says. Jones says that if the state continues to produce a highly skilled workforce, it will be able to keep high-paying jobs associated with those tech companies in Missouri or even attract more companies requiring highly skilled workers.
"When businesses see states spending a lot of time and money to reduce regulations and tax burdens on businesses, and they see Missouri not doing that, it's a problem," he says.