Girls Weekend Getaway at Lake of the Ozarks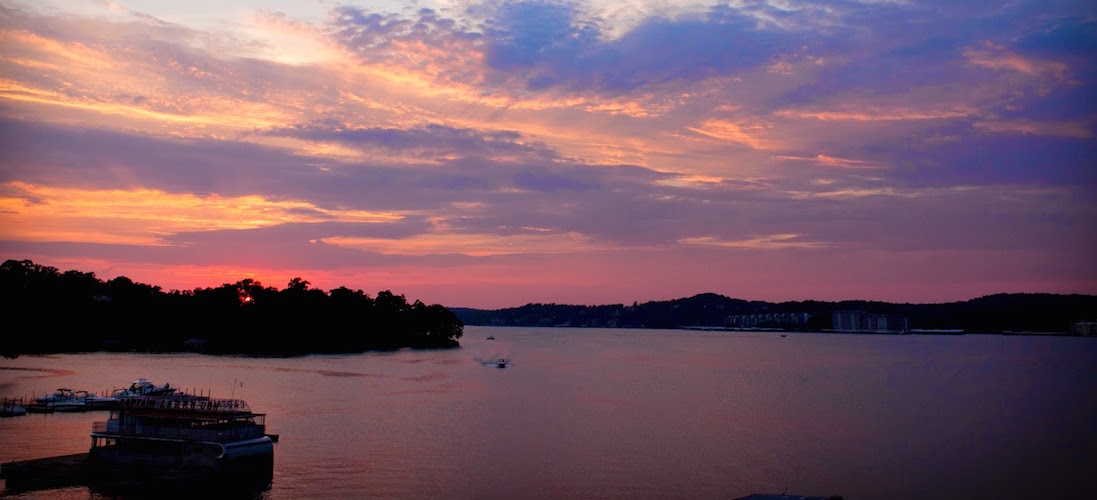 It's marked on your calendar months in advance, maybe with a few underlines and stars around it because the much-needed weekend with your best friends can't come soon enough. We've all been there, especially during the summer months when a bit of vitamin D and water can work wonders on your spirit. What better place to spend a few days of R&R than at Lake of the Ozarks, where pampering and fun in the sun is just a short drive away?
But of course, we would never put our Columbia Home stamp of approval without testing it out first, and we give this weekend getaway a standing ovation. Evident by the special details at each stop and the overwhelming hospitality, the lake knows how to cater to visitors. There is an undeniable sense of personalization and true passion behind the people who work in this community.
The reservation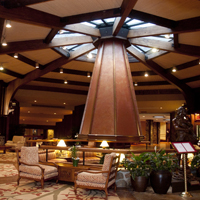 If you're looking for a great deal and an all-inclusive setup, the Shop, Shop and Chill package at Lodge of the Four Seasons is the way to go. For $199 per person, you will receive: • two nights of accommodations in the main lodge for two people; • breakfast in Breezes each morning; • a cocktail in the Lobby Bar or THIRST nightclub; • a 25-percent-off discount in Resort Designs, including free gift wrap; • one 25-minute neck and shoulder massage at Spa Shiki; • one 45-minute basic pedicure at Spa Shiki; • a free round of golf each day (weather permitting); • complimentary shuttle service to Osage Beach Premium Outlet Mall; • checkout at 2 p.m. on the day of departure.
Not only is this package a steal, but also the staff at Lodge of the Four Seasons was welcoming and accommodating throughout our entire stay.
The Ride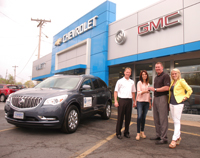 The best part about a girls' weekend is the time spent together. The easiest way to spend a bunch of time together is to cruise around in the same vehicle. Jason Hulett of Hulett Buick Chevrolet GMC hooked us up with the perfect crossover that was comfy, spacious and offered tons of high-tech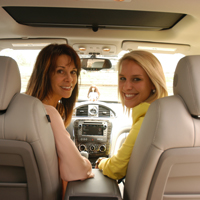 options. When the driver is busy gabbing with her gals in the backseat, she can easily answer her phone, send a text message or change the radio station, all hands free. And if everyone is wiped out from the day's activities, the sleeping passengers won't be bothered because the hum of the running vehicle is essentially silent.
Relaxation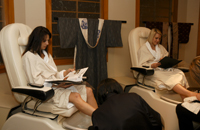 With the weekend getaway package, the neck and shoulder massage and basic pedicure are included. Trust us, at Spa Shiki, you are in good hands. Upon arrival, you'll be greeted by Kathy Murdock, reservations manager, who was polite and pleasant as she got us settled into the locker room and collected our lunch orders. Her five-star training was evident from the second we walked in the doors.
As you maneuver throughout the serene environment of the spa, you're engulfed in delicious smells of aroma therapy scents, including rosemary towels outside the steam room. Accompanied by lavish robes, hot tea and fresh fruit, we were in heaven — and this was before our spa services.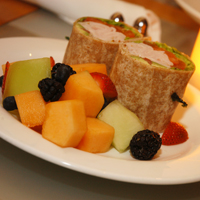 It's no wonder the spa has received recognition from Spa Magazine, SpaFinder, Midwest Living, SELF and the Today Show. The Spa Shiki staff was friendly and knowledgeable about the various salts, oils and lotions they were using, including in-house product creations. We received tip-top treatments from Hannah Isaacson, Emilie Perryman and Jane Rothstein.
Good eats
Breezes: The lemon ricotta pancakes were a personal recommendation from Susan Koplar Brown, owner of the Lodge, and boy, was she right. The unique combination had our mouths watering from the second they were set on the table until the very last bite.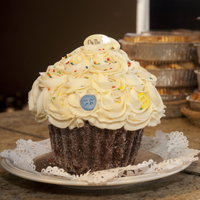 On the Rise: The decadent homemade pastries greeted us as we entered the adorable bistro. From start to finish, the experience was unforgettable, including prewarmed coffee mugs to fill with your choice of coffee and personal service from Jenny Donnelly, who has been proudly serving at On the Rise for 14 years. She served us all of On the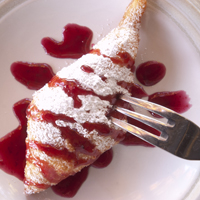 Rise's most popular dishes, which we recommend in total: strawberry and pineapple mimosas, pepper bloody Mary's, French market beignets with raspberry melba sauce, bananas foster French toast, European eggs benedict, the southwestern omelet, fresh fruit and a cinnamon roll, which On the Rise also uses to make its bread pudding. Between courses, we were taught how the siphon coffee maker worked; it produces a bold brew that's the perfect balance between espresso and coffee.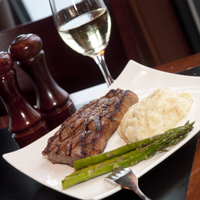 Baxter's Lakeside Grille: Located up on a bluff overlooking the beautiful lake, Baxter's is the ideal setting for a sunset meal. Featuring popular seafood favorites, the menu offers a variety of delicious steak, fish and entrée specials. Be aware of the nightly featured items. Baxter's occasionally offers a Piedmontese strip, and it's the only restaurant in mid-Missouri that serves it. After the main course, you absolutely cannot skip dessert when you're there. The caramel gooey butter cake topped with cinnamon ice cream left us speechless. Completed with a complimentary take-home photo from our waitress, Ella Houston, the entire meal was an over-the-top experience.
The Blue Heron: Wining and dining is the name of the game at The Blue Heron. The original restaurant, which opened on Independence Day in 1984, has undergone some renovations this year, with a new private dining room that seats up to 32 guests and the relocation of the cocktail lounge. The restaurant's batter-fried lobster tail is a must-order menu item that followed owner Joseph H. Boer from a previous restaurant, and the breaded onion rings are a recipe that he perfected with seasonings sure to give your taste buds a punch.
Daytime entertainment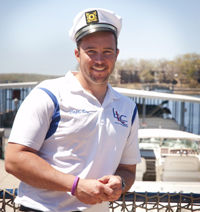 Leisure Lake Charters LLC: Capt. Ben Beecher is sure to be your best friend after he charters you and your closest friends around the lake for the afternoon. It's the perfect event for a group of friends looking for the best the lake has to offer.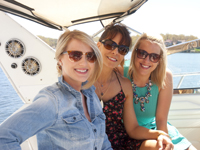 You can enjoy the sun and the drinks and visit all the popular coves and lake bars without having to worry about driving a boat. Weekends and holidays fill up fast, so Ben and his business partner (also brother), Mike Beecher, suggest booking early. Visit leisurelakecharters.com for pricing and guidelines.
Shawnee Bluff Winery and Vineyards: The roadside and lakeside winery offers a relaxing atmosphere complete with a pool, tiki bar, fire pit, tasting room, barrel room for private parties and nine hotel rooms. The Shawnee Bluff wine options are personalized with unique names and photos of the winery's very own working women. And all throughout the summer, the vineyard will be hosting a concert series with performers such as 3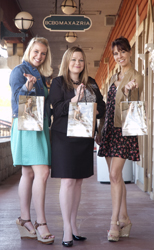 Dog Night and Grand Funk Railroad.
Osage Premium Beach Outlets: No girls' weekend is complete without a little shopping time, and with the outlet's deals and savings, we couldn't resist spending a little time there ourselves. Before you dive into your shopping adventure, make sure to visit premiumoutlets.com, and then stop by the outlet offices to redeem coupons for the VIP Shopper Club, 50 Plus Shopper Perks and more. With 119 stores on 62 acres of land, make sure to plan plenty of time here. We ran into sisters Joyce Kelling, Opal Reimal and Carol Holmes, who were enjoying a girl's weekend themselves.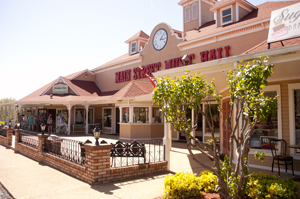 The Landing on Main Street: A not-so-commercial spot to spend some cash are the shops on Main Street. It's filled with eclectic antique, thrift and boutique shops, including Shabby Chic Boutique. The store, owned by Brenda Cribb, offers vintage fashion and home décor with its sister store, The Front Porch of Shabby Chic, just across the street. Chef Lynn Phelps' treats sitting in the windows of Sugar & Spice lured us in and made for a great pit stop during our shopping adventure.
Happy Hour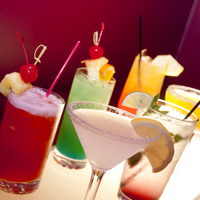 Located inside the Lodge of Four Seasons, HK's is the perfect happy hour location featuring festive summertime cocktails created by beverage manager Shaun McDonnell. We sipped on mojitos, margaritas, lemon drops and lake waters that were as eye catching as they were delicious. Complimentary pizza baked in a wood-burning stove is served during happy hour, and if you're enjoying a later dinner, we also recommend the homemade guacamole. Executive Chef Jon Quint really outdoes himself with the classic summertime dip.
Evening Entertainment
We didn't have time to check out all of the nightlife at the lake, but we got some suggestions from locals who frequent these bars. If you're looking for live music, Bootleggers is the place to be, especially on Saturday nights. Bathwater Jack's is also a popular location to enjoy live music. Other bar suggestions with nightly specials include Casablanca, Shady Gators, Beavers at the Dam and the Blue Room.
A special thank you to:
Susan, Mark and Ashley Brown, Lodge of the Four Seasons Mike and Ben Beecher, Leisure Lake Charters LLC Kathy Murdock, Spa Shiki Mike Castle, On the Rise Bakery & Bistro Ted Geiger, Baxter's Lakeside Grille