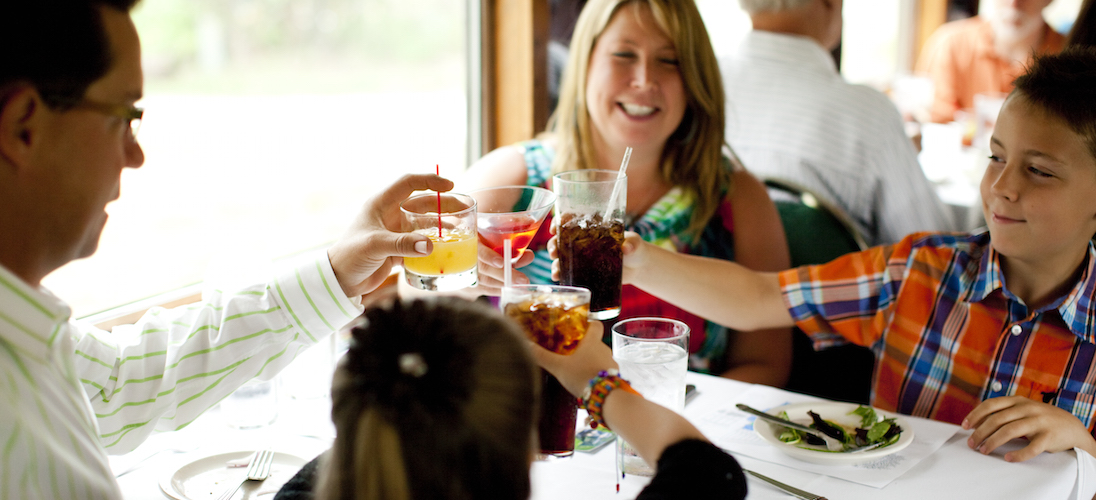 Looking for a dining locale to suit your picky pint-sized eaters as well as Mom and Dad? We've got you covered.
To be a truly kid- and family-friendly destination today, restaurants realize they have to step up their game on multiple levels. Frozen fish sticks and a goofy hat aren't going to cut it. The little ones are expecting grub as good as Mom and Dad are getting, and a little flair or creativity helps even the picky eaters find something to order. Flat Branch Pub and Brewing, Shakespeare's Pizza and 44 Stone Public House, among many others, know this and can satisfy parents and kids equally well. But you're probably already going to those places (and if you aren't, you should be). We decided to track down a few under-the-radar family-friendly destinations.
Lonnie Ray's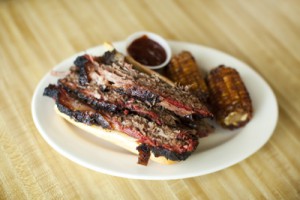 Every child has been told not to play with his or her food. You were. I was. Mike Whiteley likely was, too. He just didn't listen. Mike is the owner and head cook at Lonnie Ray's Cafe and BBQ in Harrisburg. For 10 years he's been turning out barbecue that wows purists and playful types in equal measure, all from a charmingly divey shack just 20 minutes north of Columbia.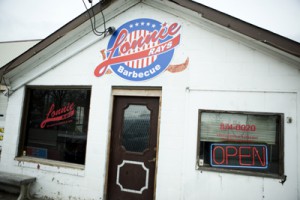 Mike calls his barbecue style "MoTex," an ode to the Texas-Kansas City hybrid he's crafted. The purists (and Mom and Dad) should start with the brisket, which Mike smokes to a juicy, smoke-ringed interior and a perfect, peppery crust. I'd put it up against anything I've had in Kansas City or, for that matter, the Lone Star State itself. The pulled pork is no slouch either. It's lightly smoky with bits of "bark," the aim of every barbecue cook, amateur and professional alike. The Gee Wilikers sandwich, a monstrous creation of smoked bologna, onion rings, pickle slices, pepper jack cheese and coleslaw, could feed two easily. It looks like a giant barbecue sundae and is as tasty as it is daunting. Also for grownups: fiery charro beans and a Philly cheesesteak sandwich made with smoked brisket.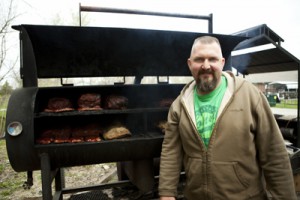 If you're detecting a creative streak in the Lonnie Ray's approach, you're on the right track. "I always think, 'What's out there that people like that we could maybe put a twist on and make it even better?'" Mike says. "A lot of people are just blown away; it's just totally unexpected."
For kids, or the kid inside us all, there's also much to get excited about, such as fried corn with Mike's punchy rib rub seasoning. The smoked — yes, smoked — mac and cheese will banish any memory of the boxed variety. And all barbecue sandwiches at Lonnie Ray's can be made smaller for the little ones for just $3.50.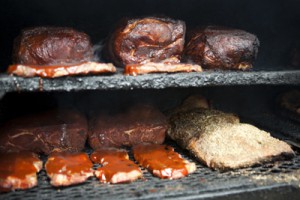 Mike's barbecue empire wasn't built alone. Business partner Brandon Millikane has been there since the restaurant opened in 2004. While Mike tends to the smokers, Brandon runs things out front, delivering the dishes, bussing tables and explaining what the "Brother Loves Brisket" is (that's the brisket Philly cheese).
Columbia Star Dinner Train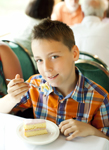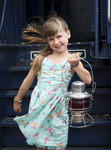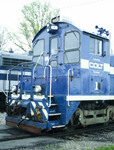 Food is fun. Trains are fun. It should come as no surprise that trains with food are great family fun. Still, as I board the Columbia Star Dinner Train with my wife and two kids, I can admit to a little trepidation. I don't know what to expect. And how good will the food be?
We're welcomed outside the train by B. Allen Brown, the gregarious new owner of the Columbia Star's parent company, for the new Sunday Family Dinner ride. "We are looking to recreate the classic Sunday afternoon dinner experience when all the family would get together for a hearty, home-cooked meal but also give them an experience they won't forget," he says.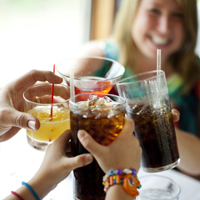 That experience consists of a two-hour ride in a restored 1930s passenger car pulled by a Pullman locomotive on the city-owned COLT Railroad track. The trip begins on Brown Station Road and winds leisurely through the Boone County countryside past homes and farms and unusual and interesting sights. Kids wave from back porches, Shetland ponies graze and a family searches for morel mushrooms in the woods alongside the tracks. There's more than enough scenery to keep the kids interested and conversation lively.
And the food itself? There's no need to worry. Chef Scott Hampton has worked at the University Club and Jina Yoo's Asian Bistro, and he knows his way around a kitchen. This particular kitchen, however, is rocking back and forth as the train trundles down the track. "It definitely took some getting used to," Scott says of his unusual cooking space. "We can't run a deep fryer, obviously. But after a while, we developed a system, and I think it works pretty well."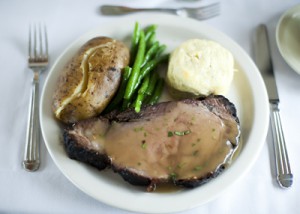 I agree. A salad of spring greens, cherry tomatoes, cucumber and a light vinaigrette is topped with a crust of pan-fried Parmesan cheese. It's a hit with everyone. Cocktails arrive. A "Derailer" for me and a Manhattan for my wife; the kids opt for colas. Some might gripe at the ride itself — traveling up the track to Centralia before reversing field and returning to Columbia — but you have to be pretty cynical not to enjoy the Missouri countryside from a train when you have an expertly crafted Manhattan in hand. A toast to family and interesting adventures is made, and a few minutes later, out come the main courses. I start with a meltingly tender prime rib, and it's one of the better ones I've had. Soon the wife wants a bite, so we trade plates. Her chicken is excellent as well: herbaceous and cooked just right. Not to be outdone, the kids' chicken tenders and mac 'n' cheese draw oohs and ahs from their side of the table.
"This can't be easy to pull off on a moving train," I say. But Scott and his staff turn out high-quality food all the way down to the homemade biscuit and fluffy raspberry dessert. The Columbia Star isn't done evolving either. Since taking the train over in November, B. Allen has made changes to the train's reservations policy, the schedule and has big ideas for special events and rides. And judging from the other riders on board — a family celebrating a young boy's birthday, an attractive couple on a date and a group of older adults recalling a more elegant means of travel — the dinner train's appeal is sure to grow.
The 63 Diner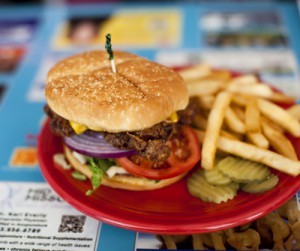 "The homemade meatloaf, cheesy potatoes and rolls on Thursday nights, the twice-cooked chicken with homemade mayo, the pasta primavera, chili cheddar burger, the personal touch and affordable prices. A little bit of everything." I'd asked The 63 Diner manager Nikki Creason what makes the place so popular with regulars and families alike after 25 years in business. She has trouble narrowing it down. After my first meal there in many moons, I can see why.
For one thing, the place is just fun. Every wall is decorated with photos of movie and music stars from the 1950s and '60s, every ceiling tile adorned with Snoopy in a pedal car or a giant hamburger and an Elvis in seemingly every corner. It's over-the-top Americana for sure, but you'd have to be a pretty jaded soul not to get at least a little into the vibe when a Frankie Valli or Sam Cooke hit comes on over the speakers. Still, if "Heartbreak Hotel" won't do it for you, the food at The 63 Diner will.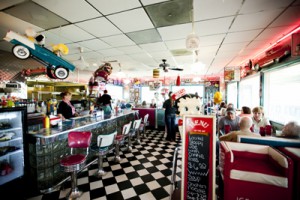 Our 6-year-old is excited for her cheeseburger, which comes with a choice of fries or applesauce and a self-made sundae at the end (a recipe for laughs and memories if not for post-lunch naps). I ask her if she prefers this or a certain similarly themed burger chain better. "This, totally," she says. "Their applesauce is really good." I steal a bite of the burger, and it's better, too.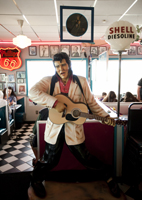 The 10-year-old, forever in the throes of a grown spurt, nearly polishes off his sizable double cheeseburger (add bacon, add mayo) but needs a little help from Dad. It's beefy, well-seasoned and perfectly cooked and beats your garden variety burger any day.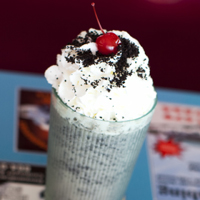 I go with the aforementioned and semi-famous Chick's Twice-Cooked Chicken Sandwich, a breaded chicken breast perfectly fried and topped sparingly with teriyaki sauce and a slice of cheese. It's crunchy, soft and just a little sweet. Red onion, lettuce and tomato on a buttery, lightly toasted bun round out one of the diner's top-selling dishes. What would a visit to a classic American diner be without a milkshake? Whether you're interested in the timeless chocolate milkshake or something more creative, The 63 Diner can take care of you on that front as well as anybody.
The servers for their part don't seem the least bit tired of the oldies hits playing over the speakers; they laugh with one another and the kitchen staff and welcome regulars by name. Each one seems genuinely happy to be there. Although The 63 Diner has seen owners and customers come and go for a quarter century, it remains fun, friendly and a surefire hit with both young and old.