The Love Guru on Attraction
at•trac•tion [uh-trak-shuhn] (noun)
Attraction. When it comes to humans, it's physiology, psychology and even our intuition. The truth is, attraction is primal, and we all want to feel it.
Twenty-one years ago, I was a divorced professional woman with a 5-year-old son named Zach. This was before Christian Mingle, Match.com or any of the now often-used tools that open the door to attraction. I had only been in Austin, Texas, for about six months and didn't have a large circle of friends. No one at church or work seemed to hold that special attraction. What was a busy woman to do? I finally began scanning the personal ads in the Austin newspaper.
Some were "I like walks in moonlight" ads, and others were just scary. Then I came across an ad that caught my eye. It was simple:
"47 YO WM seeking a special relationship with someone to share my Goldwing and Sailboat. Not interested in a white picket fence. "
I took a deep breath, called the code number and listened. The ad was placed by a man named Gene: engineer, outdoorsy, three grown sons and ended with "not interested in a white picket fence."
Suddenly I was attracted, not only by the words but also by the sound of his voice. It was deep and soothing. I left a short message (not using my real name) and explained how he could reach me. I went to sleep that night desperately wanting to meet this outdoorsy engineer who didn't want a white picket fence. I couldn't stop thinking about that voice, and maybe it was the intrigue of "no white picket fence."
So what attracts us? Science says that it's symmetry. After measuring countless faces, we find beauty and attraction in the faces with symmetry. There's also the science of smell or olfactory. A person's pheromones hit our subconscious olfactory senses and cause intense feelings of attraction. Beyond pheromones, we all have those not-so-subliminal reactions to the smell of a perfume or my mother's meatballs that take us to a place of rich memory, desire and sometimes attraction.
I didn't have to wait long to hear that voice, even though I had to strain to hear it. "Outdoorsy Gene" was in Sturgis, South Dakota, with about 100,000 other people on motorcycles, all who gave no consideration to a guy on a pay phone trying to connect with a woman. We chatted for 20 minutes, and his voice was just as warm and enticing as I remembered. He was an engineer who worked at Motorola for about 15 years, enjoyed riding his Goldwing and lived on his sailboat with his 18-year-old son. So no, he had "no white picket fence." The fact that I had a 5-year-old son didn't seem to faze him, and he promised he'd call later.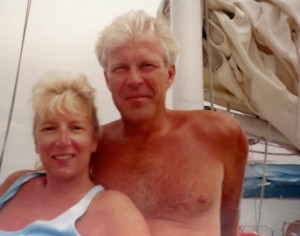 Studies show that people who have long-lasting relationships tend to have similar personalities. Personalities, sharing values and common goals are the threads all woven in this complex mix of attraction.
Over the next week, Gene and I talked frequently on the phone. There was no texting or Facebook back then. We had no idea what the other looked like, but the attraction was undeniable. Finally, our first date was set. Zach and I were invited to dinner with him and his son on his sailboat. I gave every bit of information I knew about him to my best friend for safety, and I could not wait to meet the man with the voice.
Studies show that when going on a first date, women look for the three R's: respect, readiness for a relationship and realistic expectations. It's putting the first bricks in the foundation of "what might be."
The only thing Zach knew about the evening was that we were having supper with a new friend. As we walked down the dock, the man with the voice greeted us. He was tall with white hair, and his kind demeanor was the prefect complement to the voice. His son James joined us for supper: a first date of four. The evening flew by with comfortable conversation, Zach running around the top of the boat examining every rope and fixture and Gene passing the three R's test with flying colors. At the end of the evening, Gene walked Zach and I to our car with the promise of a call the next day.
According to a study by J. Philippe Rushton, a psychologist at the University of Western Ontario, based on a set of heritable personality traits, having similar genetics plays 34 percent of the role in friendship and mate selection.
After that first date came a second. There was the first kiss and that learning curve of sharing. Neither of us ever dated another person, and about a year later, Gene and I were married on the bow of the boat at the dock where we first met.
When Zach got to the age when he was formulating ideas about his own relationships, he asked me why Gene and I talked so much. I admit that no matter where we were or what we were doing, there were usually three or four phone calls a day. It was never an "I'm checking up on you" call; it was always to share an experience or a moment. After thinking about it a while, I summed it up for Zach. "I just have to hear his voice and share my day with him," I said. Even after 21 years, there is so much more than that voice that holds my attraction.