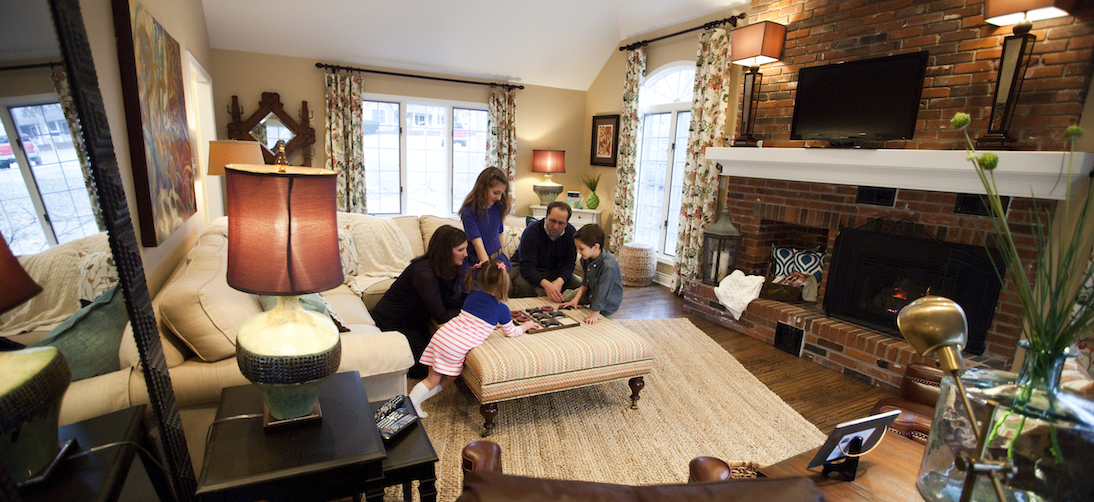 Staged by Sherry Hockman
Homeowners Rachel and J.R. Lawless purchased their home for its prime location and undeniable charm, and, with the help of an impressive design team, the couple was able to transform the house into a functional, kid- and pet-friendly space that works for their lifestyle.
The Living Room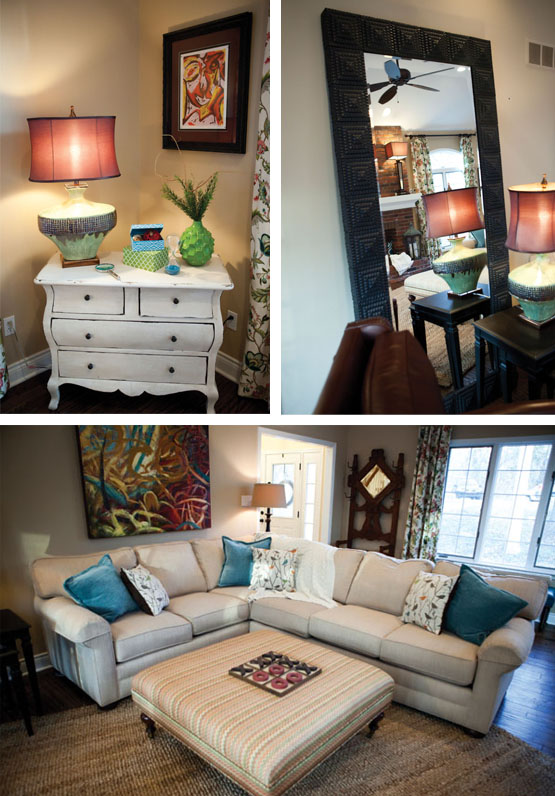 Functional living
With movie night in mind, the Lawlesses chose an oversized sectional and a plush ottoman, which they refer to as the family pod. The Lawless kids (Ava, 8; George, 6; and Vivian, 4) can often be found racing around tricycles, so the softer the surfaces, the better.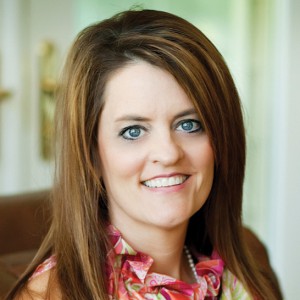 "In family homes, I suggest using an ottoman instead of a coffee table. With little ones, it offers a place to lounge and avoids sharp corners." — Sherry Hockman, Hockman Interior Design
Beneath their feet
Flooring, however, is a different concept, and Rachel learned the hard way in previous homes with three kids and a dog. Carpeting is impossible to keep clean. Homebuilder Kevin Higdon suggested the hand-scraped hardwood to hide the wear and tear of dog nails and wooden building blocks.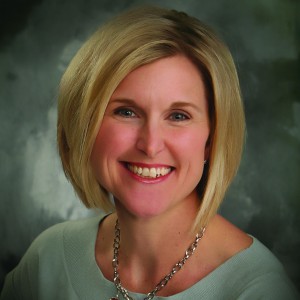 "A huge trend right now is durable yet comfortable, indoor/outdoor fabrics and area rugs. Customers love the idea of designer fabrics that will hold up with the wear and tear of kids and pets but still mesh well with their furniture and accessories." — Susie Schaefer, The Schaefer House
The Kitchen
The kitchen was original to the house, which was built in the 1970s. The Lawlesses wanted to redesign the kitchen to fit their needs and also open it up by taking down one of the walls and moving the window from the corner of the room.
Kevin found a hood that was powerful enough to suck up the smoke from the indoor grill to stop it from filling up the home. Although an indoor grill was a priority, having a complementary hood is something the Lawlesses would have never thought of themselves.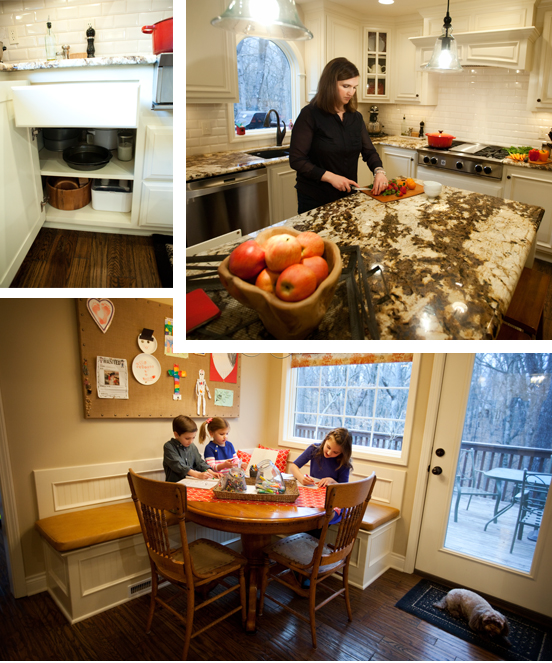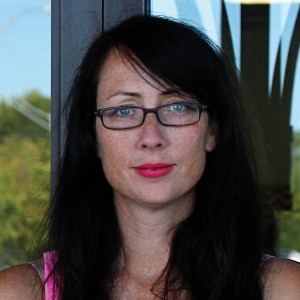 "Vegan leather (pleather) is practically a stain-proof choice for the kitchen banquette. Rachel made several eco-friendly fabric choices with the vegan leather when choosing fabrics throughout the house." — Amy Parris, Yardhouse Fabrics
Laying it all out
The kitchen is a special place for the Lawless family. "It's where we spend the most amount of time," J.R. says.
"Our kids have food allergies, so it's not just a place we bring in takeout," Rachel adds. "We cook a lot, and it's a hobby the kids enjoy doing with me." With the confinements of a tight space, the couple enlisted the help of Jon Trigg and Aaron Dolan from Studio Home to work cohesively with their builder to design the layout and functionality of the kitchen.
Easy organization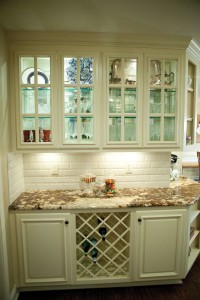 It was a team effort to incorporate a genius design within the cabinets. Particularly fond of tall cabinetry, the couple requested that any cabinets in the kitchen be tall and seamless — from the outside. Thanks to the collaboration between a cabinet maker at King Cabinet in Kansas City and Kevin, drawers were constructed within the cabinets to still hold utensils on the inside while keeping the clean and simple look when the door is shut.
Creating a focal point
Designers Jon and Aaron suggested that Rachel and J.R. replace bi-fold closet doors with a beautiful built-in china cabinet. Not only does it add a touch of class to the room and a focal point displaying their beautiful dishes, but it also serves as a great space to lay out food and create a buffet for parties. "J.R. and I both have big families, and with people taking up all seating areas, it's handy to have them shuffle through the line and into the dining area," Rachel says.
  The Mud Room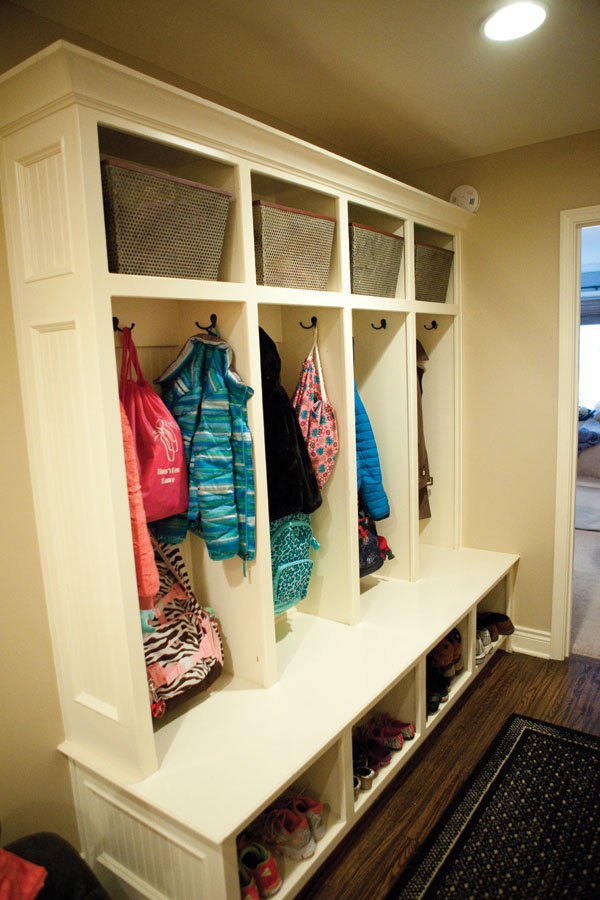 Utilizing wasted space
Kevin pointed out that in the original home design, there was unnecessary space in the master bedroom. Instead of having a hallway inside the master bedroom, the family decided they were more in need of a mudroom near the entrance to the garage. Built-in cubbies and a catchall counter serve as places for the family to set their coats, bags and keys when they come into the house. Plus, it's an easy way to organize cowboy boots, Crocs and glitter flats that adorn the feet of Ava, George and Vivian.

"These sturdy and easy-to-wash, perforated bins are perfect for organizing with children. With these, they can easily see what is stored inside and help return belongings to their correct place." — Emilie Henzel, S. Stewart Home
The Master Bathroom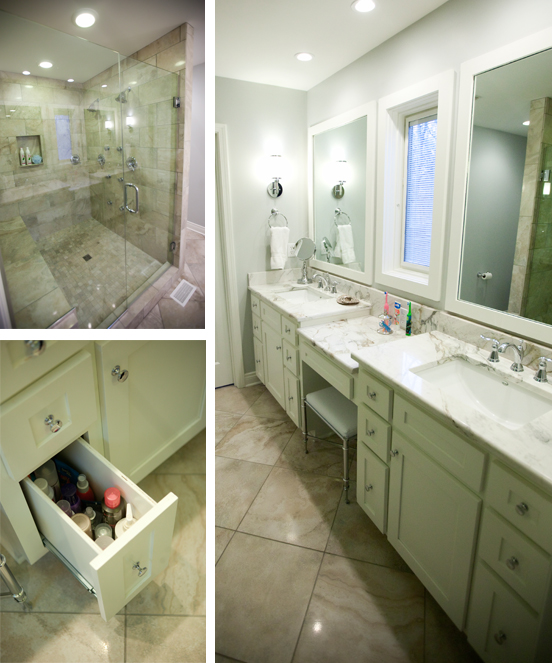 Rearranging
The master bathroom was suitable for someone else, but not Rachel and J.R. Instead of separate closets and a large garden tub, the two knew that one closet and a bigger shower would suit them better. This required moving plumbing to flip flop the location of the bathroom amenities. "Not everyone is willing to do that," Rachel says. "Kevin was very instrumental in helping us move the plumbing, and we are fortunate enough to have an unfinished basement below the bathroom that made it easy to access the pipes."
Double the fun
Instead of a single sink to share, J.R. and Rachel preferred his and hers sinks that were connected by a vanity counter. "It's nice to not bump into each other when we're getting ready," Rachel says. "Although, J.R. will tell you that I use both sinks." The open counter in the middle is often taken over by kids' toothbrushes or is the setting for Vivian and Ava's beauty parlor.
The updated shower is large enough that Rachel can go into it fully clothed to help her kids wash off without getting wet.
Because most bathroom products are in tall skinny bottles, Rachel requested the drawers be narrow and tall versus wide and short.
The Upstairs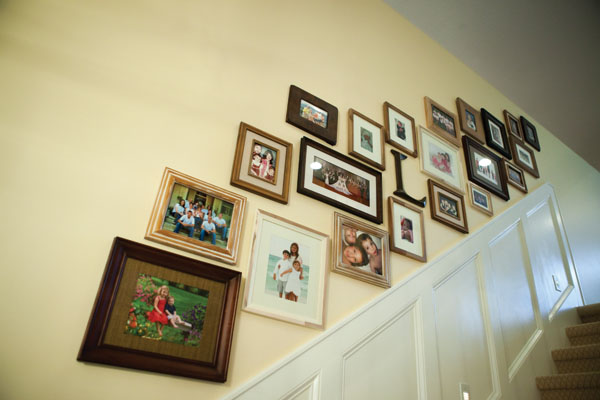 A family affair
You've seen it on Pinterest: Gallery walls are all the rage. They're an easy and creative way to incorporate family photos and create a meaningful collage.
Here's a fun fact: Rachel and J.R. had a double wedding. J.R.'s sister willingly opened up her celebration to include Rachel and J.R. when the couple's wedding plans had to be moved up due to a new job offer. Sister of the Year award, anyone?
The little ones' domain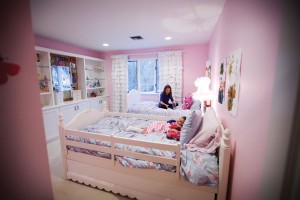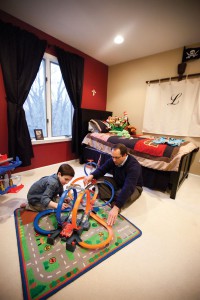 With the master bedroom on the main floor, that leaves the upstairs completely to the kids — and Cocoa, of course, the Lawlesses' 4-year-old shih tzu poodle. The linen closet was transformed into a multilevel house for American Girl dolls where make-believe stories are endless. "At first, I was constantly trying to keep the kids' area clean and put toys away every day, but doing that can be a full-time job," Rachel says.
Love the Look of Leather?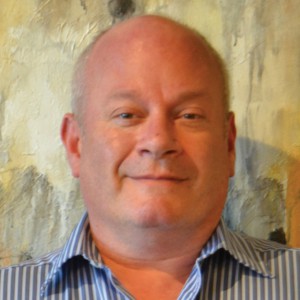 High-end furniture can still be a practical option with kids and pets, according to Lifestyles Furniture Store Manager Dan Boyle. 
Unlike fabric upholstery, leather wears well, ages beautifully and acquires a rich "patina" that becomes suppler with each passing year. It stretches and retains its shape without sagging and will not peel or crack if cared for properly. And because leather breathes, it will keep you and your family comfortable no matter what the season. Leather's ability to absorb up to 25 percent of its own weight in humidity means you'll feel cool, never hot and sticky.
Compared to fabric, leather is elastic and strong with high ripping resistance. You'll also appreciate its tight, strong fiber construction, which prevents animal hair from penetrating. These characteristics make leather upholstery the ideal choice for family rooms, dens and great rooms where family and friends gather to entertain. All of the leathers we offer are free of lead and chemicals, so you won't have to worry about being environmentally safe and kid and pet friendly. 
Leather care and cleaning codes
Code "A" care method
Aniline leather: Natural-looking leather will feature noticeable range marks, barbed wire scars, wrinkles, scratches and brands. Subtle color and shading variations will exist from hide to hide and even within a hide. Keep leather clean by dusting frequently with a soft, clean cloth or by vacuuming with a soft brush attachment.
Code "P" care method (protected leather) | Recommended for active households
Pigmented or aniline-plus leather: This leather has been treated to enhance stain resistance. It is more uniform in color and texture than aniline leather and will have fewer noticeable range markings. Keep leather clean by dusting frequently with a soft, clean cloth or by vacuuming with a soft brush attachment.
Code "N" care method
Nubuck leather: This leather has been buffed to a velvety suede-like nap. It is more likely to fade and stain and will feature noticeable range markings. Keep leather clean by dusting frequently with a soft, clean cloth or by vacuuming with a soft brush attachment.
Note: No cleaning method will remove every stain, and some stains can cause permanent discoloration, even after the stain is removed. Keep your furniture clean, and do your best to prevent accidental spills. Give any stain prompt attention to maximize cleaning results.