Investing in Rental Properties
Landmark Bank answers your questions and relieves your hesitations about initial investment property expenses. 
It's important to diversify your investments, and as Jason Thornhill mentioned, purchasing an investment property can increase your income in addition to your day-to-day job if done correctly. The questions below discuss financial responsibilities in terms of the purchase of the unit. It's important to keep in mind additional maintenance and upkeep expenses of the property as well.
Can I get conventional financing on investment properties?
Yes, conventional financing is available on investment properties. Fifteen-, 20- and 30-year fixed-rate mortgages and ARMs are all options to buyers considering purchasing an investment property. Transaction types include purchase, no cash-out refinances and cash-out refinances. Many lending institutions also offer in-house loans on investment properties.
What are the down payment requirements on investment properties?
When you are purchasing a new investment property, both Freddie Mac and Fannie Mae will require a minimum down payment. The chart below outlines the maximum loan-to-value ratios for an investment property secured by a Freddie Mac loan. Just like on a primary residence, if your loan-to-value is more than 80 percent, you will be required to get private mortgage insurance.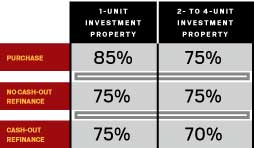 If you decide to acquire financing that is not conventional, you will need to meet with your mortgage lender to see what their guidelines are for a down payment. Typically, lending institutions will require some amount of cash into the transaction.
Is there a maximum number of financed properties an individual can have on the secondary market?
Yes, both Freddie Mac and Fannie Mae have guidelines on the number of financed properties an individual can have and still obtain secondary market financing. Freddie Mac limits the number of financed properties to four, and Fannie Mae caps its maximum financed properties at 10. These are general rules of thumb, so please be sure to discuss your individual circumstances with your mortgage representative to make sure that your situation will fit into one of these scenarios.
If I want long-term, fixed-rate financing on my investment property, how do I need to take title?
Secondary market guidelines require you to take title and financing in your personal name to obtain a secondary market loan. You will need to make sure that when purchasing the home, your contract is written between you as an individual and the seller. Title work is ordered as the contract is written, so be sure to discuss this with your Realtor when drawing up the purchase agreement.
What if I want to purchase the home in my business name?
If you are interested in purchasing an investment property in the name of you business, you will need to pursue a business loan. There are many loan options out there for this situation; however, you will not be able to obtain a conventional loan through the secondary market. These loans will typically be set up on some type of balloon product. Make sure to discuss this option with your commercial lender and your mortgage lender to make sure you are choosing the right fit for you. Many borrowers like to take advantage of getting 10 fixed-rate loans on their investment properties by taking the loan in their personal name before switching over to a business loan, but each individual is unique and should discuss all opportunities.
Leighanne Lamb
NMLS# 468555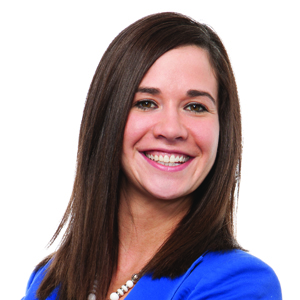 Leighanne is a vice president of real estate lending at Landmark Bank with more than seven years of experience helping all kinds of buyers and homeowners with real estate financing. She has both her MBA and undergraduate degree in business management from William Woods University. Call her at 573-499-7307, or email her at [email protected]. Landmark Bank is an Equal Housing Lender

and a Member FDIC.