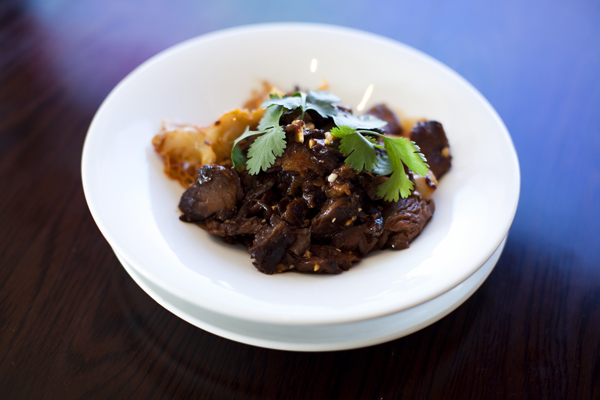 Authenticity is a slippery prospect in the realm of food. That Italian tomato-based pasta sauce we all know and love? New arrival. Pad Thai as the very essence of Thai food? It's brand new in the grand scheme of things. And noodles originated in China, so can they really be authentically Italian or Thai anyway? Heck, Italy wasn't even a country until 1858.
So authenticity is tough, but that doesn't mean we don't know it when we see it. Mexican street tacos, chickpea dip, marinated and grilled meat and fiery Sichuan stir-fries are so emblematic of the cultures that created them that we don't need to fuss too much with their provenances.
KoJaBa
Parkade Plaza, 601 Business Loop 70 W. | 573-442-8383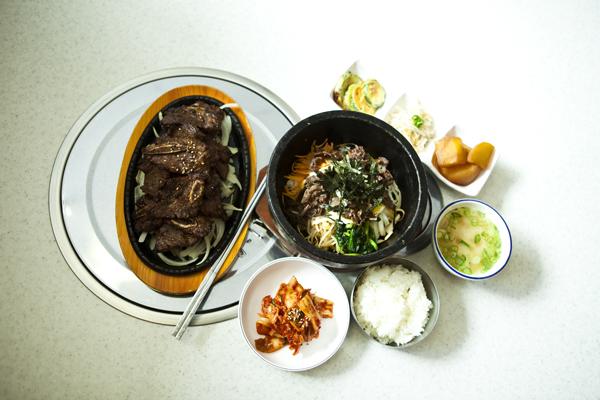 KoJaBa is an under-the-radar destination for traditional Korean foods, including kimchi. The menu can seem unfamiliar to those of us who have hamburgers, pizza and spaghetti on the menu for the rest of the week, but it's still far more approachable than you might think.
KoJaBa pro tips:
Try not to rest your chopsticks in or on the side of your plate or bowl. That placement denotes an offering of food to someone who has recently passed away. Instead, fold up the paper wrapper the chopsticks came in, and rest them there.
New to Korean food? Try these dishes for starters:
• Dolsot bibim bap (sautéed meat and vegetables on rice)
• Bulgogi (marinated grilled meat, usually beef)
• Golbi (marinated grilled beef short ribs)
• Try the banchan or small side dishes that come with entrees. They are delicious, fun and complimentary; you can even ask for refills.
• Ask questions. The staff is friendly and enthusiastic about helping newbies navigate the menu.
Square-Cut Napa Cabbage Kimchi
Brine:
• 2 medium heads (about 4 to 6 pounds total) Napa cabbage, cut into bite-size pieces, 1 ½-inch squares
• ¼ cup kosher salt
Seasoning paste:
• ½ cup thinly sliced yellow onion
• 4 teaspoons minced garlic
• 2 teaspoons peeled, finely grated fresh ginger
• 2 tablespoons anchovy sauce
• 2 tablespoons salted shrimp
• 2 teaspoons sugar
• ½ cup Korean chili pepper flakes
• 4 green onions, green parts only, cut into 2-inch pieces
• ¼ cup water
In a large bowl, combine the cabbage with the salt, and set aside for about 1 hour. Drain the liquid, and rinse the cabbage to remove any traces of salt. Let the cabbage drain in a colander for 20 minutes, or use a salad spinner to remove most of the water.
Meanwhile, make the seasoning paste. In a food processor, pulse together the onion, garlic, ginger, anchovy sauce, shrimp and sugar until a paste forms. Transfer to a bowl, and mix in the chili pepper flakes. Set aside for 15 minutes to let the flavors combine.
In a large bowl, mix together the green onions, seasoning paste and drained cabbage until combined thoroughly, making sure the seasoning paste is distributed evenly among the leaves. Pack the mixture tightly into a 2-quart container. Add ¼ cup water to the mixing bowl, and swirl the water around to collect the remaining seasoning paste. Add the water to the container, cover tightly and set aside for three days at room temperature.
The cabbage will expand as it ferments, so be sure to place the jar on a plate or in a bowl to catch the overflow. Refrigerate and consume within six months.
Recipe by Lauryn Chun, The Kimchi Cookbook: 60 Traditional and Modern Ways to Make and Eat Kimchi
Pantry Tips
No anchovy sauce at home? All out of salted shrimp? Well, you're in luck with these Asian markets.
Hong Kong Market | 3510 Interstate 70 Drive SE | 573-474-2878
Chong's Oriental Market | 701 Locust St. | 573-443-1977
Bamboo Terrace
3101 W. Broadway, Suite 101 | 573-886-5555 | bambooterracecomo.com
From martial arts to religion to food — and especially food — Asian cultures have always sought balance. A little of this to a little of that, something a little sweet, something a little sour: Every component is in balance with the others, and no single aspect is dominating. Bamboo Terrace, located near the Walmart on West Broadway, represents something of a master class on the principle — and the results are addictive.
Spicy Beef with Beef Lung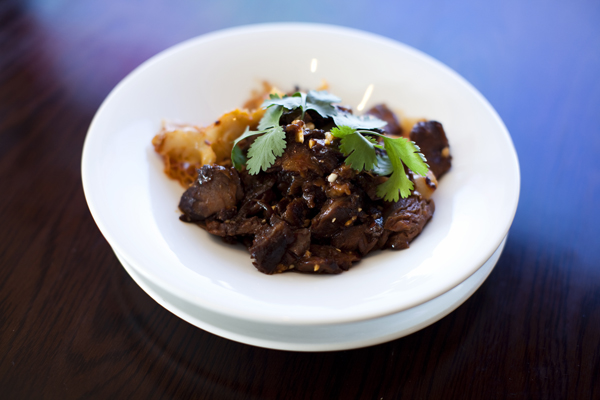 This off-menu traditional stir-fry is served cold. It's made at Bamboo Terrace with tripe and rewards the brave very well indeed. It's one of the best dishes in town, seriously, and far less "weird" than you might think.
Smoked Duck Stew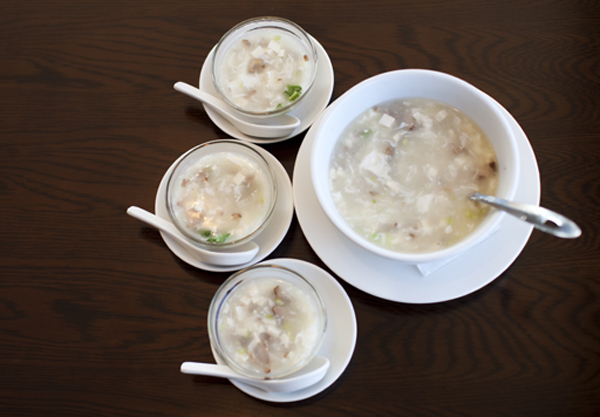 You won't find this smoky, velvety soup on the menu, but it's worth asking about. It's made with delicious, tender duck they smoke in house.
"Our Chinese customers always ask for something off the menu. If we have time, we will make it for them." — Celeste Chen, manager and co-owner
Baby Greens with Black Mushrooms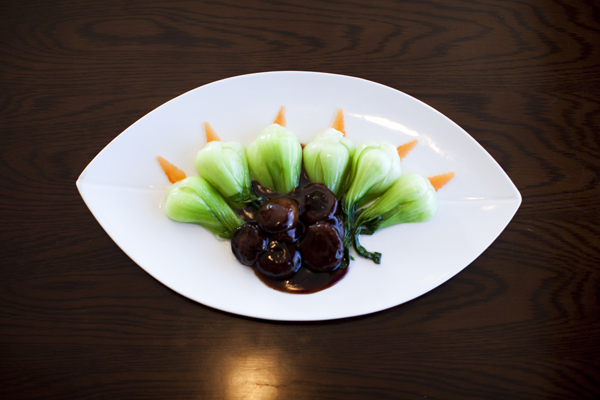 Sautéed baby bok choy is paired with a deep, rich mushroom sauce in this vegetarian option, a testament to Bamboo Terrace's emphasis on fresh ingredients prepared skillfully.
Stir-Fried Sole Fish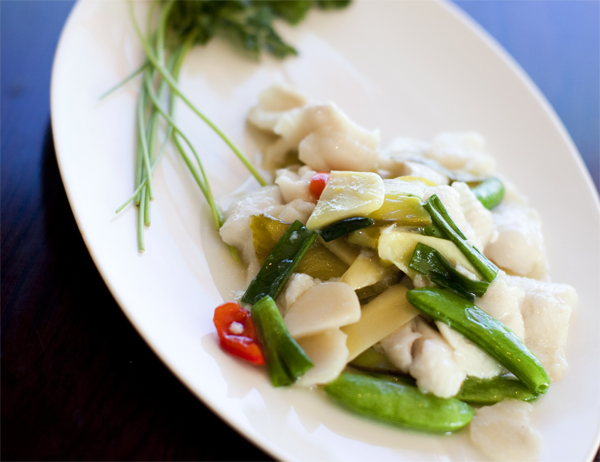 Fish and pickles: It sounds odd, right? It's not. Flakey sole is stir-fried and tossed with sugar snap peas, ginger and sliced pickles, giving the plate a light and surprisingly fun sourness.
Pro Tips
• Choose anything with duck. The chef is from Nanjing, China, a city famous for its love of duck. Duck lettuce rolls, duck stew and tea-smoked duck are all highly recommended.
• Malaysian Curry Hot Pot: Although first and foremost a Chinese restaurant, Bamboo Terrace does other things well, too. This dish might be the best in town.
• Ask to see the Chinese menu. Now that it's printed and laminated, it's not exactly a secret menu anymore. But it is the place to go to try something new — or in the case of many of Bamboo Terrace's customers, get a taste of home.
Suggested recipes:
Hot, Sour Salty Sweet by Jeffrey Alford and Naomi Duguid, amazon.com/Hot-Sour-Salty-Sweet-Southeast/dp/1579651143
This is my go-to resource for all things Southeast Asian. Equal parts travelogue and cookbook and gorgeous throughout, it could be at home on your coffee table — but will be even more valuable in the kitchen.
Las Margaritas
10 Southampton Drive | 573-442-7500 | lasmargaritascolumbia.com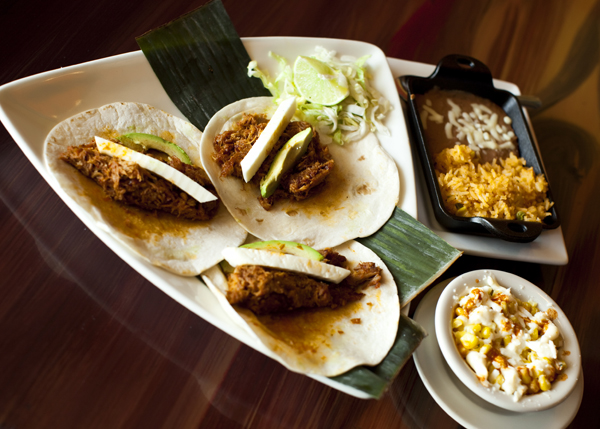 The revolving door that was this restaurant space on Corporate Lake across from Rock Bridge High School has stopped turning. Las Margaritas is here to stay and is turning out some of the best Mexican food in town. One thing I love about Las Margaritas is the presence on the menu of more traditional Mexican foods and of cochinita pibil in particular. This dish is found all over the Quintana Roo state of the Yucatan Peninsula but not much elsewhere. I first learned to make it at a cooking school in Puerto Morelos, Mexico, a charming fishing village about 30 minutes south of Cancun. It's a recipe we come back to again and again at home, and Las Margaritas' version is fantastic.
Pro Tips
• Traditional is in. Many of the best dishes at Las Margaritas exist outside the burrito/enchilada/crunchy taco triumvirate. Cochinita pibil is one, and the tacos al pastor is another, which the restaurant sells more of than anything else.
• Pozole, a soup of pork, vegetables and hominy, is one of the world's greats, and Las Margaritas does it proud.
• Order the spicy salsa. I don't want to blow your mind too much here, but every Mexican restaurant has a better salsa than the plain red kind they bring out with the chips. Las Margaritas' version with tomatillos is top notch. Just ask.
"Traditional things are very popular, such as tacos al pastor, which is maybe our No. 1 seller. Couples come in, and one will order that, and the other orders the cochinita pibil." — David Lopez, manager
Cochinita Pibil
Marinade:
• 1 ½ cups freshly squeezed orange juice
• 1 ½ cups freshly squeezed lime juice
• 90 grams achiote paste
• 4 cloves garlic, pressed
• salt and pepper to taste
• 3 pounds pork shoulder
Wrap:
• 2 to 4 large banana leaves
• ½ cup vegetable oil
Dilute the achiote past in the lime and orange juice. Add garlic, salt and pepper to taste. Marinate pork in the achiote-juice mixture in a covered dish in the refrigerator for 3 to 12 hours.
Preheat oven to 325 degrees F. Lightly singe banana leaves over a gas burner or briefly under an oven broiler. In a roasting pan, lay one banana leaf lengthwise and then another crosswise. Place the pork, oil and marinade onto the banana leaves, and fold them over to make a packet. Cover with foil, and bake for 2 to 3 hours, until pork is fork tender. Pull the pork into small pieces, and serve it taco style with salsa, tortillas and cilantro.
Recipe by Pablo Lopez Espinosa de los Monteros of The Little Mexican Cooking School, Puerto Morelos, Mexico
Pantry Tip
You've driven past it a hundred times and probably never knew it was there (I don't know, maybe a sign would help), but Los Tres Hermanos is a Mexican foods market in the strip mall that also houses Play It Again Sports. This is your place for dried peppers, tortillas, achiote paste and more.
Los Tres Hermanos | 601 Business Loop 70 W. | 573-817-2858
Coffee Zone
11 N. Ninth St. | 573-449-8215 | columbiacoffeezone.com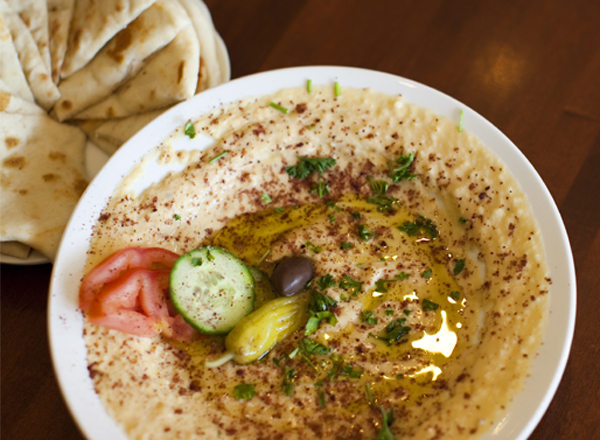 Hummus is a simple dish using four or five ingredients max, but that simplicity also makes it easy to mess up because there are no places for mistakes to hide. Osama Yanis, owner of Coffee Zone, knows this, and that's why he's very protective of the process of making their hummus. "Only three people are allowed to touch the blender," he says laughing but not at all joking. "Lemon, salt, garlic, tahini, chickpeas. Five ingredients, maybe a little water to help with the blending, but that's it." And that's all he needs because it's truly excellent hummus.
"Food is like the international language. You may not bond over language, but you can bond over food." — Osama Yanis, owner, Coffee Zone
Pro Tips
• Those cucumber slices on Coffee Zone's hummus plate aren't just there for looks. They help cut the dish's garlicky bite.
• Upgrading to the Hummus Deluxe plate gets you gyro meat with your hummus. This is a good thing.
Pantry Tips
• Osama uses Saifan brand olive oil, a great all-purpose Lebanese olive oil that packs flavor but won't break the bank. Get it at World Harvest, 3700 Monterey Drive, 573-442-3833.
• The purple powder Coffee Zone garnishes its hummus with is sumac, a bright and tart spice popular in Middle Eastern foods. World Harvest also carries sumac.