Delicious dessert and drink duos
We're a long way from Brooklyn, where pairing drinks and desserts has become enough of a thing that there are places that just do that, only that and nothing else. Instead, we Columbians like to see how things go on the coasts for a while before adopting culinary trends. Think of it as healthy Show-Me State skepticism. But one area where our local restaurants are getting in on the action early is the pairing of desserts and drinks. We visited three local restaurants to see what the fuss is all about, and the results were as creative as they were delicious.
Room 38
Three words that inspire fear in any dentist and stomach rumblings in the rest of us. Room 38 is on the case with a version that both tempts the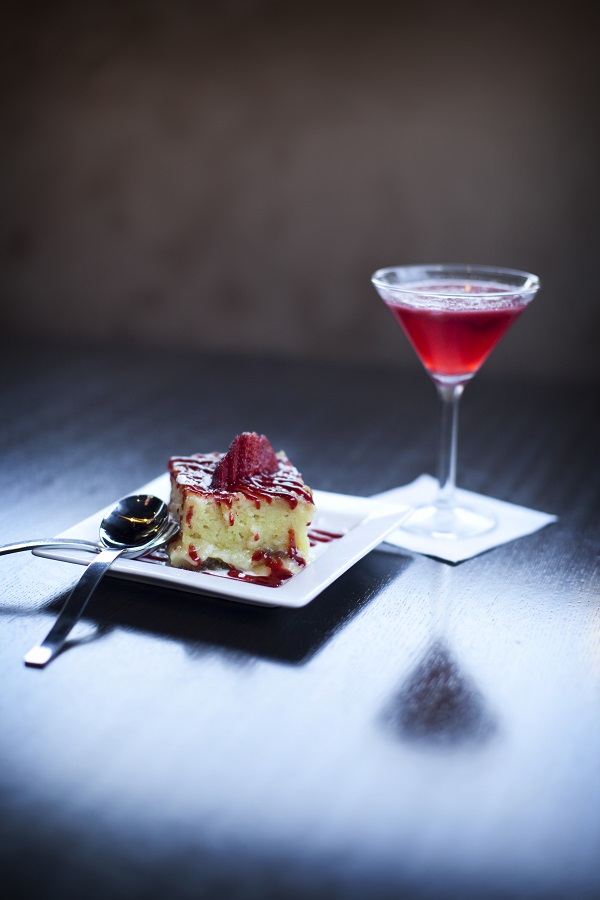 taste buds and keeps your dental hygienist off the ledge. Room 38 owner Billy Giordiano says they use substantially less powdered sugar than the version he grew up with in St. Louis. The result is a lighter, springier cake still recognizable as the St. Louis classic but less of a sugar brick than you might be used to. Their version comes drizzled with raspberry puree and is topped off with a sliced strawberry.
Giordano says the inspiration for adding gooey butter cake to the menu at Room 38 was simple: Nobody else in Columbia was serving it.
"It's on half the menus in town now, but we were one of the first," he says. Paired with a balanced sour-and-sweet bellini, the combo makes for a creative, colorful treat.
For pure wow factor, there's no beating Room 38's Gourmet Funnel Cake, a giant nest of funnel cake topped with a scoop of vanilla ice cream, chocolate and caramel sauce and crumbled Oreo cookies. Its massive size belies a certain refinement — this is no greasy county fair funnel cake — and makes it ideal for sharing.
The Chocolate Espresso Martini isn't anything James Bond would order: espresso vodka — Godiva Dark Chocolate Liqueur, Bailey's and a splash of cream take care of that — but as a dessert, pairing it works very well indeed.
 The Wine Cellar and Bistro
The Wine Cellar and Bistro has long been one of Columbia's swankier dining destinations, but chef-owner Craig Cyr and his staff know how to have a good time with a menu. Their Locavore's Cheesecake is a peanut butter cheesecake with a pecan crust, goat milk caramel and a chocolate and buttercrunch topping and features ingredients from local producers such as Goatsbeard Farm and Patric Chocolate. The sommelier, who also happens to be Cyr's wife, Sarah, recommends pairing the dessert with 1855, a low-production sherry made by Adam Puchta Winery in Hermann, Mo. The warm, toasty flavors of the wine highlight the nuttiness of the cheesecake, a perfect cold-weather dessert and drink pairing.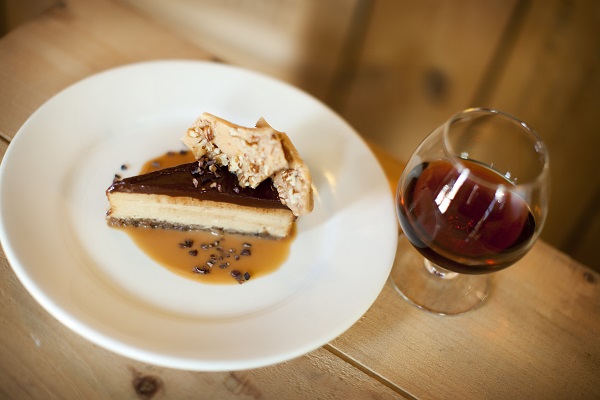 "The key to dessert pairings is that the dessert wine, or drink, must be equal to or greater in sweetness than the dessert itself," Sarah Cyr says. "Otherwise the sweeter dessert will make the wine taste sour."
 Sycamore
Sycamore Restaurant has long been one of this particular columnist's favorite Columbia hotspots. The warm wood booths and composed, professional service are reasonable enough excuses to stop in for a drink, but the kitchen holds up its end of the bargain as well. I think the restaurant is at its best with cold-weather fare — rabbit and duck and the short ribs that customers clamor for year round — but you're advised to give the desserts a go as well, preferably with a glass of something delicious on the side.
Co-owner and manager Sanford Speake recommends matching their vanilla bean crème brûlée with Cognac, a form of brandy and a playful marriage of opposites if ever there was one. "Brandy is short for brandy wine, which roughly means 'burnt wine,'" Speake says. "To make crème brûlée, you basically burn sugar so you have a connection there. Cognac also has a subtle toasty quality and is slightly sweet, a good match for the flavors of the caramelized sugar. Then the rich, creamy custard cools the bite of the liquor."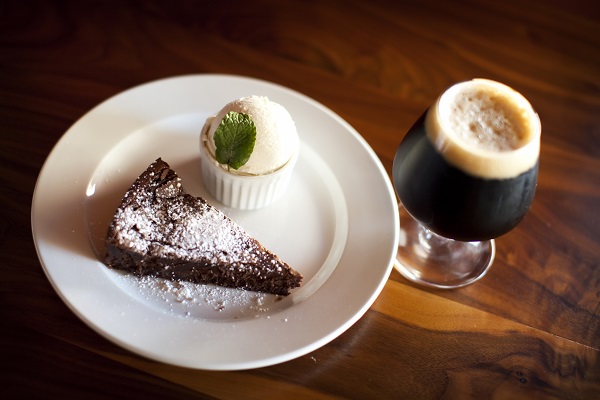 Flourless chocolate cake comes out with a pour of Left Hand Brewing Co.'s Wake Up Dead Russian Imperial Stout. The toasty malts of this mocha-scented beer mingle charmingly with the rich chocolate cake. And nobody's going to deduct points for the dish featuring a scoop of Sparky's vanilla ice cream on the side either.