Content Warning: Please be advised, the following story references topics including sexual assault and physical violence.
Photos by Lana Eklund
This story was originally published in the November 2023 Impact issue of COMO Magazine.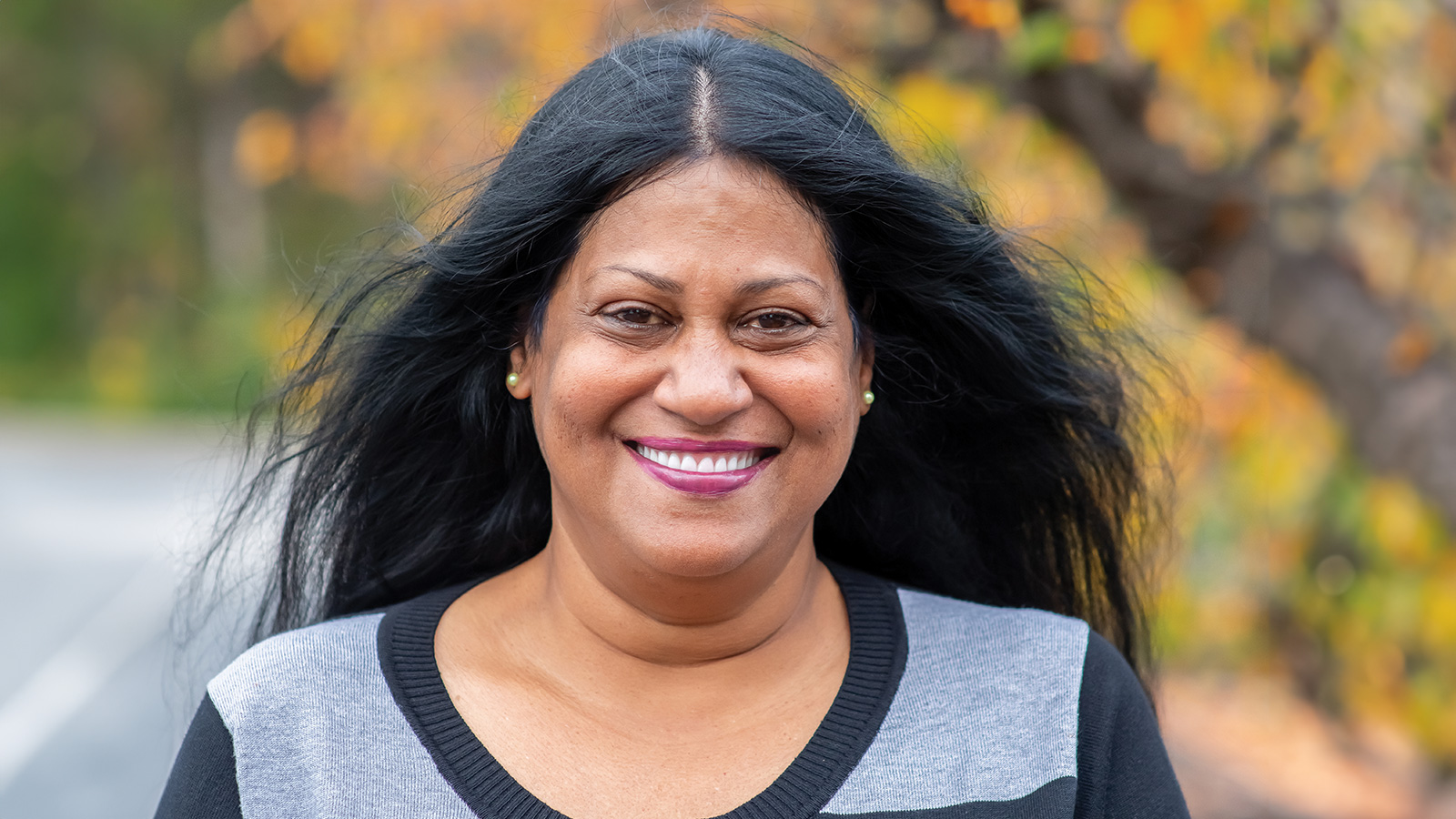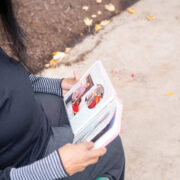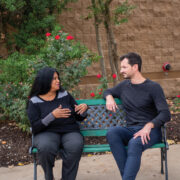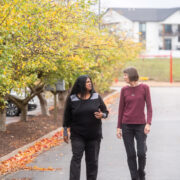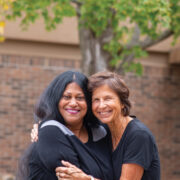 View Gallery
Maya Kahn overcame a life of trafficking and abuse and now spends her time serving others.
Finding a spark for life after living in darkness is a powerful metaphor, but those life-changing concepts have literal meanings for Maya Kahn. 
Kahn drives regularly for the Central Missouri Stop Human Trafficking Coalition, taking women and their children to work, home, and doctor's appointments. She also serves as the volunteer coordinator for The Love Seat and fosters pets for the Central Missouri Humane Society.
"All I want to do is help and volunteer," says Kahn. "This is one of the most rewarding things I've done in my 56 years of life … It's such a fulfilling feeling. I've gone from never wanting to [serve] to wanting to do it all the time."
What is her motivation?
"I just want the chance to tell my story," she says. "To tell people that you don't have to be perfect to be accepted."
Working with the trafficking coalition gives Kahn a chance to plant that seed with women she meets because they are talking to someone who is not just giving a speech, but someone who has been through it.
"I've lived it and I'm telling them there's hope. If they're living in darkness, they can find a spark like me," she says.
And Kahn has lived through a lot.
She grew up in Trinidad. Her father and grandfather were Muslim, but her mother was not. Her grandfather did not accept her mom, which made Kahn's life worse, she says. She describes her childhood as being full of hatred and anger.
"I was told a thousand times that they never wanted me, that I was a mistake," Kahn says. "My grandfather was a Muslim priest and he tried to strangle me when I was 9 years old. My uncles were police officers who would come and molest me. My dad was an alcoholic and would beat me. I couldn't trust anyone."
The darkness continued and at age 12, Kahn's grandfather tried to marry her off to a 43-year-old man. She says the man died before the marriage was official.
Her goal was to get out of there.
As soon as Kahn could leave Trinidad, she went to Canada, got two jobs, and started going to community school.
"I started to educate myself. I got married to a teacher who would teach me math. I started working in a bank and eventually became the assistant manager without a degree or anything," she says.
Eventually, her husband wanted kids, but her body was so damaged from the abuse that she struggled to get pregnant, and then lost her only son when he was born prematurely. Kahn says her husband pressured her to the point of verbal and emotional abuse. Then, after losing four members of her family, Kahn fell into a deep depression again and wanted to end her life.
"I felt like there wasn't any reason to live. I lived in darkness for a long time," she recalls.
Eventually, Kahn came to the Columbia area to start an online business with a man she had known for seven years. He became very controlling, and she was scared that leaving would be worse.
"I was in a trafficking situation, held against my will, outside of Columbia," she says. "After three years, I was able to get out of there. The police brought me to Columbia and took me to True North. I was at another low point in my life. I was so scared."
Kahn says she wanted a spiritual connection but didn't know where to start. She asked if there was "a Buddha place" nearby. A woman at True North told her where to go, and Kahn started walking. She accidentally walked in the wrong direction, however, and ran into Scott Claybrook, pastor of Legacy Point Church. He was on the sidewalk talking to a woman about Jesus.
"My whole body started to shake, and I couldn't control it," Kahn says.
It took her until June the following year before she attended Legacy Point.
"The same thing happened again, and I thought, 'There's something going on here,'" Kahn adds. She left feeling at peace and she kept going. "I started binging the Bible," she says. "I would be up all night watching videos on YouTube. The more I learned, the more my heart followed."
Before coming to Columbia, she knew nothing about Jesus.
"I never believed in Jesus because in all the pictures I saw, Jesus was white," she says. "I was told he was a white person's God."
Kahn eventually began attending Trinity Community Church, where she was baptized five years ago. Before her baptism, she had a vision of an experience that happened in Trinidad when she was 7 years old.
"There was an old cemetery near my home," she recalls. "My father was beating me and grabbed a big stone to hit me with. I started running and headed for the cemetery. There was a cross statue with a dome under it. I squeezed under the dome and sat for six hours until it got dark, and my father was passed out."
She continues, "I didn't know where I was hiding. But I realized then that I was sitting with Jesus' feet on my head. I heard a voice say, 'I had you. I was looking after you.' That's the day I decided to give myself to Jesus and serve Him."
And so Kahn spends her days giving back.
"Maya has been an absolute blessing in our congregation," says Pastor Jeremy Linneman of Trinity Community Church. "She is full of joy, peace, and quiet strength. Her faith in Jesus is deep, personal, and empowers her ministry across town. She is a regular reminder of the supernatural power and goodness of God."
Kahn had been praying, wanting to work with women who have been abused.
"I asked God to use me," she says. "In 2020, I met [Central Missouri Stop Human Trafficking director] Nanette Ward, and she said, 'I'd love to have you.'"
Next, Kahn discovered The Love Seat, and she was captivated by the people there.
"I just wanted to be there, to be around these people," she says.
Sherri Hockett, general manager of The Love Seat, met Kahn four years ago when she came to volunteer.
"Maya has a heart to serve and always wants to help," Hockett explains. "Jesus has supplied her with so many wonderful things in her life and she is grateful."
Michelle Casey, associate director of the Central Missouri Humane Society, met Kahn about five years ago when Kahn found an injured dog — later named Crash — on the side of the road.
"Her heart broke for this dog. She called 911 and sat with Crash for hours until they could find her," Casey says.
Crash had extensive injuries, including multiple broken legs. Thanks to Kahn, Crash healed up and now runs on all four legs and has a forever home in St. Louis.
"If Maya hadn't found him, we couldn't have intervened, and he wouldn't be alive," says Casey.
The story became so powerful that Crash became a mascot of sorts and was featured at the 2019 Whiskers and Wine fundraising event. Kahn continues to foster for the humane society.
"Maya has an underlying sense of empathy like she's seen the bad in the world and is trying to put some good back in it," Casey adds.
How is Kahn doing now?
"After finding the Lord, I don't feel the loneliness," she says. "There are still issues because there are still scars. But now, I want to help, to give. The light is getting brighter and overcoming my darkness."