$3 Million Boost Puts Project on Track
Story by Jennifer Truesdale and Jodie Jackson Jr
This story was originally published in the November 2023 issue of COMO Magazine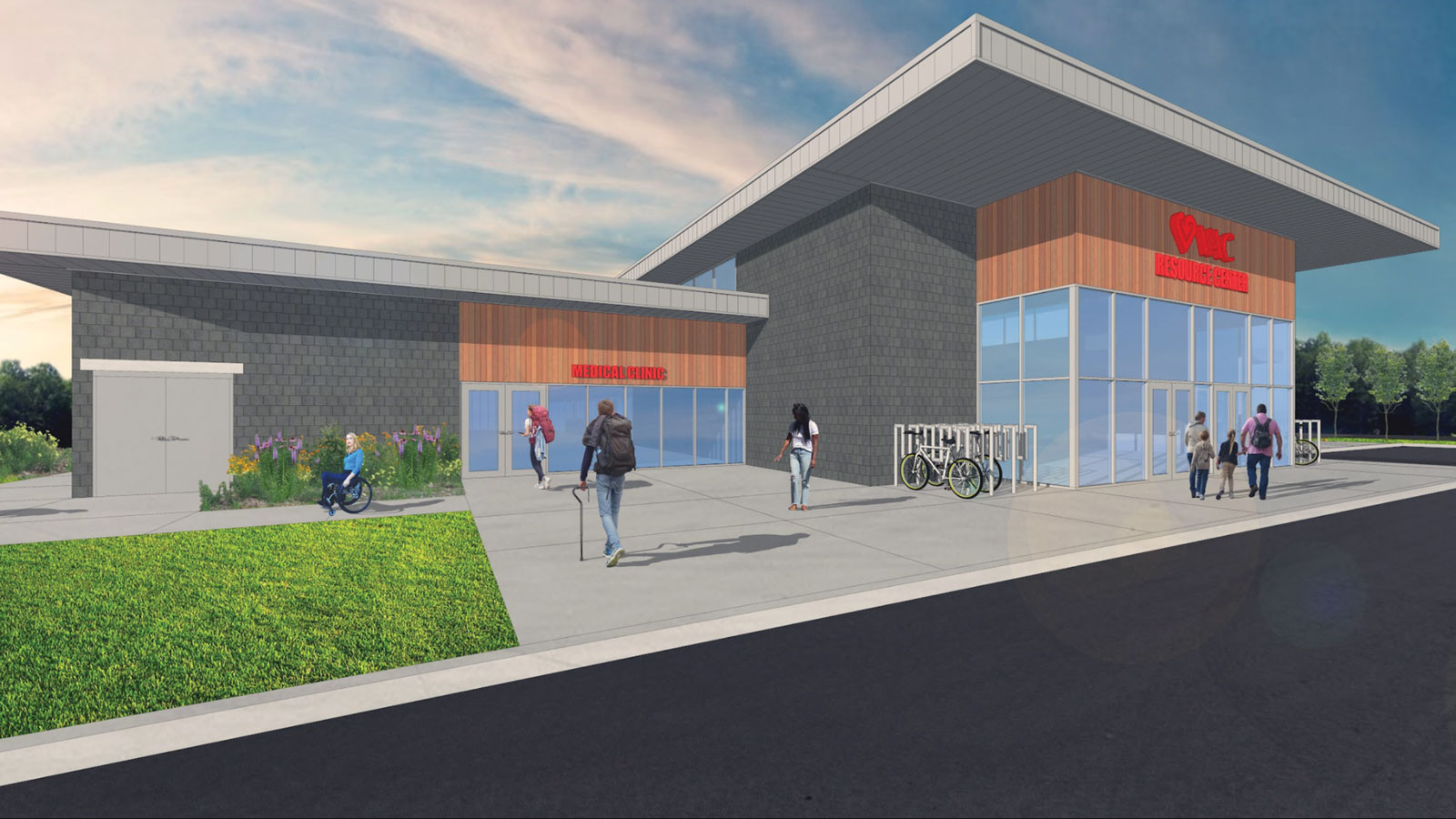 With ARPA funding, several agencies will partner with Voluntary Action Center to tackle homelessness through the Opportunity Campus.
Now that Voluntary Action Center has major funding commitments in place for a campus that will provide shelter, health care, and myriad other services aimed at alleviating homelessness, the next steps in making that facility a reality will include a public campaign to raise cash for construction and the campus's ongoing operation.
VAC was among the local organizations receiving a share of the city of Columbia's $25.2 million allotment of American Rescue Plan Act (ARPA) money, with an award of $3 million for the Opportunity Campus, a multi-agency initiative to combat and address the causes of homelessness in Columbia. The Columbia City Council officially approved the ARPA disbursements on October 3.
Almost one-quarter of the city's ARPA funding awards are directed at the homelessness issue. The city received the money to address the public health and economic impacts of the COVID-19 pandemic.
Ed Stansberry, VAC's executive director, said the city's ARPA award was "the key for us to be able to say that this can go forward."
A second round of ARPA funding from the county is now in deliberations.
"In the midst of waiting on the local ARPA funding decisions, we've continued to develop our plans with our architects and contractor, and we had a site excavation and paving contract ready and received bids for that," Stansberry says, adding that the paving contract is for sidewalks and parking areas, not the building foundations. "We're ready to go once we get all the proper permits in place."
Though the timeline could shift, Stansberry says construction of the Opportunity Campus, which will consist of two facilities, could be complete — "from moving dirt to being onsite providing services" — in 18 months. The construction price tag is an estimated $16 million to $18 million. The state of Missouri has committed $6 million for the project, an amount that must be matched by local contributions. The $3 million from the city is half of that match. VAC has also requested $3 million from the Boone County Commission, which passed on VAC's request in an earlier funding announcement.
A second round of county ARPA funding is currently in review and county officials expect to make a decision on those requests in the near future. He estimates the campus will have an annual operating budget of about $1.3 million.
"We will need, of course, a significant amount of private sector support," Stansberry explains. "We've always seen this as a public-private partnership." As Stansberry and his team have waited for word on ARPA funding, they've been in the "quiet phase" of a capital campaign that will get full attention, starting in the first quarter of 2024.
"We're hopeful that we can reengage the county to take a fresh look at this," he says. Part of that fresh look will be letters of intent from 10 organizations, including VAC, that have pledged to enter contracts or memorandums of understanding to provide services and support for the Opportunity Campus. Those letters of intent were not available for the first funding request, he adds.
The letters of intent came from Job Point, Burrell Behavioral Healthcare and its partner Clarity, Compass Health, Room at the Inn, Central Missouri Community Action (CMCA), and others. The support from the healthcare providers is crucial for operating an on-site medical clinic and services for physical and behavioral health, as well as substance abuse evaluation and treatment, Stansberry says.
"That will be embedded at the facility for the use of our unsheltered neighbors," he adds, noting that the clinic will also be available to the public.
The letters of intent helped the Opportunity Campus (OC) planners present a more complete picture of the wraparound and follow-up services, including job training, life skills, food security, meeting basic needs, and resources "to accomplish our goal, which is to get our unsheltered neighbors housed as quickly and efficiently as we can," Stansberry says.
Among other partner organizations, the Columbia Center for Urban Agriculture plans to help establish a community garden at the campus site to allow guests to grow their own food "and have some healthy and sustainable options on the campus grounds," he adds.
While homelessness and the lack of affordable housing is a national crisis and not unique to Columbia, Stansberry says Columbia is now in a better position, especially working with the Columbia Housing Authority — which also received ARPA cash — to address that need.
"We're confident that we'll have some partnerships with the housing authority as we move on down the road," he says.
There are also efforts underway to get developers involved in discussions about making affordable housing part of future developments. Stansberry says the recent Columbia Chamber of Commerce leadership visit to Madison, Wisconsin, which included a wide segment of local organization representatives, discovered "creative ways" that encouraged developers to participate in affordable housing initiatives.
"We're optimistic about that side of the equation, but those things don't happen overnight either," he adds.
He's also quick to point out that the public images of homelessness — street corner panhandlers and homeless encampments — also won't go away overnight, if they go away at all. Stansberry says those elements won't disappear even when the campus is up and running, emphasizing that the campus is "one piece of the puzzle" in addressing homelessness, job training, affordable housing, and mental health care needs.
One of the main service providers and supporters of the proposed campus, Room at the Inn (RATI), had been a winter-season, overnight shelter that rotated among different churches and locations in the first seven years of its operation. Last fall, RATI found a permanent home when the city purchased the former VFW Post 280 location off Ashley Street and Business Loop 70 East. After providing an estimated 7,500 "cot nights" last winter — an increase of 70 percent from the previous year — RATI opened as a year-round overnight shelter in October, said RATI board president Debby Graham.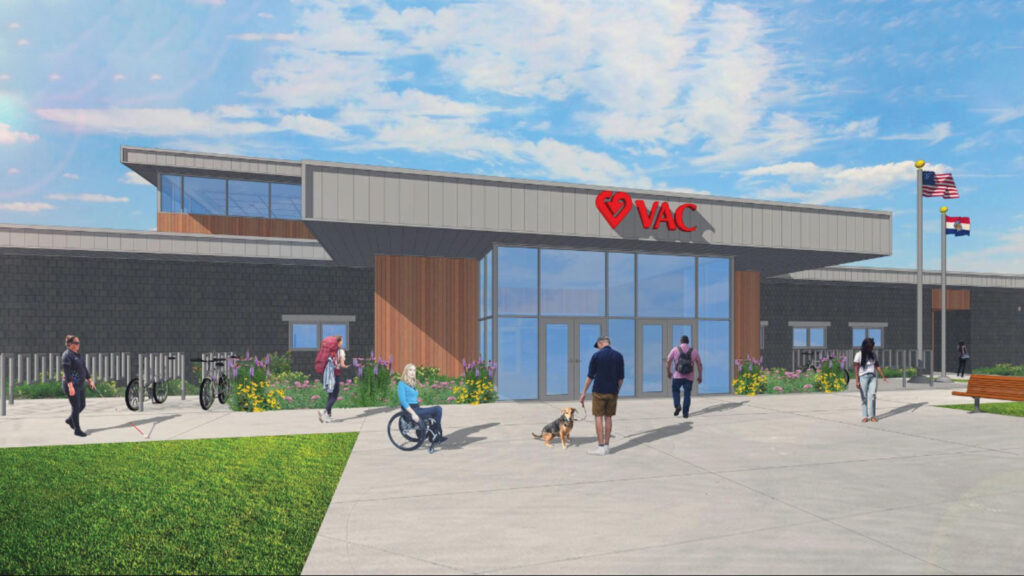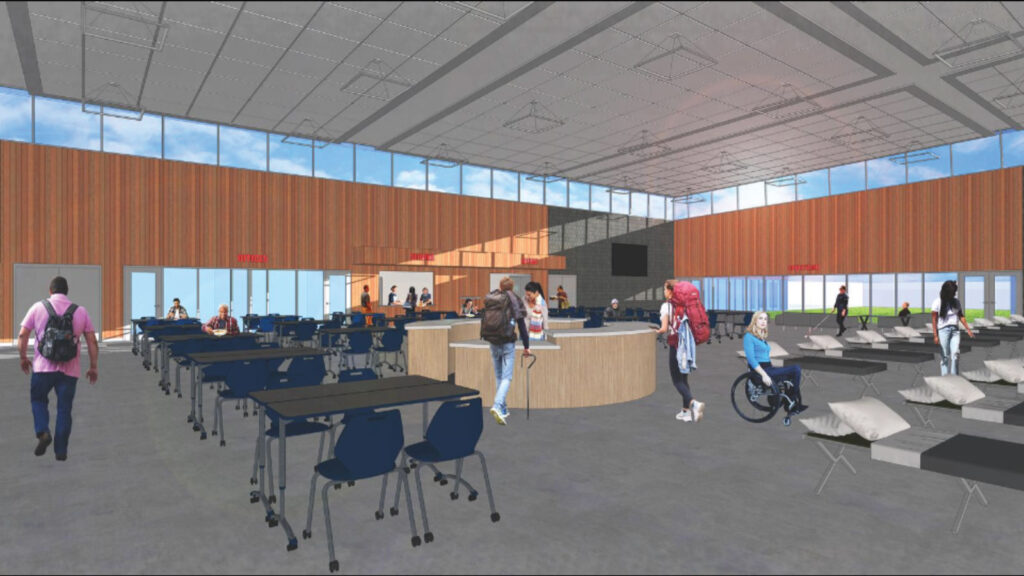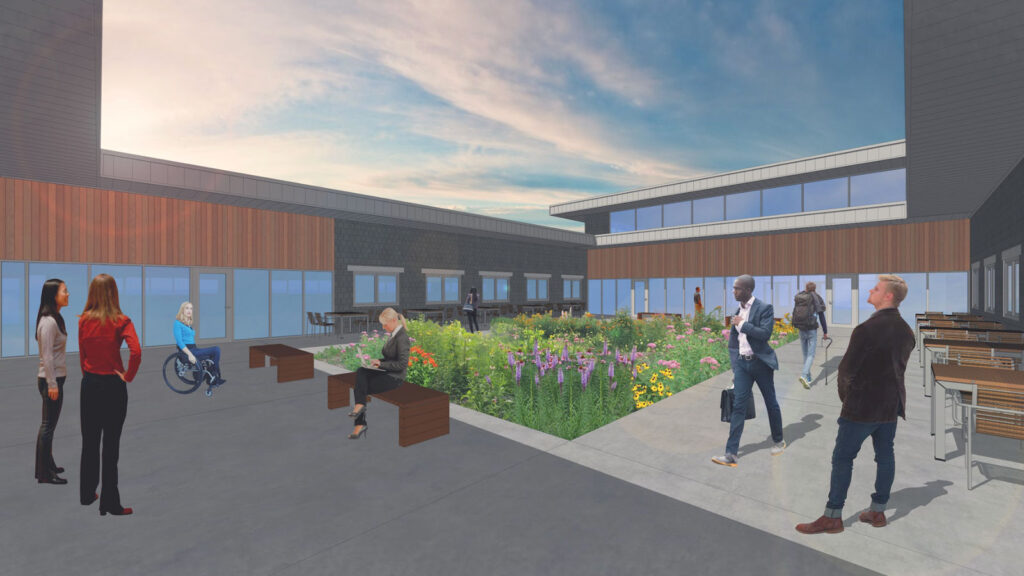 "All of RATI's shelter operations will merge into the OC when it opens. We anticipate that many of our staff will follow our program to the OC," Graham says. RATI was set up for 85 guests during last year's winter season and stayed close to that number during the coldest part of winter.
"What surprised us was that our number never went much below 50 when the weather began to moderate," she says.
RATI received ARPA funds to purchase a transit van and the nonprofit received an increase in funding in the city's fiscal year 2024 budget.
"The increase has allowed us to operate year-round as opposed to 12 to 16 weeks during the year," Graham adds. "I don't have any reason to think that the city will change direction and make a decision in coming years to discontinue funding for shelter services."
Graham points out that a permanent shelter has been a part of the city's strategic plan for many years, and RATI operated, albeit for a shorter period of time, before it received any city funding at all.
"We began as, and at our heart remain, a faith-based organization with a mission to provide a warm and safe place to sleep," she adds. "We would continue to provide that service and fulfill our mission, making it all work the way we did for the first 14 years of our existence."
Kari Utterback, senior planner for the City of Columbia, is the city's new homelessness coordinator. She was also the project lead for community engagement in the city's ARPA funding process prior to accepting her current post. She's encouraged with the prospect of the Opportunity Campus as "one-stop" spot for social services, as well as a soup kitchen, a day center, and an overnight shelter for adults, which will happen with RATI, and the Loaves and Fishes and Turning Point programs putting down roots at the campus.
The campus will have a client service building of about 30,000-square-feet and a resource center of roughly 23,000-square-feet. At the city's request, the campus will be designed to focus on single adult males and females, which make up about 70 percent of the local homeless population.
"It's not the end all, be all, but we haven't added a shelter bed to this community in over 20 years," Stansberry adds.
He said that careful case management and connecting campus guests with services, job training, and health care will be critical for lifting guests out of homelessness. As a local social service provider, Stansberry says he's sensitive to the sentiment that the campus and related programs must not be seen as initiatives that increase dependency on social programs.
"We'd like to be able to put ourselves out of business in five years. We don't think that is going to happen, but we don't want to be training folks to be great homeless people," he says. "We want to be moving them out of that situation."