City Opens New Fire Station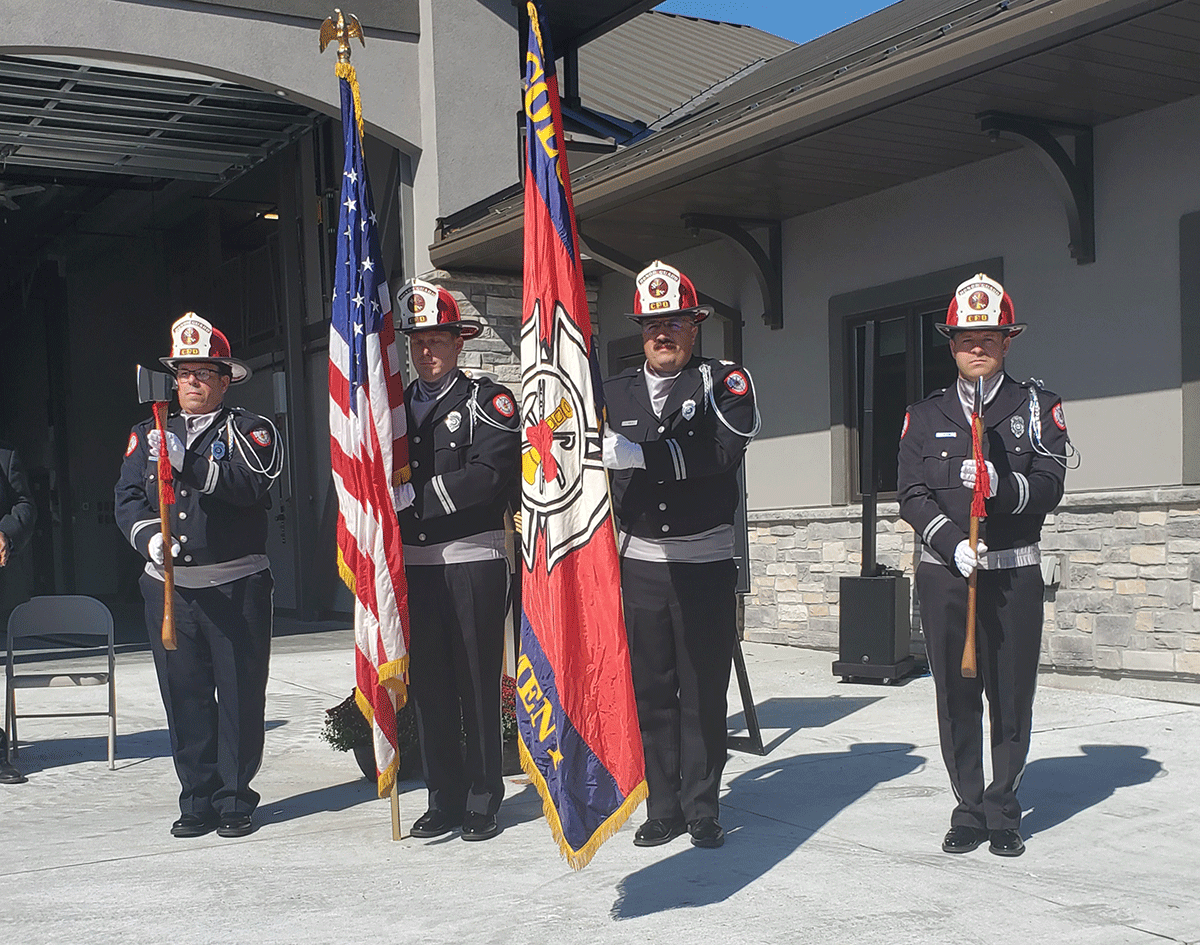 Station 11 on Scott Boulevard will improve emergency response time for growing area
When John Conway's wife Pamela had a heart attack on a snowy night back in 2019, he called 911 and waited for emergency responders to arrive. It was only a few minutes but seemed like forever.
Conway recalled the anxiety of that evening Tuesday morning at the grand opening of Columbia Fire Department Station 11 at 6909 S. Scott Blvd.
"I stood there at the front living room window, watching it snow, and saying, 'Hurry, hurry, hurry,'" he recalled. It was 11:30 p.m. The fire unit arrived from Columbia Fire Department Station 6 at 3112 Chapel Hill Road, four miles from the Conway home at Thornbrook Ridge.
"They essentially saved her life," Conway said.
The new fire station, a $4.3 million project funded by a one-quarter cent capital improvement sales tax approved by voters in 2015, will mean even quicker response time for the Conways and others in the rapidly growing southwest part of Columbia. Fire Chief Clayton Farr Jr. said the department's benchmark for response is within four minutes of an emergency call. Even though the Conway home was six minutes away, that emergency call had a good outcome.
"Those minutes count," Conway added during a tour of the Station 11 living quarters and kitchen area. "We're very happy this station has been built and the way it is staffed."
The Columbia Chamber of Commerce ambassadors were on hand for the grand opening and ribbon-cutting ceremony. Local officials gave background and history of the project while thanking all the city staff who participated and Columbia residents who voted to approve the 2015 sales tax that made the land purchase and construction possible.
The new station has three apparatus bays, a training room and house, and a Columbia Police Department substation. It also features industry-leading safety and sustainability implements, and a sculpture by Kansas City glass artist, Tyler Kimball, as part of the City's Percent for Art program.
The new station will absorb the area previously covered by Fire Stations No. 6 and 7. Farr said the fire department has hired 12 new firefighters for posts throughout the city. Existing staff will be promoted or reassigned to the new station. Farr said interest among current firefighters for assignment at the new station was "high."
"A brand-new fire station. A new response area," he said. "They have a chance to make it their own" and to establish traditions unique to the new station.
Former Fifth Ward Councilmember Pat Pitzer was among the speakers for the grand opening event. He began advocating for a new station when he was elected to the city council in 2017.
"Just like the tenure of this project outlasted my tenure on the city council, the impact that this facility will have will be felt in this community and in this city far beyond the time of any of us," he said. "And if you hadn't noticed, they're still building homes out here."
Current Ward 5 Councilmember Don Waterman pointed out the "instrumental" effort and work of city staff, the fire department, and others responsible for planning for the new station. He noted, as did Pitzer, that "we're seeing substantial development" in southwest Columbia. 
Waterman said the relationship that the station and its firefighters will forge with the residents will be especially valuable in building trust and education about public safety. He said the Ward 5 residents who will benefit from the station are "some of the best neighbors you could ask for."
Mayor Barbara Buffaloe thanks the "army of people" involved in the capital project, "and for the taxpayers willing to put this out there and for their support." She added, "We remain committed to that purpose and to respond to that call when the phone rings."
Farr said the station will be staffed 24 hours per day, seven days a week. The station will be continuously staffed by a minimum of three firefighters