Building the All-American Home
Photos by Lana Eklund
This story originally appeared in the September 2023 education issue of COMO Magazine.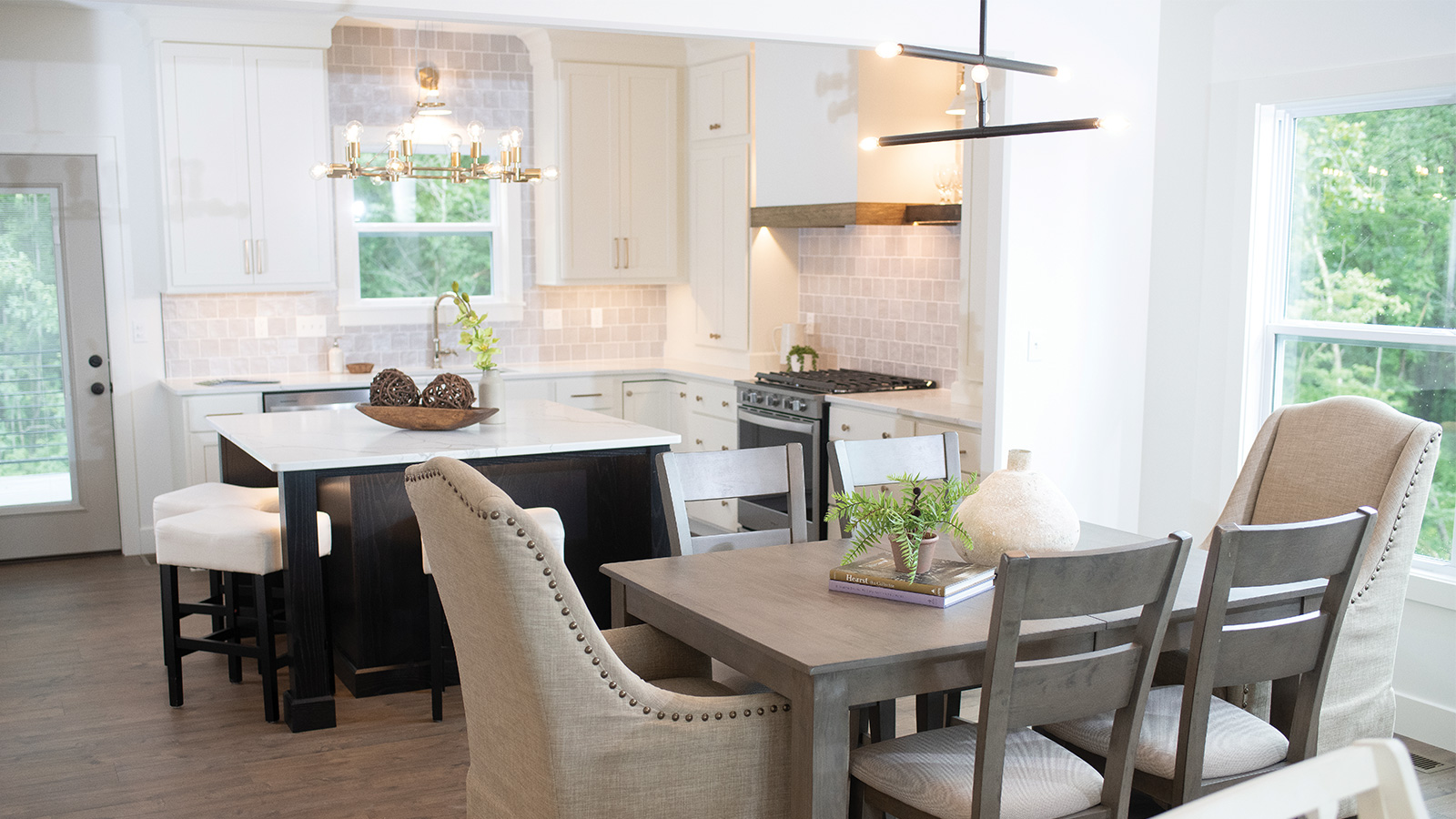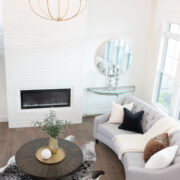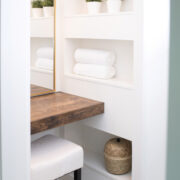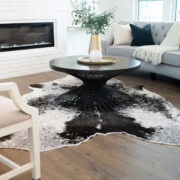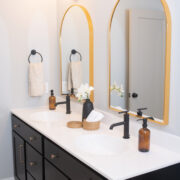 View Gallery
Dynamic Builders develops with purpose and craftsmanship.
Would you be surprised to learn that the ranch-style home is the most common in America, according to American Home Shield? They were produced en masse in the mid-20th century throughout the country after building designer Cliff May made them — along with the mid-century modern homestyle — wildly popular in California after World War II.
The ranch offers an open-concept design that was ahead of its time, with easy access to the outside, and convenient single-floor living. And while many variations on the ranch — the split-level, the storybook, the rambler, the farmhouse, the L-shaped, and U-shaped styles, for example — have added interest to the ranch-style inventory, a ranch is just a box, wider than it is deep, with a roof.
Unless you hire Dynamic Builders to build your home. Dynamic Builders doesn't specialize in ranches, though you can see some influences of the neoclassical- and French-style ranch in many of its homes, including the 1.5-story beauty for sale at 4805 Stayton Ferry Loop in The Brooks subdivision off Route WW, just northwest of The Club at Old Hawthorne. Patrick Wells, owner and founder of Dynamic Builders, finished the five-bed, 3.5-bath, 3,254-square-foot gem earlier this summer. (As of this writing, that beauty was still waiting for a family who appreciates the craftsmanship that Wells and Dynamic Builders pride themselves on to scoop it up.)
A Career Many Years in the Making
Wells, 44, has spent his life in the construction industry. A Columbia native, he grew up spending his summers alongside his father, an HVAC professional, and found a passion for carpentry. In 2005, Wells opened his own trim carpentry business, which regularly was subcontracted for trim work by many prominent mid-Missouri home builders. In 2007, he decided to take a stab at building his first home. And even though the market at the time was terrible and the house sat atop a hill with a bodacious driveway, Wells still managed to sell it in six days.
From then on, he had the desire to build and sell more homes.
Armed with knowledge and experience from building homes for other companies, Wells decided to go out on his own in 2011, opening Dynamic Builders, where he saw an opportunity to do his best work and let his craftsmanship shine. Since then, he has built some 150 homes in mid-Missouri. From 2011-2017, he also was working heavily with Beacon Street Properties, building around 60 houses per year, which helped him learn about production and the business side of things.
"I'm used to building communities, and I'm used to building out entire streets," he says about developing subdivisions.
Wells left Beacon Street in 2018 to pursue Dynamic Builders full-time, and his team has averaged about 30 new builds per year. His team strives to build homes at every price point, which he is able to offer by building a combination of spec homes, like the one at Stayton Ferry Loop, and fully custom homes. The company also does some remodeling.
"What we really focus on is bringing a product to the market with purpose that there's a need for," Wells explains. "You can seek opportunity as it exists in any kind of market."
DB has four full-time employees, including Wells's wife, Shiela, 44, who became the office manager two years ago. She has a master's degree in nursing, but when the business started to pick up, Wells says he was naive to think he could handle everything himself.
"I think her first three months in the office, she probably saved the company over $10,000," he says with a laugh. "So she makes me look good most of the time."
A Modern Classic
The interior finishes as well as the staging were done by interior designer, Bethany Strodtman. She describes the home's aesthetic as "modern classic."
"I wanted the home to be a good blend of modern and traditional, and feel light and airy yet timeless," she adds.
The house is deceptively small from the outside, though the three-car garage hints at the scale of the inside. The white exterior with black trim definitely checks the "timeless" box. A small front porch welcomes visitors. Step inside the front door to a wide, open living room to the right. Straight ahead is a staircase leading up to the half floor above.
The living room, dining room, and kitchen are built shotgun style, allowing you to see through all three rooms at once from front to back. The effect is a feeling of spaciousness without any wasted space. And it's impossible not to notice the bath of natural light afforded by the many windows throughout all three rooms. It is indeed airy.
"Botanical patterns that I found in certain fabrics and wallpapers inspired the design of the home," Strodtman says. "We incorporated traditional patterns and lighting into the home which is balanced with sleek and simple designs."
The living room is anchored by a floor-to-ceiling brick fireplace painted white with a gas insert. Laminate flooring runs throughout, which also elongates the space. Strodtman chose simple furnishings for the living room – a small sofa and a couple of chairs, and a modern, round coffee table. A faux cow-skin rug adds warmth and texture. A large abstract painting above the fireplace also adds texture and a splash of color.
Just beyond the living room is the dining room, staged with a table that seats six. The kitchen is classic with white cabinets and white quartz countertops; a gray backsplash of handmade tile; and gold drawer pulls and knobs add a touch of glamour. The square island offers stool seating; painted black, it adds contrast to the space. A built-in pantry makes storage no problem in this kitchen.
One element of the main level that particularly reflects Strodtman's modern flare is the mid-century lighting fixtures throughout. Just off the kitchen is a covered porch with a floor of composite decking that doesn't get hot in the sun.
The master bedroom on the main floor is huge and features a grand tray ceiling painted navy blue. Strodtman's botanicals steal the show in the ensuite with wallpaper behind the double vanity. The white quartz countertop and darker lower cabinet combo found in the kitchen island repeats here. The shower is a show-stopper with emerald green subway tile stacked vertically on the lower half and topped with white subway tile above. Additionally, this bathroom boasts a built-in vanity space. And the walk-in closet will make you swoon. This bathroom is her favorite room in the house.
"Instead of a typical linen closet, we utilized space in a unique way by incorporating a makeup vanity and drywall niche storage," Strodtman explains. "This both opens up the space visually and provides additional countertop space. I also love the way we mixed patterns and scales from the subtle terrazzo-look floor tile to the medium-scale palm wallpaper to the two-tone color block tile shower. It all works together great."
A half bath on the main floor shows Wells's love of trim work with wainscoting in black on the lower half of the walls, and one of Strodtman's showy botanical wallpapers above.
Take the stairs up to the half-story and you'll find three bedrooms, one of which is so large it could easily be a playroom, home gym, or office. Wells's trim work is again on display in the large room with a simple feature wall of vertical millwork painted gray. Another beautiful bathroom tops off this spacious half-story.
The finished walkout basement opens into an enormous family room with a wet bar. The fifth bedroom can be found downstairs and another stylish full bath downstairs makes this a great entertainment space.
This All-American home backs up to a wooded lot, and the street is as cozy as it is new. It will no doubt be a dream home for a family one day soon.
---
Dynamic Builders
2000 E. Broadway
(573) 356-6859
dynamicbuildersco.com