Drag as art: The Royal Court of Columbia
Photos by Anthony Jinson
This article originally appeared in the February 2023 issue of COMO Magazine.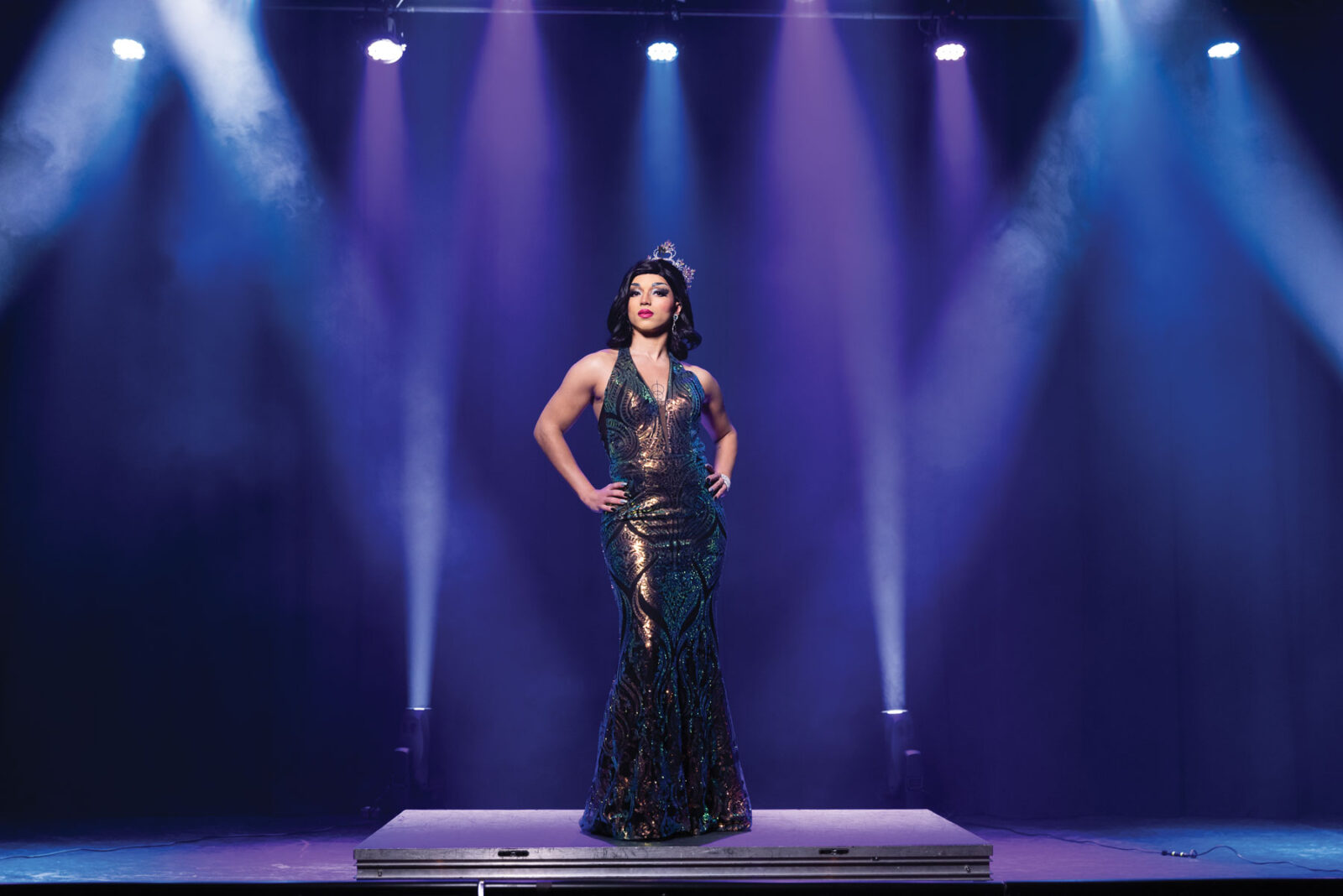 Under the dazzling stage lights in a room gone hazy from clouds of hair spray, a performer is giving it her all, furiously lip syncing to an Ariana Grande song. Audience members are transfixed, offering up their hard-earned cash as thanks for a performance that will not soon be forgotten. Here, she is treated with the kind of reverence that can only be offered to a queen. A drag queen, to be precise.
"In its simplest terms, drag is gender performance art," says Veronika Versace, and former Miss Gay Missouri USofA. "It was based on female impersonation and male impersonation, but as we evolve over time [in the way] people see and express gender, there is a lot of fluidity in that."
"There are so many kinds of drag — drag queens, drag kings — but for me, it's like putting on a character or persona and performing," adds KayCee, the reigning Miss Gay City of Columbia America.
Each drag show is different, featuring acts like lip syncing, dancing, live singing, and comedy routines. Some hostesses conduct the evening like a pageant, while others turn the night into a game show resembling a mashup of American Idol and Jeopardy.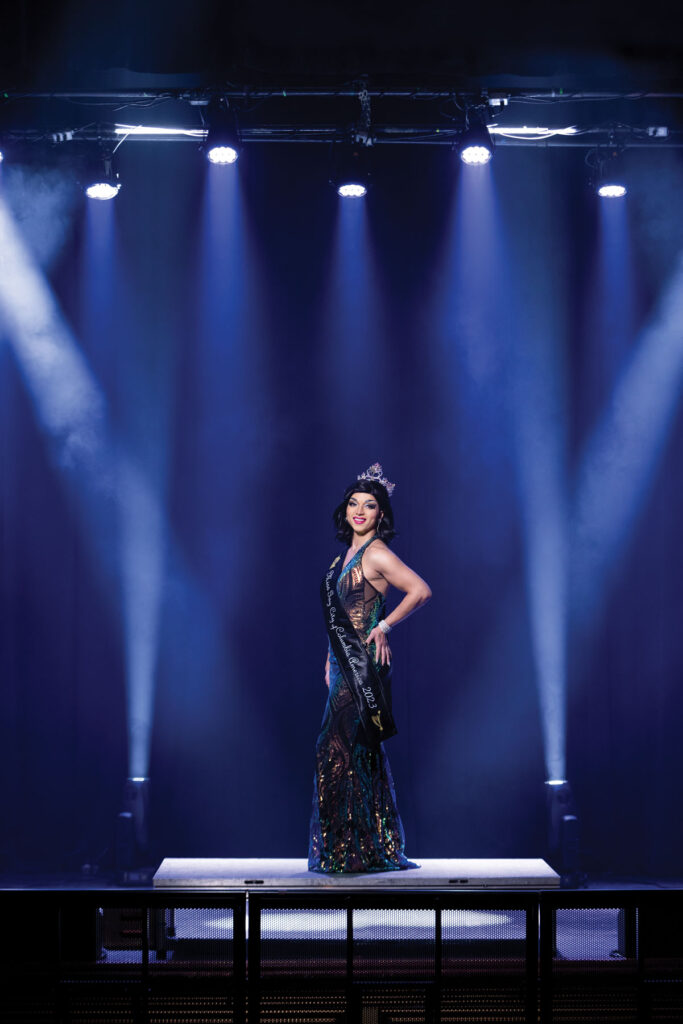 Columbia's drag community is nothing if not resilient.
"In Columbia, [drag shows] had always been in one building," Veronika says. As a co-founder of DIVAS by Design, she goes on to say that the closures of the SoCo Club and the Yin Yang Night Club left the community feeling uncertain. "When COVID hit the last drag bar — there was always one bar, year, after year, after year — all the entertainers had to get really creative and think, 'Where are we going to go? What are we going to do?'"
After Yin Yang Night Club closed its doors for the final time in 2020, fans and performers alike banded together to keep the art of drag alive in Columbia, as well as provide safe spaces for the LGBTQIA+ community.
This is exactly how membership organization Nclusion Plus was born, explains co-founder Anthony Plogger. When Anthony and the other eventual co-founders heard the news that Yin Yang had closed, they knew that they had to take matters into their own hands.
"It felt like the torch had been passed — left on the shoulders of just a few people," he says. "We knew that in order to be successful, it takes a village."
After enlisting the help of a few performers, Nclusion Plus held their first drag show, live-streamed on Facebook. Though they had little more than a backdrop in an office space, the show received more than 15,000 views in the first week alone.
Careful to adhere to the COVID-19 safety restrictions in place at the time, Nclusion Plus soon expanded to their first in-person drag show at the Stephens Lake Pavilion. They held two, back-to-back dinner shows capped at 50 people, both of which sold out.
"At this point, we're like, 'Okay. We're really doing something,'" Anthony remembers. "'People actually want to see this. People want to keep your act alive."
Since then, Nclusion Plus has held pop up shows all over Columbia, expanding outward to surrounding towns like Moberly, Fulton, and Ashland.
Though Nclusion Plus puts on a fantastic show, it's about more than just entertainment. Along with the other co-founders, Anthony wanted to create a meaningful impact in the Columbia community, incorporating his background in education into each of the organization's shows.
"It started with myself and a few of the entertainers that are also teachers," he says. "We came up with PowerPoint presentations about things like Pride Pioneers, who are historical figures who have done things to pave the way for queer people, or LGBTQ+ health care, the importance of HIV testing. We try to include these elements in all of our major shows, as well as offering free HIV and STI testing, and free contraceptives from the health department."
Nclusion Plus also goes beyond their own shows, doing outreach through guest lecturer series and partnering with the Center Project. Anthony feels this education and outreach is especially important when Nclusion Plus ventures beyond Columbia, visiting small towns that have fewer LGBTQIA+ resources.
"When we go to small towns, there's some people that aren't happy about it, but ultimately we want to provide safe spaces for the people of Ashland, for the people of Fulton," he says.
"When we go to these areas, my favorite thing is there's always one person that will come up to us and say something like, 'This meant something to me, wholeheartedly. It made me feel seen and safe. I felt like I belonged,'" Anthony says, visibly moved. "That's the reason we do this. It's not for the money — it's for the community."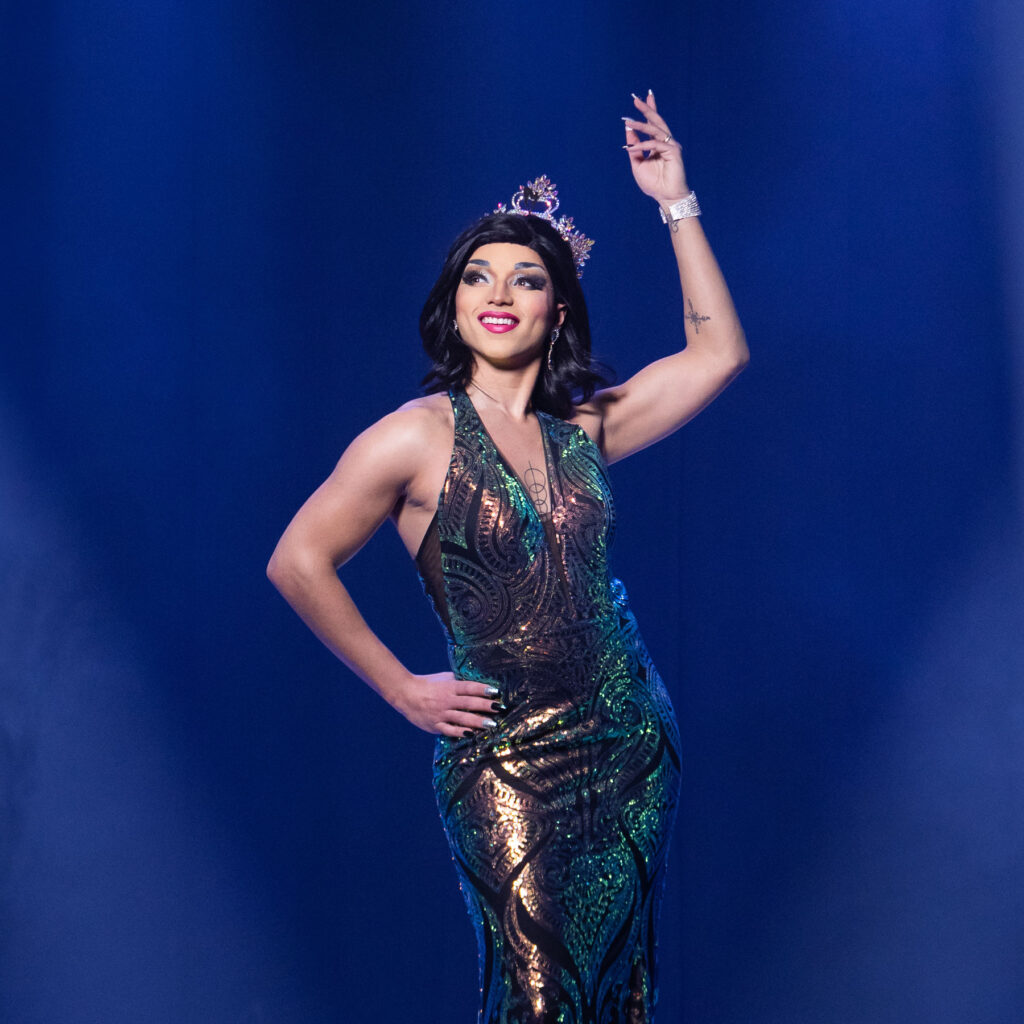 Every queen needs a crown.
With the help of organizations like Nclusion Plus, Columbia's drag community is burgeoning — and sometimes competitive, too.
"I stumbled upon RuPaul's Drag Race in 2013 or so," KayCee remembers. "I watched it and I was so intrigued because I had never heard of anything like this. I grew up in a pretty conservative town, so I didn't get to see many different styles of art."
KayCee attended drag shows at the Yin Yang Night Club during college, but it was not until 2020 when she dove headfirst into the world of drag. Despite having a background in acting and dance, it was a difficult learning curve.
"I already had a background in performance, but when you switch over to another gender — it threw me for a loop!" she laughs. "It took me a while to just figure out how to stand in high heels, my song choices didn't fit my personality, my makeup was rough… But [since then] I've been able to improve and I'm more attuned to criticism than I was at the beginning."
These days, KayCee's full getting ready routine takes just under two hours (as a seasoned performer, Veronika can knock out her makeup in half an hour) and walks with confidence in even the highest stilettos.
Fortunately, KayCee's hard work paid off, as she was crowned Miss Gay City of Columbia America 2023.
It wasn't an easy road to the title. KayCee describes the intense planning, practice, and investments it required just to participate. The pageant uses a point-based system, scoring competitors on aspects like their appearance and performance.
"Veronika was hosting [the pageant] and she was drawing everything out so long," KayCee says, imitating a dirge-like delivery that elicits a giggle from Veronika. When Veronika finally called her name, KayCee was elated. "I could have cried, but I was at that point of adrenaline where it was like a sigh of relief. It was a huge [moment] like, 'Oh my gosh, I did it!'"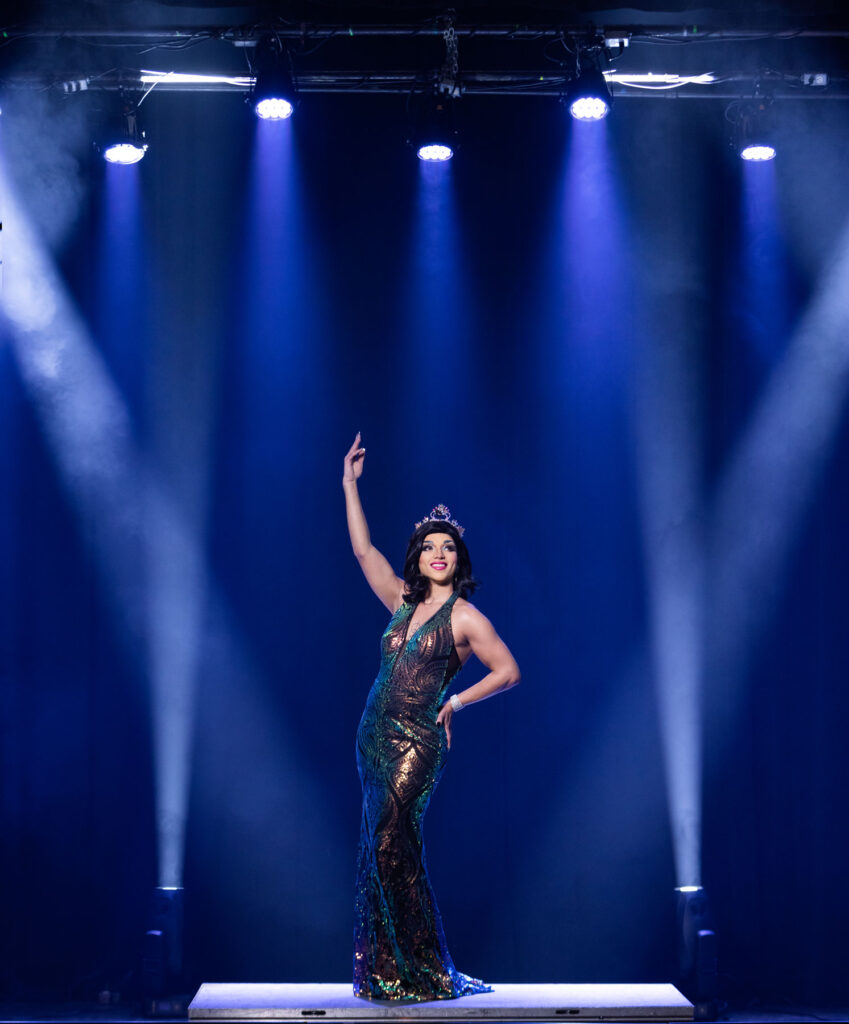 Still, drag isn't all titles and tiaras.
Veronika explains that while drag can be glamorous, it is deeply personal for many performers.
"I think when a lot of people first start [doing] drag, we turn to it because we're shy or awkward and we don't know how to express ourselves," she says. "I was a little bit shy when I was first coming out and coming into the scene, and drag often presents itself as armor, a mask, or a shield."
Support from Columbia's residents is vital in keeping the drag scene alive. Fortunately, there are a number of ways to stand by the performers and the LGBTQIA+ community.
Nclusion Plus is funded by memberships at multiple price points, which go toward putting on shows and paying the staff and entertainers. The memberships come with some serious perks, such as free merchandise and tickets to Nclusion Plus events.
"Just come to a show," says KayCee. "That's what really matters."
"I'd love for the community just to see what we're offering here… There's so many different layers to the community. You can't just see one drag queen or one type of drag show and think that's what it's all about," Veronika adds, explaining that there are many different types of drag shows that appeal to different demographics.
She continues: "A pageant is different from a regular drag show. A drag queen story hour is absolutely different from a drag show. A regular, 21+ drag show can be raunchy, but it's supposed to be fun and [adults] are drinking. That's very different from a pageant, where you see beautiful evening gowns and a talent showcase… even more different than a drag queen story hour, where we read the kids a Barney book or something. All [the kids] see is someone who looks like a princess in a theme park. We're relating to the kids, helping them have fun and smile, helping them learn to love and relate to all people in the world. We're not performing there."
Even with the constant media discourse, Anthony feels that there is a lot of love for the drag community in Columbia.
"In just our three years, the amount of love and support we're getting from our allies and ally businesses that want to show the queer community that there are safe spaces, that there are people that accept them and love them," he says. "I love how the city has grown, because I didn't always [feel] safe going to a drag show at the gay bar… Now, if there's a drag show going on and the people that don't want to see it are like, 'it's not for me, and that's okay.' They're being respectful about it."
With a bit of a chuckle, Anthony adds, "But then you get the ones like, 'Oh my God — is that a drag show? Let's grab a seat!'"
---
Connect with Nclusion plus
nclusionplus.com