Closer Look – Rise & Grind, Lumia Med Spa, and Nutrishop
This article originally appeared in the February 2023 issue of COMO Magazine.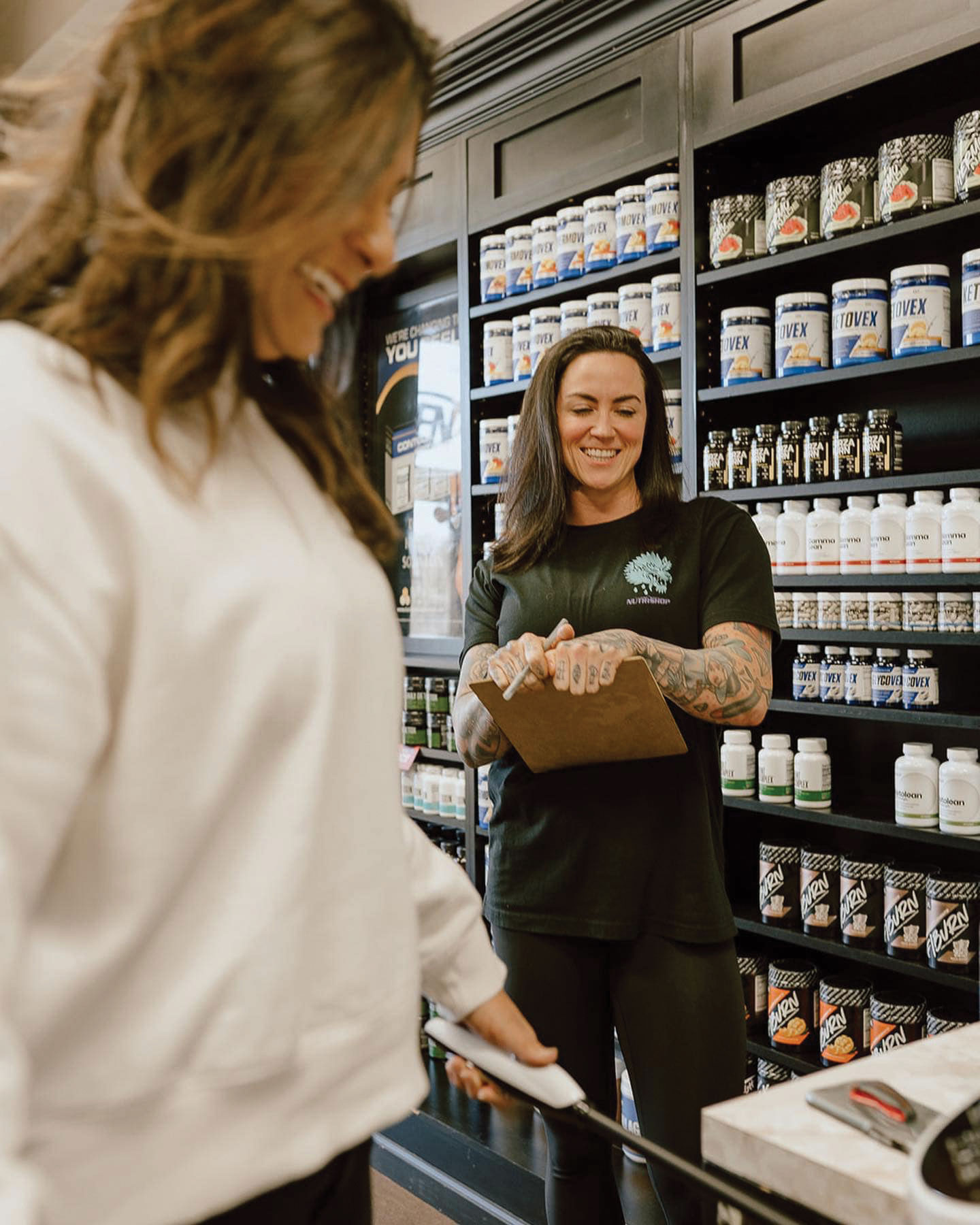 Rise & Grind
Rise & Grind is a local bagel shop brought to you by The Grind Coffee House. The Grind Coffee House has four coffee shops throughout town (south, north, Forum, and campus – inside the J School at Mizzou).
The shop decided to try something a little different and bring a new bagel shop to downtown Columbia, partnering with B&B Bagels to carry the dough so the bagels can be baked and boiled freshly in the shop. Not only does Rise & Grind serve B&B Bagels, but there's also a full coffee menu from The Grind.
Beyond the well-known coffee and bagels, Rise & Grind is introducing some new exclusive menu items. In an effort to support other local businesses, it often offers some of the favorite items from other local shops such as donuts from Elliana's Donut Shop, various desserts from Briar Patch Bakery, grab and go sandwiches from Eclipse Catering, ice cream from Ice Cream Factory, and more. Rise & Grind brought in local artist Adrienne Luther who designed and painted a custom mural that is used as a selfie wall.
904 Elm St., Ste 100
www.thecolumbiagrind.com
@riseandgrindcomo
---
Lumia Med Spa
Lumia Med Spa was founded in 2020 and began as a mobile service. Dr. Austyn P. Belle Isle, owner, took the leap to open the first brick and mortar location in 2021, and is now expanding to a new location opening in February 2023.
"We are thrilled to be able to offer an even better experience for our clients in this new space," Austyn says. "My passion for medical aesthetics was born from my personal interest in art and a clinical background based on meticulous precision with needles. For me, this is the perfect blend of art and science, and caring for people in this way makes my heart sing. I truly believe that lasting beauty comes from the energy we carry through life, and this business allows me to share that energy with others."
Lumia's focus is to provide excellent quality of care, based on the empowerment and education that it provides to clients. Lumia's belief is that everyone who walks through the door deserves to feel seen, safe, cared for, and heard. Lumia's goal is to help you reach your goals.
2011 Chapel Plaza Ct, Ste 111
www.spalumia.com
---
Nutrishop
Nutrishop is located on the north side of town next to The Grind Coffee House and Wilsons Fitness.
"When we opened our doors back in 2017, we made it our goal to help people lose weight, live a healthier lifestyle, and have a better quality of life. We sell third-party tested supplements but also provide meal plans, body compositions, workout plans, and so much more," says owner Amber Goodwin. Nutrishop is known for providing transformation challenges for business, free Inbody Analysis Screenings, and the friendly staff is always happy to answer questions.
"We know the fitness/health world can be a little overwhelming, so we are here to get rid of the guessing game and provide the best in person service you deserve," says Amber.
Fun Fact: Nutrishop even has an emotional support pup on staff that works Monday, Wednesday, and Friday.
2601 Rangeline St, Ste 109
www.nutrishopcolumbia.com