Champions of the Virtual Arena
This article originally appeared in the February 2023 issue of COMO Magazine.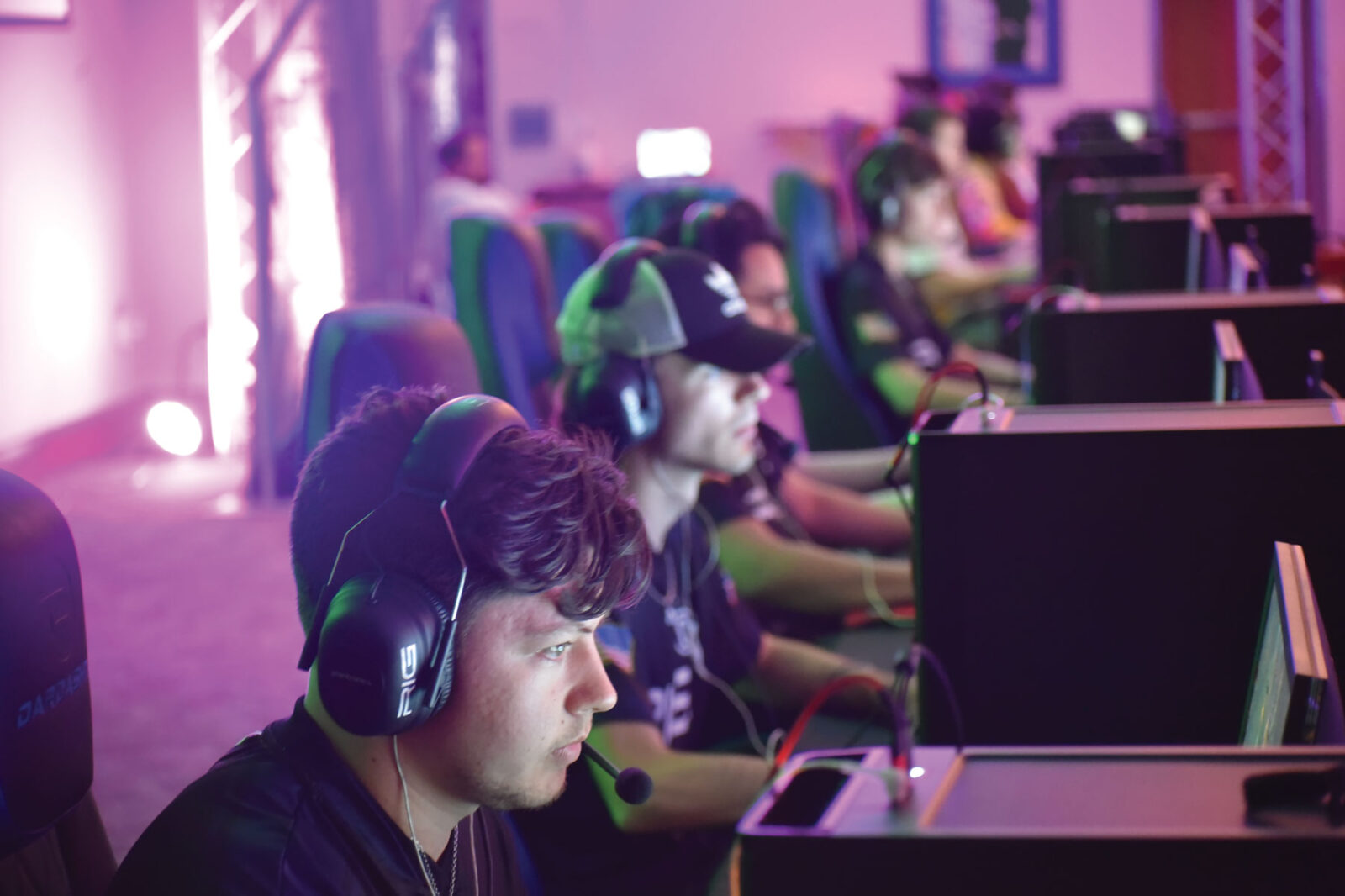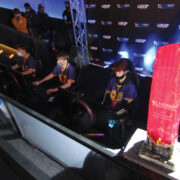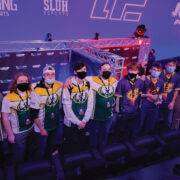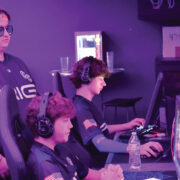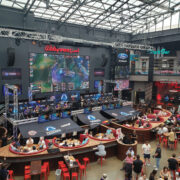 View Gallery
Esports is attracting a whole new kind of team player in Columbia — and around the world.
When you hear the word, "esports," what's the first thing that comes to mind? If you think of teenagers sitting on their couches in front of a TV screen, thumbs flying, the sound of gunfire shattering the silence, you're like most people. But you would be wrong.
Electronic sports, a.k.a. "esports," are indeed computer-based video games, but they're played in a structured way by gamers of all ages, nationalities, and genders as individuals and teams. This isn't like playing on your grandmother's Atari. With nearly 30 million monthly viewers in an industry producing more than $1 billion in annual revenue, esports is big business, and it's getting bigger every day in both the professional and amateur arenas.
Columbia certainly isn't immune. Esports is a varsity sport at Mizzou and Columbia College, and at Battle, Hickman, and Rock Bridge high schools. Lange Middle School has an Esports Club. Columbia Parks and Recreation has its own Discord community — a group chat app for gamers — and sponsors weekly tournaments. With interest breaking into the mainstream, many are curious to learn more about the virtual arena and how it works.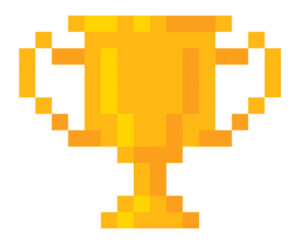 From South Korea and Beyond
In the early 2000s, the South Korean government needed a distraction from a struggling economy. The "new" internet provided opportunities for bars and restaurants to attract people who shared a love for gaming. Game developers and publishers found themselves wielding tremendous power in the creation and distribution of their products. And a new crop of private corporations found themselves with not only the intellectual property rights to the games they developed but with exclusive rights to organized competition.
One of the most powerful to emerge is Riot Games, developer of the multiplayer online battle arena League of Legends, or just "League," as it's known to those who watch and play. To summarize for lay folk, League pits two teams in player-to-player combat as each team defends its half of the map. Each player has special skills. They can earn experience points, earn gold, and buy things that will help them defend their territory and win their opponent's territory.
Esports is all about the game. In addition to League, Columbia teams compete in Overwatch, Rocket League, Valorant, and Super Smash Brothers Ultimate. Some competitions are individual, and others are among teams competing against other teams. Players excel in certain games, practicing and competing in the same one over and over again.
Viewers watch the game and the players on huge screens in small rooms and large arenas. It hasn't taken long for esports competitions to attract the same multi-million-dollar sponsorships as sponsors who put their names on football stadiums. As viewership of traditional sports continues to fall, corporate marketing departments are taking advantage of the esport viewership boom.
What It Takes to Play
Mizzou reports having one of the largest university gaming facilities in the country. The recently upgraded MSI Training Facility on campus features 5,000 square feet of space and top-tier equipment. Think cutting-edge headsets, cameras, keyboards, mouses, screens, hard drives, and fans that keep everything cool enough to run when the heat is on. And don't forget the high-speed Wi-Fi. The equipment isn't inexpensive for competitors and tournament hosts. Plus, those who own the games themselves invest massive sums of money in servers that don't lag when thousands of gamers on online.
There's the equipment needed to play esports, but it's the players that make everything hum.
A New Kind of Athlete
There are always debates about what does and doesn't qualify as a "sport" and, by extension, who qualifies as an athlete. Without getting into the weeds in this debate, let's just say that if competition requiring little physical exertion, like billiards and poker, are considered sports, esports certainly fits the bill. And programs at Columbia's educational institutions are an easy fit in their respective athletic departments.
"Esports at Columbia College are treated just like any other traditional sport on campus," says Aaron Shockley, director of esports. "We require our students to maintain certain academic requirements, attend weightlifting sessions with our strength and conditioning coach, and follow university and team policies."
"Esports has all the aspects of traditional sports," says Blake Kronsbein, Mizzou esports general manager. "Team practice and scrimmages, individual training, coaches, managers, and more importantly, competitions. In order to compete at a high level, thousands of hours in practice are required."
The cumulative team grade point averages are impressive. And just as in every collegiate sport, recruiters at Mizzou and Columbia College watch game film, invite players to try out, and award scholarships to attract the best athletes.
The Structure of Competition
If you're wondering why you haven't read anything about Mizzou's esports ranking in the SEC or Columbia College's ranking among NAIA schools, that's because the structure is different from traditional sports. There are leagues that any college or university can compete in, such as the National Association of Collegiate Esports (NACE) or developer leagues like Riot Games' leagues for League of Legends and Valorant.
There's also an alphabet soup of organizational involvement at the high school level, such as the Missouri Scholastic Esports Federation (MOSEF) and North America Scholastic Esports Federation. An esports search of the Missouri State High School Activities Association website will take you to the National Federation of State High School Associations, which partners with PlayVS, a scholastic esports provider.
There are opportunities for competition locally, statewide, and nationally, and high schools, colleges, and universities are finding where they fit best. It's not surprising given the newness of esports. Columbia College started competing in 2016. Columbia Public Schools started them during the 2017-18 school year. And Mizzou entered the arena as recently as 2019. The common factor is how successful all these Columbia teams are, each holding solid records of impressive wins.
More Than Just a Game
Coaches at CPS schools say that esports gives students who aren't interested in traditional sports a new way to compete with school pride.
"Many of these students never really cared much for traditional sports and the idea of being able to represent their school in sports was never really an option until now," says Matthew Pryor, Rock Bridge High School's head esports coach. "I have seen growth in confidence, happiness, and belonging in all my players and it shows esports has incredible value to uplift and grow a new generation of athletes. These athletes are amazingly talented and allowing them to thrive and learn about themselves in a structured team environment is more valuable than many realize."
"Esports has essentially the same value as traditional sports for high school students," says Battle Coach Stefan Sheffield. "It allows students to make friends, build a community, learn how to work as a team, and provides possible scholarship and career path opportunities as well. I think giving more students different opportunities to experience team sports and competition is also highly valuable."
Andrew Bechtel, Hickman's esports coach, agrees.
"There is a strong sense of community among the members, and the challenges and achievements of the competitive season lead to a lot of personal growth for the student-athletes," Andrew says. "I also emphasize the importance of communication, reliability, and time commitment to the team members."
Every year, there are a few new members who learn a difficult lesson when they miss a practice or match, he says, adding, "Even though most of our athletes won't play esports in college or professionally, these other skills will help them in higher education and their future careers. If they do go on to compete at the collegiate level, they'll continue benefiting from esports."
Aaron says that esports at Columbia College provides a student who is competitive in the scene to have an opportunity to compete while getting a great education. He tells students that "just like in traditional sports, you can use your athletic abilities to further your education and continue the passion you have for your sport or in this case, your game."
At Mizzou's MSI Training Facility, esports competitions aren't the only thing happening. The Esports Media Room, supported by the School of Journalism, provides the opportunity for student production teams to create and produce content for the university's top competitive teams.
"Esports, and especially collegiate esports, is a growing and new space that can offer anyone the opportunity to succeed, as long as they work hard and apply themselves," says MU's Blake. "The best people to work with in esports — whether it be players, streamers, casters, managers, coaches — are those who are passionate about and want to see the community grow and succeed."