Upscale New York Style in Downtown Columbia
Photos by Lana Eklund
This article originally appeared in the February 2023 issue of COMO Magazine.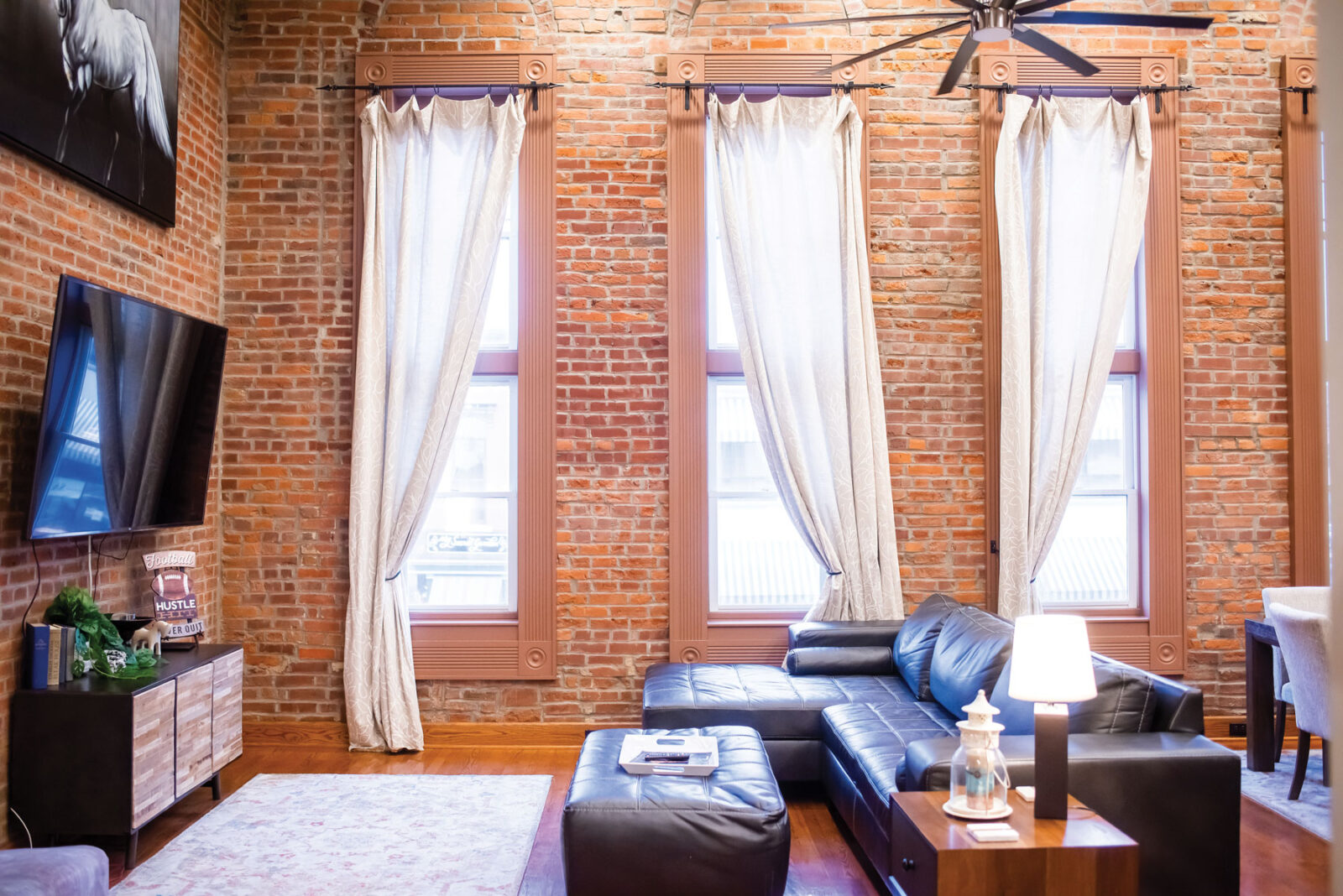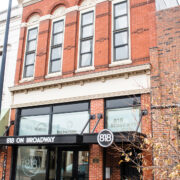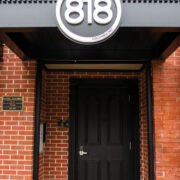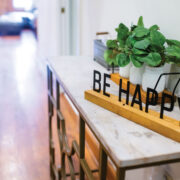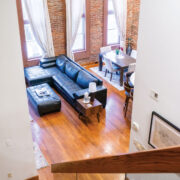 View Gallery
Swanky apartments on Broadway are all about location, location, location.
If hitting downtown Columbia's restaurants and shops figure prominently into your plans for attending collegiate events, one of Columbia's incredible festivals, or if you're here on business, you won't want to miss the opportunity to stay in one of the upscale 818 E. Broadway apartments.
Located right on Broadway between Tellers Gallery & Bar and Broadway Brewery, the three high-end Airbnb properties are in the heart of downtown and the perfect place to stay for football games, homecomings, graduations, the True/False Film Festival, or business trips.
Entrepreneur and philanthropist Greg DeLine added the properties to his business holdings in 2019 and immediately put them on Airbnb. Randy Minchew, vice president for business development at DeLine Holdings, is an Airbnb Superhost and manages the properties.
"The guy I bought them from was [already renting them out on] Airbnb," Greg says. The properties needed very little work, so he was able to turn them around and make them available for rent very soon after purchase.
"We're booked 30 to 40 percent of the time, which is pretty high in the Airbnb world, so we're rockin' and rollin'," Randy says. Based on the outstanding reviews both he and the apartment have received, there's no question that Randy's management of the properties has contributed to these high occupancy rates.
A View of Broadway
If you'd like to feel like Carrie Bradshaw walking into a prewar brownstone in Manhattan, you'll want to book the "A View of Broadway" apartment. The 20-foot ceilings in this two-bed, one-bath space really steal the show, along with loads of 100-plus-year-old exposed bricks.
Neither Randy nor Greg know much about the history of the property, located above what used to be Maude Vintage Clothing, but based on the architectural features of the storefront, and the history of the block between Eighth and Ninth streets, the building likely was erected sometime between the 1890s and 1930. The storefront that once housed Maude is now home to Alpha Real Estate and Total Lending Concepts, both of which are a part of DeLine Holdings.
A row of four tall, narrow windows, each capped with an elliptical masonry fan pediment, span one side of the apartment and overlook Broadway below. The pediments, along with vintage wood shutters on the ends, accentuate the history of this unique, open-concept space. An equine theme in the decor is established with large pieces of art that fill the substantial wall space. Hardwood floors shine throughout.
A small but thoughtfully planned kitchen, which includes a uniquely shaped island with bar seating, glimmers in clean white in one corner of the apartment. A dining room table that seats six is ideal for a meal or a place to get some work done. The cozy living room, filled with warm leather furniture, invites guests to relax and feel a world away.
One plush bedroom and the bathroom round out the downstairs. The second bedroom is tucked away in a small lofted area above the entry hall. The apartment sleeps three and goes for about $500/night for the whole place.
Greg says the apartment serves three purposes: it's a revenue-generating investment, it's great for company retreats or meetings, and it offers a unique philanthropic opportunity.
"We use [this apartment] for a multitude of purposes. It's really a corporate space," Greg says. "When we want to give something philanthropically, we give this." A night's stay in the apartment, along with a gift certificate to one of the nearby eateries, makes for an upscale prize package for nonprofit raffles.
If you're an alumnus of any of Columbia's campuses, imagine a reunion with your college pals in this decidedly grown-up space where you can walk out the door onto Broadway and be within steps of Teller's, Broadway Brewery, Geisha Sushi Bar, Sycamore, Sparky's Homemade Ice Cream, Shortwave Coffee, and the Blue Note.
Relive those college memories by shopping your favorite boutiques by day, and hitting your favorite bars and restaurants by night—no car needed—before returning to the luxury of your New York-style rental. This concept also lends itself well to bachelor/bachelorette parties. If you're in town on business, or for a festival, and your travel style includes sampling local fare and exploring the local haunts, "A View of Broadway" will put you right in the heart of it all.
Family Friendly Options
If being right on Broadway is what you're looking for, but you don't necessarily need the high-end, New York feel, you might want to book one of the other two units, "Bee on Broadway" and "C U on Broadway."
Bee is a three-bedroom, 1.5-bath apartment that sleeps six and boasts a roomy living room and a washer/dryer. It shares a Broadway entrance with "A View of Broadway," and goes for around $350/night. C U also has three beds and 1.5 baths, a roomier, family feel, and goes for around $350/night. The entrance to this apartment is in the alley, just to the right of Broadway Brewery's alley entrance. You can't miss this apartment's festively painted door. Both apartments are modern, clean, and cozy. No matter which of the three apartments you choose, you won't be disappointed.