The Big Boom has arrived in COMO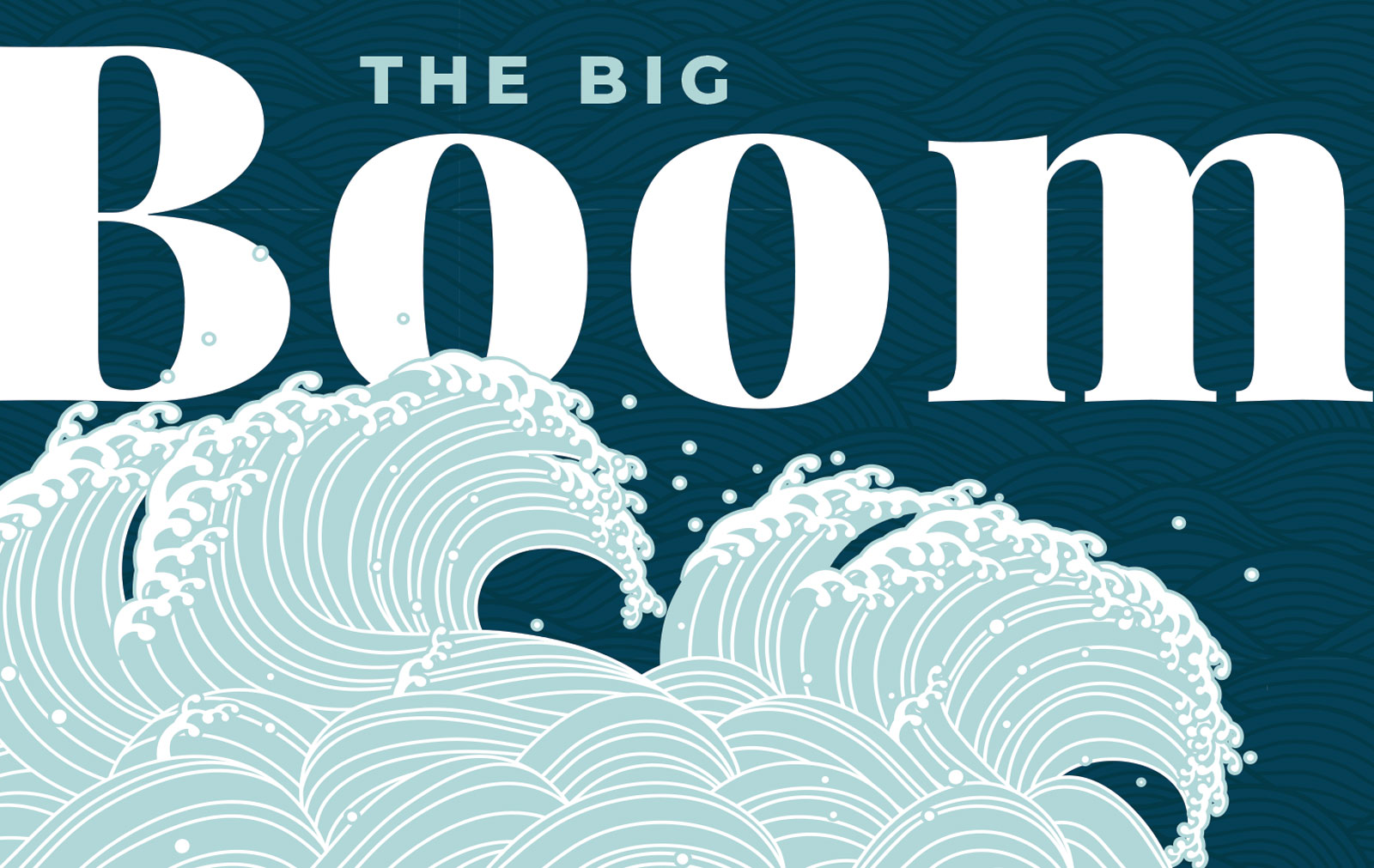 Aging in place programs stave off higher-cost options.
Not long after the start of the 21st century, social service executives, policymakers, and healthcare officials began routinely using the word "tsunami" to describe an impending influx of older Americans into their systems.
That tsunami and a higher — if not urgent — demand for services that range from healthcare and housing to transportation and other community support is now in progress, says Patrick Lee, executive director at Services for Independent Living in Columbia. SIL provides myriad services to help seniors stay in their homes for as long as possible, a strategy known as aging-in-place.
"The baby boomers in general — they are the tsunami," Patrick says, referring to the generation of people born from 1946 to 1964 when there was a marked increase in the post-World War II birthrate. That age demographic now ranges from around age 58 to age 76, or an average of just over 65.
"The baby boomers are going to have the largest number of people over age 80 than any preceding generation," he adds.
The numbers have significant ramifications.
By 2030, the number of Missourians ages 60-plus will be statistically equal to the number of youth ages 20 and under for the first time in history. A November 2022 state budget report from the Missouri Association of Area Agencies on Aging, or ma4, also highlights the rapidly aging population, noting "exponential growth" that is ushering Missouri through "a historic demographic shift."
Where does Columbia and Boone County fit into the aging demographics picture? In 2021, Boone County's population was 185,840, an increase of 22,632 people, or a 9.1 percent increase since 2010. The largest growth among age groups was residents 65 and older, accounting for 43 percent of the increase. As a demographic, the 65-and-older age group increased by almost 65 percent from 2010 to 2021. (In actual numbers, that age group had an estimated population of 15,139 in 2010, growing to 24,910 in 2021.)*
A journey through the census numbers and data that tell the story of an aging population might at first seem eye-glazing to those who are not directly affected by aging or as a caretaker, but the numbers have significant ramifications on state and local budgets and policy decisions. The November state budget report points out that the average cost (as of 2021) to Medicaid for one year in a long-term care facility (nursing home or skilled nursing facility) is around $42,000, while the annual cost for community-based services to keep one senior safely in their home — also known as aging in place — is about $12,000. Among the other benefits of aging in place are wellness classes aimed at preventing falls, which can lead to added costly medical bills.
Five years ago, Missouri had just over 500 skilled nursing and assisted living facilities, with about two-thirds of the beds filled. Columbia has a plethora of assisted living, skilled nursing, and memory care facilities, in addition to other senior living options.
"What I'm worried about is capacity" for care in skilled nursing facilities and other health systems, Patrick says. "I don't see any way that capacity can be developed over the next 20 years." He says one of the best options now and in the future is "keeping older Americans in their homes as long as possible" with aging in place programs.
Senior Connect: Providing volunteers.
SIL is one of 22 centers for independent living in Missouri, created by 1973 federal legislation that earmarked funds for organizations that would provide services for seniors and individuals with disabilities. Among the SIL programs in Columbia is Senior Connect, which is designed specifically for aging in place. Funded by the Heart of Missouri United Way, Senior Connect provides volunteers for seniors. It was originally coordinated by the Boone County Council on Aging, which merged with SIL in 2014.
"None of our services cost. We don't charge for anything we do," Patrick says. SIL has contracts to receive reimbursement from Medicaid for some services, but they don't cost anything for the recipient.
Perhaps one of SIL's most valuable services is as an information referral resource, acting as a liaison with other community programs and services for either aging-in-place or someone seeking to connect with a skilled nursing facility. Patrick says SIL's service liaison, Kim Krause, can help with those questions. She can be reached at 874-1646 or via SIL's website at www.silcolumbia.org.
"We will assess and determine if it's something we can help with," Patrick says. "If it's something we cannot provide, we'll refer them. Some stuff just isn't in our wheelhouse."
But that doesn't stop Patrick and his staff from helping make connections.
"Columbia is rich with nonprofit service agencies," he explains. "I just don't think people know."
'Soaring costs' and worker shortages.
One of those agencies is Aging Best, formerly known as Central Missouri Area Agency on Aging, which serves adults who are aging and adults with disabilities. The primary focus of their supportive services is to "assist aging adults to remain independent and in the homes of their choice for as long as they choose." Aging Best programs and services include events and senior activity and meal centers; support services; a long-term care ombudsman program to help navigate senior living options; connection with volunteer opportunities for seniors and with seniors; and spotting scams and preventing fraud.
A report on the Aging Best website summarizes the challenges of aging-in-place initiatives.
"The number of older adults with limited options, fixed incomes, and financial challenges exacerbated by historic inflation is also increasing," the report states, noting that the agencies on aging are also experiencing "soaring costs, massive loss of volunteers, and worker shortages" that create even greater challenges.
Advocating for the most vulnerable.
In the end, though, the metric that matters most is funding. SIL receives only about 4 percent of its funding from private donations. The rest comes from federal, state, and local sources. Aging Best is heavily supported by state funding, which has not kept pace with the increased demand for services. That's the conclusion of the November 22 Missouri Budget Project report on behalf of the Missouri Association of Area Agencies on Aging and the Missouri Council on Aging.
The report states, "Missouri does not adequately fund services for older adults and people living with disabilities, particularly critical wrap-around services targeted toward" aging-in-place initiatives "that are designed to prevent and delay the need for much more costly institutional care.
Time and again, aging-in-place program administrators, including Patrick, point to a 40 percent cut to community-based programs in 2018 — from $34.8 million in 2017 to $20.4 million in 2018 — that still has not been restored. In fact, the 2022 state budget allocated $20.3 million for those programs.
The result is that there are a multitude of unmet needs among seniors and individuals with disabilities. Patrick concedes that there are a lot of funding requests that require tough decisions in the state legislature and the governor's office.
"There's a lot of hands out for that money. I think we'll all agree on that," he says. "But for us, our population is generally the most vulnerable. It seems to me that those folks are the ones who need the most advocacy. Somebody's got to step up for them."
*Source: American Community Survey, a database from the U.S. Census Bureau, is updated annually and is designed to help local officials, community leaders, and businesses understand the changes taking place in their regions and communities.
---
Additional services for seniors provided by SIL include:
Distribution of donated supplies, such as Depends undergarments, that are provided at no cost to aging-in-place consumers.
Free transportation, including for seniors who use powerchairs or wheelchairs. Through a contract with Columbia Housing Authority, SIL provides free transportation several times a week for residents of Oak and Paquin Towers. There's also a program that provides free transportation for veterans and their spouses that is funded by the Veterans United Foundation.
Case management, where a case manager visits the participating senior a couple of times each month.
Home modifications for small home repairs, and for installing ramps or grab bars, using community grant funds or a state grant program that allows up to $5,000 per project. Both of those grant-funded programs require the recipient to have an income at or below 80 percent of the federal poverty level, and additional residency and age requirements may apply. (The state grant program is an example of where collaboration with Aging Best can come into play. For example, if the $5,000 limit does not cover the entire cost of installing a ramp and a chair lift, Aging Best can use funds to provide the additional investment.)
A Medicaid-supported aid can be available for non-medical services, from light housekeeping to fixing meals and assisting with bathing. The aids will also assess the need for equipment or additional services that SIL can provide or make referrals for.
Donations of durable medical equipment.