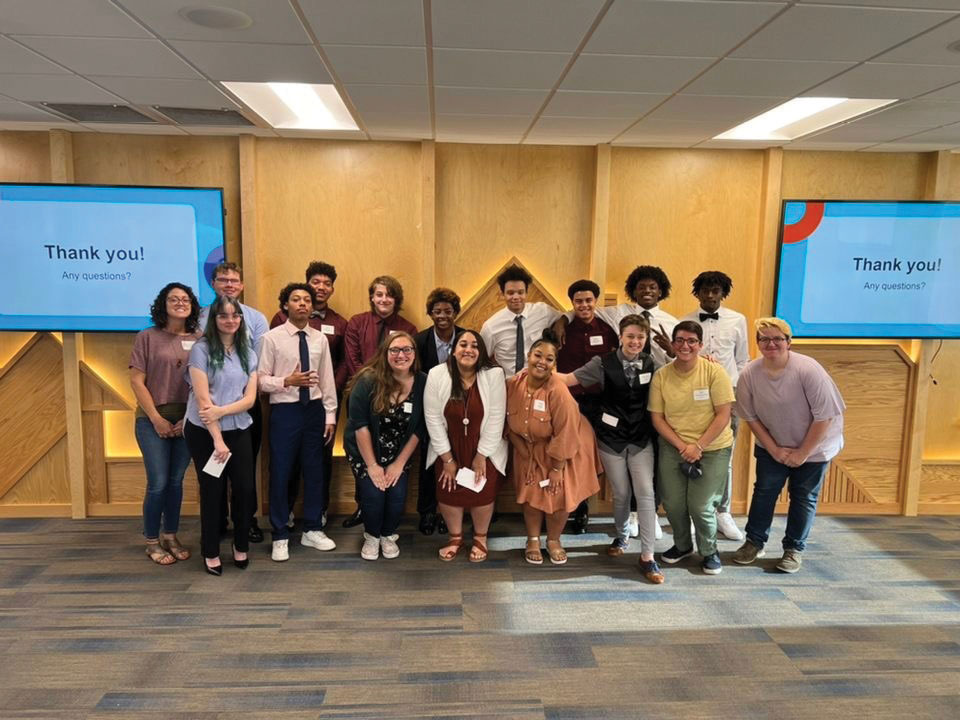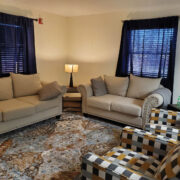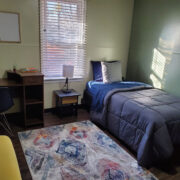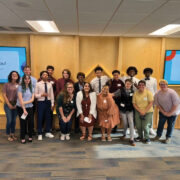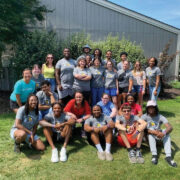 View Gallery
The Flourish Initiative helps fill the need gap for local youth.
As the Veterans United Foundation explored ways to fill a needs gap in the community that would have a long-term impact, social mobility data from Boone County emerged. That data revealed marginalized populations and minority subgroups in Columbia are in the bottom 17 percentile for upwards mobility in the nation. That means those groups have a very poor chance of moving up the income ladder or of doing better than their parents, economically. 
According to Rae Cooper, VU's social impact manager, the Veterans United Foundation took notice. With the desire to facilitate positive change, the Foundation piloted the Douglass Project with Douglass High School.
"We piloted activities like mentoring and professional development opportunities, but the principal came to us and said that they have kids who don't have a place to stay," Rae says. "They were worried about their basic needs."
After regrouping, rethinking, and exploring best practices, a new idea took shape. In 2019, Fostering Life-Changing Opportunities, also known as The Flourish Initiative, officially launched to support homeless students in Columbia. With a multi-pronged approach to serving youth and those in need, Flourish is already making a big impact.
Moving Quickly to Fill the Gap
The team behind Flourish quickly realized that it's challenging to focus on education or employment when you lack access to basic needs like shelter, food and safety. So, Flourish's Emergency and Basic Needs Assistance Program began to provide students with funding to fulfill those needs. To date, the organization has answered 159 requests for emergency funding with $52,022.32 in assistance.
"After seeing that basic needs were met through funding to help with a quick financial influx for things like housing and utilities, we started the Flourish Home," says Mark Kirchhoff, Flourish's director of housing and basic needs.
The home currently has six beds, and by the beginning of the year, four more beds and additional community space will open to provide a haven to youth fleeing abuse and neglect, Mark says.
Since housing its first resident in the Flourish Home in October 2020, Flourish has housed 20 unaccompanied youth between the ages of 16 and 21 for 1,900 bed nights. While it initially only housed students from Douglass High School, today, the Flourish Home has housed youth from each of Columbia's public high schools.
Preparing for the Future
Flourish's $AVES program was created in response to data showing that low-income students who have saved $500 or more for higher education are three times more likely to begin higher education and four times more likely to complete it, Rae says.
Through $AVES, students earn deposits into a 529 educational savings account by participating in personal and professional development activities. The money, a maximum of $5,000, can then be used on tuition for trade or technical schools, two-year or four-year degree programs, or a diverse array of other higher education programs.
"We will coordinate personal and professional development activities, but we will also incentivize for other non-profit programs in the area," Rae says. "Our students could already be engaged in those programs and earn their deposits from us. We are trying to leverage what is already awesome in the community, and use our structure to maximize the impact of those things."
Though initially piloted with a small group of 20 students, $AVES is now open to students in fifth through twelfth grades who are experiencing social or economic barriers.
"To participate in the $AVES program, a student must be at or below 200 percent of the federal poverty line, be a member of a marginalized community like LGBTQ+ or have behavioral health challenges," Rae says. "If a student considers it a barrier, there is flexibility for us to determine if they're a fit."
Today, 103 students have saved $82,250 through $AVES.
Flourish's multifaceted approach to supporting students also includes mentoring, as well as a two-part internship program in partnership with Veterans United. Prep 1 for rising seniors and Prep 2 for recent graduates each pay $2,500 upon successful completion. When combined with dollars earned through $AVES, students can earn up to $10,000 towards their education. According to Rae, students are still able to apply for additional scholarship funding through Flourish.
Forty-five interns in Prep 1 and Prep 2 have completed nearly 4,757 hours of personal and professional development to date.
Also in 2020, Flourish created a scholarship program to support youth of color within 30 miles of Boone County. To date, 106 students have received a total of $473,085 in scholarship funds.
Creating Change in Columbia and Beyond
In addition to being on the ground to provide hands-on, direct services to students in need, Mark has worked to help teens receive qualified minor status, Missouri's version of emancipation.
"This provides them the ability to sign a lease, sign for their own medical or behavioral health care or open a bank account," Mark says. "It allows them to be self-supporting."
While Mark's work has positively impacted local teens, he has also conducted 12 trainings on qualified minor status for nearly 60 organizations around the state.
"Mark is making a positive impact for teens across Missouri who are not yet adults, but who don't have any adult support or other resources," Rae says.
An Unparalleled Partnership
Because Columbia is a philanthropic community with a rich array of social supports, Rae says Flourish isn't trying to reinvent the wheel or repeat services. Instead, the organization aims to harness the power of everything that already exists in the community to support the city's most vulnerable.
"Columbia has a ton of resources but coordination is a challenge between the resources, so it's nice to have a structure that allows us to be flexible and responsive," Rae says. "Flourish is made possible by Veterans United employee contributions to the Veterans United Foundation, and Veterans United kicks in additional money to support $AVES, scholarships and internships."
Veterans United also provides Flourish with accounting and administrative support, which allows Flourish's team of 14 full and part-time employees to focus most of their time on supporting teens.
"Receiving funds from a private partner has increased stability and allowed us to be creative in providing services and stability for youth who are experiencing the largest needs barrier," Mark says. "We're giving them a place to stay and be a kid."
---
The Flourish Initiative
Mission
Weaving resources and relationships together and providing life-changing opportunities so all youth flourish.
Founded
2019
Board
Loreli Wilson, President
(Director of People Services at Veterans United)
Rae Cooper, LCSW, Treasurer
(Social Impact Manager at Veterans United)
Jewell Simms, Secretary
(IT Manager at Veterans United)
Joe Ellison
(VP of Capital Markets at Veterans United)
Claire Slama, LCSW
(Behavior Support Coordinator at Columbia Public Schools)
Dr. Eryca Neville
(Principal at Douglass High School)
Volunteer Contact
[email protected]
www.allyouthflourish.org
[email protected]
@allyouthflourish