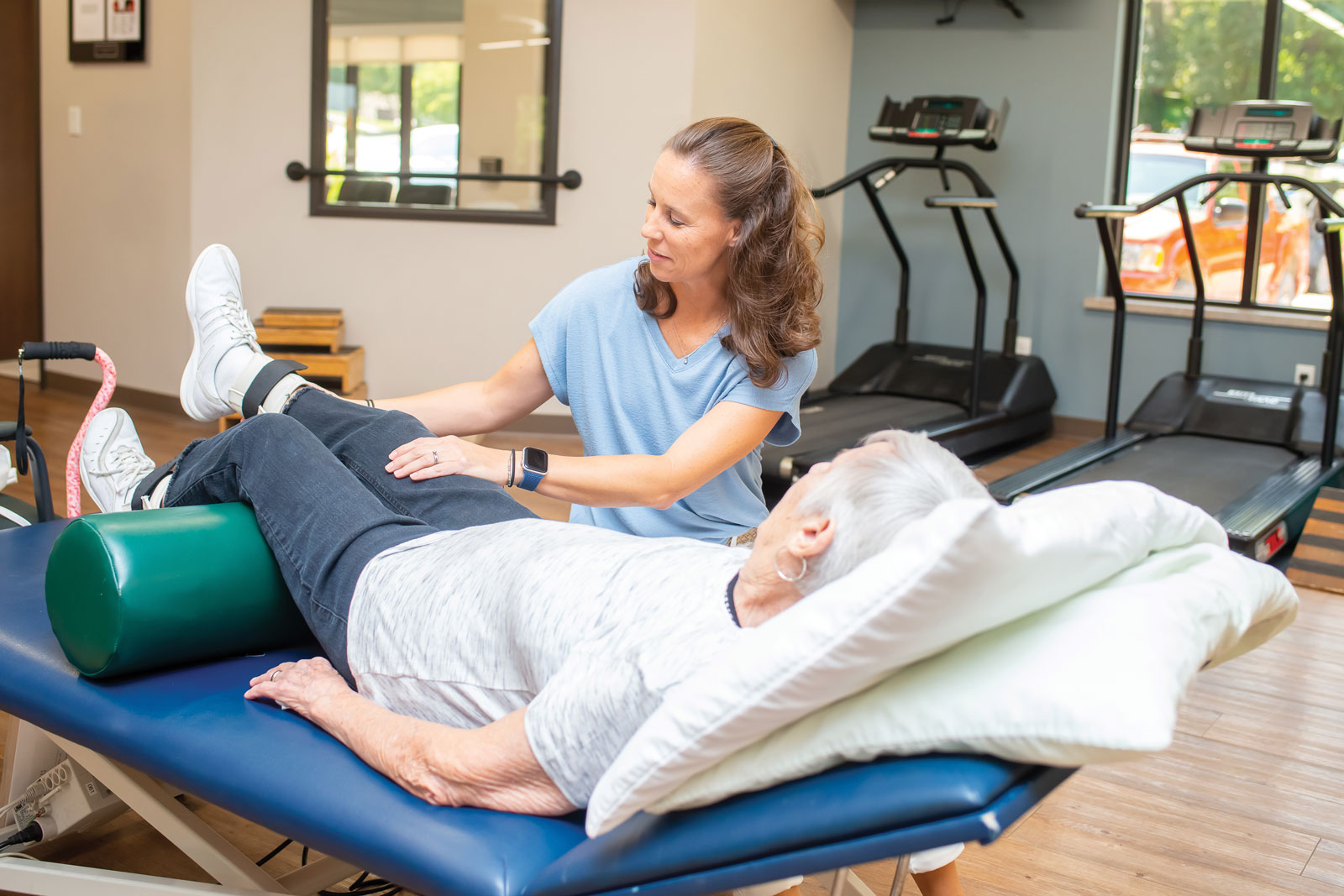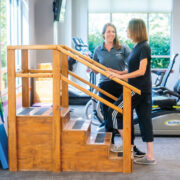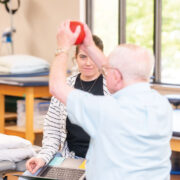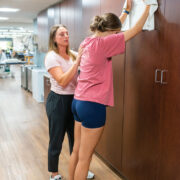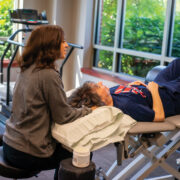 View Gallery
Patient-centered care embedded within the COMO community.
What started as two separate entities has now merged into the largest privately owned outpatient physical therapy company in Missouri: PEAK Sport and Spine. 
In November 2014, Phillip Smith, Mark Dempsey, Todd Ankenman, and Shaon Fry joined their respective companies of Sport and Spine and Peak Performance Physical Therapy together to form PEAK Sport and Spine. Both companies realized they had the same mission and would be stronger working together rather than as competitors.
"We have become a larger company but remain small enough to provide personalized, one-on-one therapy for our patients," director of marketing and sports medicine Stefanie West said.
A Unique Care Approach
Since opening, PEAK Sport and Spine physical therapists have been able to provide patient-centered care to individuals across Missouri with 55 convenient clinic locations. Although the clinic is a Missouri original, it's expanded outside of the state borders. You can find a total of 85 clinics scattered between nine different states.
PEAK Sport and Spine prides itself as being privately and therapist-owned, which allows each clinic to make professional decisions that are best for their patients without outside forces impacting those decisions. With the company's patient-centered approach, recovery is directed by the patient and their healthcare team.
Stefanie says that each PEAK Sport and Spine patient becomes a part of the family. She adds that seeing clients several times a week over an extended period allows the therapists to stay up to date on their lives and what is most meaningful to them. With the PEAK Sport and Spine professionals found both within the clinic and various community settings, it is easy to see how putting roots down in here has helped them forge strong connections with individual patients.
Individualized Services
PEAK Sport and Spine offers physical therapy, hand therapy, sports medicine, industrial rehabilitation, and specialty services to individuals of any age. Each physical therapist works individually with their patient to customize a treatment plan that best fits the needs and goals of the patient.
The benefits of physical therapy can include pain management; injury recovery; improved mobility, movement, and balance; surgery avoidance, and more. Hand therapy is guided by Certified Hand Therapists (CHT) to provide treatment for any condition that affects the upper extremity, including the hand, wrist, arm, elbow, and shoulder. The CHTs at PEAK Sport and Spine can treat arthritis, carpal tunnel syndrome, swelling, numbness, weakness, and other ailments.
The sports medicine side of PEAK Sport and Spine can be seen in the clinic, in the classroom, and on the field. The certified athletic trainers provide services to athletes in the clinic to restore function, decrease pain, and optimize performance. They can also be found in classrooms across Mid-Missouri to provide education on sports medicine to students interested in the profession.
PEAK Sport and Spine partners with over 26 Mid-Missouri schools to provide care for student athletes. This helps enhance the sense of community found at PEAK Sport and Spine as their professionals are directly embedded within the community.
Stefanie says, "Our therapists live and work in the same communities as their clinics." The industrial rehabilitation side of the company provides care to the injured worker through work hardening, functional capacity evaluation, pre-employment and post-offer evaluations, job simulation therapy, validity testing, ergonomic consultation, and a patient education program.
The goal of industrial rehabilitation is to engage patients in individualized treatment plans that best serve their needs to have a successful return to work after injury. PEAK Sport and Spine also provides specialty services such as a core stabilization program, MLS laser therapy, cupping therapy, dry needling, blood flow restriction therapy, and a pelvic health management program.
Each service provided at PEAK Sport and Spine is ensured to fit the patient's needs through an individualized and patient-centered treatment approach which means the timeline for each service varies dependent on the patient and their needs.
The Future
PEAK Sport and Spine has provided superior care and found great success in the last eight years, but they aren't done yet. The company is always searching for ways to expand and grow in both their size and skill set. The company has a heart to serve the community and will continue to embed their professionals and services within the community wherever they can.  
---
---
Columbia Berrywood
3301 Berrywood Drive, Suite 204, Columbia MO 65201
573-449-8771
Clinic Director – Todd Ankenman 
---
Columbia South
10 W. Nifong Boulevard, Suite 121, Columbia MO 65203 
573-442-5268 
Clinic Director – Scott Graham
---
Columbia West
2003 W. Broadway, Suite 105, Columbia MO 65203
573-474-5111
Clinic Director – Lindsay Bell