Briefly in the News: September 2022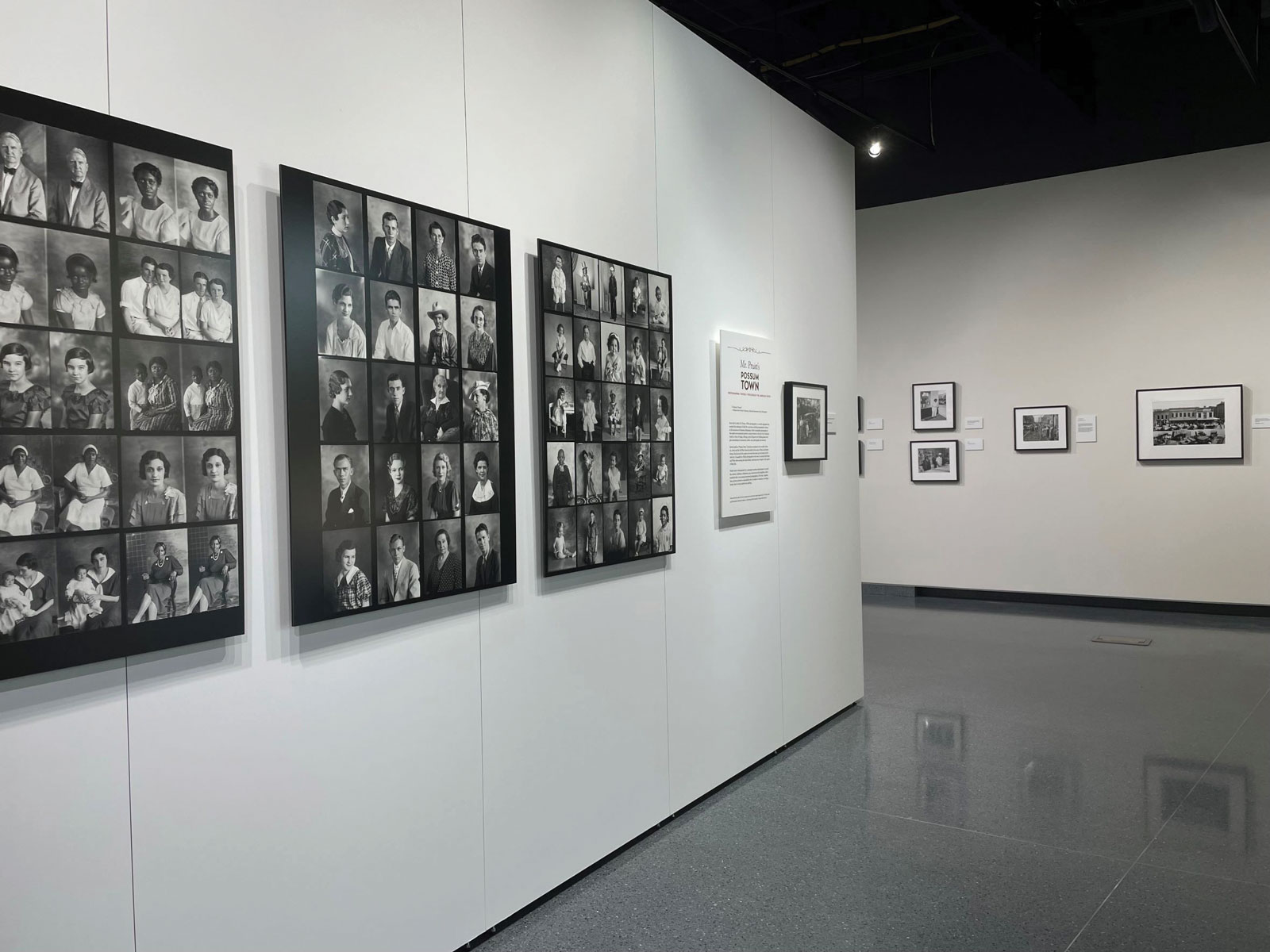 Entrance to Mr. Pruitt's Possum Town: Trouble and Resilience in the American South at SHSMO.
COMMUNITY
New State Historical Society Exhibitions Depict Social, Racial, and Cultural Landscape of the American South from 1920s to 1950s
The State Historical Society of Missouri, in collaboration with the Missouri School of Journalism, invites the public to view a new exhibit, "Mr. Pruitt's Possum Town: Trouble and Resilience in the American South," open through Nov. 5. The free exhibition is sponsored by the National Endowment of the Humanities and curated by Berkley Hudson, an associate professor emeritus at MU. Seventy-five of the exhibition's photos are on display in the State Historical Society's Art Gallery, while another 25 images can be viewed at the Reynolds Journalism Institute on the MU campus. The main exhibition focuses on photographs produced during the lengthy career of photographer Otis N. Pruitt, who spent his professional life in the small, segregated town of Columbus, Mississippi. Hudson and several of his childhood friends acquired the collection. In recent years, with the help from journalism school students and faculty, Hudson has researched some 88,000 negatives that Pruitt made from the 1920s through the 1950s. To tie "Mr. Pruitt's Possum Town" to Missouri's history, the State Historical Society has mounted a related exhibition of artworks from its own collections, "Picturing Missouri Sharecroppers: Finding Counterparts" to Pruitt's Images in Missouri. This smaller exhibit presents images of rural southeast Missouri produced by St. Louis Post-Dispatch editorial cartoonist Daniel Fitzpatrick and photojournalist Arthur Witman. On assignment, they documented the Sharecropper's Protest of 1939 as well as life in the community of Cropperville, a rural Missouri cooperative created to provide homes and farmland to former tenant farmers who participated in the protest.
---
COMMUNITY
COMO Girl Scout Earns the Group's Highest Honor
Ashley Wilkerson has earned the Girl Scout Gold Award, proof that not only can she make a difference, but that she already has. Ashley's Girl Scout Gold Award project was titled "Never Ending Gift," and it addresses the issue of children and young adults not being able to read. Ashley installed mini libraries around her community to increase peoples reading participation. She compassionately said, "This is important because literacy is essential to being successful in life." She pointed out that the younger generations are becoming more reliant on technology and losing their desire to read. She went on to say, "Many people also do not have access or the ability to get to a public library, these mini libraries located near their homes give them access to books all the time."
---
CELEBRATION
Welcome Home: A Community for Veterans Receives Grant Award from Disabled Veterans National Foundation
Welcome Home: A Community for Veterans announced it has received a grant from the Disabled Veterans National Foundation (DVNF) for $15,000, which will fund transitional shelter, permanent housing, employment, and comprehensive, wrap-around supportive services for homeless and at-risk veterans. Welcome Home Executive Director Megan Sievers said, "Joining forces with the Disabled Veterans National Foundation again this year means the world to us, especially the veterans we serve. This is what strong, impactful partnerships are all about. With the generous grant funding, we are proud to renew the foundation's Veteran Room Sponsorship and continue displaying the foundation's name on a special plaque outside one of our ADA shelter rooms for an entire year." Disabled Veterans National Foundation exists to provide critically needed support to disabled and at-risk veterans who leave the military wounded either physically or psychologically.
---
GIVING BACK
UScellular Donates $30,000 to Boys & Girls Clubs of Columbia
UScellular has announced a $30,000 investment in Boys & Girls Clubs of Columbia to provide educational opportunities and experiences to local youth. The company has invested in Boys & Girls Clubs of Columbia to support K-12 Science, Technology, Engineering and Mathematics (STEM) and academic enrichment programs. The STEM learning and experience provided is designed to prepare students for the careers of tomorrow, and according to Boys & Girls Clubs of America's National Youth Outcomes survey, the youth at Clubs display far greater interest in pursuing STEM careers than their peers nationally (52% vs. 27%). This year, the funding will support the Club with needed staffing and training, supplies for additional locations, improvements to its STEM bus and STEM field trips. "We've heard from parents and students that they think STEM is good for their future careers, but 48% of students and 41% of parents don't know enough about the opportunities a STEM education would afford," said Joe Cabrera, director of sales for UScellular in Missouri and Kansas. "Boys & Girls Clubs of Columbia provides this critical access so that we can build a future of bright and enthusiastic tech leaders." Last year, UScellular donated 2,845 hotspots and services — a value of nearly $2.6 million – to 35 Boys & Girls Clubs as a part of the After School Access Project, a program that provides free mobile hotspots and service to nonprofits that support youth after the school day has ended. This included 80 hotspots and service valued at $92,000 for Boys & Girls Clubs of Columbia.
---
HEALTH
Boone Hospital Center Named Mid-Missouri's No. 1 Hospital for Eighth Straight Year
For the eighth year in a row, Boone Hospital Center was ranked the No. 1 hospital in Mid-Missouri and was named the No. 6 hospital in the state by U.S. News & World Report. The publication also rated Boone Hospital Center "High Performing" in abdominal aortic aneurysm repair, aortic valve surgery, chronic obstructive pulmonary disease (COPD), colon cancer surgery, heart attack, heart bypass surgery, heart failure, hip fracture, hip replacement, kidney failure, and stroke. The annual "Best Hospitals" rankings and ratings are designed to assist patients and their doctors in making informed decisions about where to receive quality care for challenging health conditions or elective procedures. For the 2022-2023 rankings and ratings, U.S. News evaluated more than 4,500 hospitals across 15 specialties and 20 procedures and conditions. In the 15 specialties, 164 hospitals were ranked in at least one specialty. State and metro area rankings reflect the highest performing hospitals in the area across multiple areas of care.