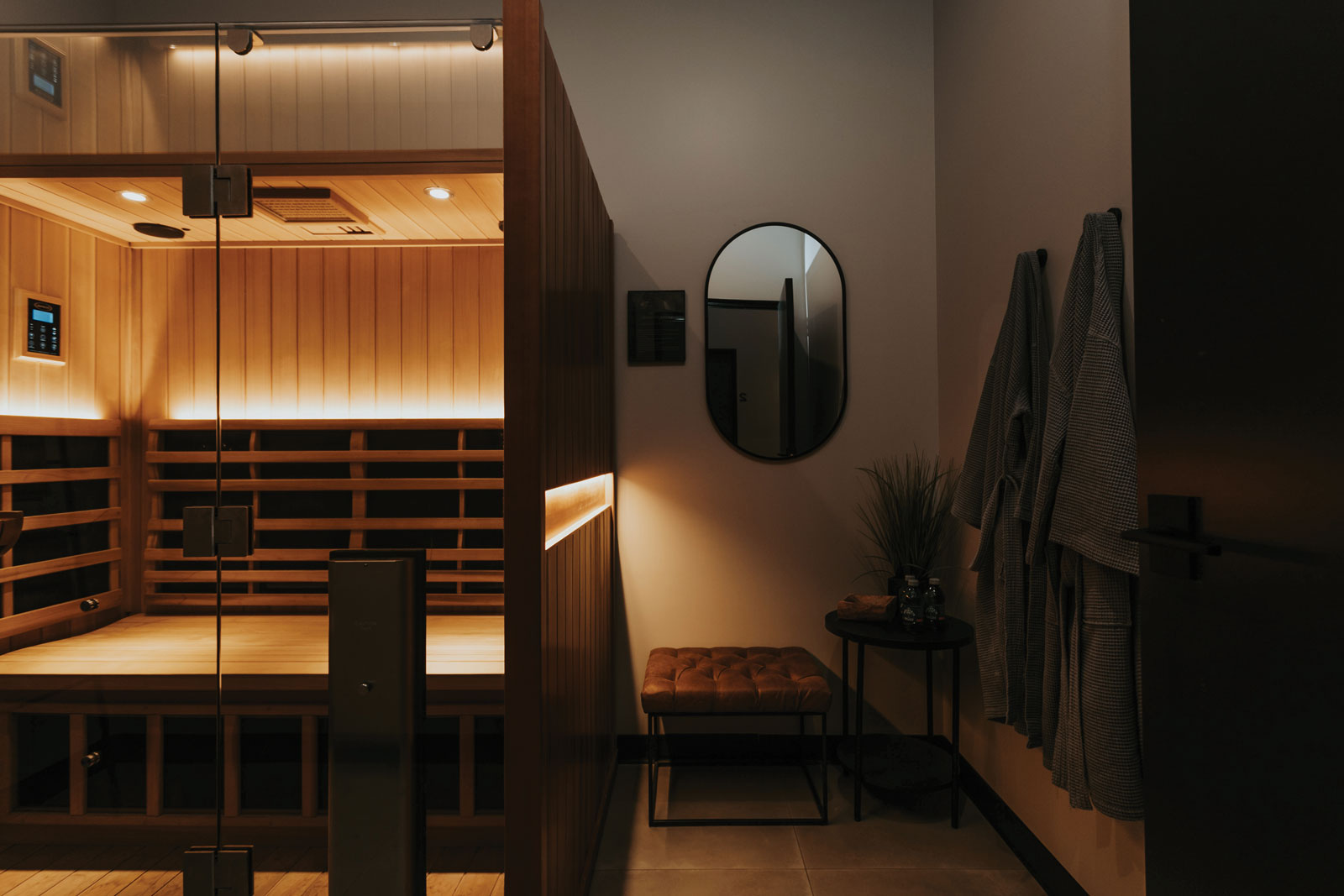 Element Wellness + Cryotherapy
Owners Matt and Claire Taylor decided to open a cryotherapy facility after researching and learning that it was a treatment option for Claire, who was diagnosed with Multiple Sclerosis. The Taylors knew our community would greatly benefit from adding these treatments, thus, Element Wellness + Cryotherapy was born. The social wellness club facilitates a variety of remedies through a highly educated team of experienced nurses, an attending physician, and wellness experts, all with the goal of providing optimal healing and lifestyle support. Element offers whole body cryotherapy, infrared sauna treatments, hyperbaric oxygen therapies, Normatec compression, NAD+ therapy, vitamin IV drips, vitamin injections, Celluma red-light therapy, and massage therapy. The original location opened in 2019 and expanded at the end of last year. "The human body is a self-healing machine, naturally equipped with innate restorative capabilities. When we support our systems with the proper tools, we are able to function at optimal performance and organically repair our physiological self. The most important thing we can do for our health and well-being is to put our body in the best possible state. By helping our community optimize their physical state, we are helping the community strengthen both their physical and mental health," says Matt.
1020 E. Green Meadows Rd suite 112
573-214-2616
elementcryo.com
---
COMO South
Family-owned and operated BBQ restaurant COMO Smoke and Fire, is excited to announce that a second location will open this summer. An extension of COMO Smoke and Fire, the new restaurant will be called COMO South, and it will take over the space formerly occupied by Buckingham Smokehouse. Owners Christy, Matt, and Patrick Hawkins are looking forward to bringing the best barbecue, burgers, and sandwiches in Mid-Missouri to south COMO. From its homemade sauces to the daily assortment of freshly smoked meats, COMO Smoke and Fire enjoys putting its own spin on barbecue — it's not St. Louis Style or K.C. Style, it's COMO Style! Their saying, "When You're Here, It's Never a Disgrace to Have Sauce on Your Face!" rings true, as does their mission of wanting everybody to feel like family close at heart. It truly is a family affair: Patrick cooks and creates, Matt smokes the meat, and Christy works the office. You'll often find their kids in the restaurant seating guests or cleaning up. Who's hungry?!
3804 Buttonwood Dr.
573-443-3473
comosmokeandfire.com
---
Achieve Balance Chiropractic
Achieve Balance Chiropractic first opened its doors 14 years ago, and is now thrilled to open its brand new state-of-the-art facility in The Colonies at the corner of Forum Boulevard and Colony Drive. Dr. Arminta Phelps has her CCWP certification (Certified Chiropractic Wellness Practitioner) which allows her to educate people on how to eat, think, and move better. Dr. Arminta is joined at Achieve Balance by her mother, Gwen, her husband, Chris, and three on-staff doctors ready to provide specialized care to every patient that walks through the door. When asked what she hopes to provide for our community, Dr. Arminta says, "A solution to your health care needs naturally, by helping your body adapt easier to stress, easing aches and pains, while teaching you to live a more holistic lifestyle. We have created a space to encourage healing through all of your senses. This new space allows us to serve more people and impact more lives! Plus, the space itself is absolutely beautiful!"
2700 Forum Blvd 
573-442-5520
achievebalancechiropractic.com