An (un)Official Guide to (some of) COMO's Parks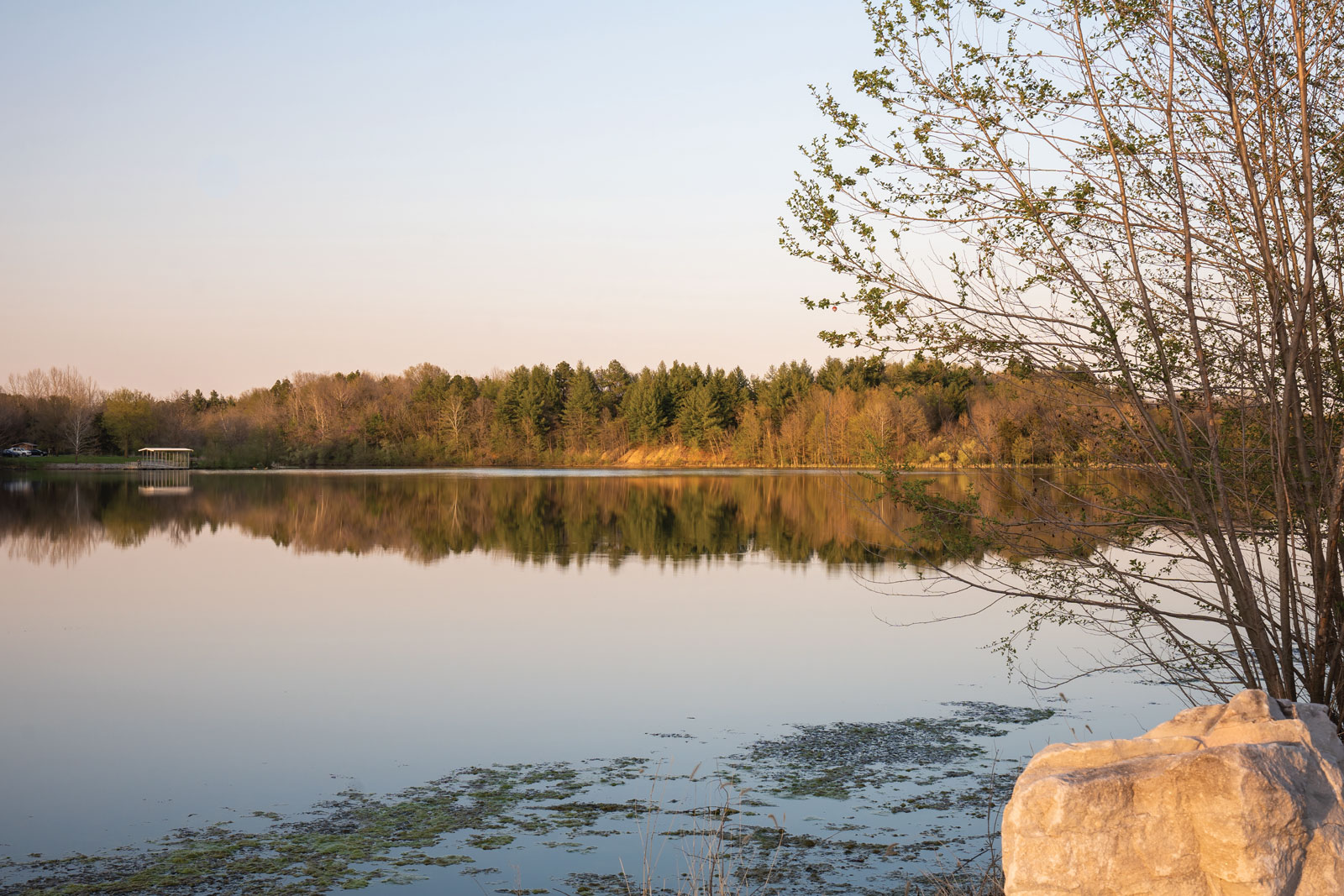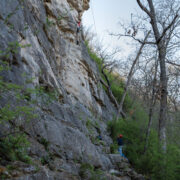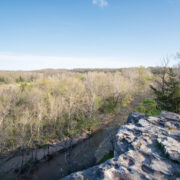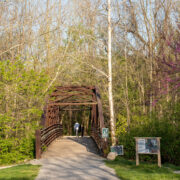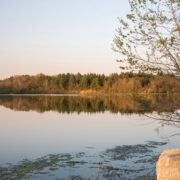 View Gallery
What better way to connect with nature in your local community than to visit a park? Here, you'll find profiles on just a few of our personal favorite parks in and around COMO. We hope you'll take some time to visit these places with friends, family, (or even a good book!) and soak up some sunshine.
Capen Park
If you are interested in scenic overlooks, Capen Park is your place. The 31.9-acre park features the Hinkson Creek Hiking Trail, a creek, and rocky bluffs perfect for hikers and rock climbers alike. This park connects to Grindstone Nature Area and the Hinkson Creek Trail via bridges.
The Hinkson Creek Hiking Trail is a result of a collaboration between the City of Columbia and MU. The trail and two-wide pedways connect Conley Road with the MKT trail. The city manages 5.25 miles beginning at Conley until it connects with the 2.25-mile long MU Rec Trail, which the University manages, before meshing with the MKT trail.
The park property was acquired in 1978 after a 10.75-acre donation by James and Lucy Capen. Over the years, the City purchased the remaining 20.84 acres for a total of $120,890.
The City of Columbia also has a mulch site at Capen where citizens can drop off yard waste and pick up free mulch.
Location
1600 Capen Park Dr. Columbia, MO 65201
Park Hours
6 a.m. to 11 p.m.
---
Finger Lakes State Park
Built in a former coal mining area, Finger Lakes State Park has become quite the outdoor destination. On top of spacious campgrounds, rolling terrains, and Missouri's natural beauty, the park offers various activities for the whole family to enjoy.
The campgrounds offer basic 30-amp and 50-amp electric campsites. Reservations can be made online at mostateparks.com/campgrounds/finger-lakes-state-park or by calling toll-free 877-ICampMO.
The park features multiple trails: The challenging 2.75-mile Kelley Branch Mountain Bike Trail, the 4.5-mile Finger Lakes State Park Water Trail, and an ORV (Off-Road Vehicle) Trail system for visitors to explore. The ATV park is one of only two in Missouri's state parks system. Kayak, paddleboard, and canoe rentals are available for those interested in exploring the water trail.
Other activities include swimming at the park's sand beach or in the lake, fishing in the finger-shaped lakes that give the park its name, picnicing in the shaded picnic area (complete with tables and grills) or enclosed shelter, boating, and having fun at the park's playground. 
Location
1505 Peabody Rd.
Columbia, MO, 65202
Park Hours
April – October (on-season)
6 a.m. to 10 p.m., daily
November – March (off-season)
6 a.m. to 9 p.m., daily
*Office, riding, Motocross/ORV Area, etc. hours vary
---
Rock Bridge State Park
Established in 1967, Rock Bridge Memorial State Park has been a local hotspot for decades. The park encompasses 2,273 acres and has 12 caves that provide insight into Missouri's underworld.
The park also features some of the most popular hiking trails in the state, some of which visitors can use to ride bikes or horses. Trails include Deer Run Trail, Gans Creek Wild Area Trail, High Ridge Trail, Sinkhole Trail, Grassland Trail, Karst Trail, Spring Brook Trail, and Devil's Icebox Trail. The latter is only half a mile, but hosts some of the most impressive geological features in the park. This includes the 63-foot high and 124-foot long natural tunnel known as The Rock Bridge and the double sinkhole entrance known as Devil's Icebox. Once visitors enter Devil's Icebox, they can explore the 166-foot long Connor's Cave and even get a guided tour.
Rock Bridge offers a variety of interpretive programs  to help educate and connect people with their natural environment. The park also features an orienteering course, a recreational activity in which participants use a map and compass to navigate along an unfamiliar path that has permanently installed markers/control stations as checkpoints. There are also two picnic shelters (Bill Gilbert Memorial Shelter and Rockbridge Mills Shelter), a special-use camping area for nonprofit, educational, or scout groups with children, and a playground rated for 5-to-12 year olds.
Location
5901 South Highway 163
Columbia, MO, 65203
Park Hours
Sunrise to Sunset, year-round
---
Pinnacles Youth Park
Located about 12 miles north of COMO, Pinnacles Youth Park may be the farthest from the city, but the views from the craggy peaks at the park are well worth the trip. The 70-acre park is a geological wonder, formed by two rivers carving out limestone on both sides. The rock formation stands at 75-feet high and stretches 1,000-feet long. The park is open daily for public use and also available for youth groups to camp overnight.
The latter keeps the park true to its initial purpose, as it was deeded to the youth of Boone County in 1965. Since then, the private park has been maintained by the Boone County Pinnacles Youth Foundation with the help of donations and volunteer labor and without government funding.
There are several trails within the park, but the most popular runs along the namesake rock formation, The Pinnacles. Another favorite trail leads to the Shelving Rock, a 40-foot deep, 125-foot long, and maximum 10 foot high natural shelter that was formed from the Burlington Limestone being undercut by erosion.
Location
850 E Pinnacles Rd.
Sturgeon, MO 65284 
Park Hours
Sunrise to Sunset 
---
Twin Lakes Recreation Area
Twin Lakes Recreation Area spreads across 73.3 acres in south Columbia. The area holds special appeal to dog owners, as there are three dog parks within Twin Lakes: Lakeside, Paws Pond, and the Off-Season Dog Park. Dogs are allowed to be off-leash here, but they must be under the control of the owner. Leashes are required on established trails, however. 
Lakeside provides a spacious 3.9-acre area for dogs of all sizes to play in. This area is fenced in on three sides with the 16-acre fishing lake serving as the west boundary (hence the name). Dogs are welcome to join the fish and dive right in!
Paws Pond Dog Park is a safe haven for small dogs. No big dogs allowed! Visitors should be no taller than 18 inches at the shoulder. This area is fenced in and also features a small pond for the tinier canines to dip their paws in.
Both of the previously mentioned dog parks are closed from December to February. Appropriately named, the Off-Season Dog Park is open to all dogs during the colder months. This space was created at the Columbia Fire Department's request after a hazardous winter season when it received nine calls to help rescue dogs that fell through the ice.
Anglers can utilize the fishing lake and dock in Lakeside dog park, but be aware that there is no boat dock and no motorized boating allowed. Additional amenities also include a playground, picnic tables, a reservation shelter, restrooms (open April 15-Oct. 15), a bath house, the County House Trail, and access to MKT Trail. 
Location
2500 Chapel Hill Rd. Columbia, MO, 65203
Park Hours
6 a.m. to 11 p.m.
Fishing Hours
4:30 a.m. to 11 p.m.