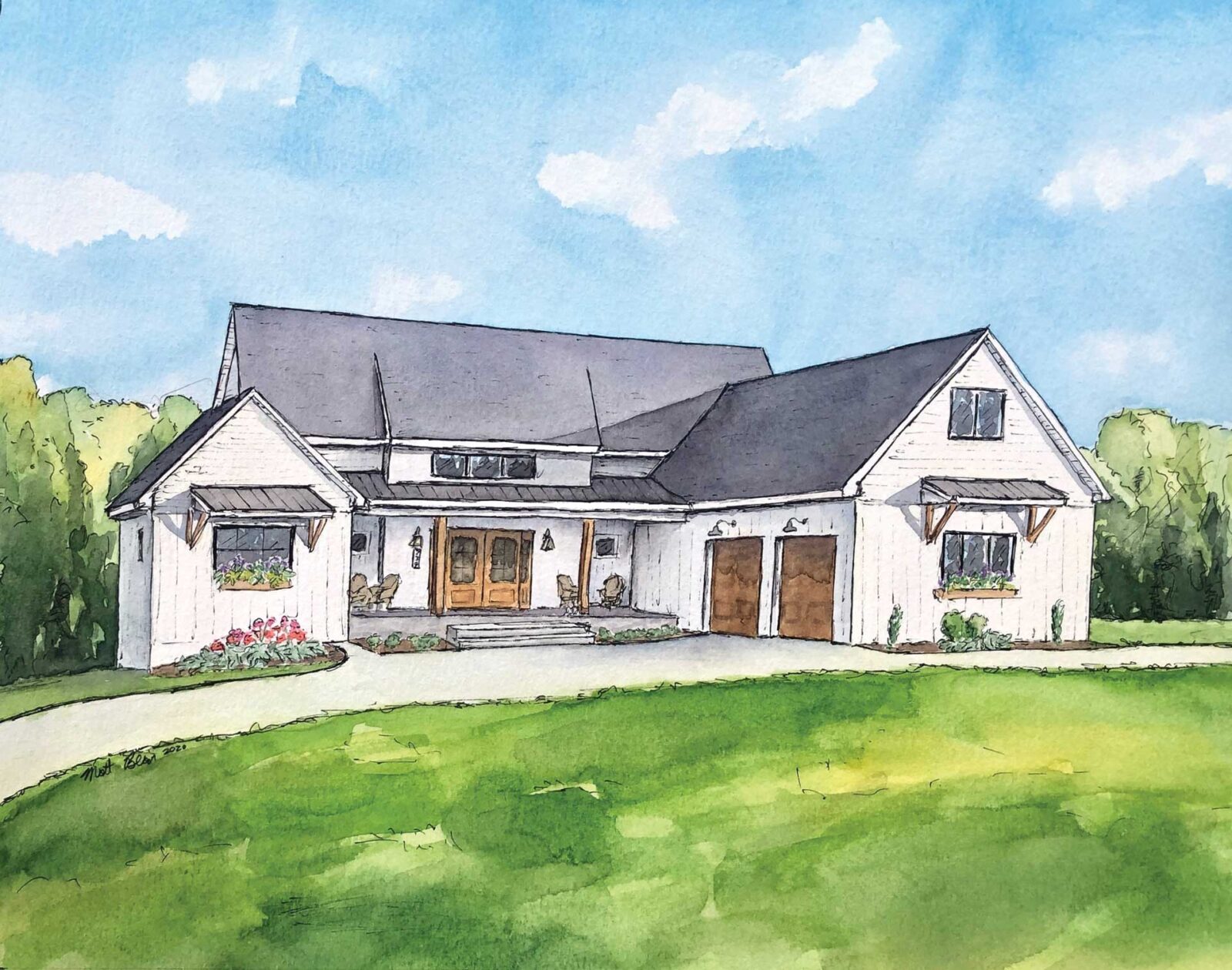 Matt Bear transforms homes into beautiful artistic representations.
Matt Bear is one of those exceptional people who seemingly does it all: He's a father; a husband; a business owner with professional experience in marketing, advertising, fundraising, and insurance; and a talented watercolor artist. The 38-year-old Chesterfield native, who's lived in Columbia since 2003, calls himself an observational or representational artist who paints things as he sees them. Painting is something of a side hustle for Matt. His current watercolor passion lies in painting portraits of homes, which he started doing in 2019.
"It was a business decision, plain and simple. What is there a demand for?" Matt says with a laugh about deciding to paint homes over any number of other subjects. "As an observational artist who likes architecture in general, it was a good fit for me." After he came up for the idea to paint house portraits, Matt did a test to see how long it would take him to sketch, paint, and ink his neighbor's house in the Southridge subdivision. To promote his unique service, he launched an Instagram account. Real estate agents commission his work as gifts for their clients, and family or friends of the homebuyer will commission a piece as a one-of-a-kind housewarming present that's worthy of a reveal on HGTV.
If you'd had known Matt as a youth, you'd have bet money that if he went to college, he'd study art, not business. Matt loved to draw as a child, an activity that his mother, who earned her degree in art education from MU, encouraged. In middle school, Matt was inspired by The Disney Renaissance, the period from 1989 to 1999 when Disney was making critically and commercially acclaimed animated films. It's also when Disney started its move toward computer animation.
"'Beauty and the Beast' really did it for me, and it was my dream to be a Disney animator. And so in middle school I stepped away from cartoon drawing and really pursued figure drawing and how to draw human beings," Matt recalls. "By high school, though, I knew I wasn't interested in pursuing digital art or digital animation and got really interested in oil painting and watercolor."
That's where Matt's relationship with art went on hiatus for several years. "By the end of high school, though, I was really burnt out [on making art], and I didn't have a portfolio because I'm a really slow artist," he says. "I thought I was going to go to Missouri State for art, but I went to Mizzou for business instead."
And instead of business, Matt ended up going with a degree in interdisciplinary studies with emphases in business, economics, and communications.
An internship his senior year at True Media helped him get his first job out of college, as an account executive at KOMU. Interestingly, for as much as Matt took after his mom and her love of art, Matt's father also sold advertising for four decades in St. Louis, including for the NBC affiliate.
Matt went to Shelter Insurance in 2008, where he moved into media buying at the corporate level for five years, but after a while, Matt knew he had to make a decision: either grow his marketing career, which would mean leaving Shelter, or make a career out of staying at Shelter.
"I decided to stay at Shelter, and in doing so, I learned insurance on the side. I got licensed and worked for a local Shelter agent part-time for a few years and that snowballed into my full-time position at the home office. [But] after eight years, I was just ready to try something new. So I got into fundraising [at Columbia College] and loved it."
While Matt didn't take any art classes at MU, working at Columbia College allowed him to take a couple of courses. Matt did little drawing or painting in his 20s as his high school burnout persisted. Becoming a father changed that. About five years ago, his kids, who were 7 and 5 at the time, were making artwork while on vacation in Estes Park, Colorado. Matt ended up taking a picture of the Rockies and then came home and did a watercolor of the photo. This inspired him to get back into watercolor with purpose and intention. And then he came up with his idea to do house portraits. Now he relies on word-of-mouth and takes painting commissions as they find him.
In August 2020, Matt became his own boss when he opened his own COUNTRY Financial branch, where he specializes in auto, home, life, and small business insurance. For the time being, Matt's focus will be making sure his insurance agency is successful while keeping the art on the side.