Photos by Sadie Thibodeaux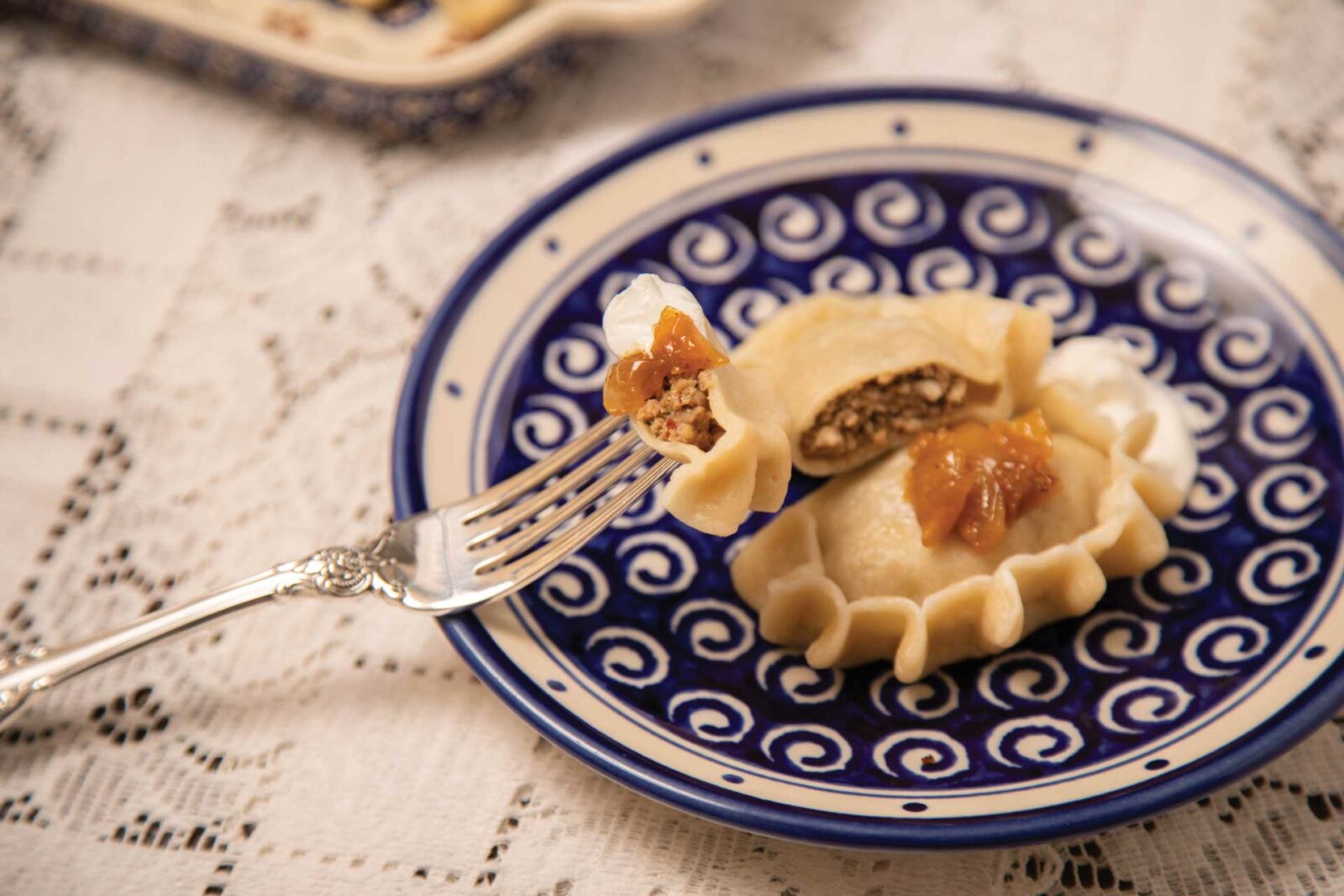 Café Poland dishes up traditional Polish cuisine in downtown Columbia.
Nestled in a small, unassuming yet cozy building lit by a neon sign, Café Poland adds traditional Polish cuisine to Columbia's diverse food scene. Co-owned by mother, Iwona Galijska, and her son, Robert Burlinkski, the restaurant opened at 807 Locust St. in January 2013, a few years after the family moved to Columbia from Alaska in 2010.
"We are farmers. Well, ex-farmers," laughs Iwona. They're originally from Swinoujscie, a small Polish city on the Baltic Sea where Iwona and Robert owned a farm and raised cows, pigs, and grain.
"We never had time to focus on the stomach. We focused on people and production," says Iwona. She says the workers on the farm taught her and Robert to cook traditional Polish cuisine. During this time, they also owned a small restaurant where they utilized the produce from the farm to serve a traditional Polish menu, much like Café Poland's menu today.
When the family arrived in Columbia, they had no intention of opening a restaurant, but they had difficulty finding jobs. When Robert discovered a little clapboard building for sale on Locust, they decided to give the restaurant business another try.
The only Polish restaurant in the area, Café Poland offers a menu that's well-loved by locals and visitors alike, as can be seen by hundreds of five-star Google reviews. "The people are lovely, and it's a pleasure to cook when people are happy," says Iwona.
Robert adds: "Many people have Polish roots and want to eat traditional authentic food. We have a lot of regulars, but we also get a lot of travelers — they look online and see the reviews and decide to come."
Á la polonaise means "in Polish style" when the cuisine is referred to in other cultures. Polish fare has evolved over the centuries to become very eclectic due to Poland's ethnic and political history; it shares many similarities with its neighbors Germany, Russia, and the Ukraine, as well as Jewish culinary traditions.
Café Poland's unassuming menu features traditional Polish dishes, each made from scratch daily by Iwona and Robert. "We don't change anything or adjust to the American taste," Robert says. "You can eat exactly the same pierogis or golabki in any town in Poland."
---
Pierogi
Gyoza, samosas, ravioli, wonton — nearly every culture has its own version of a dumpling involving veggies, meat, or seafood wrapped in dough and baked, boiled, or fried. Perhaps the most well-known Polish food, pierogi, is just that: a crimped, dough-wrapped package filled with a choice of potato and farmer's cheese (Café Poland's most popular), potato and bacon, mushroom and kraut, or beef. The pierogi is then boiled and served with caramelized onions and a dollop of sour cream. Robert says they spend approximately four hours daily handmaking more than 300 beautifully shaped pierogi.
Golabki
Translated directly, it means "little pigeons," referring to its size and shape. Golabki is cooked beef and rice wrapped up in a cabbage leaf and stewed in a hearty tomato sauce. Café Poland's golabki are served with mashed potatoes.
Bigos
A stew of sauerkraut, fresh cabbage, beef, pork, and sausage, bigos is often translated into English as "hunter's stew" and is sometimes described as "Polish chili." This robust dish is served with potatoes.
Naleśniki
Café Poland offers these Polish crepes (like a thin pancake) filled with sweet or savory ingredients. Choose from grilled chicken, spinach and feta, bacon and egg, hazelnut spread, fresh berries, or peanut butter and jam. These crepes are perfect for breakfast or a sweet finish to a meal.
Gulasz
Gulasz is the Polish version of the well-known goulash dish, for which many Central European countries have their own recipes. It is a slow-cooked, hearty tomato-based stew showcasing tender pork, carrots, peppers, mushrooms, and paprika, served with noodles.
Lecho
This vegetable stew, heavily inspired by the Hungarian lecsó, features juicy bell peppers, sharp onions, and rounds of smoky Polish sausage coated in rich, thick tomato sauce.
Borscht
This beet soup can be served hot or cold and is usually garnished with a dollop of sour cream. Although borscht is important in both Polish and Russian cuisines, Ukraine is frequently cited as its place of origin. Its name is thought to be derived from the Slavic word for the cow parsnip, or common hogweed, or from a fermented beverage derived from that plant.
---
For first-timers, Robert recommends ordering the Polish Plate, which offers a sample of popular menu items including four pierogi, golabki, bigos, and grilled Polish sausage.
Café Poland serves not only espresso drinks, including both hot and iced lattes and cappuccinos, but also an eclectic mix of beverages. The sweet black currant drink is deliciously tangy, and the traditional Polish shake can be made with strawberries or blueberries. A variety of Czech and German beers and a few local wines are also available.
With little to no online presence, Robert and Iwona rely heavily on word of mouth and their growing collection of highly rated reviews. Iwona says the restaurant business has been difficult for them and it has been tough to find help to hire. She and Robert are both working the restaurant every day that it is open. "If not for the lovely customers, I would have quit a long time ago. We have to keep going," she says.
Due to COVID and the small interior of their building, Iwona and Robert limit indoor seating and require masks for customers. Customers can take advantage of the to-go window and service bell, staffed by a cheerful and friendly Iwona, to order menu items to take away.
Robert and Iwona take great pride in the food they serve. They love listening to customers' stories and sharing their culture and heritage with others through conversation — or simply through their food.