An Interview With Desireé Reed-Francois
Photos by Keith Borgmeyer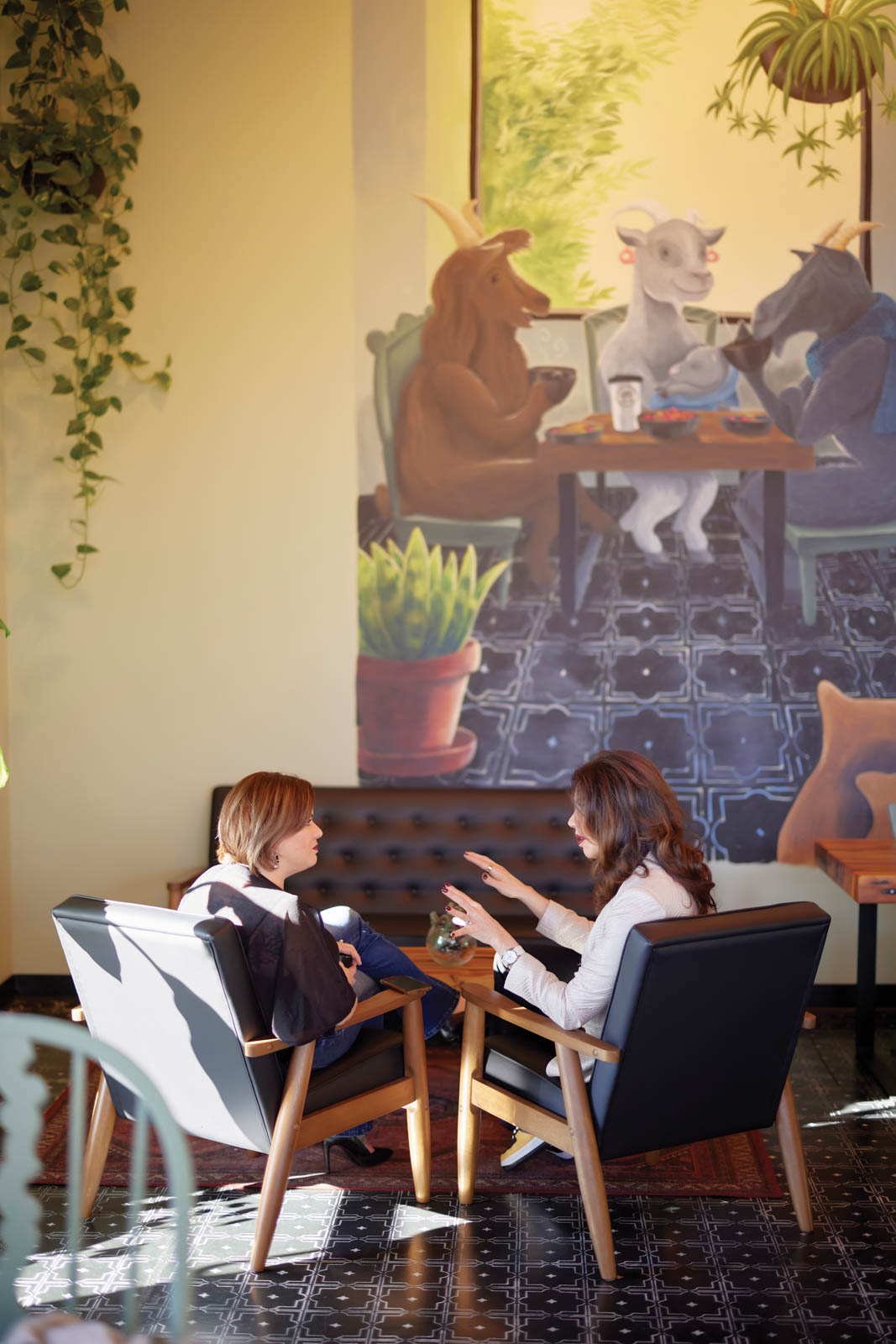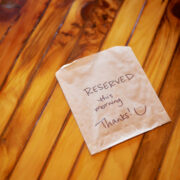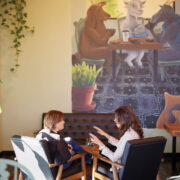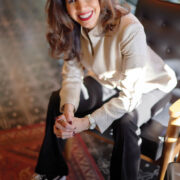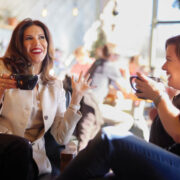 View Gallery
Erica Pefferman and Desireé Reed-Francois sit down over coffee at Toasty Goat Coffee Co. and discuss breaking barriers, developing leaders, and dealing with social media haters.
While I love helping select the stories that go in the pages of COMO, I rarely am on the other side of the camera or write articles myself. However, I called dibs on this story immediately. I was very excited to get the chance to sit down with Mizou Athletic Director Desireé Reed-Francois to learn more about who she is beyond the notoriety of being one of the most powerful women in collegiate athletics. I found her to be delightful, authentic, smart, empathetic, and inspiring. After warming up the conversation talking about birthdays, lipstick, and shoes (because being powerful women doesn't mean we have to leave our femininity behind), we dove into the topics I was anxious to learn more about.
Erica Pefferman • I saw you at the Chamber of Commerce Quarterly Membership Breakfast, and one of the things that stuck out to me was your engagement. You jumped off the stage and asked if you could come out and be with us and talk to us. You were so comfortable. As a CEO myself, I was very interested in hearing what that was like for you, so I asked you a question that I'm sure you get asked all the time: What does it feel like to be the first female AD? Your answer was very graceful, and I've thought about it so much since then — you said, "I look forward to the day when I don't have to answer that anymore."
Desireé Reed-Francois • Frankly, I used to answer questions along those lines a little differently. I used to say, "Well, I don't know how to be a man." Because it's true. I only know how to be myself. But I was watching how some of my female student-athletes interacted, and after engaging with so many, I realized that it's not me, but it's what I represent. And then I felt a responsibility to be more thoughtful. My answer to the question then became, "I cannot wait for the day when my students are CEOs or surgeons or they're running their own architecture firm and their gender isn't even part of the question." But, I understand the question, because this is somewhat new. There's not that many women that do what we do at this level.
There are also gender stereotypes and misogynistic social media posts about my lipstick shade or folks who want my husband to explain the game of basketball to me or suggest that I stay in the kitchen. So, I just pray for their hearts. I have thick skin. I am going to lead the athletic department with integrity and with a firm commitment to doing what is in the best interests of our student-athletes and our university.
EP • Well, I think that's the case regardless of what gender or any of that other stuff, right? It's just an added layer.
DRF • Yes, and I just remember that this is a people business, and you have to have high empathy and do really good work. Because if we do really good work, we keep the door open for the next group.
EP • So, let me ask you a question about that. I'm very much involved in mentoring women in leadership, and have been mentored in leadership by both men and women. I know that you don't like to answer those questions sometimes, but there is still the truth that you are a barrier-breaker. You are a part of why it will be normal later. How do you feel about that? Is there an extra weight that comes with that?
DRF • I do think about my responsibility for those young women looking for role models. I'm a little bit like a mama bear when it comes to my students. I want the young women and men at Mizzou to know that they can do anything. I come to work every day working to earn my responsibility. I want everybody to do that. "Pressure is a privilege" — I read that [from Billie Jean King's book of the same name] and thought, "That's amazing." Embrace it. Have a sense of humor while being intentionally purpose-driven.
EP • So, who mentored you?
DRF • My mother was my first mentor. She expected excellence, and I never wanted to disappoint her. She was a strong woman but very, very caring. Education was critically important. My father is very smart and just expected us to make good decisions and really care about people. Education was important to him, as well. My dad was a diver who became an eighth-grade English teacher. My grandfather speaks 23 languages and loves learning. He worked for the State Department. My love of learning came from him. So, from an early age, I was surrounded by mentors who taught me about the importance of education, hard work, and compassion for others.
EP • Professionally, who were your mentors?
DRF • Debbie Yow was the former athletic director at St. Louis and Maryland and N.C. State, and she provided context on what I could be. But like you, the majority of my mentors have been men, and I've been very fortunate to have not only mentors but real advocates who were men. Among them is Brian Burke, who is the president of hockey operations for the Pittsburgh Penguins; Jeremy Foley, who was the Florida athletic director; Mike Slive, who was commissioner of the SEC; and Greg Sankey, who is currently the commissioner. There's also one thing that I think is really important. If you're being mentored and someone is advocating on your behalf, you better reach back and help those behind you. I'm involved in several programs on a national level, both with football coaches and with athletic administrators, and I have a mentee that is incredible. Mentoring has been a hallmark of my professional career.
I'm also proud of the fact that at my last institution, UNLV, we had one of the most gender-diverse staff and coach rosters in the country. We didn't hire based on diversity; we hired based upon who was the best person. But I think that, as CEOs and executives and as leaders in general, we have a responsibiity. We don't post a job and pray for the best outcome. At Mizzou, we're not going to do that, we're going to go out and recruit the most talented people regardless of if they check a box. I want our coaches and staff to reflect our student-athletes because in the end, we are in the education business.
EP • I think that's it! I've reached where I am today because people have invested their time and energy in me, and when I stepped in it or made mistakes they kind of pull you off the cliff and give you some perspective. They're like, "OK, it feels like shit right now. But, you're gonna learn from it, and you'll move past it." I'm just thinking about some of my hardest conversations and hardest moments, because I'm an experiential learner. I learned by making those mistakes. If it hadn't been for what you had mentioned — advocates versus mentors — I wouldn't be here. What I love about advocates is they advocate for you when you're not in the room, when they're not talking to you. They're looking for those opportunities and those connections, and I've been blessed to have that. I think that is so important for all young professionals, but I'm especially passionate about helping women in that way.
So tell me — what are you doing on a daily basis to sharpen your leadership? In general, what habits do you have? Are you reading books?
DRF •I am constantly reading. I always listen to one book, and then I read another one as well. I learn that way. I am also constantly trying to surround myself with people who I can keep learning from, like my peers in the Young Presidents Organization. In every senior staff meeting, we dedicate time to professional development. I assign a different staff member each week to provide a lesson. I believe that most people want to learn. Leaders are readers. And I genuinely believe we have to have intellectual humility, because we won't advance and we won't progress if we don't have that intellectual humility. We're operationalizing our core values. Our Student Athlete Advisory Council took our core keywords that we want to be defined by, and they operationalized it from their lens and now each unit level department is doing the same thing.
EP • One question that I had for you, Desireé, is what would you want people to know about you that has nothing to do with athletics? I'll speak for myself — I have to consciously work on not making my company my identity.
DRF • I genuinely love people. I love hearing people's stories. Everybody has a story inside of them. Everybody has something to teach you. I love just getting to know people.
EP • What are you passionate about that doesn't have anything to do with your job?
DRF • Right now, I'm really into interior design. I love design. We're buying a house this week, and I'm very excited. I want to make it our forever house. I've been thinking about the concepts for the house and I'm excited. I am really looking forward to my husband and son joining me in Columbia and moving in together.
EP • Yeah, when will they be here?
DRF • My son will graduate high school in May and they will come right out, though my son will very quickly move into a dorm. For several months, I have been a bit one dimensionally focused on work. I'll have to acclimate back into family life, but I cannot wait. They provide me balance, and I can't wait to explore Columbia with them. It really is a great community. The people are incredibly kind and the university provides a vibrancy. I love having students around.