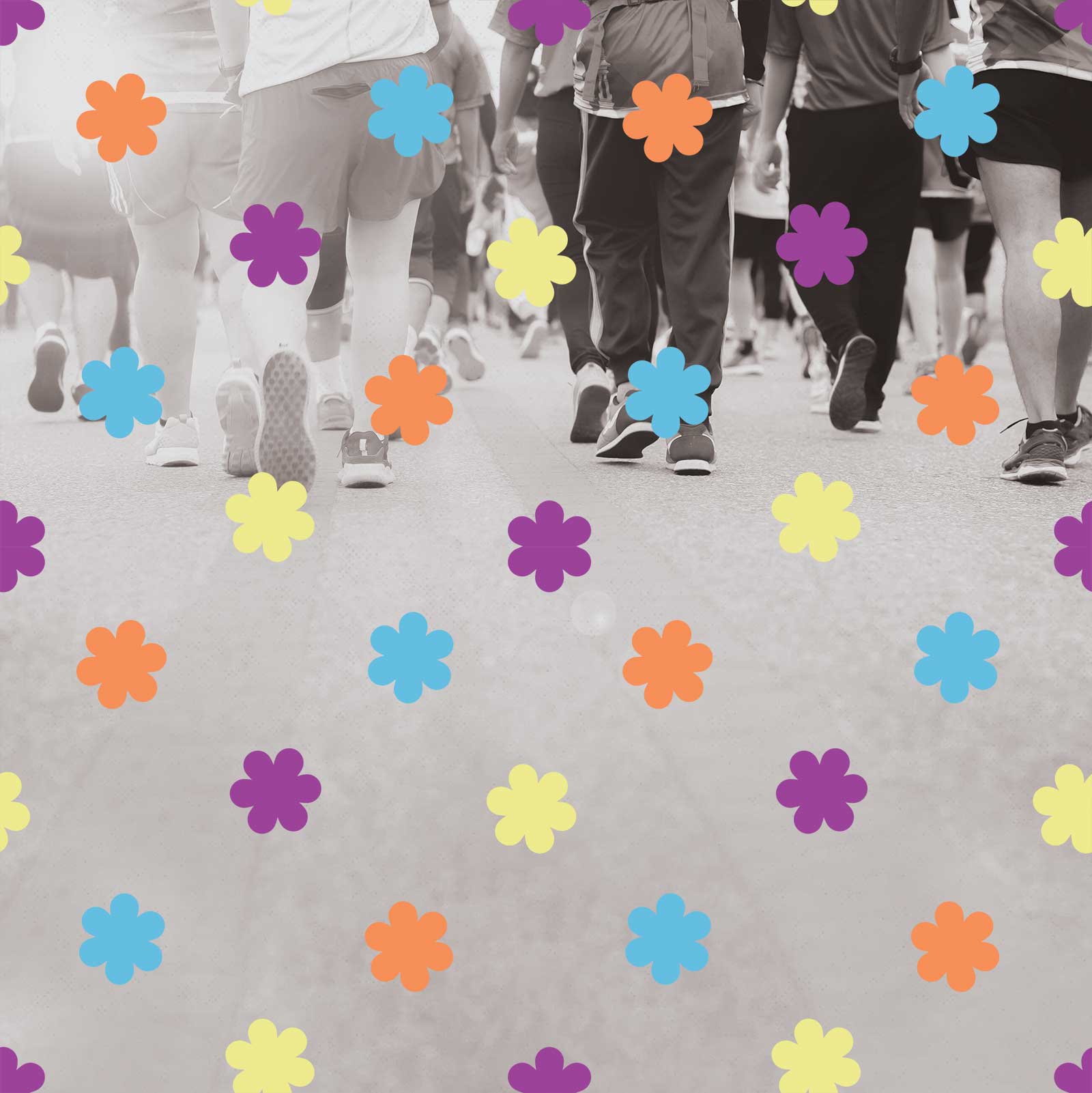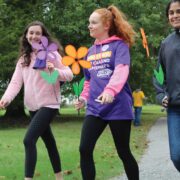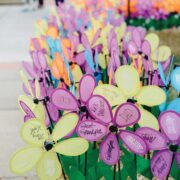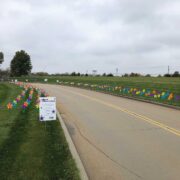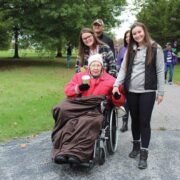 View Gallery
The Alzheimer's Association Greater Missouri Chapter brings people together with one message: You are not alone.
"I'm always in walk mode," says Chris Cottle, walk manager for the Alzheimer's Association Greater Missouri Chapter, "so when you get into the client services, programs, and reflecting back on my story — it's hard. But it's always worth it."
Chris became involved with the Alzheimer's Association in Columbia in 2012. His father was diagnosed with Alzheimer's at the age of 52, and Chris got involved with the Columbia committee for the Walk to End Alzheimer's that year. Two years later, he became the event chair and was offered a job as walk manager in September of 2019.
"It's so hard to watch someone you love slip away mentally while physically looking the same. There are a lot of changes that go along with that," Chris says. "Once you lose a loved one to this disease, you don't really want anything to do with it. But one of the things my mom and I decided was to stay in it and be involved. We wanted to use our story and let people know that there are other people out there going through it or that have been through it — and that they will be OK."
The Alzheimer's Association's aim is to provide as many resources as possible for families affected by the disease.
"We try to cover all the bases of what someone would go through — who they would need to contact, how to help them, and then, of course, continuing the research and development of new and affordable drugs that are available," Chris says.
They also provide an online resource center that has tools covering a variety of topics, such as early signs and symptoms and home safety checklists. There is also a 1-800 number that is available 24/7 and staffed by professionals with the goal to get people in contact with a client service representative in their area. The core job of the client services team is to get caretakers or someone affected by Alzheimer's connected with a neurologist or different support groups, depending on what their needs are.
"There can be an overwhelming sense of feeling like you're on an island by yourself," Chris explains. "Especially if you're not in town — it's tough to travel and get ahold of people. That's why the 1-800 number is there. They will talk you through any problems for any amount of time. If your loved one is going through an episode, we have tips and tricks to try and help bring people back. Pick up the phone. That's my biggest piece of advice."
Walk Season
Late August through October is a busy time for the Alzheimer's Association Greater Missouri Chapter — walk season. In Missouri, the Walk to End Alzheimer's takes place across 22 different locations, with the goal of bringing people together and raising money for research and resources for the disease.
"One of the things I can tell you from living and being a caretaker of someone with Alzheimer's is that it is a full-time job. You can feel very alone," Chris says. "Walk day provides a sense of community, a place where you can come together, meet new people, and realize that there are other people going through the same thing."
Walk day is a very special event for those involved. It is a solemn but happy occasion where the community gets together and celebrates what has been accomplished throughout the year, and everyone feels surrounded and supported by the community.
There are typically around 300 to 400 volunteers each year that help with putting together the walk, which is a great show of support for the Alzheimer's Association and the families affected.
2020 brought its challenges for planning a walk, but the Alzheimer's Association made huge strides in technology to help connect people during a disconnected year.
"Our software developed a lot to be able to communicate with people better," Chris says. "We created a Walk to End Alzheimer's app and had a virtual walk in 2020. With the app, we were able to do an online opening ceremony, a virtual path for walkers to follow, and virtual sponsor booths so that those who sponsored the walk were still able to interact with the community."
A standing tradition at the Walk to End Alzheimer's is a Promise Garden — a hands-on, mission-focused experience that allows participants to raise flowers representing a promise to remember, honor, care, and fight for those living with Alzheimer's and for their caregivers. Blue flowers represent those that have Alzheimer's or dementia. Yellow flowers represent those that are supporting or caring for someone with Alzheimer's or dementia. Purple flowers represent those that have lost someone to Alzheimer's or dementia. Lastly, orange flowers represent those who support the cause and the Alzheimer's Association's vision of a world without Alzheimer's.
In 2020, the presenting sponsor for the Walk to End Alzheimer's, Veterans United Home Loans, planted those flowers along the roadway at one of their locations, allowing walkers to drive through and experience the Promise Garden, even though the walk was virtual.
A standard walk day typically involves sponsor booths, an opening ceremony, and a walk, which can either be done on a short or long track that lasts anywhere from 20 minutes to 1 hour. Afterwards, there are drinks, food, and time for the community to relax. The client services team is also there to provide help or resources to anyone in need.
There's also The Longest Day fundraiser, which is held in June on the longest day of the year. This fundraiser is more of an individual or team effort where people pick an activity to do all day (bowling, cycling, crafting, etc.) and raise support in the process.
Money Raised
Alzheimer's is the sixth leading cause of death in the United States without a cure, and the Alzheimer's Association is the third largest contributor to research funding, behind the United States and Chinese governments.
"All the money raised goes towards research, educational programs and resources, and our client services team" Chris explains.
From the funds, 93 percent of the money stays in the local communities, 3 percent goes to administrative support, and 4 percent goes to national support and research.
"The money raised stays local so we can expand our client services and our programs in the area and serve that specific community," Chris says. "It is the community who is donating the money, and they're donating it to help their community." 
---
Walk to End Alzheimer's 2021
This year's Walk to End Alzheimer's will be held on October 30, 2021, at Stephens Lake Park Amphitheater and will also feature a costume contest.
The walk will go around Stephens Lake, and there will be a short and long track available to walk. Registration starts at 12 p.m., the opening ceremony is at 1 p.m., and the walk will begin at 1:15 p.m.
If you are interested in getting involved, contact Chris Cottle at [email protected]