Photos by Keith Borgmeyer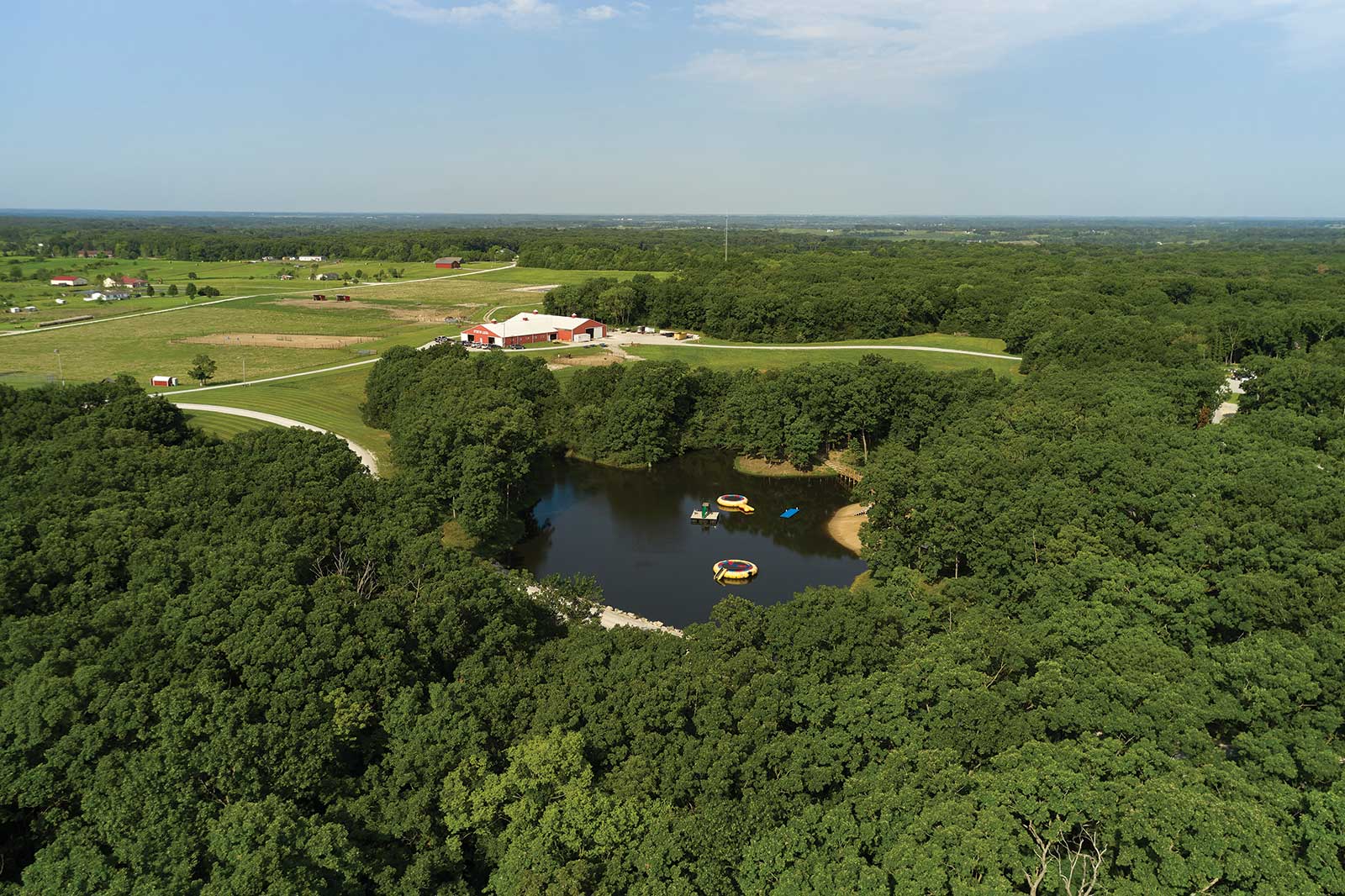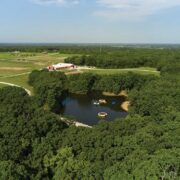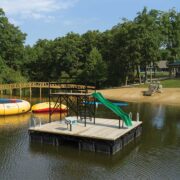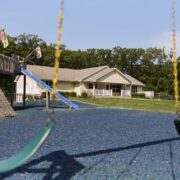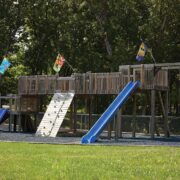 View Gallery
After 30 years of helping children, Coyote Hill looks to the future.
About 30 minutes northwest of Columbia, nestled in the rolling hills of western Boone County, is the village of Harrisburg, population 226. Harrisburg is home to the sprawling 300 acres that comprise Coyote Hill Christian Children's Home, a peaceful haven for some of Mid-Missouri's foster families that is celebrating its 30th anniversary this year. Here, foster parents live on the premises with their foster children in either one of seven large residences or one duplex. They do not pay for rent, utilities, groceries, or the children's health care, allowing them to focus on being full-time foster parents.
Established in 1991, Coyote Hill is the realization of founder Larry McDaniel's dream. Larry and his wife, Cathy, wanted to provide a safe, healthy place for more foster children to heal and grow than they could care for at their own home, which was originally seven miles north of the property. Larry, a licensed social worker, saw the need for a professional "home of love" that could offer the nurturing that foster children needed beyond food, shelter, and clothing — "a safe place to be a child," which would become their motto. Coyote Hill is the only state-licensed children's home in Mid-Missouri and one of just a few in the state.
Understanding the Need
As of June, there were more than 14,000 Missouri children in foster care, according to the Missouri Department of Social Services, whose children's division is responsible for substantiating reports of abuse and neglect and placing children in foster care. In 2020, the number of Missouri children entering foster care increased by double digits in every region except Southwest Missouri, probably due in large part to COVID-19 — as the pandemic ravaged the economy, jobs were lost, the opioid crisis raged, and families lost the supports needed to keep themselves whole.
Rural Missouri is the largest source of children entering foster care. At Coyote Hill, the average age of the foster children is 10, and their average length of stay is nine to 10 months. Reunifying foster children with their biological families is always the primary goal, but sometimes that's not a possibility, in which case the children go up for adoption.
For Bill Atherton, the soft-spoken, gentle-natured, COO of Coyote Hill, the dream is to see a day when there are "more foster homes than foster children." Bill and his wife, Tammy, were newlyweds in their early 20s when they decided to change the course of their lives forever by coming on as foster parents at Coyote Hill in 1994. Tammy was working on her PhD in biochemistry and Bill was working in microbiology when they found their fields to be unfulfilling.
"We started looking around at professors and families, and everyone just seemed . . . sad," Bill remembers reflectively. "Families weren't intact — it seemed like an epidemic within that field. Everything was so dollar-driven."
In 1995, they had heard Larry talk on the radio about how badly Coyote Hill needed tutors and decided that this was why God had provided them with such great education. What was supposed to be a 30-minute interview to become tutors turned into an hours-long conversation and tour that concluded with Larry telling the couple they should be house parents. Bill and Tammy talked it over and decided to go for it. That was a Thursday, and by that Sunday evening, they were moving in.
The couple started with six foster children, and within a few weeks, they were maxed out with eight. One of the residences is named for the Athertons, who fostered more than 40 children over about 10 years in addition to having four kids of their own. In Coyote Hill's 30 years, Bill has served as foster parent, site coordinator, development director, and now COO.
Lance and Abby Rainwater are current foster parents living in one of the residences with foster children. They've been married for 10 years and have fostered for the last four. While Lance still works, Abby says the resources Coyote Hill provides allowed her to quit working and be a full-time parent. They started with three fosters and then took another five. Abby says there is heartbreak in fostering because you learn about the traumas each child has endured.
"But where there's heartbreak, there can be healing," she says. "[Fostering] is such a joy and an accomplishment filled with love."
The Feeling of Home
Each bungalow-style residence is 5,800 square feet with eight bedrooms and five bathrooms. Each boasts a spacious front porch, which can usually be found decorated with toys and children's shoes. A moderately sized living room opens into a kitchen with a 12-foot island and a 12-foot table, both adorned on all sides with chairs, giving an immediate impression of how many people gather there and the kind of space needed to do so. Bedrooms are grouped at each end of a long hallway. They're specifically designed to house groups of siblings, as 80% of the children who come to Coyote Hill come with siblings. Finding foster homes that can accommodate sibling groups is a major challenge in foster care, but it's very important when it comes to helping children heal from the trauma that brought them there in the first place. Each residence includes an attached two-story apartment, which the foster parents can use as they wish. (Some use it to accommodate more fosters.) The lower level boasts a recreation room for older kids and a play space for younger kids. A large kitchen pantry and two sets of washers, dryers, and refrigerators round out each home. Outside, each home has its own elementary-school-sized playground and a basketball court, and there are soccer and baseball fields on the property.
The seven homes are clustered together on the property, not far from one of two large lakes and a therapeutic equine center. The lake is complete with an inflatable trampoline and slide, and on a summer evening, children can be found riding their bikes to the lake, dutifully strapping on their life jackets, and jumping in. There is a summer camp feel to the place. The other lake is accessible by hiking or horseback riding through the woods by trail. Horseback riding is an option because the equine center is home to 22 horses — including four miniature horses —that the families can ride for free.
The equine center includes a large pole barn with 14 stables and a large indoor arena where children can learn to ride and train in horsemanship and equitation for horse shows. Older children are entrusted with the complete care of their horse, which teaches responsibility. Rebecca Buchholz-Szántó, the full-time equestrian specialist, says that working with horses is therapeutic for children, as having control over a large animal builds confidence. Therapeutic horseback riding has also been found to significantly decrease PTSD, which is why Coyote Hill also has an equine program for combat veterans.
A Look Ahead
In January 2020, Coyote Hill launched its foster care services program, which provides training and licensure to couples and individuals who wish to become foster parents off site. Bill says this is a big step toward the dream of being a hub for foster and adoptive families beyond Harrisburg. For example, off-site foster families can utilize the equine center, lake, and campground free of charge. Expansion offices that offer support services have opened in Moberly and Columbia, and just last year they opened a residence in Jefferson City that houses up to six children.
"The longevity of foster parents on site is about two years, and then we started identifying families out there who have been fostering for years," Bill says. "What's different there? They know how the system works, they're problem-solvers. Just this year, we switched our model from 'hiring' foster parents to come live in the homes to as others leave. [Now] we'll identify foster families in the community who would want to be here and live life here."
To help new foster parents, Coyote Hill also added a family advocate program, in which a trained staff member "walks the journey" with the foster parent to help them navigate the unknowns that new foster parents encounter, which hopefully will increase their longevity.
Ultimately, Coyote Hill would like to open other residential sites with on-site recreation activities throughout the state to serve the overwhelming need for foster homes.
"Be brave," Abby says to anyone considering becoming a foster parent. "Fostering can be a little daunting, but it's with it. Every stress, every tear, every up and down is worth it. Make the jump."