What's on the Shelf at Daniel Boone Regional Library?
Photos by Keith Borgmeyer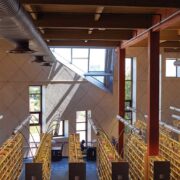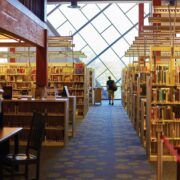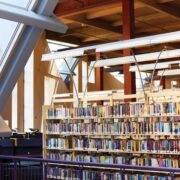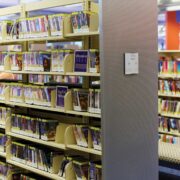 View Gallery
From virtual activity bundles for children and candidate forums for adults, Daniel Boone Regional Library offers a lot more than books.
One of the myths that Margaret Conroy, executive director of Daniel Boone Regional Library, hopes to debunk is that public libraries are only quiet places full of bookshelves.
Instead, the DBRL system — which comprises Callaway County and most of Boone County, with branch libraries in Columbia, Ashland, Fulton, and Holts Summit — offers a full spectrum of services and programs beyond books, most of which are available at no cost. "Libraries are evolving as the times change," Margaret explains. "We're not getting away from the book business by expanding our services and programs, but we are providing new ways for people to access information."
Children's Programming
The COVID-19 pandemic upended almost every aspect of the children's programming at DBRL. The library shut down in March 2020. When it reopened in June, the children's computers and play area were closed, and an array of children's programs moved online, including story time videos.
Throughout the pandemic, DBRL has worked hard to ensure its children's programming is as robust as ever. The library developed their virtual activity bundles, an all-in-one guide on age-appropriate books, music, videos, and activities on a topic; Music and Movement videos; and Recipes for Fun videos. It also shifted a portion of funds to invest in online resources, such as Brainfuse HelpNow, LearningExpress Library, LOTE Online, TumbleBook Library, Explora, MAS Ultra School Edition, and World Book.
DBRL's impact on children — during a pandemic or not — is monumental. "We're connecting children with books, words, and language and getting them excited about lifelong learning," Margaret says.
Summer Reading Program
Last month, DBRL wrapped up this year's summer reading program, "Tails and Tales."
DBRL began offering a summer reading program in the 1980s to prevent the 'summer slide,' when children lose reading and literacy skills over the summer when they're out of class.
While the program's main purpose has remained the same — to encourage children to read during the summer — Margaret says there have been some changes throughout the years. This year, individuals were able to participate in the summer reading program virtually. DBRL also sent books by mail to children in communities where there isn't a library branch.
Adult Programming
DBRL's adult programming focuses on lifelong learning, encouraging civil engagement, and furthering professional development.
"We do our best to work with local government agencies to try and bring government to the people," Margaret explains, mentioning that DBRL currently provides space for the Columbia/Boone County Health Department to host COVID-19 vaccine clinics and has previously held legislative forums. The Columbia Public Library, the headquarters of DBRL, is also a polling place.
Online services include Brainfuse JobNow, a career tool to connect users with experienced career coaches and vast resources to assist them during all stages of their job search; Job and Career Accelerator, which allows users to explore different occupations, search local and national job postings, create resumes and cover letters, improve interviewing skills, and organize and track their job-search progress; and LinkedIn Learning, a learning platform with online courses on various subject areas to help improve professional development.
Access for All
Margaret landed at DBRL three years ago, after decades of experience in the field. "Public libraries are fundamental to our democracy," Margaret says, "and we believe that everyone has a right to seek information for themselves."
A library card, free to residents of Boone and Callaway counties, is required to check out materials, renew, place holds, or use a library computer. DBRL's four library systems also boast meeting rooms, study rooms, printers, photocopiers, and more. But Margaret acknowledges that accessing these services and programs can come with its own set of barriers. "Demands on families, health issues, or other inequities can make getting to a library challenging," she says.
DBRL delivers or mails library materials to people who can't visit their buildings because of age, illness, or disability. The library's Big Bookmobile, which has regular stops to community centers, offers a full range of library materials for all ages, and its Library-To-Go-Lockers in Hallsville and Holts Summit let people pick up requested library materials. "Our library's digital branch also allows patrons to check out e-books, audiobooks, music, TV shows, and movies," Margaret explains.