Nourish Café & Market: Love, Gratitude, and the Pursuit of Hummus
Photos by Charles Bruce III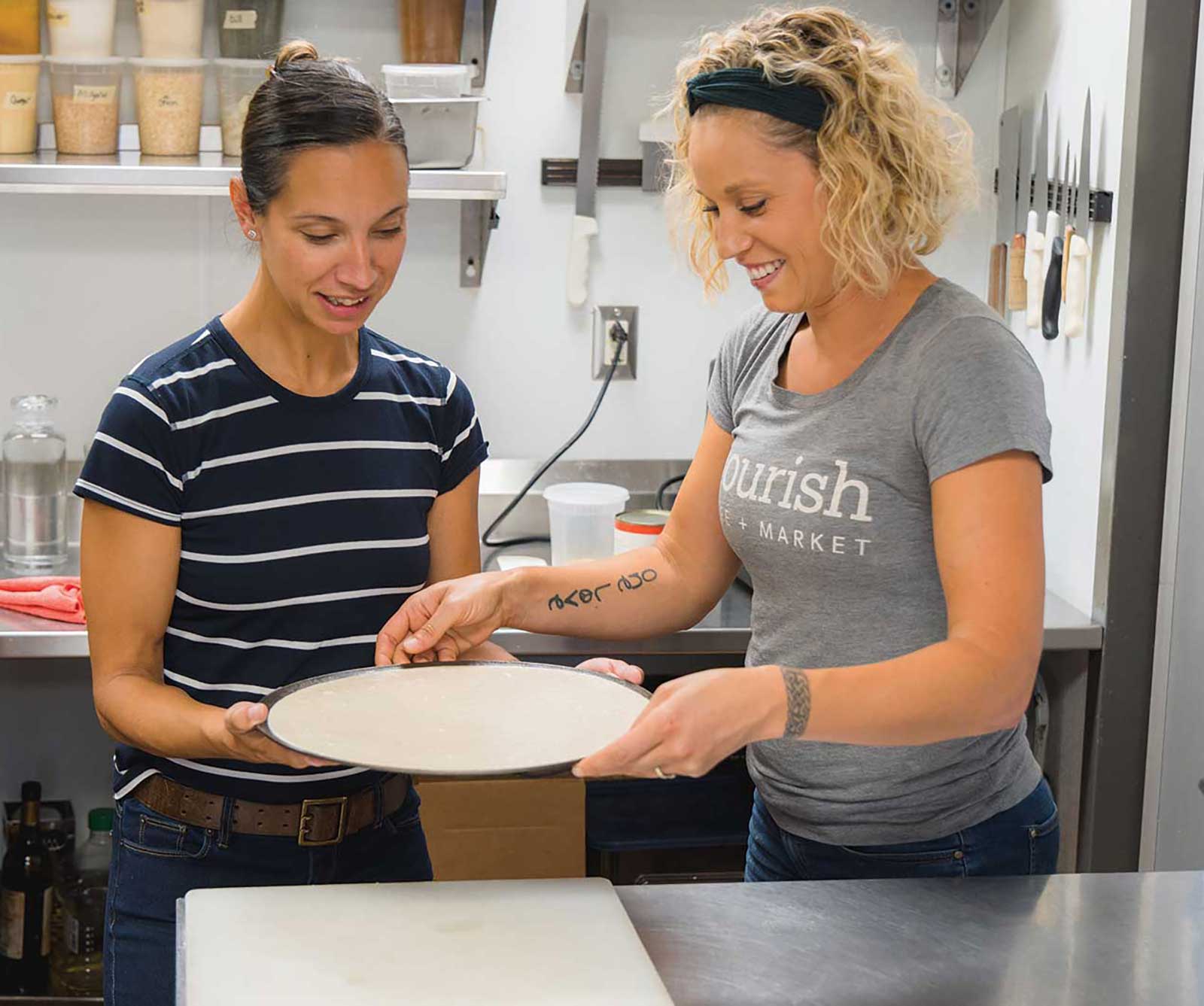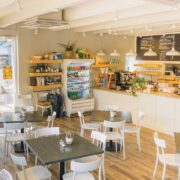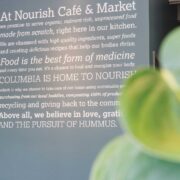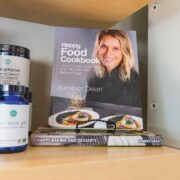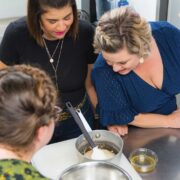 View Gallery
The word "nourish" is derived from the Latin word nutrire, meaning, "to provide with the food or other substances necessary for growth, health, and good condition." In 2014, when local Columbia residents Kalle LeMone and Kimber Dean teamed up to open a restaurant focusing on a menu promising organic, high-quality, unprocessed, made-from-scratch food, the name came naturally.
"Nourish Café & Market is a really unique thing for Columbia," says Kalle. "Our goal was to provide a place where people could trust that the food is pure — nothing inflammatory or disruptive. In fact, we list every ingredient on the website for transparency. Many people don't realize how harmful additives can be to their body and their health."
Originally from St. Joseph, Missouri, Kalle moved to Columbia to attend MU, where she received her MBA and met her husband. After nine years in pharmaceutical sales, she felt it was time for a change. "My job stopped feeling good to me," she says. "As I became more passionate about health and wellness, I knew I wanted to open a business in the industry."
Kalle met Kimber Dean, the chef at Nourish, at a yoga class. Born and raised in California, Kimber had recently moved to Columbia after her husband retired from the military. A graduate of the California Culinary Academy, where she was professionally trained as a chef, Kimber had also recently written "Happy Food Cookbook," a collection of tasty, easy-to-make, plant-based recipes spanning all meals of the day. Additionally, Kimber was a graduate of Yax Yoga Concepts and had a diploma in personal nutrition from Shaw Academy.
When they met, Kalle was unaware that Kimber was a chef and was amazed by the chocolate truffles that she brought to yoga class. They were completely vegan and free of gluten, soy, corn, dairy, eggs, processed sugar, peanuts, and hydrogenated oils. "I had seen this sort of healthy food in bigger cities and wanted that for Columbia, and she was actually doing it!" remembers Kalle.
"She Facebook messaged me, and I was like, no, I don't want to open a restaurant. And who are you?" laughs Kimber.
That message sparked a meeting where the two realized their personal missions in terms of wellness and healthy eating were very similar. The idea for Nourish Café was born. The next step was deciding what to offer on the menu.
"Healthy eating means a lot of things to a lot of different people. Everyone is different, so we didn't want to tell people what diet to follow. But we knew we wanted to offer high-quality, organic, made-from-scratch, preservative-free dishes," says Kimber.
The two soon discovered that finding mainstream food products and ingredients that fit their standards proved harder than they had anticipated. "We are being poisoned by our food. There are hundreds of additives that are legal in the United States that are not legal in other countries," says Kimber, referencing processed food labels with a long, unpronounceable list of ingredients. "When you're using high-quality ingredients, it's simple, and you don't need a lot."
To solve their food-sourcing issue, they quickly realized they would need to keep the menu small, make almost everything in-house, and source locally while utilizing sustainable practices such as composting all waste products. Kimber takes the scraps to her farm, where she feeds them to her donkeys. "They'll pretty much eat anything but citrus peels," she says.
"All of our to-go containers are compostable, and we have more than 30 local providers we support, including Three Creeks Produce, Happy Hollow Farms, Goatsbeard Farms, and Ozark Mountain Creamery, to name a few," Kalle says. "Plus, Kimber is a master at finding ways to utilize every ingredient, so nothing goes to waste."
When they added smoothies to the menu, finding an almond milk on the market that had no preservatives proved impossible. So, they started making their own. Kimber uses the leftover almond pulp to make the almond flour used in their bread, desserts, and granola.
The entire menu is 100% free of gluten, soy, corn, and refined sugars. They offer breakfast and lunch options, including a variety of hearty bowls, fresh salads, sandwiches, wraps, and desserts. "I was really worried at first that people in Missouri were not going to eat this much kale. But we go through 40 to 80 pounds of kale each week!" says Kimber.
In 2018, Kimber started offering cooking classes at Nourish Café and was surprised at how quickly they would sell out. "Offering these classes taught me a lot about what people are looking for and what questions they have," she shares. "People don't want fancy food. They want comforting food — the food they can't eat because of a medical condition. But I can teach them to make those foods in a clean way."
Over two years, the cooking classes, which were paused during the pandemic, have included holiday baking, bread and bagel making, Halloween treats, and even cooking classes for kids. Additionally, Nourish Café offers a three-day reset and a three-day juice cleanse where ready-made organic, nutrient-rich meals are available for purchase.
"People can really start to notice a difference in how the food makes them feel in only three days. It's amazing," says Kalle. "Sometimes changing their diet is a last resort when it should really be the first step."
In addition to running the kitchen at Nourish, Kimber provides personal meal planning for people with autoimmune diseases, food allergies, celiac disease, cancer, diabetes, and infertility. "Food is tied to everything — hormones, fatigue, skin, joints. It really is the best form of medicine," she says. "I've seen people get off their cancer medications by changing their diet. I can take their food allergy lists and symptoms and help get them started. But I always tell people you have to educate yourself."
Kalle manages the non-cooking side of the business, including marketing, finances, and the blog, which includes posts on current food and health trends, Kalle and Kimber's favorite recipes and products, and what it's like to be business owners and mothers. Kimber oversees the employees and kitchen operations, and she hosts a cooking show called Nourish, which can be seen on The Plant-Based Network or on her website, www.chefkimberdean.com. She has a second cookbook available titled, "Happy Baking and Desserts."
"People are becoming more aware of the effect of food on their body, and Columbia has been surprisingly receptive and welcoming to our mission," says Kalle. "When you focus on produce and eating seasonally, it doesn't have to be expensive. But wellness is layered and complex — it isn't just about what you eat. It's about creating healthy habits and thriving in our environment."
---
Ready to make a pizza? First gather your ingredients: 
Crust
1 ½ cups water
2 tablespoons maple syrup
1 tablespoons active dry yeast
2 tablespoons olive oil
½ tablespoon apple cider vinegar
1 ½ cups brown rice flour
1 cups arrowroot starch
⅛ cup flax meal
½ tablespoon baking powder
1 teaspoons guar gum
½ teaspoon sea salt
Sauce
14 ounces Pomi crushed tomatoes
⅓ cup nutritional yeast
1 teaspoon garlic powder
½ teaspoon onion powder
½ teaspoon sea salt
½ teaspoon maple syrup
¼ teaspoon dried oregano (optional)
¼ teaspoon dried basil (optional)
Toppings
Any veggies that you enjoy on a pizza! Just remember to cut all the veggies around the same size so they cook evenly. 
Some Nourish faves:
Bell peppers
Broccoli crowns
Mushrooms
Leeks or onions
Spinach
Marinated kale
Cauliflower crowns
Black olives
Peaches
Pineapple
Pizza Directions 
Preparation Time: 25 minutes
Cook Time: 24-27 minutes
Yield: 1 large pizza 
Preheat the oven to 425˚.
Warm the water and maple syrup to 100 degrees. Add yeast to the warm water and maple syrup and stir gently for 10 seconds. Let stand for 5 to 10 minutes. If the yeast is foaming, it is activating.
Place oil and apple cider vinegar in a separate small bowl.
In a standing mixer bowl, add brown rice flour, arrowroot, flax meal, baking powder*, guar gum, and sea salt. Mix together for 30 seconds.
Add the water mixture, oil, and vinegar to the standing mixer bowl and mix on speed 1 for 3 minutes. It should be the consistency of soft serve ice cream.
Scoop batter onto a greased pizza pan. Smooth the surface with an offset spatula. Try to make the rim for the crust thicker than the center.
Bake for 12 to 15 minutes.
Prepare the sauce: Place all the ingredients in a high speed blender and blend until smooth. Set aside until needed.
Take out of the oven and place sauce and toppings on pizza.
Bake again until the cheese sauce is hot and the toppings are cooked, around 12 to 15 minutes.
*Baking powder is made out of arrowroot starch, cream of tartar, and baking soda. Recipe is in the "Happy Baking and Desserts Cookbook."