Photos by Keith Borgmeyer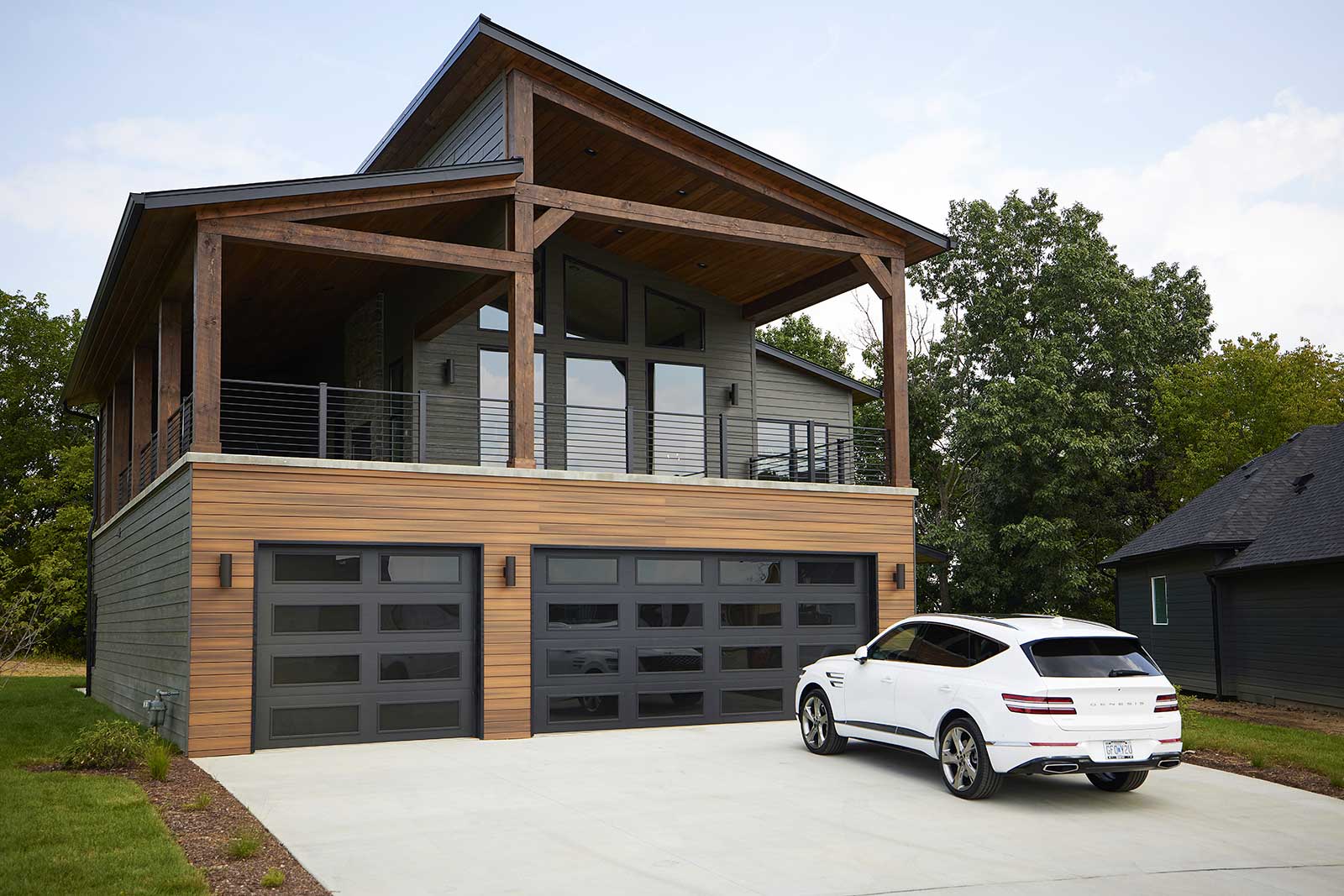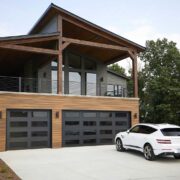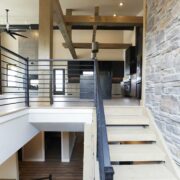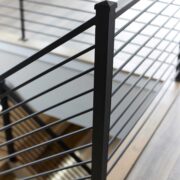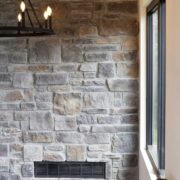 View Gallery
Timberwood Homes and Outdoor Solutions partner up on custom luxury homes.
"Cookie cutter" is the antithesis of the luxury custom homes Jason Sutherland and Jerrod Thompson build together. They call their design style, inspired by their love of the outdoors, "rustic modern." It mixes stone, timber, and steel in a way that feels as much like a cozy cabin as it does a luxury Alaskan resort.
They say what sets them apart is all the custom detail work they do.
"We do a lot of the detail work [ourselves]. We frame the house, set all the beams, do all our own stonework," Jerrod says. "We're highly competitive and refuse to be outdone."
"We like to think outside the box," Jason adds. "We both like the outdoorsy, lodge or cabin feel. We like being up north, being in the mountains, and see a lot of different designs in those areas that we bring here."
Laying the Foundation
Jerrod, 43, a Mexico, Missouri, native who came to Columbia in 2001 to play basketball for Columbia College, had a job with Pleasant View Landscaping as a college student. There, he fell in love with working outside with his hands. After college, he went into business for himself, opening Outdoor Solutions of Missouri in 2006, which specializes in landscape design, restoration, and irrigation systems. He and Jason, 47, became friends around 15 years ago.
Jason came to Columbia in 1993 to play basketball for Mizzou, and he stayed in Columbia after college and got into construction. He was building homes around 2006 when Jerrod went into business. He and Jerrod met playing rec league basketball.
"We started bouncing work off each other, back and forth, and after the '08 crash, we were both scurrying for work, so we started partnering up on a couple of projects, and it just sort of took off from there," Jerrod says. Their personalities seem to complement each other's — Jerrod is outgoing and enthusiastic while Jason is more of a rugged, quiet type whose South Dakota roots can be felt in their designs. They've been in business together since 2010, with Timberwood and Outdoor Solutions remaining as separate businesses but partnering together to create luxury homes that are as beautiful outside as they are inside. Just this year, they added swimming pool installation to their line of services.
Breckenridge Park
A developing subdivision in West Columbia, Breckenridge Park is located off South Scott Boulevard, accessible by West Smith Road (which is Rollins Road east of Scott). Jerrod and Jason have purchased seven lots here, and so far, they've built four homes. The most recent is at 506 Tomahawk Dr. The 2,880-square-foot home has four bedrooms and two and a half baths and took about nine months to build. It sits atop a hill, with the driveway leading to a three-car garage with modern black doors against a wood facade, above which is one end of a large second-story balcony adorned with large wood beams and a pitched roof line with metal roof.
"We pick lots," Jason says about choosing land in Breckenridge Park. "We found a couple of really nice lots in Breckenridge Park that overlooked some bluffs. The lots we choose are unique and fit the types of houses we build," Jason says.
Inside, the spacious entry makes getting in with groceries and strollers easy, with wood benches and a nook with cubbies adding storage. The wood staircase in the entryway is anchored by a stone wall and accented with a modern, black iron railing and a rustic chandelier. Extensive storage under the stairs takes advantage of dead space. The upstairs leads to an enormous open-concept kitchen-living-dining room filled with modern windows that let in the beauty of the wooded lot. The kitchen's modern look includes matte black upper cabinets and subway tile, natural wood lower cabinets, black counters, soft-close drawers, a pot filler, and a large island with a black waterfall counter that accommodates bar seating on one side. A walk-in pantry features adjustable black shelving. Above the kitchen, massive wood and black steel beams accent the 17-foot ceilings. The focal point of the living room is a large industrial two-way fireplace with a floor-to-ceiling steel facade. The other side can be accessed from the balcony off the living room. Black walls accent the huge wall of windows in the living room. Laminate wood flooring runs throughout.
The master bedroom features several windows and black doors; a black sliding door with frosted glass panels that mimics the garage doors leads to a large, custom walk-in closet. The master bath has dual vanities with counters and cabinets that match the kitchen, and a large, walk-in shower.
The balcony off the living room is partially covered by a slanting roof that features a beadboard ceiling and canned lights, an outdoor kitchen, and an amazing view of the bluffs.
Jason and Jerrod aren't afraid of making bold design choices at the spur of the moment. The stonework in the staircase was not a part of the original plans for the house, but once things started coming together, they decided the stonework offered a chance for an additional wow-factor and they went for it.
Jason says that, over time, they have gotten braver in making those bold design choices and they aren't afraid to take risks.
Building for the Future
Jason and Jerrod look forward to building more houses like those in Breckenridge Park together. And building homes that include amazing outdoor spaces is a priority.
"For Outdoor Solutions, we'd like to get more into residential remodels or that backyard addition with firepits, outdoor kitchens, [and] swimming pools," Jerrod says. "What I see with Timberwood is us building more Breckenridge Park-style homes, to become a custom home builder in this town, doing a lot of that extra detail work for people."
And if HGTV called and offered them their own show, they both say they would take it, laughing that it's something they've joked about for a long time.