The Healing Power of Horses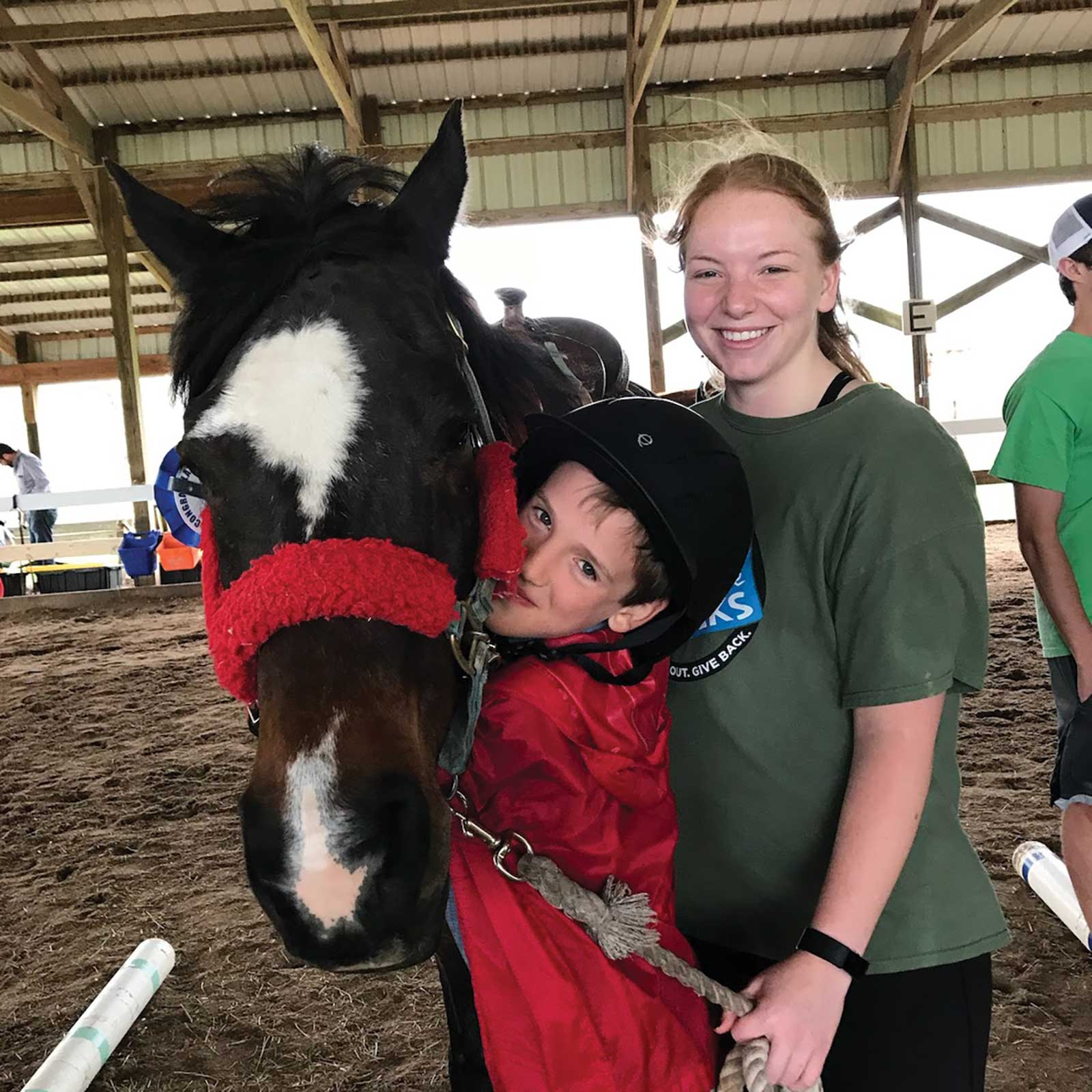 Cedar Creek Therapeutic Riding Center has been providing horseback riding therapy to people with disabilities for 33 years.
It's no surprise that animals can have healing powers.
Karen Grindler founded Cedar Creek Therapeutic Riding Center in 1988. The theater and communications alumna from MU arrived at the idea for Cedar Creek after noticing a sort of absence in Columbia.
"There were no therapeutic riding centers in Mid-Missouri," Karen remembers. With a need in the community and the help of a riding instructor certified in equine therapy, Karen opened Cedar Creek.
Located on 60 acres of land just south of Columbia, Columbia's Cedar Creek Therapeutic Riding Center provides lessons and equine therapy to kids and adults with mental, physical, or emotional disabilities. The nonprofit group is accredited with the Professional Association of Therapeutic Horsemanship, a nonprofit formed in 1969 to promote equine-assisted services for individuals with disabilities.
Cedar Creek began its first year with 12 riders and four horses. Nearly 34 years later, Cedar Creek's staff, volunteers, and 19 horses provide nearly 100 individuals in Mid-Missouri with the benefits of riding each week.
Equine-assisted therapy can promote physical growth in people with various disabilities. "The movement of a horse is the same movement of the human walk: it's a four-dimensional movement," Karen says. "For a person who has an impediment to mobility, the movement of a horse will mimic the movement of a human walk, strengthening the muscles in the back, legs, arms, and stomach. Because you're on a moving apparatus, the whole body is engaged." This movement helps improve balance, coordination, strength, and muscle tone.
The motion created through riding can also promote cognitive and emotional growth. "For someone with a mental disability, riding gives them a sense of independence and confidence, improving self-esteem," Karen says. "For someone with an emotional disability, creating a bond with the horse and establishing a relationship is substantial." Cognitive impairments are also addressed through learning horsemanship skills and stable management.
The group's work transcends the clinical benefits of providing equine therapy to kids and adults. "Children often speak their first words on the back of a horse or take their first steps at Cedar Creek," Karen says.
Cedar Creek is run by a staff of five: two certified instructors, an office manager, an occupational therapist, a mower, and an equine manager. However, Karen says the help of many dedicated volunteers keeps Cedar Creek in the saddle.
Volunteers work with riders for eight-week sessions in the spring, summer, and fall. Those with horse experience are used to lead the horses through the classes, while those with less experience help by being "sidewalkers" who walk alongside the rider. Volunteers can also help prepare the horses for lessons, grooming, special events, and farm projects.
Looking toward the future, Karen says Cedar Creek aims to continue "lifting spirits of kids and adults with mental, physical, or emotional disabilities in Mid-Missouri by providing equine therapy," adding that she is passionate about what work is being done at Cedar Creek. "Nothing beats improving the quality of life for a person through the healing power of a horse."