You Have Goat to Be Kidding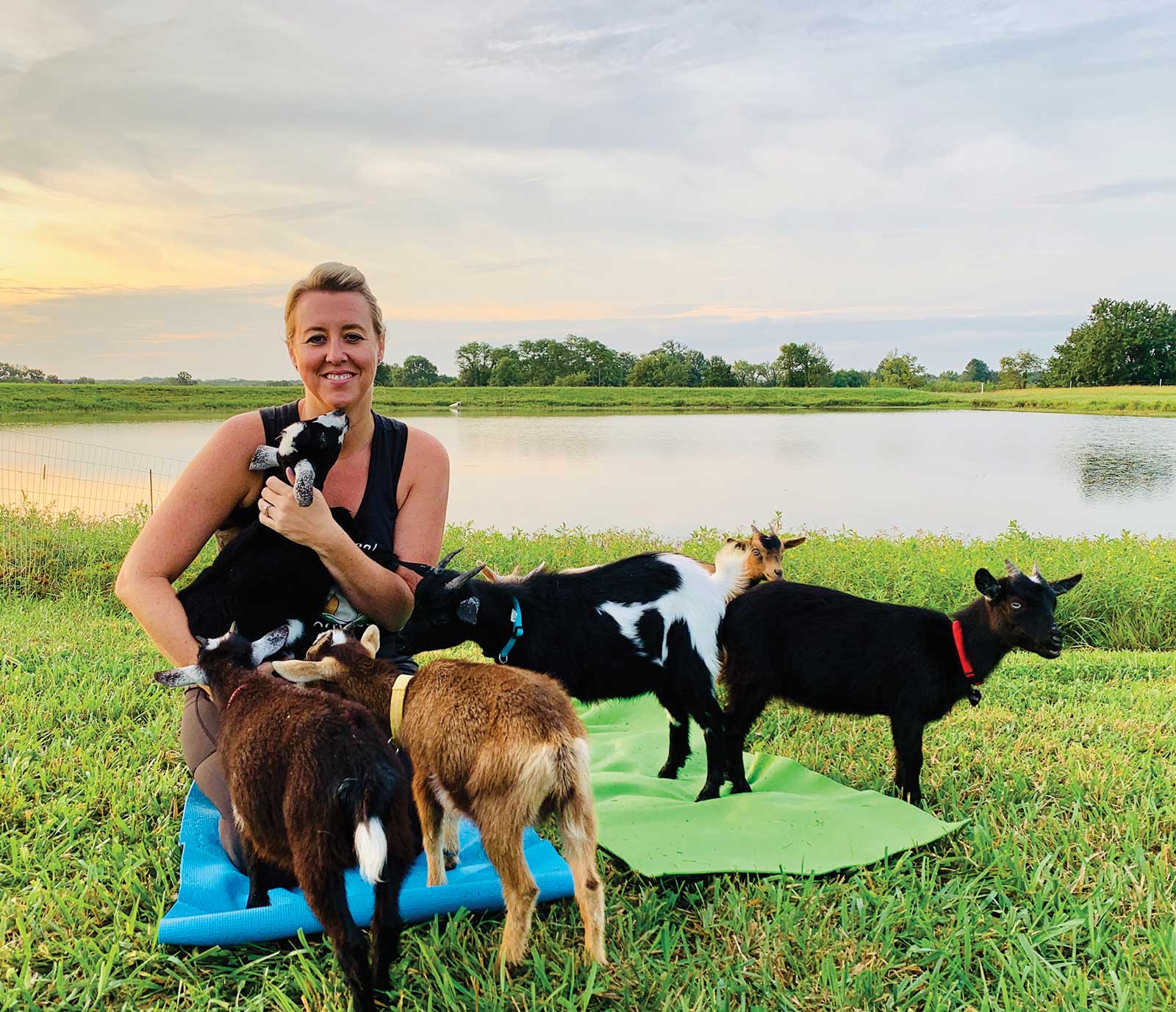 Goat Yoga of MO brings a twist to tradition.
Goats are great for many things: milk, cheese, even trimming your lawn. However, for Jessica Baker, owner of Goat Yoga of MO, these sassy little ungulates are also the perfect yoga partner. 
That's right — goat yoga.
Typically taking place outdoors, goat yoga classes are much like any other yoga class, except that some of your classmates are adorable farm animals. The instructor will guide you into the perfect downward-facing dog pose as cheerfully bleating (or screaming) goats bound about. Some of the goats even get involved in the classes, taking the "mountain pose" a little too literally and climbing on your back!
Goat yoga originated out of Oregon in 2016, and despite being a relatively new phenomenon, it didn't take long for the idea to catch fire, becoming popular with experienced yogis and newcomers alike.
Jessica explains that her family has owned many animals and livestock, so she was no stranger to the silly antics of goats. As videos of goat yoga began to pop up on social media, Jessica says her friends urged her to open up the family farm for goat yoga classes. "I began learning about all the physical and emotional benefits and thought it would be something fun to do in my free time," she says.
The goat yoga classes take place at Four Oaks Farm, which was started by Jessica's late grandfather. "Community education and engagement was a passion of his," Jessica says. "I was looking for a way to become more engaged and supportive of my community. Goat yoga is a great way to bring something fun and unique to my community and share our farm at the same time!"
Jessica says that, in addition to the physical benefits of yoga, "adding a goat into the mix introduces all kinds of emotional benefits. Animal therapy provides therapeutic effects, not to mention the automatic relaxation that comes over you when a little goat climbs in your lap."
Kelsey Gibson, an instructor at Goat Yoga of MO, says that you don't need to be a pro to take one of their classes. "The yoga practice is beginning level, so anyone can come," she says.
Though you don't need to be a pro to take one of her classes, you need to be ready to have a blast. Kelsey describes the experience as: "Unforgettable — that is the word that comes to mind! People that sign up for goat yoga tend to be carefree and up for trying new things. Whether they're super active or just looking to expand their experiences, everyone has a great time.
"Business owners locally love to bring their employees out to the farm for goat yoga," she adds. "It's a great way to promote wellness, team-building, and have some much-needed time away from the office!"
If you plan on taking a goat yoga class, be prepared for shenanigans to occur.
"We had one class where the yoga instructor wasn't looking and the goat ate her notebook she had written her sequences on," Jessica says, "Another time, one of the goats fell asleep at the beginning of class, and snored obnoxiously during the entire session."
Of all the benefits goat yoga can offer, Jessica says the best one is the laughter.
"This is a yoga class where everyone is laughing and enjoying the unexpected, carefree attitude of the goats."