Getting Puppies on the Right Paw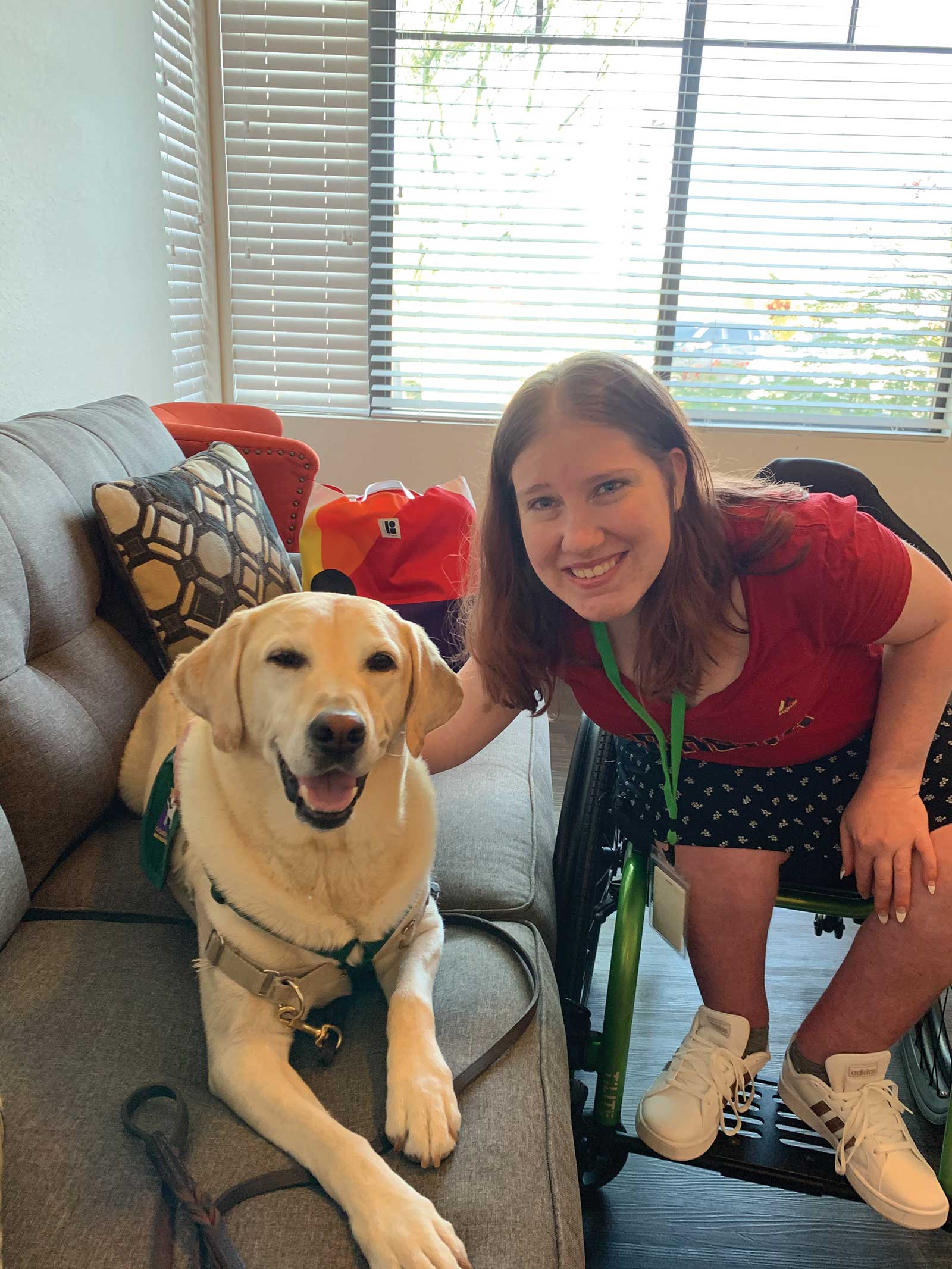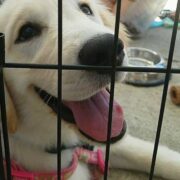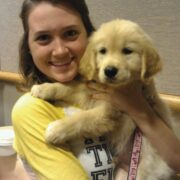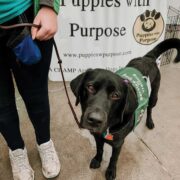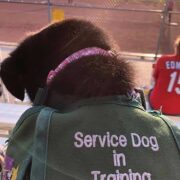 View Gallery
Puppies with Purpose helps train puppies to become service dogs.
In a roundabout way, TerriAnn Tucker-Warhover's background in veterinary medicine led her to create Puppies with Purpose nine years ago.
TerriAnn, a veterinarian for more than 30 years who's licensed in Missouri, North Carolina, and Virginia, provided veterinary care for numerous service dogs and grew interested in raising service dogs herself.
She also drew inspiration from "4 Paws for Ability," a service dog organization based in Ohio that paved the way for the creation of Puppies with Purpose. The nonprofit helps train puppies to become service dogs.
"Our Puppies with Purpose program allows collegiate students and the Columbia community to raise, socialize, and prepare puppies for more rigorous training through CHAMP Assistance Dogs," TerriAnn says.
CHAMP Assistance Dogs (the first part stands for "Canine Helpers Allow More Possibilities") is the parent organization of Puppies with Purpose. CHAMP places service dogs with people who have disabilities and has established an extensive matching process to ensure all dogs are compatible with the humans they assist.
Puppies with Purpose's work transcends their dedication to preparing puppies to become service dogs. The group works to create a disability-conscious community and alleviate the country's drastic shortage of service dogs. CHAMP is also one of the few suppliers that provides service dogs to recipients free of change, helping remove financial barriers, too.
"A service dog may cost as much as $30,000" otherwise, TerriAnn says.
Raising the Puppy
Many volunteers are pre-veterinarian or health profession students, and there are three categories of volunteers: general volunteers, puppy sitters, and puppy raisers.
A general volunteer attends meetings and events and can serve on community service, personal relations, and fundraising committees.
"Everyone starts as a general volunteer and works their way up," TerriAnn says.
Those interested in directly caring for dogs can become a puppy sitter or puppy raiser after proving their capability as a general volunteer.
"We usually get the dogs — which are typically golden retrievers and Labradors — between 7 and 8 weeks [old]," TerriAnn says. "The students raise, socialize, and prepare the puppy for about two years."
A puppy raiser is the primary caretaker of the puppy — they keep their service puppy at their home, take them to class, and conduct the majority of socialization activities. TerriAnn recalls puppy raiser Megan Warhover routinely taking her service dog, Dewey, to Mizzou football games.
"Our puppy raisers put the puppies in environments where they're exposed to different situations," TerriAnn says. "This prepares them for situations they might experience in more rigorous training at CHAMP or as an assistance dog."
When a puppy raiser is busy, a puppy sitter takes care of the puppy for a few hours at a time.
Puppy raisers and puppy sitters have to attend meetings and events, meet weekly with TerriAnn individually, and be familiar with a training manual, which outlines the dos and don'ts of taking care of service puppies.
Training the Puppy
Once a puppy passes its first set of major health clearances at 4 to 6 months of age, the puppy starts their advanced training with CHAMP staff in St. Louis. (Before COVID-19, a partnership between CHAMP and the Department of Corrections allowed CHAMP staff to train the dogs with the help of select inmates at the Women's Eastern Reception Diagnostic and Correctional Center in Vandalia. The dogs lived with the inmates 24/7, and CHAMP staff traveled to Vandalia each week to work with the dogs and the inmates.)
CHAMP provides more rigorous and specific training, instructing the puppies on how to aid people with various cognitive and physical disabilities. For example, one video on CHAMP's Facebook page shows a trainer falling and a dog retrieving the phone so that the trainer can dial 911.
"What skills are taught depend largely on the dog's size and personality and the needs of an individual," TerriAnn says.
The puppy will stay with CHAMP staff for 6 to 8 weeks before returning to Puppies with Purpose puppy raisers for occasional vacations and socialization outings.
Making a Match
Even though most puppies are placed at around two years of age, the frequent visits between CHAMP and Puppies with Purpose puppy raisers last until the puppy is at least 15 months old. CHAMP's extensive matching process takes place during those remaining nine months.
"CHAMP brings the dog to the person's house so CHAMP trainers can navigate, watch, and work with the partnership there," TerriAnn says. "The visit may happen every week in the beginning, but as it gets closer to placing the dog, the visits may become more routine — like a couple of times a week."
CHAMP's work doesn't stop after making a match. TerriAnn says the organization routinely visits the pairing to make sure it's a good fit. "CHAMP ensures that there is a happy puppy and that the person's needs are being met," TerriAnn says.
Beyond Training
Not every dog that begins service dog training graduates from the program. Often times, those that do not graduate are trained to become therapy dogs. Occasionally, dogs may be adopted by a family, TerriAnn adds.
As part of their mission, Puppies with Purpose aims to create a disability-conscious community. One way the group achieves this is through its educational programs.
TerriAnn says understanding the difference between a service and assistance dog is one aspect of creating a disability-conscious community.
"'Assistance dog' is the general term that includes service dogs, emotional support dogs, facility dogs, and home therapy dogs," TerriAnn says. "Service dogs, by law, are dogs that are specifically trained to perform specific tasks for an individual who has a disability."
Another aspect of creating a disability-conscious community is educating people about what service dogs do for their companions.
"Service dogs can pick things up from the floor, provide balance and stability, and open the refrigerator door, just to name a few things," TerriAnn says. Zonta, TerriAnn's education dog, helps demonstrate these skills during presentations and demonstrations.
Puppies with Purpose has given presentations and demonstrations to various groups, including schools, Boy Scout and Girl Scout troops, businesses, and various campus organizations.