Keeping Your Kids Safe Online
Kids are now victimizing each other.
Not my child.
When it comes to most hazards and actions that can imperil a child's reputation, health, or life, dismissing those possibilities with an automatic "not my child" may be one of the biggest mistakes a parent can make.
Det. Tracy Perkins says she can't make that point loudly or firmly enough. As the leader of the Boone County Sheriff's Office Cyber Crimes Task Force, Perkins has spent the past 14 years witnessing and apprehending online predators who target children, luring them into compromising and even life-threatening circumstances.
While those issues remain as real as ever — as unprecedented levels of isolation during the COVID-19 pandemic have shown — many online threats are more subtle, at least initially. Perhaps one of the more eye-opening if not gut-punching developments in internet safety for teens and children is that the teens and children are no longer just the targets.
Increasingly, Perkins says, the children and teens are now also the bullies and offenders. "Our kids are learning this from other kids," she says. The message that Perkins has championed for nearly two decades and that she now wants to shout is something parents need to heed.
"I hear so many parents say, 'I just don't know anything about the phone,'" Perkins explains. Her response? "Then why is your 9-year-old on it?"
Her message is simple, though undoubtedly easier said than done. "Don't allow your children access and be diligent about knowing what technology their friends let them use," Perkins adds. "I know for a fact there are younger kids that have nicer phones than a lot of their parents."
The Gathering Storm
Perkins mentions the "bigger storm" of internet predation, bullying, and sexual exploitation that the public and parents seem unaware of — perhaps because they're checking their phones and not checking on their children. Add the frequent prevalence of kids soliciting each other for nude photographs or having explicit sexual conversations via text and there are even more opportunities for adult predators.
COVID-related isolation has meant more people online and, Perkins points out, more online solicitation and exploitation. The numbers bear out that conclusion.
In 2019, the cybercrimes task force, which covers Boone and six other Central Missouri counties, investigated 79 cases. In 2020, the task force's two investigators handled 152 cases. The National Center for Missing and Exploited Children, as well as FBI statistics, also show a doubling of cybercrime investigations in 2020.
The NCMEC is a national clearinghouse of sorts between law enforcement and internet service providers and social media platforms that are considered mandated reporters. They are required by law to notify law enforcement of situations and incidents that involve a child's safety.
Perkins estimates that for every internet or social media red flag alerting authorities to cybercrime, perhaps 5,000 other accounts with nefarious activity are somehow avoiding those red flags.
Perkins says the task force receives cyber tips made to the NCMEC as well as self-reports from parents who find inappropriate photos or texts on their kids' phones.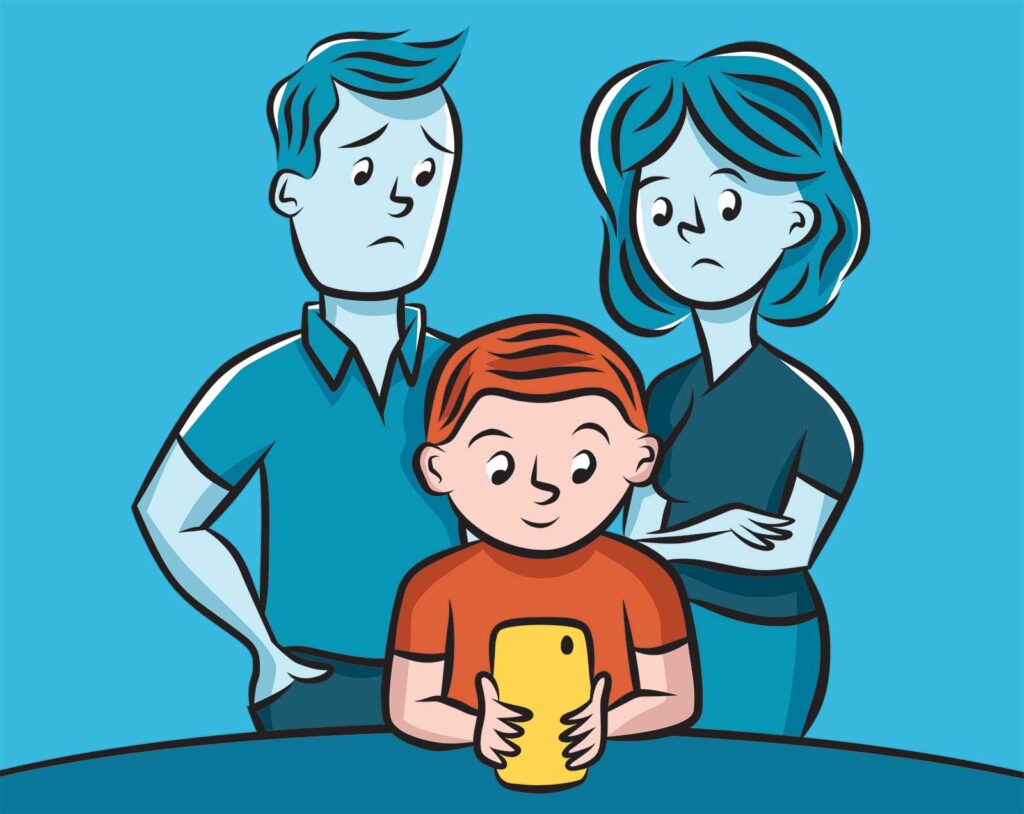 Right Under their Noses?
There are apps that young iPhone and smartphone users can use to hide apps from their parents' snooping eyes, and it no longer takes a lot of tech savvy to know how to bypass parental controls, unless parents have enough understanding to keep ahead.
To say the rapid changes in technology and communication apps are just part of the wild, wild west of cyberspace is an understatement. The truth is starker — and darker — considering that the technology is at the fingertips of anyone wanting to pursue, bully, stalk, harass, or intimidate another person.
As the COVID cloud begins to lift, Perkins suggests, now is a good time to get into new online habits. Kids have been isolated more and with less adult supervision. Unless parents take a more active role, the online dangers may be occurring right under their noses, perhaps even with their child sitting in the same room. Or even on the same sofa.
When Perkins began her work on the cybercrimes task force in 2007, the youngest children she could remember on the internet were 13 or 14 years old. "We had dial-up. We had a different flow of access to the internet," she says. Telephones weren't yet "smart." Now?
"It's worse," she explains. New apps emerge on a regular if not dizzying basis. Facebook also exploded from a few hundred thousand users to a few million to billions. New social media platforms – catering to and popular among younger and younger users – are hard to keep track of.
"What's happening today is we don't have just the 13- and 14-year-olds" online, Perkins says. "But we have 5- and 6-year-olds on smartphones. Not all of them are chit-chatting with individuals online, but sometimes they are."
Normalized and Desensitized
As online conversations and activity have become more normalized, now kids are soliciting kids. It's not just adults preying on children.
"And it's not just, 'Hey, let me see your boobs.' It's more, what they want," Perkins adds. "Kids are producing it. They are naïve. But they've seen it somewhere."
The new cyber scenario has also gained footing at schools, giving teachers and administrators more reasons to be vigilant in protecting students — sometimes from themselves, as Perkins tells it.
"I hate to compare it to a gun, but would you give a loaded gun to a kid?" she asks. "The answer is 'no.'" But a mobile phone, with even a few apps, potentially can exploit a child.
"Once a kid becomes victimized, they have two ways they can go," Perkins explains. "Tell or keep it a secret — and then you don't know how to get out of the problem." The secret becomes a burden that the child will carry "for many years" and becomes a complex trauma as the result of emotional disturbances and self-esteem issues, she adds.
When a Parent Finds Those Images
Suppose a mom takes her child's phone for inspection and discovers sexually explicit images? Is she now in possession of child pornography?
"Her due diligence is to make sure those images are no longer accessible," Perkins explains. "Turn it over to the police. You're not going to get in trouble for that." On the other hand, if those photos are then sent to another phone or internet user, "You are part of the problem now."
While Perkins wants to emphasize to parents that teens are now victimizing each other in many cases, it's also still a fact that "kids are being enticed by adults."
Through the years, Perkins has had the unpleasant task of viewing unspeakable images and videos in the course of investigations. Once upon a time in the cybercrime world, the venues and means for distributing and viewing child pornography were limited, at least compared to today's world of synched phones, cloud storage, and email.
"It's creating a bigger storm than what the general person really understands," she explains.
Another example of how the problem seems even more insurmountable is that Perkins used to see many of the same children in those investigative photos and videos. Now, "I never see the same one twice — that's how bad it is."
 "Most kids today were born with technology in their hand and the app in their face."


— Det. Tracy Perkins, Boone County Sheriff's Office Cyber Crimes Task Force
Perkins wants to bring the conversation around to a point of contact with parents and acknowledges that kids have a superior level of understanding about technology and phone apps because they've grown up in the cyber age. That only increases the need for parents to be hypervigilant and as tech-savvy as they can be, rather than allowing a computer screen or mobile phone to be a babysitter.
"Generation-wise, let's go back to when apps were born," she says. "Most kids today were born with technology in their hand and the app in their face."
The bulk of Perkins's cautions are for parents, but she doesn't let teens off the hook.
"If your parent is giving you permission to use a device, you've got to be smart," she adds. "There are ways to use a device and not be dangerous with it."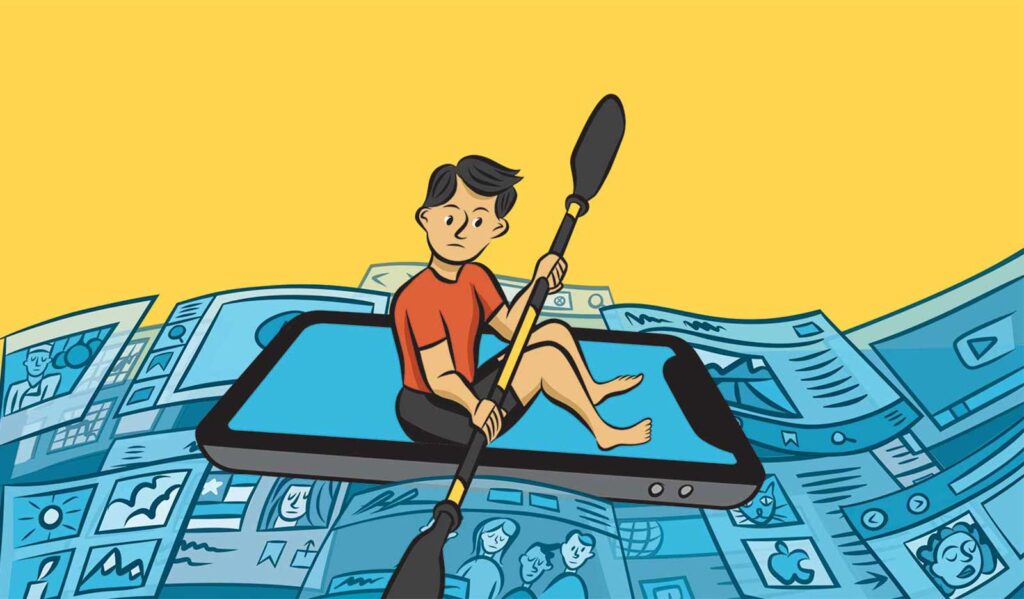 8 Tips to Keep your Kids Safe Online
Based on resources from the Boone County Sheriff's Office Cyber Crimes Task Force, the U.S. Department of Justice, and the National Center for Missing and Exploited Children, here are some steps parents can take to keep their kids safe online. In summary: Parents should stay involved in their digital world, know the apps they use, use parental controls where possible, and block and report people who make them feel uncomfortable.
Be involved in your child's life. That is a multi-faceted challenge, but the dividends are priceless in many ways. When it comes to being the victim of a cybercrime, children are often groomed to feel responsible for what is happening. The more openness in the parent-child relationship — including open, frank conversation about online expectations — the more likely a child won't be a victim or keep a secret.
2. "Stranger danger" applies to strangers approaching in cars as well as someone you don't know on the internet. Parents must insist on those guidelines for people their children encounter in person and online.
3. Change the phone settings. Perkins says iPhone and Android phones are set for "explicit," so change the settings. "These phones are really designed for adults. They're not designed for kids," she says. Apple has a "Screen Time" feature with a passcode that parents can set to limit the amount of time a child can be on the phone, what apps can be accessed, and what can be downloaded. "Basically, a lock and key to your kid's life," Perkins explains. Android has well-being settings for similar protection.
4. Change the privacy and sharing settings for your child's social media to prevent anonymity, direct messaging, and similar functions.
5. Be alert to potential signs of abuse, including changes in children's use of electronic devices, attempts to conceal online activity, withdrawn behavior, angry outbursts, anxiety, and depression.
6. Keep screens and devices where you can see them.
7. Keep control of your family's digital footprint. This involves parental use of electronics, too. Most apps, networks, and devices have geo-tagging features that make your location public and can lead someone directly to you. These features should be turned off for obvious privacy and safety reasons. Digital photos also contain metadata that may reveal time, date, and GPS coordinates. Some social media platforms hide or remove this data, but not all.
8. Lead by example and model the online behavior you want your children to use. And, yes, this includes limiting your own screen time. Less screen time means more family time.