Photos by Melissa Jane Photography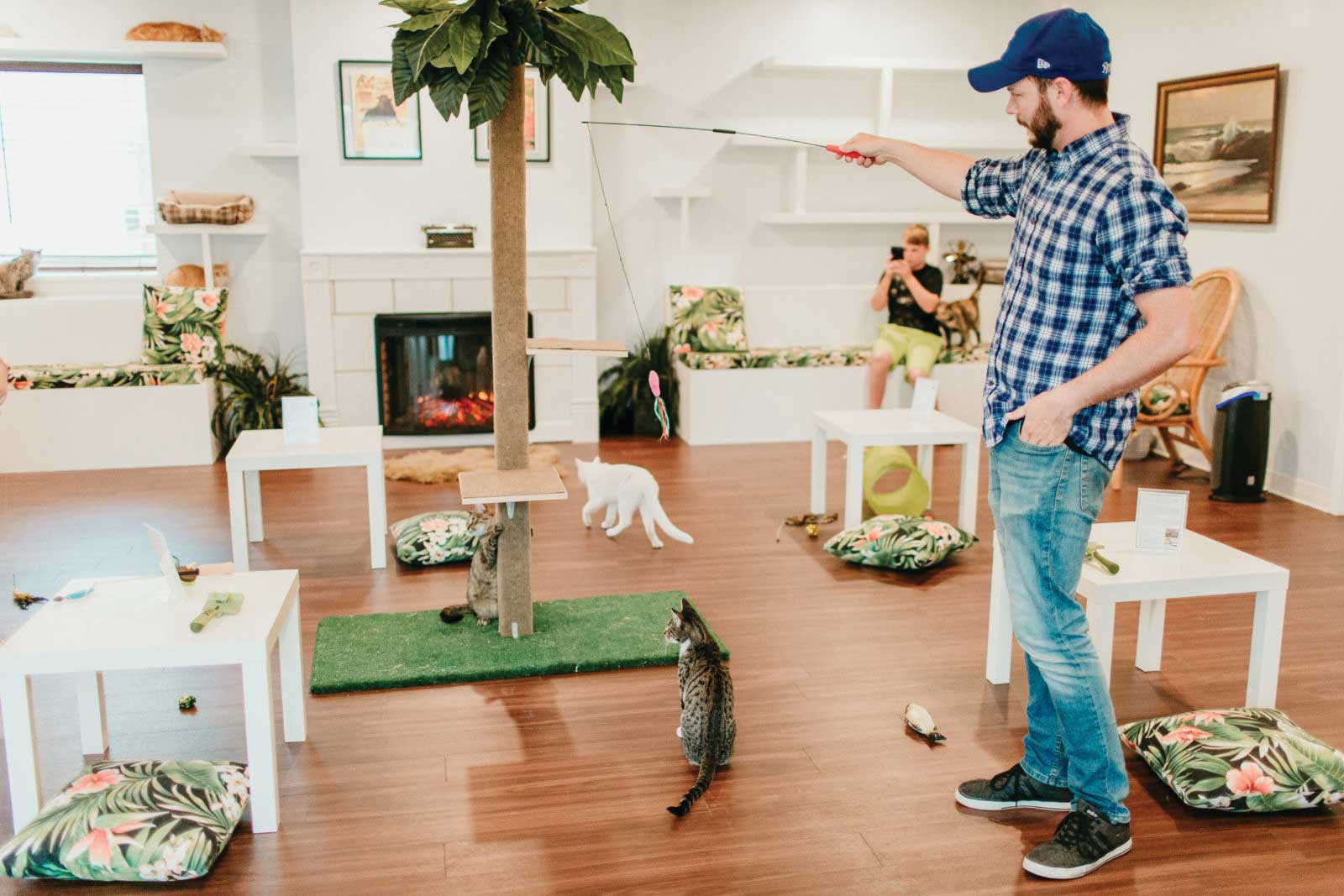 Papa's Cat Café offers great coffee, youth opportunities, private event space, and cuddly cats.
Let's say you go get a coffee at the place by the EatWell supermarket and the Walgreens on Broadway. If you chance on a seat by the wall, don't be alarmed by the stylized playroom next door or the 20-odd cats watching you get your caffeine fix.
No, those aren't the patrons; those are the feline residents of Papa's Cat Café, currently the only cat café in Mid-Missouri. The cats are provided by Boone County Animal Care, the coffee is provided by Fretboard, and the human interaction is from local couple Ryan Kennedy and MacKenzie Everett-Kennedy. 
"We wanted to put together something different," Ryan says of their decision to open the café. "A place where cats of all different types can have a chance to get adopted, including disabled cats. Those have actually been some of our fondest success stories."
The concept is simple (and cute). Anyone is welcome to purchase coffee and baked goods from the café, but a reservation in the adjacent playroom gets you right in the middle of a hoard of cuddly, lovable, and adoptable cats.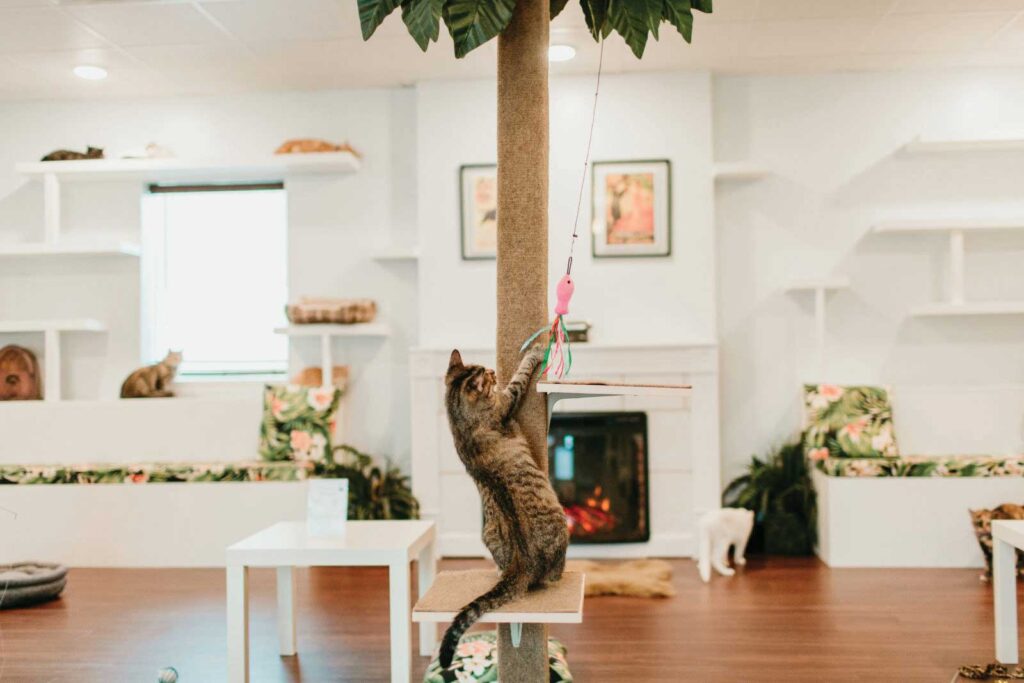 With a grand opening on July 31, 2018, Ryan and MacKenzie had simple goals for their first year in business. They wanted to adopt out 100 cats by their one-year anniversary, which they managed with a week to spare. Things have changed since then, of course, and drastically. Papa's Cat Café closed its doors for two months during the start of the COVID-19 pandemic, having to temporarily lay off its employees.
However, the extended time at home brought an unforeseen turn of events. The entire community spent more time inside, which meant the demand for a furry friend to keep them company in lockdown soared, and donations began to creep in regularly. According to Ryan, the café has adopted out around 150 cats since the beginning of the pandemic alone, bringing their total to 350 total adoptions since they've opened.
Ryan and MacKenzie usually try to keep at least 20 to 25 cats at any given time within the playroom. Papa's Cat Café offers plenty of chances to get up close and personal with their cats, and their events packages allow renting out any combination of the café, cat playroom, and adjacent party room. According to Ryan, the Side Room Party offering is perfect for children's parties, since a reservation in the cat's playroom comes with a 30-minute slot in a private party room.
Another popular option includes reserving a party during the Children's Cat Academy event that Papa's hosts on the third Saturday of every month from 10 a.m. to 11:30 a.m. It includes a lesson on cats, story time, and a craft, and then the party can be moved to the private room after the event is over.
Some would rather volunteer than just visit, and that's completely fine with the café. There is a special youth internship program, an eight-week, hands-on program for students ages 10 to 15 that teaches them in-depth animal training skills. The internship is unpaid, but it allows participants with an enthusiasm for animals and the desire to volunteer to become certified BCAC volunteers.
All in all, Ryan and MacKenzie are grateful that their café and all of its programs have gotten so much support from the community.
"Obviously, with the pandemic, things have been scaled down," Ryan says. "But we're still here, which I think speaks to how much the town likes us. The biggest surprise is the people that support us that have never been here before."
All but two of the cats featured at Papa's Cat Café are available for adoption, and potential cat owners can fill out an adoption interest form on the BCAC website.