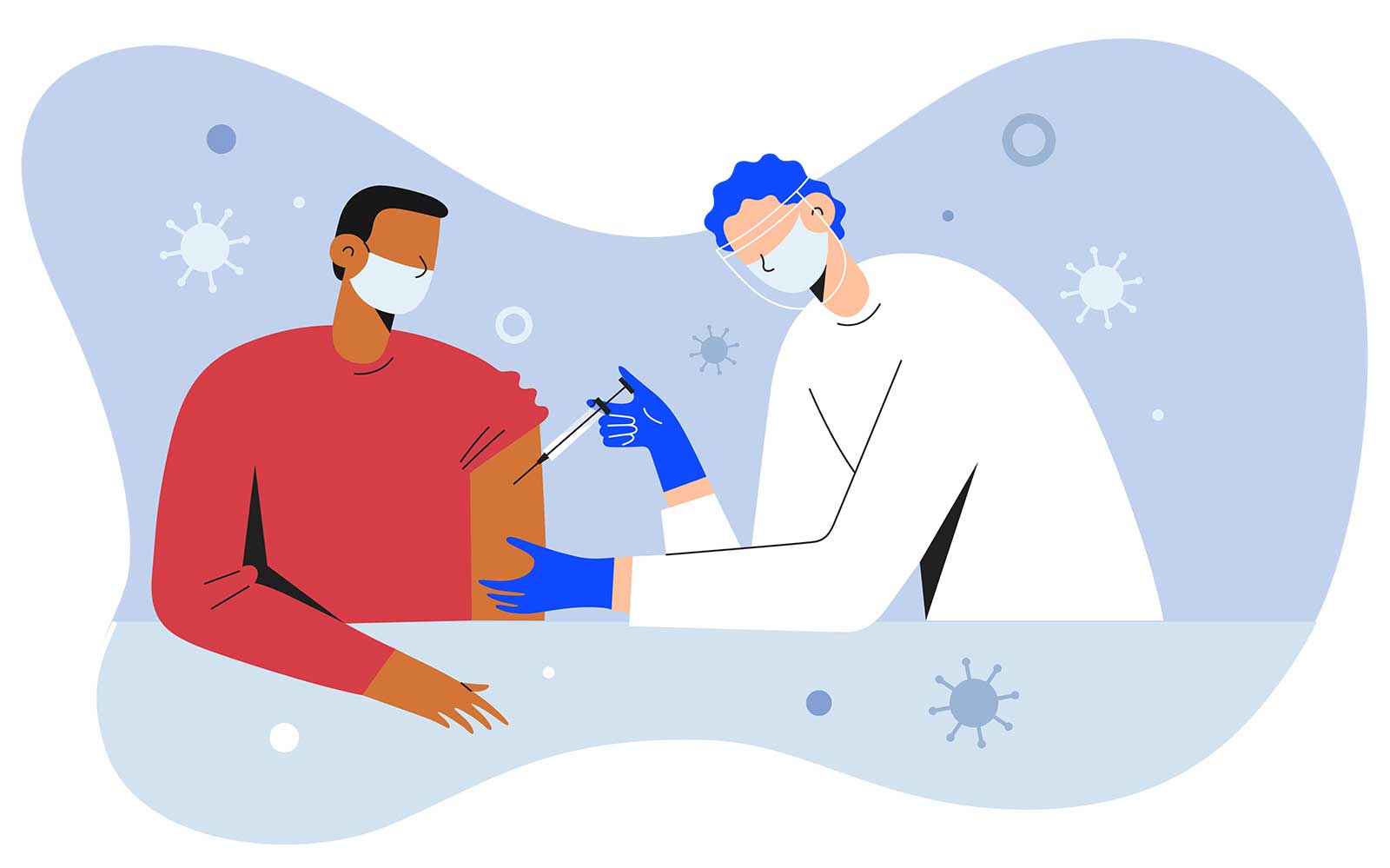 The COVID vaccine is finally here, but hold onto that mask for a while longer.
If the ubiquitous face covering is the forever symbol of 2020, will the vaccine syringe be the lasting image of 2021?
As of January 6, at least 7,000 health care workers in Columbia had received the first dose of the new COVID-19 vaccine. Though a far cry from the federal government's goal set a month ago, the vaccination numbers are encouraging to public health officials and local health care professionals who welcome the inoculations as the next step to ending the COVID-19 pandemic.
"There's a lot of information out there. There's a lot of misinformation," says MU Health Care pediatric disease specialist Dr. Christelle Ilboudo. She just happened to be at the head of the line when the shot was first administered on December 16. As the first health care professional vaccinated in Columbia, Christelle had a chance to make a statement to minority communities that are more likely to have COVID-19 — and, historically, among the most hesitant groups to seek out a vaccine, she says.
"It was a statement," Christelle explains. "I am an immigrant. I am a person of color. I chose to get vaccinated because I know it works."
As expected, Christelle says she had a sore arm for about 24 hours and some muscle aches.
"It was actually easier on my body than the flu vaccine," she adds. "Some people react more than others."
Picking up the Pace
There's been a sluggish start to the largest federal vaccine program in history. Operation Warp Speed, the initiative to develop and distribute a COVID-19 vaccine, aimed to vaccinate some 20 million people in the U.S. in December. As of January 1, only 22 million doses had been delivered to states and about 6.6 million people had received their first shot. Around 66,000 of those were patient-facing health care workers, residents, and staffers of long-term care facilities in Missouri.
The American Hospital Association has estimated that 1.8 million people need to be vaccinated daily from January 1 to May 31 to reach widespread immunity by the summer. The current pace is more than 1 million people per day below that. Before taking office on January 20, President Joe Biden announced his commitment to administer 100 million shots in his first 100 days. That plan calls for releasing most doses now, rather than holding second doses in reserve.
The Columbia/Boone County Department of Public Health and Human Services is working with state and community partners to administer the vaccine, which will be available in phases as determined by the state health department. While supplies are limited, the first phase of people to receive the shot — Phase 1A — are those patient-facing health care workers, residents, and staff mentioned above.
The other phases, outlined by the state and subject to change, are:
Phase 1B: High-risk people ages 18 to 64; those older than 65; first responders; and essential workers, including childcare workers, teachers, water and wastewater workers, energy workers, critical manufacturing workers, and food and agriculture workers.
Phase 2: Populations at increased risk, including prisoners and unsheltered people.
Phase 3: All other residents.
One Shot, Two Shots
As executive director of pharmacy and laboratory services at MU Health Care, Brad Myer leads the vaccination effort there, a massive undertaking that involves three teams of 50 people.
Brad is enthusiastic about the cutting-edge, state-of-the-art difference with the COVID-19 vaccine, where "pieces" of the virus are not introduced into the body via injection. Instead, decades of research with messenger RNA technology, or mRNA, has led to a way of artificially mimicking the characteristic "spikes" of the coronavirus, teaching the immune system to recognize the spikes and fight off the virus.
There are still some unknowns when it comes to the COVID-19 vaccine. The biggest question mark is how long immunity will last. That's the main reason there are two shots for the Pfizer and Moderna vaccines.
"We don't know what effectiveness we'll have with one shot," Brad says. "The data hasn't yet shown how long natural immunity lasts after recovering from COVID-19 or how long immunity lasts after getting the vaccine." He says the current advice is that everyone who has already had COVID-19 should get the vaccine.
He's also waiting to see if the COVID-19 vaccine will become as regular as the flu shot.
The quick success of the COVID-19 vaccine development has led to relief among public health officials, but the process has also spawned intricate conspiracy theories on social media and across the internet. Brad is quick to dispel one of the biggest false narratives.
"You cannot get COVID from getting the shot," Brad explains. "You can still get COVID after getting the vaccine, but you should have less symptoms."
The use of mRNA technology, though not new, has also birthed some humdinger myths in cyberspace, including the notion that the vaccine can change human DNA.
"It doesn't change your DNA," Brad says. "The mRNA sends a message to your cells that says, 'Hey, make this protein.' That's not changing DNA."

Patience, Please
In a news release, Columbia/Boone County Health Director Stephanie Browning asked for "patience and understanding" as the health department works through the vaccine phases set by the state. For more information, residents can regularly check out the COVID vaccine webpage, a new page on the city of Columbia's website that provides the latest on the COVID-19 vaccine rollout. Residents can also fill out a survey on the website to get information about when the vaccine will be available for them and when and where shots will be given.
"It's going to come in small increments until we're able to get everybody," says Trina Teacutter, nursing supervisor and vaccination program overseer at the Columbia/Boone County Department of Public Health and Human Services. "We're kind of at the mercy of the federal government and the manufacturers." Trina expects the COVID shot will be available to the public in "late spring or early summer."
"But the biggest lesson we've learned with COVID is 'everything can change tomorrow,'" she adds. "We just need to be flexible so we can pivot. For someone who likes to stick to the plan and not deviate from the plan, this has been a growth year for me."
Behind the Scenes
Vaccine distribution involves a long, complex chain of events. Every dose must be tracked. Providers need to know how much staffing they will need. Eligible people must be notified to schedule their shots, given the vaccine's handling requirements (the Pfizer-BioNTech shot must be stored at 70 degrees below zero, for example), and the need to observe people for 15 minutes after the shot — all while social distancing is observed.
Hospitals cannot give all their workers shots on the same day because of possible side effects and staffing issues, so they must be spaced out.
The three-team vaccination effort that Brad leads at MU Health Care meets twice a day with a steady flow of emails and planning to be sure the vaccination phases are on track and leading to community vaccination.
"There's a lot behind the scenes," Brad says. "When we register you [for a vaccine], we collect 20 data points. We're talking about hundreds of people who make this happen."
Team members are also tending to their full-time duties in other departments.
"It seems so simple: Line up, give me a shot, let's roll," he says. "It's not that simple."
What About These Masks?
Christelle wants to dispel the notion that surviving COVID-19 doesn't mean patients will have no lasting effects. Some are hospitalized later with blood clots. Children are susceptible to a condition called multi-inflammatory syndrome. Many COVID-19 cases have resulted in heart inflammation three to six months after symptoms subsided. Athletes have reported getting heart disease.
But COVID-19 fatigue is also a real factor.
"Rightfully so, people are tired. It's been a year now living with COVID-19," she says. "Then there's the trauma of losing so many people. People are still dying from COVID-19. People are still getting sick."
That means the "mitigation strategies" that have been in place since March "will be here for a while," Dr. Ilboudo says: wearing a face covering, practicing social distancing, and frequent hand washing.
Brad offers a bit of encouragement for those facing COVID-19 fatigue.
"One question I get a lot is, 'Am I going to be wearing a mask forever?'" he says. "We do know we've got to first get a certain percentage of the people vaccinated or get the virus ­— which we don't want to do."
The information in this article was accurate at the time of publication. For current guidance, please refer to the Columbia/Boone County Department of Public Health and Human Services.