'Tis the Season for Spice
Photos by Keith Borgmeyer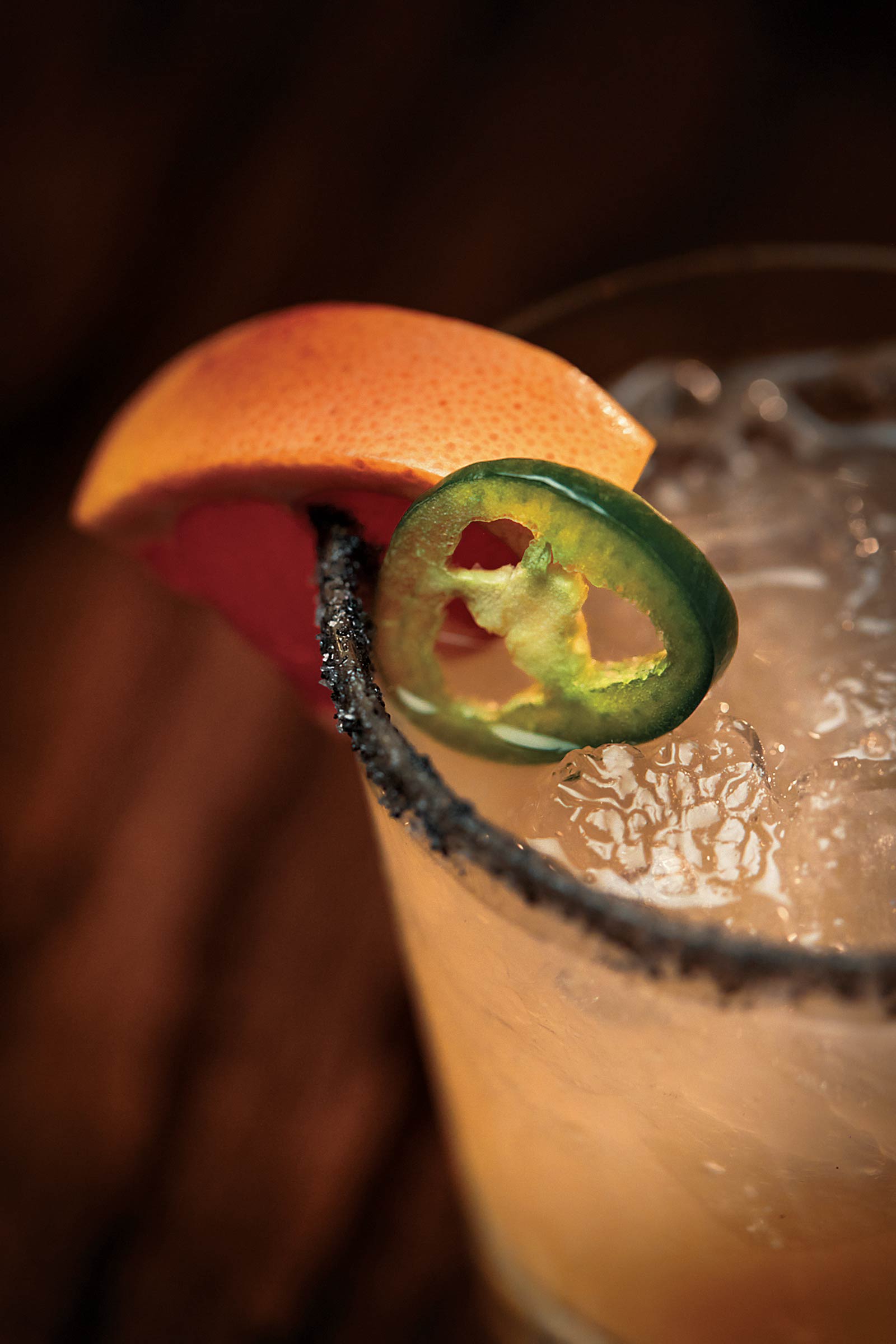 Warm up with these spicy cocktails from DogMaster Distillery, Barred Owl Butcher & Table, and 44 Canteen.
The cold weather is upon us here in Mid-Missouri, and while we may be chilly and wishing the sun would warm us up a little more, local restaurants are here to spice things up — literally. DogMaster Distillery, Barred Owl Butcher and Table, and 44 Canteen are serving up some spicy cocktails to help warm us up inside and out, and better yet, you can make these signature spicy cocktails from the comfort of your own home. So cuddle up with your favorite blanket (or human) and your cocktail of choice, just in time for the cold weather and the winter holidays.
The Helios
44 Canteen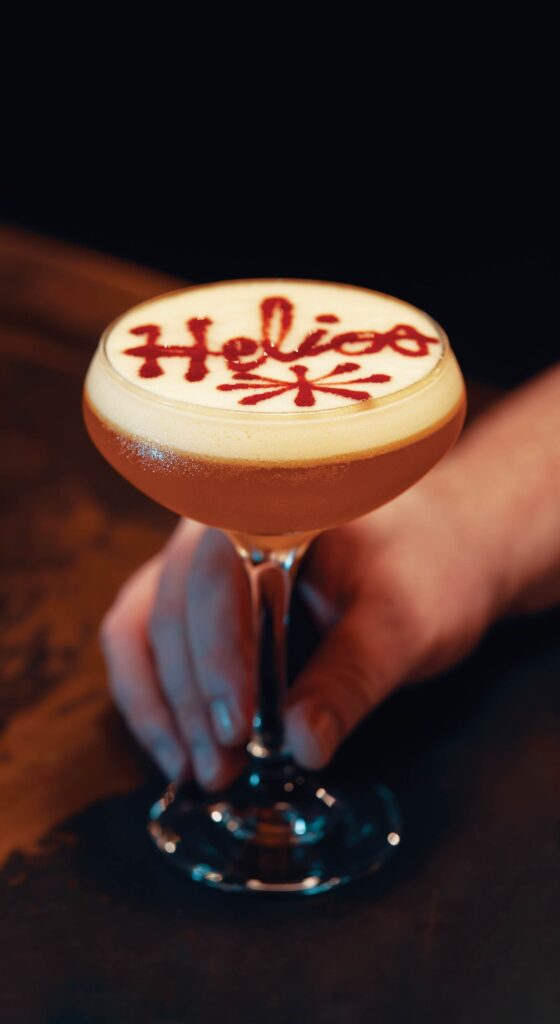 As the hours of daylight shrink, Aaron Brown, bartender at 44 Canteen, has the perfect drink to warm you up and give you a taste of sunlight: the Helios. A creation of Brown's, the beautiful golden beverage packs some heat, but with each sip, the unique drink leaves you wanting more. And it is unique. Aaron, who has been creating cocktails since 2005, has never seen anything like it. With the combination of egg whites and spice, The Helios is one of Aaron's favorite creations. So bundle up, grab a taco (or three), and enjoy The Helios this winter.
The Drink:
1 ounce egg whites
1 ounce sour mix
1 ounce honey and habanero simple syrup
2 ounces saffron gin
Red wine simple syrup
Directions: Dry shake the egg whites and sour mix. Add the honey, simple syrup, and gin. Shake with ice and strain into a coupe glass. Add the red wine simple syrup drizzle on top. 
Saffron-Infused Gin:
Add approx. 1/2 gram saffron to a fifth of gin
Directions: Let steep for two to three hours.
Honey and Habanero Simple Syrup:
2 cups honey
2 cups water
Approx. 10 habanero peppers
Directions: Boil together, let cool.
Cold Black Heart
Barred Owl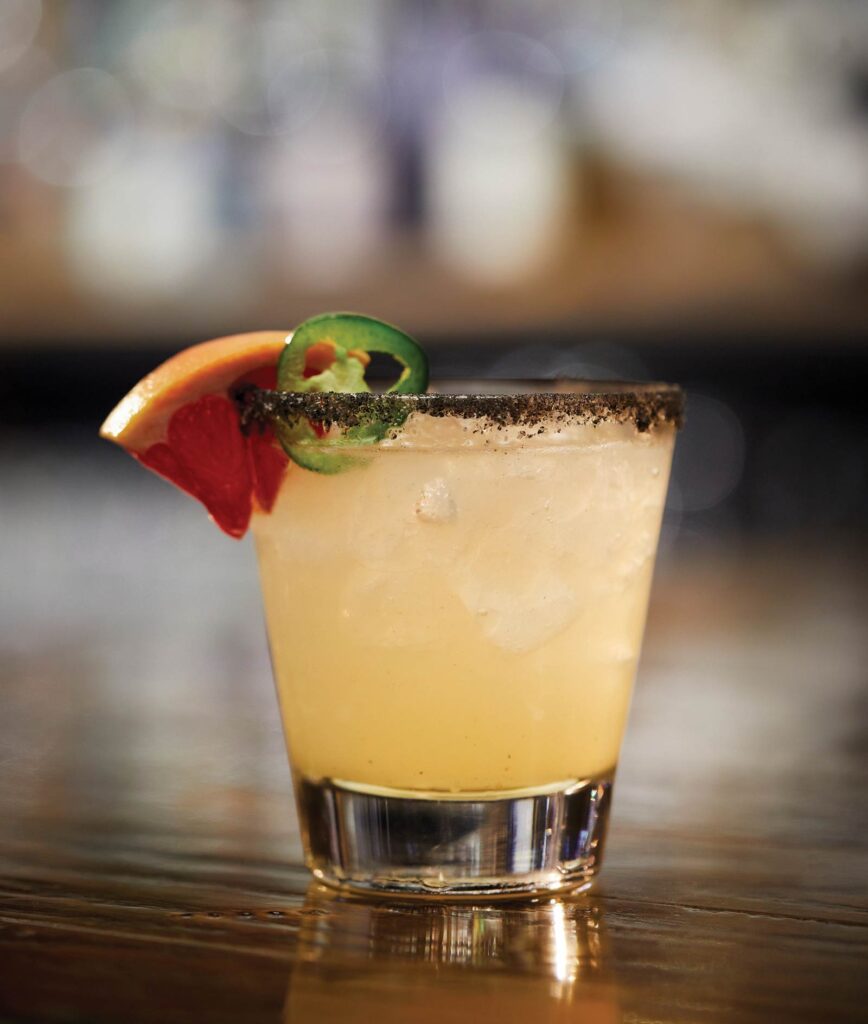 Creating a spin on the beloved margarita, Barred Owl Butcher & Table is bringing a little more spice to the classic beverage with its best-selling drink, the Cold Black Heart. The Cold Black Heart, according to bar manager Andrew Ruth, is a spicy grapefruit margarita that offers a depth of flavor and spice from the bar's house-infused spicy vodka, which is created with a variety of peppers, dried chiles, peppercorns, crushed red pepper flakes, and more. And while all of these peppers might sound intimidating, the spice offers more of a subtle background heat than a melt-your-face-off one, making it a great drink for any time of the year, but especially as the winter weather begins to settle in.
The Drink:
1 ounce blanco tequila
1 ounce house-infused spicy vodka
3/4 ounces grapefruit rose
1/2 ounce fresh-squeezed lime juice
1/2 ounce fresh-squeezed grapefruit juice
Directions: Shake all ingredients together and serve with a half-rim mixture of sea salt and Hawaiian black lava salt. Add grapefruit wedge and jalapeño slice as garnish.
Masterita
DogMaster Distillery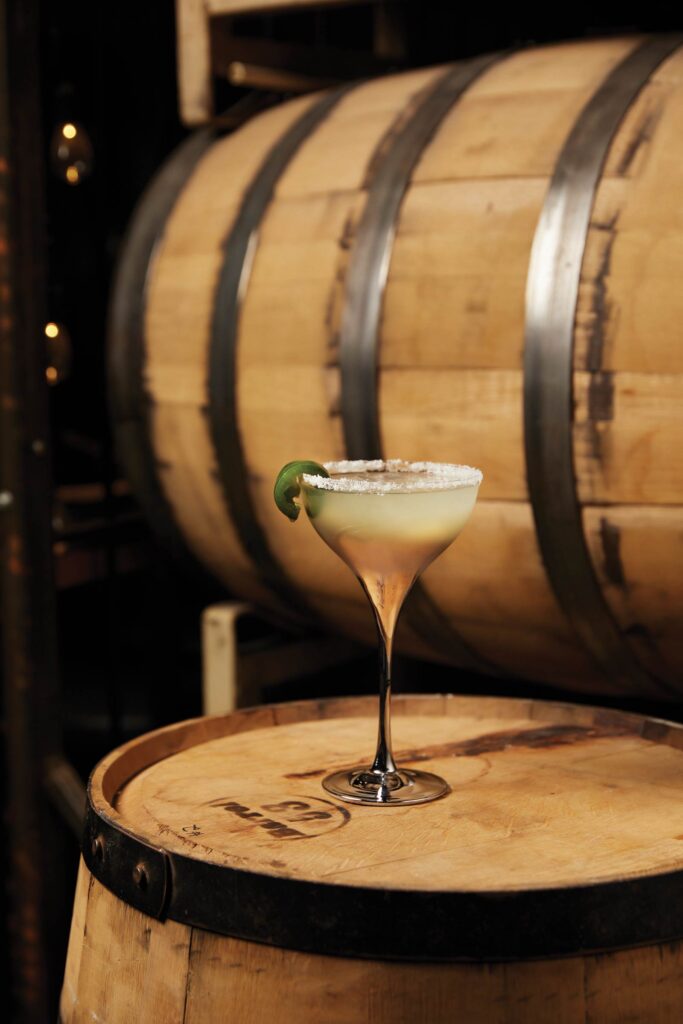 A margarita with a DogMaster spin. Whether you like it tame or spicy, DogMaster Distillery reinvents the traditional margarita with its Masterita, a drink composed of DogMaster's own unaged whiskey and house-made jalapeño simple syrup. While the Masterita is made with DogMaster's unaged whiskey rather than tequila, Lisa Driskey Hawxby, co-owner and co-founder of DogMaster, says that the unaged whiskey brings a lot of similar taste properties to those you'd find in a silver tequila. And the best part about this Masterita? You can get it as spicy as you like it.
The Drink:
3 lime quarters
2 ounces of unaged whiskey
Splash of triple sec
1 ounce sour mix
Jalapeño simple syrup to taste
Directions: Shake everything together and serve with a salted or unsalted rim. 
Jalapeño Simple Syrup:
5 jalapeño peppers (or 2 habaneros)
1 cup cane or white sugar
1 cup water
Directions: Slice the peppers into coins, remove stems. In a small pot, combine the sugar and water and bring to a boil. Reduce heat to low, simmer for 10-15 minutes. Pour through a strainer to separate out jalapeños. Store in air-tight container.