Photos provided by Micala Austin, Kylie Helen, Jake Hull, Jordan Marc, Jake Nowak, and Maya Robinson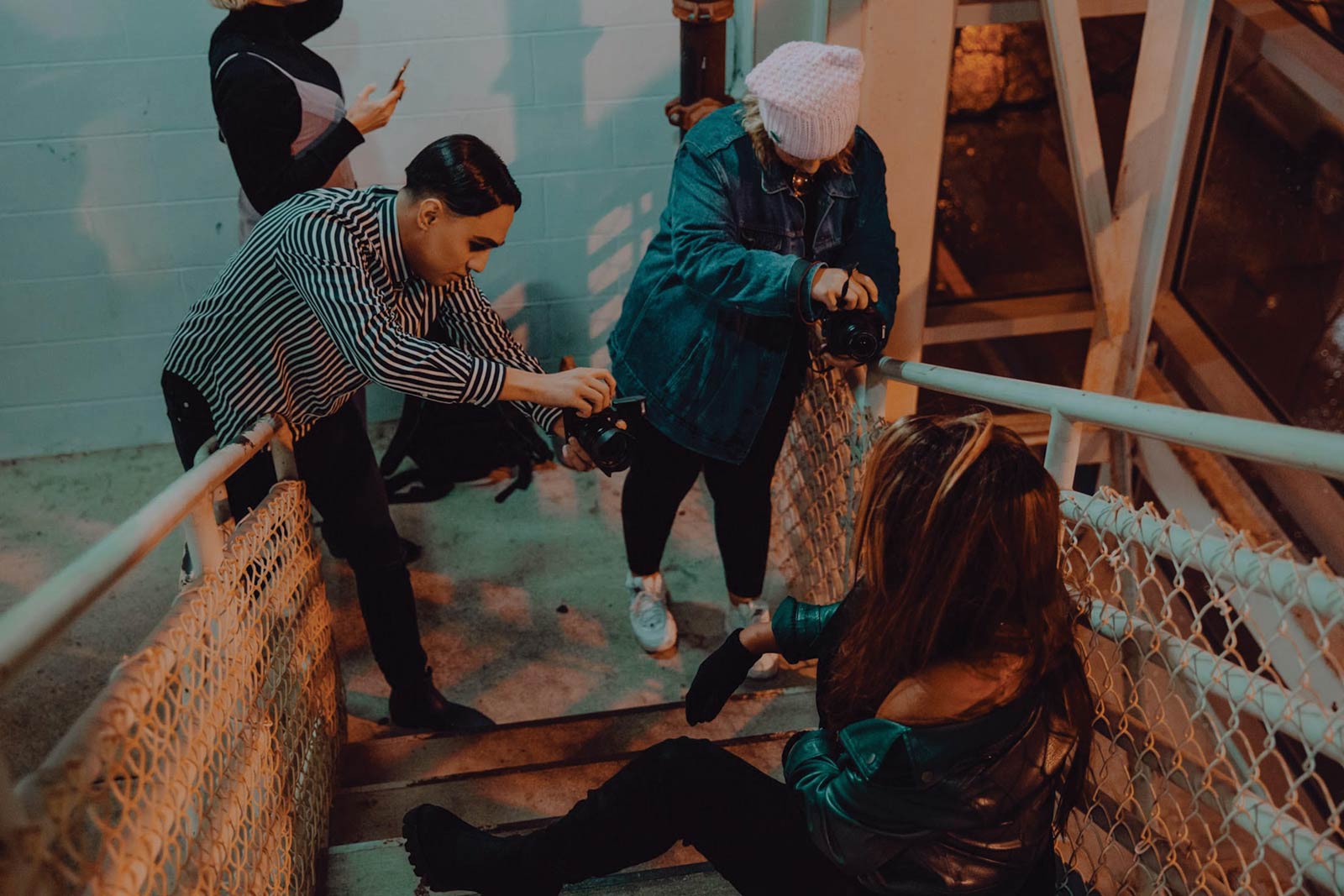 Dream Club brings passion to life through collaboration and encouragement.
Twice each month, a group of people representing a range of creative industries come together for meetups in Columbia with only one goal: creating unique, memorable, breathtaking content for their social media channels. As members of Dream Club COMO, these models, fashion designers, photographers, videographers, dancers, makeup artists, graphic designers, and entrepreneurs — both working and aspiring — collaborate to showcase each other's talents and passions.
How It Began
Maya Robinson's passion is social media, specifically using social media to help others promote themselves and their business. When Maya, 25, moved to Columbia from Peoria, Illinois, almost seven years ago to attend college, she realized after a semester at MU that school just wasn't the right path for her. She left school to work in child care, where she still works today. But social media remained something she enjoyed and an area in which she says she excelled. That's why, just over a year ago, she created an Instagram account called Dream Club COMO. Her goal was to gather a group of like-minded people in a creative environment, free of judgment, where they would feel encouraged to explore and hone their artistic passions and crafts.
"We have such a young crowd here, and I wanted to create an environment where people who like to create content could feed off each other, network, and find encouragement," Maya says. "No matter how old you are, everyone has a passion or something they're really excited about. Anyone can come to our meetups. You don't have to have any experience. It's free, and it's a great opportunity to be creative."
In the world of social media, content creation translates to producing photographs and video footage to promote a business, skill, or personality on social media channels like Instagram, YouTube, and Snapchat. Maya says many of the people who attend Dream Club's meetups aspire to be a model or photographer or want to showcase their business or skills, like dancing or makeup application.
Dream Club's first meetup at Silverball last year attracted 25 people. Despite the challenges of COVID-19, the club has continued to meet regularly in parks and other outdoor locations. Recently, members of the club traveled to a "selfie studio" in Kansas City, where they spent the day creating photos and videos. Each meetup is promoted on Instagram and usually draws anywhere from 10 to 15 people, and Maya says every meetup has brought new faces. She adds that the youngest model to come by is 7 years old, while the oldest model so far has been in her mid-to-late 30s. Over the past year, Dream Club COMO's following has steadily grown, and the Instagram account currently has more than 350 followers.
Opening Doors for Creatives
Kylie Rifkin, who had known Maya through a similar but less organized meetup group, attended Dream Club's first meetup at Silverball. While she enjoyed photography, she says she didn't come to Dream Club anticipating a full-time career in photography. She was simply hoping to connect with other photographers and creative people around Columbia and expand her clientele.
"I was just starting photography at the time, and my goal was just to see where it took me," Kylie says. "Through building a portfolio with Dream Club, I was able to get a lot of contacts. Keena Lynch, a sports photographer who isn't a member of the group, reached out to me through my Instagram, and now I'm his full-time intern. I've been using the portfolio I've been building through Dream Club to get other shoots and jobs, and it's been great."
Together, Kylie and Keena have done shoots for a gym in Jefferson City, shot some portraits, and plan to do a shoot for Lincoln University's athletic department.
"I've gone with him on every shoot he has done and vice versa," Kylie says. "It's hard to build your portfolio in Columbia because you're competing with the journalism school at MU, so Dream Club has been really helpful."
While her company, Kylie Helen Photography, focuses on portraits and sports photography, Kylie says she has purchased new sports-specific gear in anticipation of more upcoming sports shoots.
According to Maya, Kylie's experience with Dream Club is exactly what she envisioned when she started the club. Giving people the space and support to try new things, to explore their crafts in new and different ways, and to network with other creative people was Maya's number one priority.
"Kylie had experience modeling and wanted to do some photography, and it has jumped off for her," Maya says. "She is a rock star and a great example of why I started the club, and someone who has reaped the benefits of it. It's so awesome to see people grow from promoting themselves through our club."
Kylie isn't the only member who has launched a career through participation in Dream Club. Maya says two other members have signed modeling contracts, and she has found opportunities to model, too.
"I do a lot of modeling for the photographers we work with," she says. "I never considered myself a model, but I have opportunities now."
While her work with Dream Club is on a completely volunteer-basis — she earns nothing from running Dream Club or coordinating meetups — Maya says that encouraging people to step outside their comfort zone and explore something new is extremely fulfilling.
"This is something I like to do in my free time," Maya says. "This is all free, and what you're gaining is experience and a chance to network and get out of your comfort zone. When people stick around and grow, and different opportunities come from it, it is really rewarding to me."