Boone Hospital Center Enters a New Era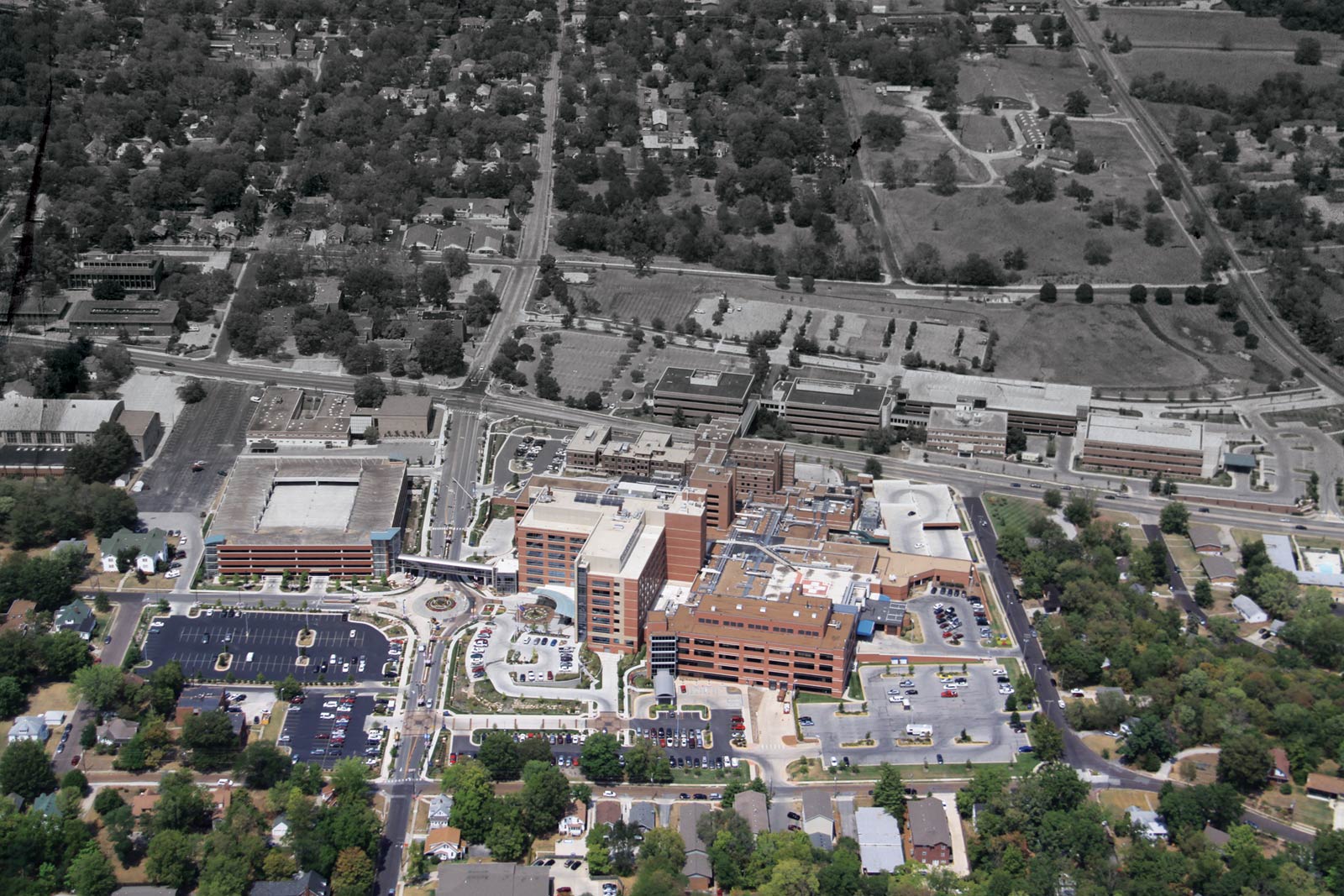 As it prepares for the 100th anniversary of its founding, Boone also moves toward independence.
B
oone County Hospital was founded in 1921 in the wake of the 1918 flu pandemic. Next year marks its 100th serving Mid-Missouri, and in the year leading up to Boone Hospital Center's centennial, the hospital has played a crucial role in helping the residents of Columbia, Boone County, and the other 25 counties it serves weather another pandemic: COVID-19.
Boone Hospital Center president Jim Sinek can't help but see the parallels.
"We've kind of come full circle," Jim says. "The energy, courage, and leadership Boone had in 1921 remains here today. What the Boone team has done and their approach to it, the courage it took to just step up and get things done, was heroic. The team here steps up in the face of adversity and has the courage to take on significant events going on in Mid-Missouri. That's what drives Boone Hospital."
You can say it's been a rather momentous year for Boone Hospital Center. In addition to providing care and leadership through a pandemic and coming up on the 100th anniversary of its founding, Boone is also in the midst of becoming an independent entity again after spending the past three decades as a part of BJC HealthCare. The transition to independence is in full swing and come April 1, 2021, Boone will again be an independent hospital.
While that constitutes quite a change, there are some core tenets that Boone leadership expects to remain the same through the transition. Namely, the positive patient outcomes, sterling staff reputation, and strong community partnerships that the hospital has spent the past 100 years cultivating.
"This is a really exciting time. We've been around for 100 years, and we want and need to be around for another 100 years for the community," said Monica Smith, Boone's vice president of patient care services and ancillary operations and chief nursing officer. "Being independent, you can be much more nimble and respond to the needs of the health care environment much more quickly than you can as a system. I think that's going to benefit not only our hospital, but our community."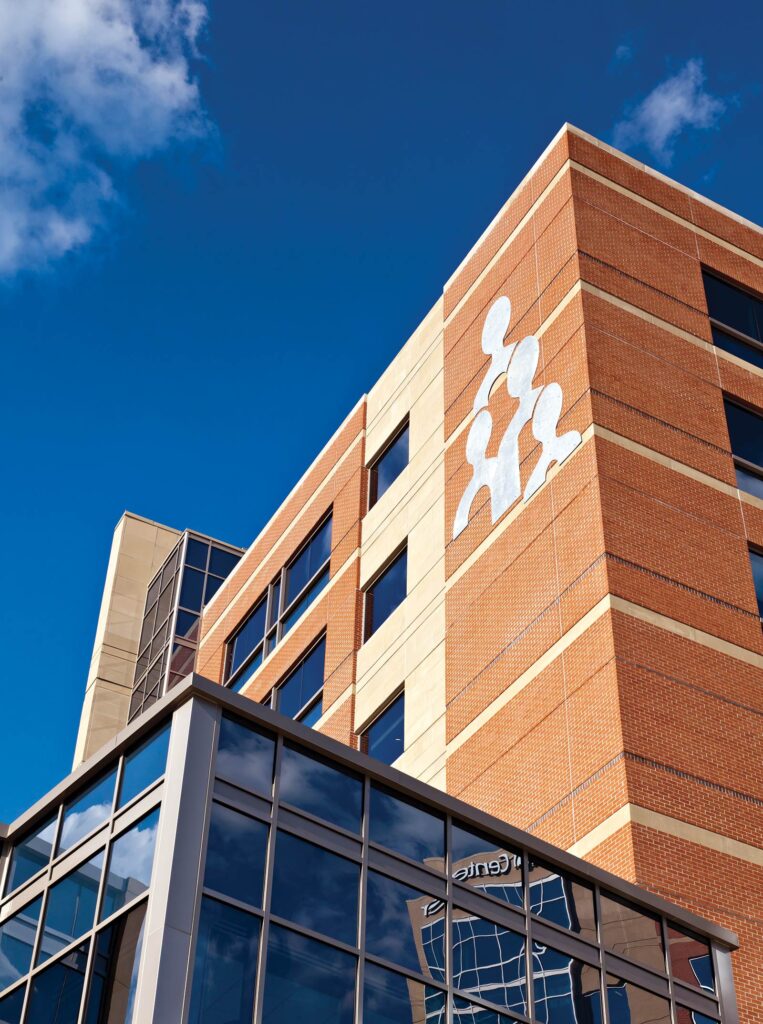 Community First
Each year, Boone Hospital Center makes a very tangible contribution back to Boone County.
Beyond its status as an economic driver, community employer, and one of the region's leading health care providers, the hospital also provides about $2.5 million a year back to the county. About $2 million goes to the commissioners to use on high-priority items for the county, and the other $500,000 is sequestered for health care services for county residents.
"That's another way that Boone has been able to generate significant financial support for health care and non-health care strategies and initiatives for Boone County," Jim says. "There are very few hospitals, maybe none, that pay the county an annual stipend. Typically, the county provides a subsidy or stipend to the hospital. Here, it's the other way around in a significant way."
Boone's reach extends far outside the county lines, with clinics in around 20 communities to help patients from 26 Mid-Missouri counties that rely on its services. But with the hospital's geographic home in central Columbia, it maintains a heavy focus on strengthening its community partnerships in Columbia and Boone County.
One such example is Boone's partnership with Stephens College.
Boone helped Stephens start its Master of Physician Assistant Studies program in 2016 and entered into a joint venture with Stephens in early 2020 on a new Bachelor of Science in Nursing program.
The program, which enrolled its first students for fall 2020, features small classes taught by Stephens College nursing faculty and features opportunities to gain clinical experiences working with Boone nurses. Boone is also building a state-of-the-art lab simulation lab that provides the nursing students a safe environment for developing early clinical and decision-making skills.
"Really integrating those students into the Boone culture when they start college is going to be key," Monica says. "Nurses have been found to leave the profession within the first three years. It's a challenging position and field. How we transition them from the academic to the professional world is really important. Connecting them with their peers, but also providing them with the additional education and support on what they need to learn and feel safe about within their first year of practice, has been beneficial. We've seen really great results from that."
Boone has already made a name for itself in nursing. In 2019, the hospital earned its fourth straight recognition as a "magnet" hospital for nurses from the American Nurses Credentialing Center. The magnet designation recognizes health care providers that focus on superior clinical care outcomes by advancing three goals: promoting quality of care, identifying excellence in the delivery of nursing services to patients, and disseminating nursing care best practices.
Only 69 health care facilities worldwide — less than 1% of health care facilities in the world — have earned the magnet designation four times.
"The Columbia health care community all works really closely to make sure that we're training our future health care leaders," Monica says. "We take a lot of pride in welcoming and making our students feel at home here at Boone. It's a great way to recruit our students, too, to come work here. We believe so strongly in Boone and what we can do."
As Boone makes the move to independence, its focus will be on continuing to deepen its partnerships with other hospitals and health care services in Mid-Missouri.
"Our critical access hospitals are very critical to providing care to patients in rural areas, and we want to be good partners to them and offer them what they need when there are services we can't provide," says Dr. Robin Blount, Boone's vice president and chief medical officer. "We want to continue to strengthen the primary care community. We need to make sure patients have access to doctors. We want to be part of providing that access."
Serving Patients
Boone Hospital Center has received numerous accolades for the quality care it provides to its patients.
Over the summer, U.S. News & World Report ranked Boone as the top hospital in Mid-Missouri and No. 4 in the state, earning "high performing" recognition in orthopedics and in seven procedures or conditions: aortic valve surgery, chronic obstructive pulmonary disease (COPD), colon cancer surgery, heart bypass surgery, heart failure treatment, hip replacement surgery, and knee replacement surgery.
Boone was named one of the top 250 hospitals in the country by Healthgrades — a list representing the top 5% of hospitals in the nation — and a five-star hospital by the Centers for Medicare and Medicaid Services, a designation earned by only 8% of hospitals in the country. The American Heart Association and American Stroke Association awarded Boone with four of its most prestigious honors and, most recently, Boone was ranked in the top 10 nationally for customer loyalty by NRC Health.
To the Boone staff, the awards are not the point. It's the work that goes into receiving those awards.
"We are happy to receive awards and recognitions, but we have received those for just doing our job," Robin says. "We are keeping the patient first, putting quality and safety as our very high priorities, and we're glad to see some of the recognition, but we also feel like it's what we should be doing. It's the right thing to do. We're coming in, doing our job every day and making sure we're taking care of the community."
The organization's "tiered" decision-making philosophy helps every Boone employee enjoy ownership and feel invested in patient outcomes, Jim says.
The people who work most closely with the patients — from their doctors and nurses to the staff members responsible for cleaning their rooms or looking after the information technology on their monitors — often have a better grasp of day-to-day needs.
"They know better than anyone else how to make things better and what changes need to be made that will enhance the patient's health care and experience," Jim says. "Our management philosophy drives that joint conversation and decision-making so we can take advantage of that expertise and the skill sets our teammates have. That is not easy to do day in and day out, shift by shift, to get the best results. We invest a lot of time and energy into it, and we think it has a significant return. The payoff is the results of our care to our patients.
Boone's staff has shone during the COVID-19 pandemic. Within the first couple weeks of the coronavirus spreading in Boone County in early spring, Boone had set up a mobile testing site that ran seven days a week before paring back to six. Boone also set up reference lab locations that have made COVID-19 tests and other tests more available to Mid-Missouri residents so that they don't have to come into the hospital for lab tests.
The hospital shut down elective procedures for a while in the expectation of needing space and resources for COVID-19 patients, acquired a large amount of personal protective equipment, and shifted its processes to reflect the limited visitors and enhanced safety precautions needed to keep everyone as safe as possible.
One thing has remained constant through all the change and uncertainty.
"It's about the people. It's about the Boone team," says Monica, who has served as Boone's incident commander for COVID-19. "I get goosebumps still thinking about it. We respond together as one unit. We all take care of patients. Everybody jumped in and did what was needed and kept the patient in the center of that."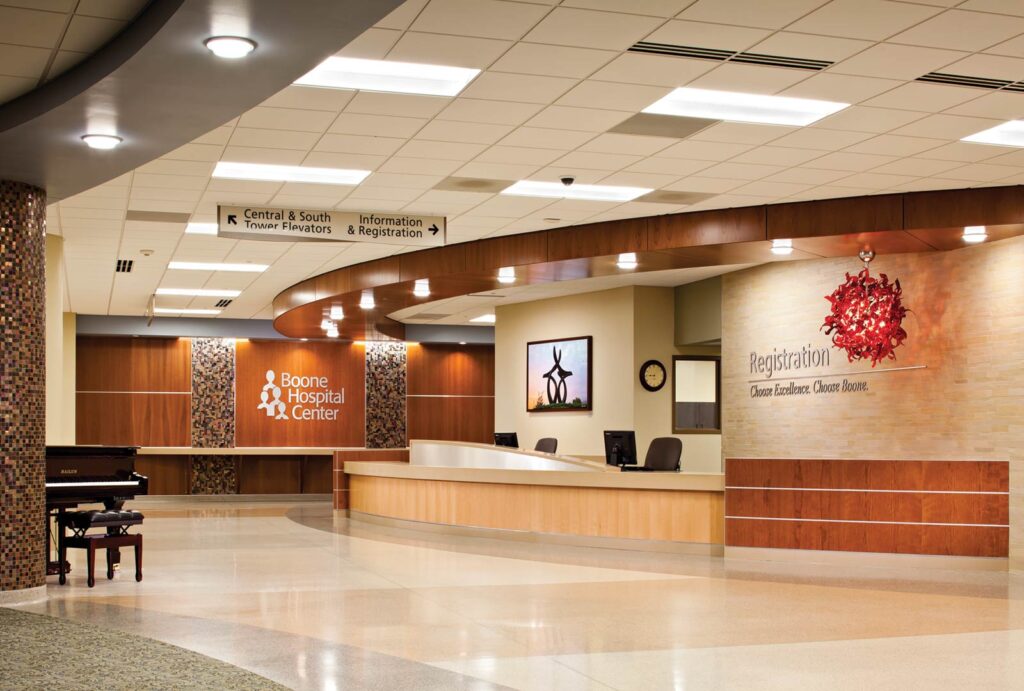 The 'New Boone'
On April 1, 2021, Boone will be an independent hospital.
"The goal is to keep providing the same level of patient care services we provide today," says Barry Chambers, Boone's vice president and chief financial officer. "It's also important that, while we're going independent, we're able to remain financially solvent and continue to operate the hospital at a profitable level. One of the county commissioners has said that Boone Hospital is the largest asset in Boone County. We take that designation seriously and want to continue being the hospital that serves the residents of Boone County in a financially responsible way and still provide the same level of care we have in the past."
Boone has been in the midst of this transition for more than a year. The hospital has set up 22 teams, each responsible for a different area that used to be provided by BJC and now needs to be arranged for on a local level.
Each of the teams has a lead from Boone, one from BJC, at least one embedded consultant, and multiple Boone staff members.
"They started out doing an inventory of everything that needed to be established at Boone once BJC left," says Jim, who has announced his retirement as Boone president at the end of the year, after seven years at the helm. "Then, they put together a list of resources we'd need — employees to deliver those services, contracts, information technology systems, or applications to support the infrastructure. We, now, are in the implementation stage. We're bringing new staff on board that are now on board, and we're gearing up and doing work and preparing to take over those services BJC used to provide us."
One of the biggest items on the list is a new electronic medical records system that is set to go live early in 2021. Some other services will also be provided through BJC on a contract basis until Boone is ready to stand them all up on its own.
What will emerge, after all these months and years of preparation, is the "new Boone."
In reality, the goal is for the new Boone to look a lot like the one that Mid-Missourians have depended upon for the past 100 years.
"There is a level of excitement, anticipation, and pride among the people at Boone," Robin says. "We absolutely want to do this right, we're excited to continue to provide all the care, and we'll be able to be very nimble and make changes that we need to make based on the new things we come across every day in health care.
"We had a real challenge this year with the pandemic, but the general atmosphere is [excited] to be able to become the new Boone and continue to offer great care."