CYSK: Jaime and Tony Palmer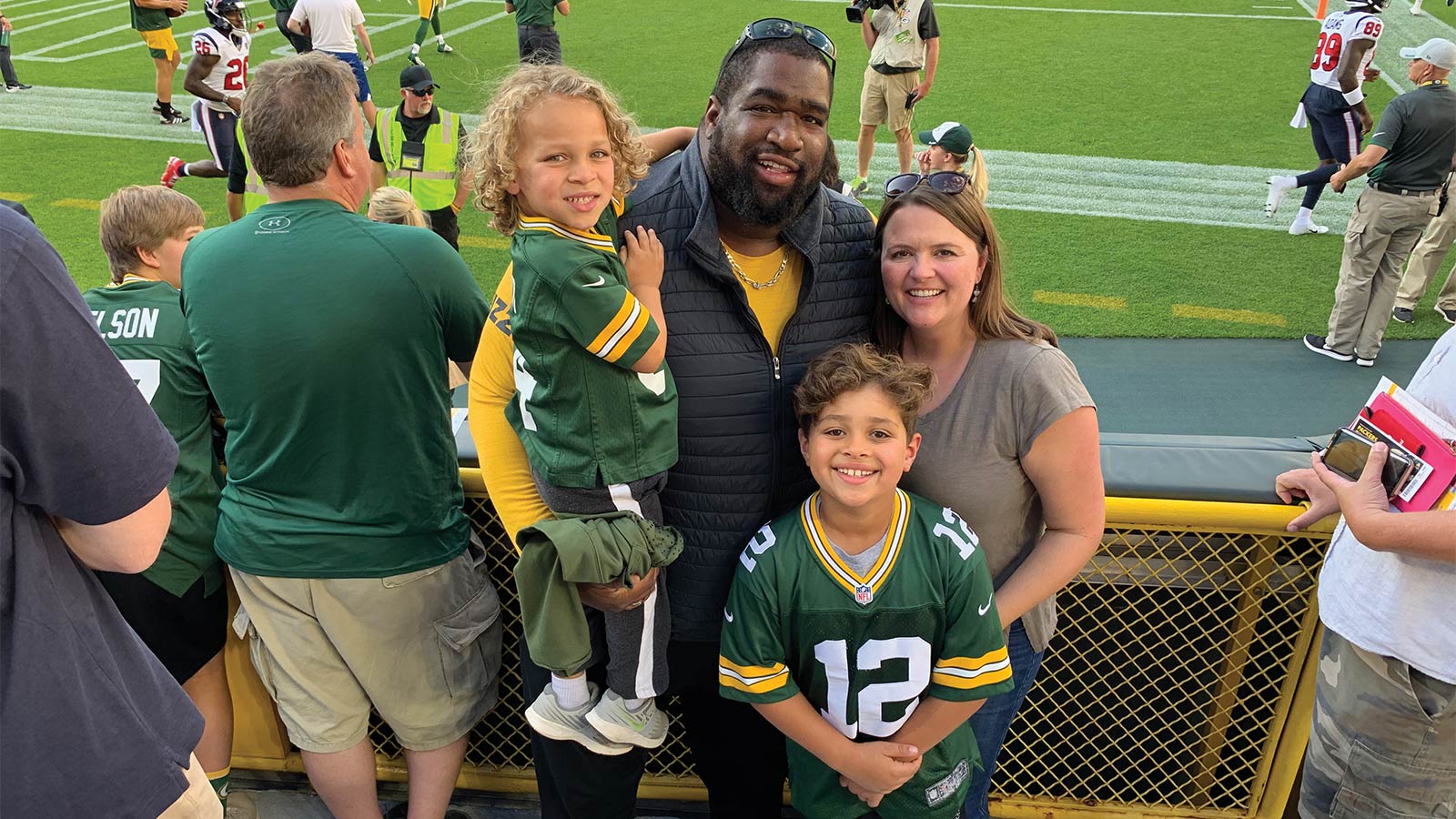 Jaime and Tony Palmer share their favorite qualities about each other and their favorite family traditions.
How did you meet?
Tony: At the greatest university in the country that I like to call home — the University of Missouri.
What was your first date?
Jaime: Dinner at Murry's. It remains a favorite after getting engaged there 13-plus years ago.
What do you admire most about your partner?
T: I wanted to find a woman who had the qualities of my mother — someone who was strong, independent, loving, caring, and confident — and I found all these qualities and more. She may be tougher than my mother, but don't tell her that.
J: His effortless ability to make people feel loved. He's incredibly warm, kind, and attentive, even with complete strangers. His hugs are somewhat famous among those who know him.
What's something your partner does to make you smile?
T: When she sings Shania Twain to me, or when she has a dance party with the boys.
J: I love seeing Tony play with our boys, nieces and nephews, or other kids. Little ones see him as a big jungle gym.
What's your favorite activity to do with your family?
T: Going to Mizzou games and watching my boys play sports.
J: We're a food-loving bunch, so going out for a family dinner or an Andy's Frozen Custard treat is high on the list year-round.
What makes your relationship unique?
J: Though we have some differences in our upbringing, the most important parts are the same — we both have a strong faith in God and have amazing families that have supported and encouraged us.
What's your favorite family tradition?
T: Playing family games like "Settlers of Catan," "Monopoly," chess, farkle, etc.
J: Candlelight Christmas Eve service — witnessing our boys light their little candles among a huge group singing Silent Night is tear-worthy.
What does the future hold for the two of you?
T: Many more years together, watching our children grow up, and growing old together . . . old and wrinkled.
What is the key to a lasting and healthy relationship?
T: No relationship is perfect, but with love and commitment to one another for better or worse, we know we'll cross the finish line together. She loves me despite my shortcomings and flaws, and I love her in all her beauty and perfection.
J: Remaining committed to one another through bad days and good. We love and respect one another and share a mutual faith in God that bonds us.
What has been your favorite project to work on together?
T: Raising our boys — a project in progress.
J: I don't know if dinner is a project, but this pandemic has really upped our cooking-at-home game. Tony is the grill master, but I provide strong support in the side dish arena.
How does our issue theme of diversity and inclusion play into your relationship?
T: Given the strong roots that we come from, we make sure that we instill within our boys the same message that Dr. King, as well as our parents, instilled within us — not to judge people by the color of their skin, but by the content of their character, and to love everyone as Christ loves us. Although our country is in a cycle of division that continues to repeat itself, we're choosing love as the foundation in our home.
J: The diversity of Columbia's population is one of the major reasons we put down roots here after we married in 2008. We wanted to live in a community that strives to be inclusive of all and values differences, and Columbia has been that place for us. Unfortunately, it's clear now more than ever that our country has much work to do. As we raise our biracial sons in this broken land, I pray they will one day inherit a better world with justice and equality.