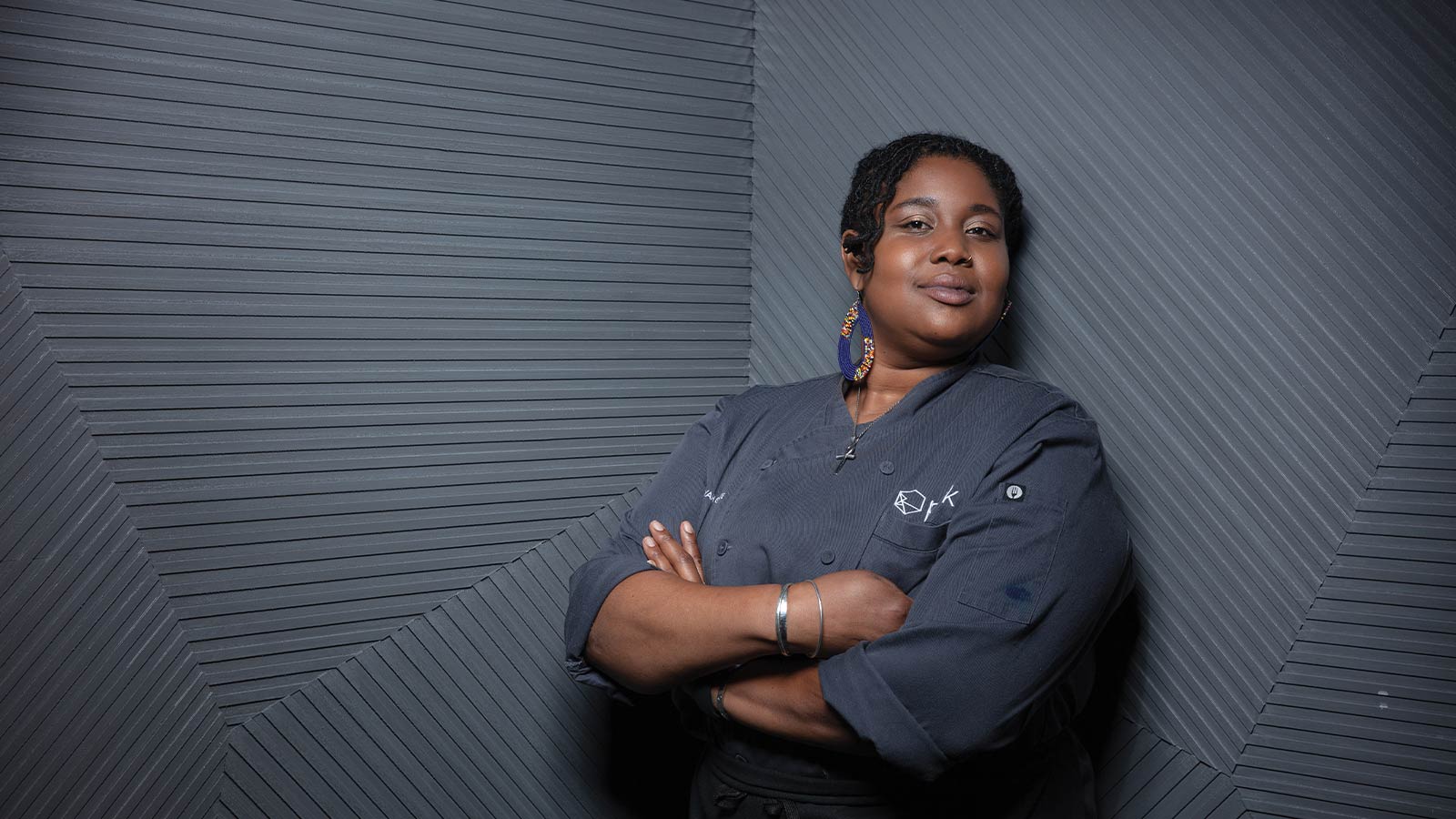 How Myah Greene's passion for cooking has led her to serve mouth-watering cuisine in Columbia.
As a new student at the prestigious Le Cordon Bleu College of Culinary Arts in St. Louis, Myah Greene was bored. The material wasn't new to her — it didn't challenge her skills, and it didn't hold her interest. After all, she learned to make French omelets at home when she was five and has been working in Columbia's best restaurants since age 15.
"My father and mother are both excellent chefs, both with no formal training," Myah says of her parents, Kenny and Deborah. "From my home life, I gained a hunger for more knowledge of the culinary world. At the Fifth Street Christian Church, during Sunday services, I was downstairs helping Martha Williams in the kitchen. At home, I was watching and learning whatever I could from Food Network. I got hooked."
With a hunger for knowledge about food preparation and kitchen operations, Myah found opportunities to soak up as much information as she could. Myah says her mom, her four aunts, and her grandmothers, Georgia and Martha, were all influential in her life because of their prowess in the kitchen. In the home economics class at Lange Middle School, Myah constantly asked when the class was going to learn about the things chefs do in restaurants. As a student at Hickman High School, she absorbed every bit of knowledge she could from the Columbia Public Schools culinary program that offered accredited culinary classes.
"I took intro to culinary arts and baking and pastry," Myah says. "I was able to gain a lot of practical knowledge from Columbia Public Schools."
When she wasn't at school, Myah says she was in front of the television, watching her favorite chef, Emeril Lagasse, while absorbing all that she could learn. She was also working at her first restaurant: the downtown hot spot Trattoria Strada Nova, a job she landed with the help of her father's contacts. As a pantry line cook at Trattoria Strada Nova, Myah says she prepared salads, shucked oysters, and prepared carpaccio — quicker, easier tasks typical of a starting position in a kitchen.
"My first job was at Trattoria Strada Nova, one of the most popular restaurants in Columbia," Myah says. "For that to be my first gig, I always thought, 'I can't believe they're letting me do this.'"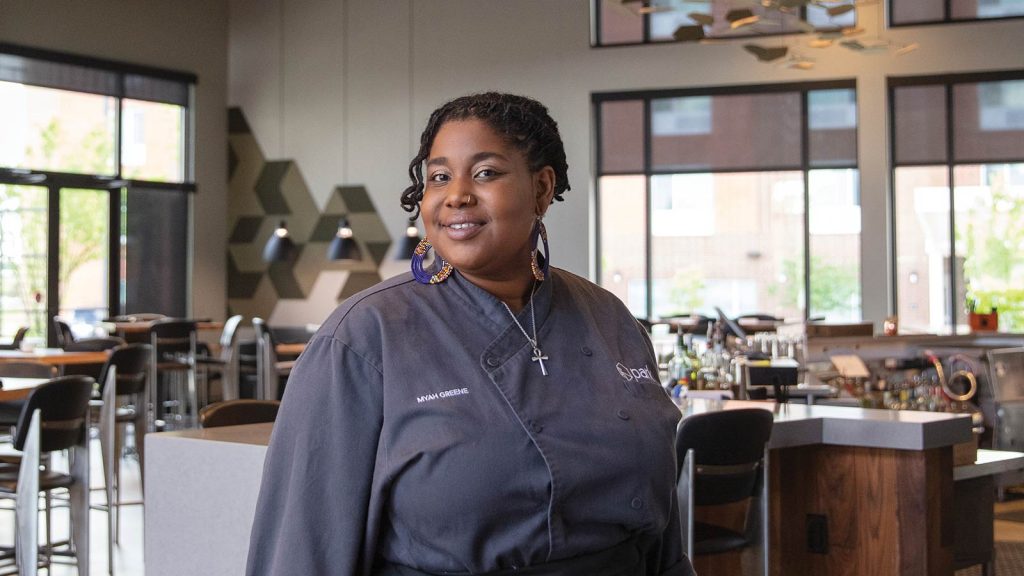 Going Back Home
With so much experience under her belt, Myah says it wasn't until the Cultures Across Cuisines class at Le Cordon Bleu that she started becoming more challenged and engaged with new material.
After two years of hands-on learning and coursework, Myah graduated from Le Cordon Bleu in 2010 and moved back to Columbia to be near her parents and grandparents and begin making a name for herself in the restaurant industry.
"My sense of family brought me back," Myah says. "It was mixed emotions for me. I didn't necessarily want to come back, but I knew I could build my career in Columbia and work under a lot of great chefs."
Though she considered the possibility of moving to a big city upon graduation, she says she knew that returning to Columbia would allow her to hone her skills as a chef and still allow her the option to pursue new opportunities in the future. As a recent culinary school graduate, Myah also says she would have struggled in a big city with a higher cost of living while working a lower-paying, entry-level job.
Her first job in Columbia after culinary school was at Addison's, where she worked as the kitchen manager for five years. Then, she moved on to become a sous chef at The Wine Cellar and Bistro (now Cherry Street Cellar) for one year before helping open Barred Owl Butcher & Table alongside chefs and mentors Ben Parks and Josh Smith.
"I feel a sense of community here because I started so young in the culinary industry, so I was able to build relationships with chefs," Myah says. "When I came back, I was able to use those relationships to form relationships with new chefs to get where I am today."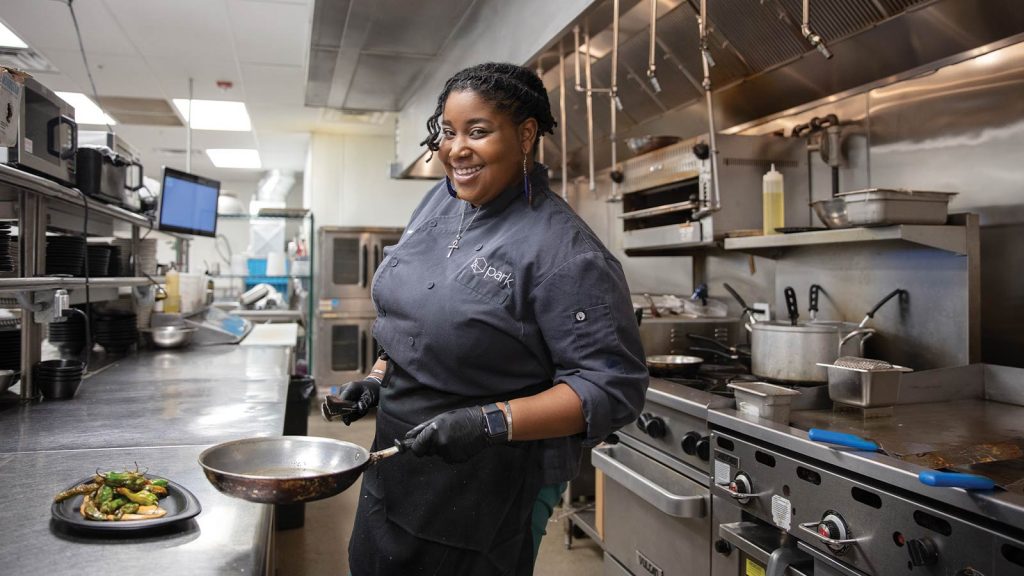 Putting Her Own Spin on Dishes
Today, Myah is the executive chef at Park Restaurant and Bar on Columbia's south side. Since its opening in December 2018, Myah's influence and expertise have shaped everything from the menu to the staff.
"I opened Park Restaurant, made the menu and the recipes, and hired my cooks that I have to this day," Myah says.
Park Restaurant's menu has an Asian-American influence that came, in large part, from Myah's travels. Two years ago, she enjoyed a 10-day trip to the Philippines and Hong Kong to visit family — a trip that was influential in more ways than one. In addition to bringing back a love for Asian cuisine, Myah also experienced leaving the United States for the first time.
"It hurt me to come back to real life. I enjoyed it so much there," she says. "Leaving by myself on a plane to the Philippines is something I'd never experienced before."
In addition to influences from her trip overseas, Myah says the menu includes her own personal "Myah" flair.
"There is a little flair of Myah in there: the little bit of sass that I have in me and the little bit of spunk —that's Myah's flair," she says. "Well-seasoned food — that's how it translates. Everything is well balanced, and it's a meal that will surprise your taste buds. I hate when I go to a restaurant and have to ask for salt."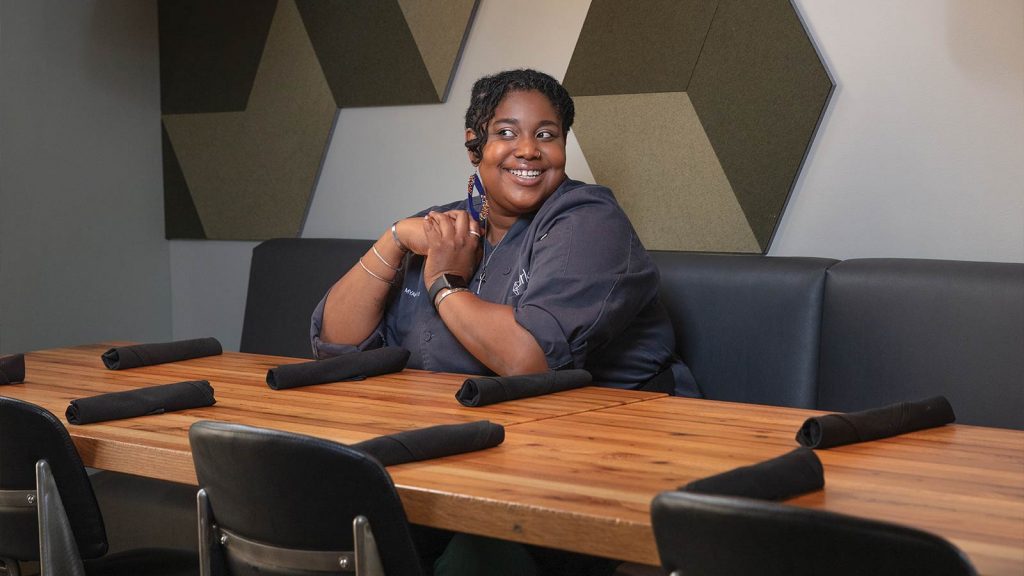 There's More Around the Corner
Park Restaurant was ready to roll out a new menu right as the restaurant was forced to shut its dining room due to the COVID-19 pandemic. With the dining room closed for about six weeks, Myah says she was able to perfect the new menu, which features her favorite dish, smoked pork belly ramen.
"What makes ramen is the broth," Myah says. "You want to get some of the best quality meat because you're rendering the fat and getting the juices off the meat, which is the basis for your broth. Without the broth, whatever you dress it with won't be as flavorful."
After working to build a clientele and reputation over the past 18 months, Myah says the shutdown resulted in an 80% loss of business, despite still maintaining a steady take out, delivery, and Grubhub business.
"We were in the swing of things, steadily staying busy," Myah says. "We were the 'happening, new place' in Columbia. Now, it is a matter of rebuilding that and doing it all over again. I do love a challenge, and I'm proud that during these times, we were still able to stay busy and hit our bottom line."
At the end of a long day at the restaurant, or on a day off, Myah says anything goes in her own kitchen. One day it might be Taco Bell and a fancy bottle of wine, while the next day's meal might require a day of preparation and cooking.
"My favorite thing to cook is a lovely pot of gumbo," Myah says. "Putting in the okra, chicken, shrimp, and andouille sausage — I love making gumbo. I love the mix of surf and turf."
While Columbia has allowed Myah to quickly climb the ranks in the culinary world, and chefs like Ben Parks, Josh Smith, and Adam Wells-Morgan, from Flyover, have mentored her and given her opportunities to grow into the chef that she is, she says she's taking the time to evaluate her career and her opportunities, and will likely venture outside of Columbia as she continues to pursue her love for creating memorable, mouth-watering cuisine.
"Columbia has been a great starting place for my career," Myah says. "It may not be tomorrow, but in due time I do plan on making my name somewhere else."