CYSK: Rose Hayden & Meichele Foster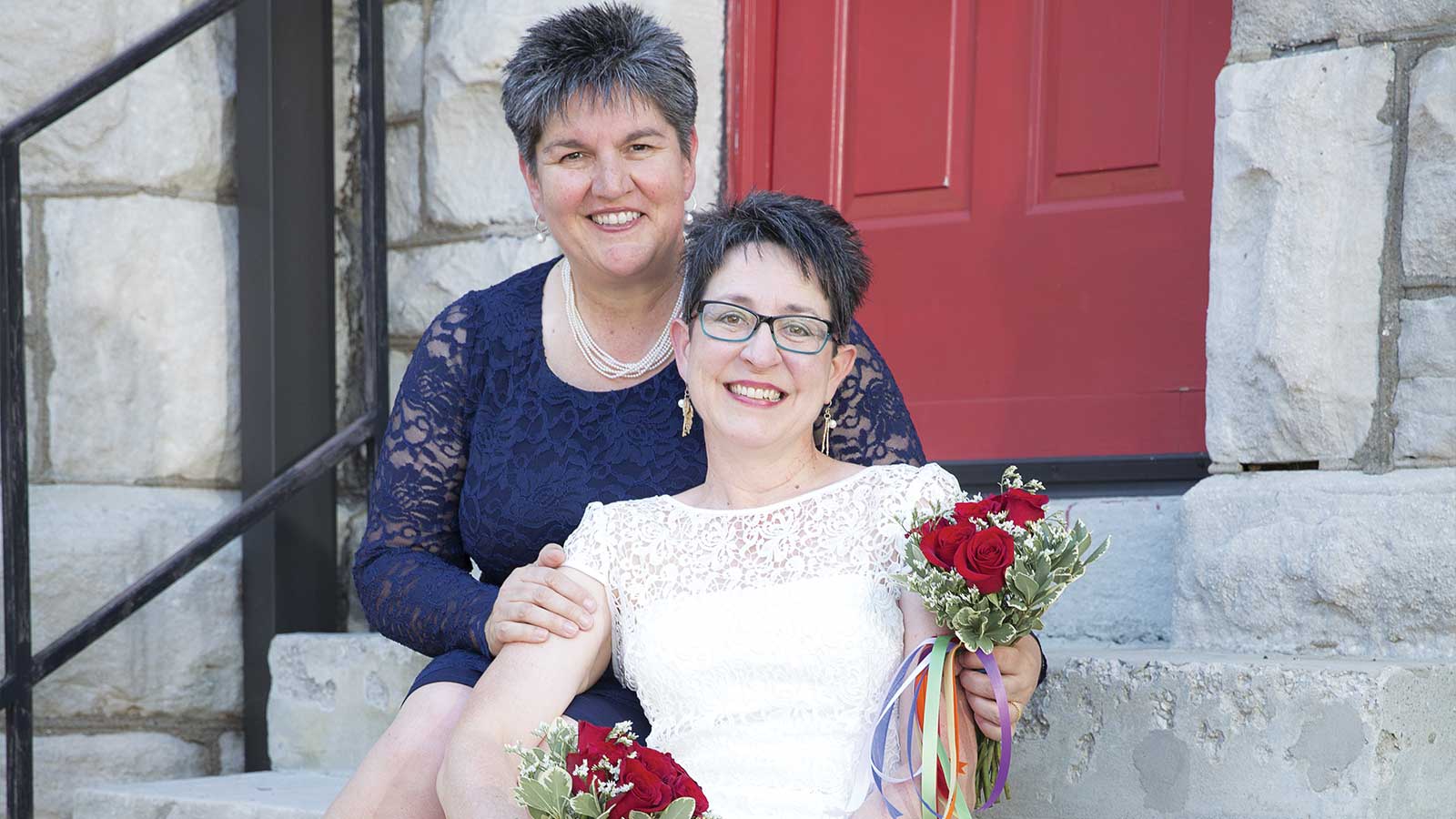 Rose Hayden and Meichele Foster talk about their passionate and purposeful relationship and everything they love about Columbia.
How did you meet?
Meichele: We met at the St. Thomas More Newman Center on campus via the efforts of mutual friends.
Rose: Those friends knew we were both starting over and were quite sure we would be a good match. They were right.
What was your first date?
M: Our first date was at Summit Lake Winery in Holts Summit.
R: Meichele loves to tell the story of my insistence on a "real date" despite the fact that we were both nearly broke at that time. Her little Ford Ranger came with a cassette deck and she made a mixed tape for the occasion. I was smitten.
What keeps you busy during the week?
M: We both work full-time at MU; Rose in the School of Health Professions and I in the Office of Advancement. We do yoga three times a week at Yoga Sol. We are also active members at Calvary Episcopal Church and volunteer for Loaves and Fishes. I serve on two civic boards, Columbia Art League and Ragtag Film Society.
R: I am a long-time member of Metro Rotary and committed to adult education at Calvary Episcopal.
What interests or excites you about our local community?
R: We groove on the prolific art and culture in this town, from concerts at Missouri Theatre to independent films at Ragtag to art exhibits at the Columbia Art League.
M: We are also committed to shopping and eating and giving back locally. We know that the way we spend our money directly impacts the quality of this town — our town.
What do you like to do in your free time?
M: Our work lives are very scheduled, so we try to keep our free time a little loose. Saturday morning is usually spent at home with our three dogs.
R: We love meeting friends for happy hour at Top Ten. And we both enjoy reading; we regularly read books out loud to each other.
What is the key to a lasting and healthy relationship?
M: We are big believers in what we call the "do over."
R: It takes practice and a commitment to actively forgive — but we will start over as many times as it takes to get a conversation right.
What is the best quality of your partner?
M: Rose is super courageous.
R: Meichele is a true optimist. She is the kind of person who brings people with her to higher ground. And she is super funny.
What is unique about your relationship?
M: Our dearest friends describe us as uniquely bold, optimistic, passionate, and bent on being purposeful.
R: I think our shared faith and involvement at Calvary Episcopal Church really keeps us grounded. People pick up on how steady and yet expansive our shared life is.
What is your favorite restaurant in Columbia?
R: On date night it is Addison's or Coley's, where we will share a burger and some bourbon at the bar. Celebrations usually happen over small plates and good wine with friends at Chris McD's. Sunday morning after church you'll generally find us at Coffee Zone. And of course, Ernie's.
M: Kaldi's is my place for morning business meet and greets and Shakespeare's is where I go for slices at lunch.
What has been your favorite project to work on together?
M: We've renovated two houses (and lived to tell about it). We love the process of making a house our home.
R: I have loved all the time that Meichele and our former neighbor, Helen Baker, have spent putting together jigsaw masterpieces one piece at a time.