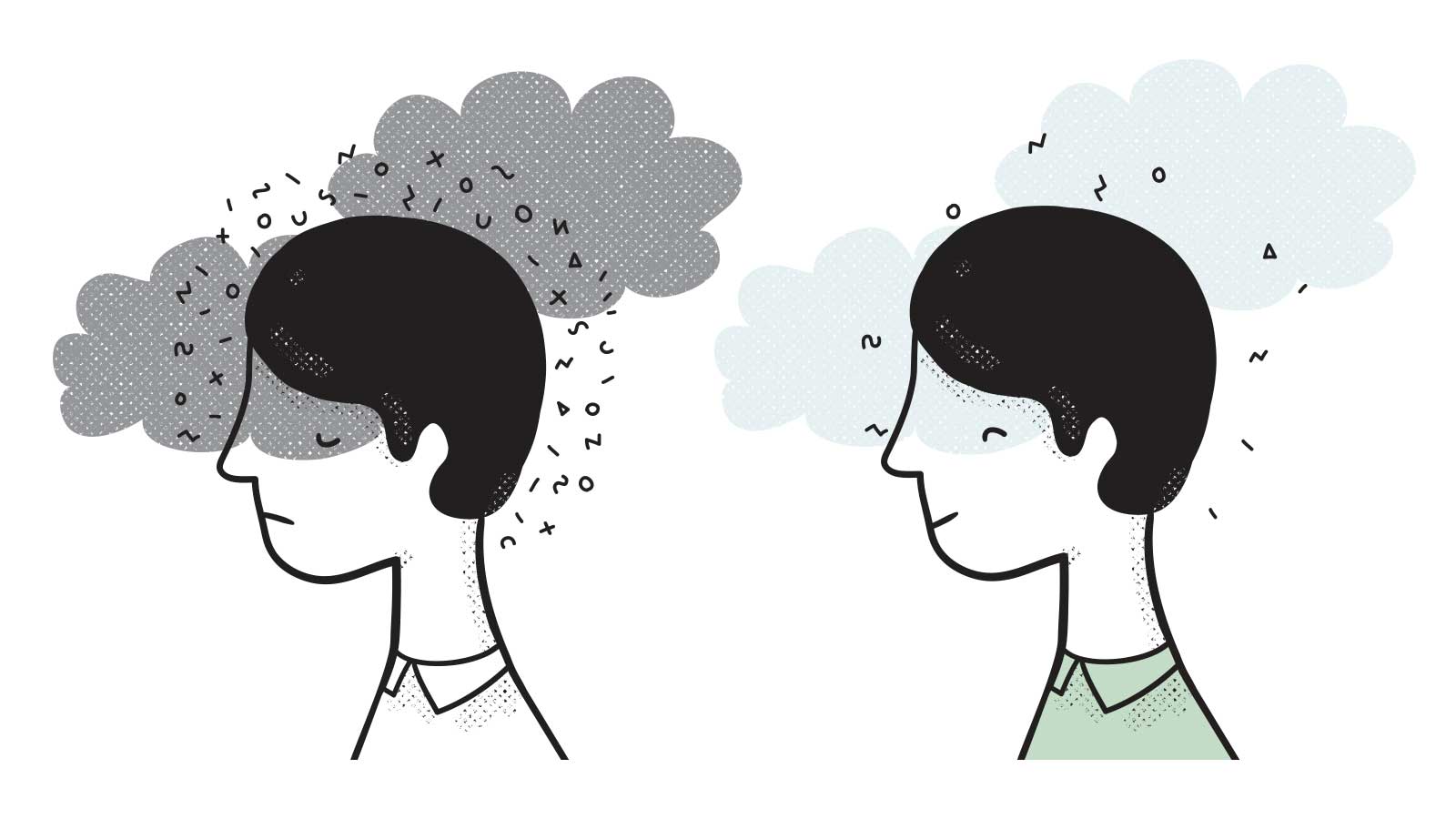 How businesses can bridge the mental health gap.
Help is there, but getting to it is another story, Wendy Wiederhold thought. The gap between mental health resources and actually accessing them was vast. Years ago, a family member of hers was dealing with a mental illness diagnosis, and there was little access and help to navigate mental health resources. Since then, Wendy has championed mental health access, especially in the workplace. She's the vice president of field operations at Gallagher, a benefits consulting company, and has been in the industry for more than two decades. Wendy has seen how mental health affects overall well-being, for better or for worse.

Early in her career, Wendy remembers meeting a man whose mother had recently died. He'd reached out for counseling, and Wendy helped him with the application to get insurance coverage. She remembers the frustration of how tedious this process was for something so vital.

"We need better access to care for these life situations that we all encounter in different ways," she says.

Employers have long been absent in the mental health conversation, but they're taking a turn for the better. In 2019, Gallagher conducted a report on the best mid-sized businesses across the country when it comes to human resources management. The report found that out of the top quartile of these businesses, 62% have wellness champions or committees and more than half offer classes to promote emotional well-being on topics from stress management to mindfulness.

Beyond employer-led initiatives, all plans under the Affordable Care Act cover mental health services, from treatment to inpatient services along with substance abuse treatment, and these plans have no spending limits on mental health services. Whether it's through health insurance plans or a dedicated wellness employee, businesses are stepping up their game in mental health care and resources.
Health Insurance
Although health insurance varies by policy and person, many employees don't realize how much coverage their plan includes when it comes to mental health resources, Wendy says. The law requires that employers issue a summary plan description and benefits outline to each employee, and Wendy likens it to a nutritional label: Every plan detail is listed, and the format is identical across employers.

Wendy says health insurance covers a broad spectrum, whether it's counseling visits or psychiatric care, copays or outpatient treatment. In addition to reviewing their summary plan descriptions, employees can download their insurance provider's app to review their policy details.

Beyond a health insurance plan, many businesses offer an employee assistance program, or EAP. Jay MacLellan is the director of public relations and corporate training at Shelter Insurance and has been working there for more than 20 years. In addition to basic health insurance, all workers at Shelter Insurance have access to LifeWorks, an EAP that offers resources for everything from budgeting tips to family resources.

Through the EAP, Shelter Insurance employees and their families can schedule six counseling appointments, and if they'd like to continue, they may do so on their own dime, Jay says.

Sometimes employees are surprised at the breadth of what their plans and the program offer, Jay says. "We always tell them to go out, poke around," Jay says. "There's a lot more covered in those programs than you realize until you need it."

At Shelter Insurance, employees can learn more about their coverage by asking someone in HR or visiting the company's benefits area online, or by going to the EAP or group health provider website.
Dedicated Staff
Some companies make mental health a priority by dedicating entire roles to their employees' well-being. Amy Starr's job is all about promoting holistic health. As the manager of wellness programs at Veterans United Home Loans, Amy says her role is to connect employees to resources that grow them emotionally, physically, and professionally. She does this through small groups, lunch-and-learns, physical wellness classes, and one-on-one meetings. "I serve as a resource to our employees and walk with them when they need support and can assist them in connecting with resources inside and outside of the organization," she says.

As the director of the employee assistance program for the UM System, James Hunter's role is also dedicated to employee wellness. Similar to Shelter Insurance's offering, UM System employees, their immediate family, and retirees can access up to five counseling sessions.

Providing services such as workplace counseling could improve employee engagement and performance as well as moderate existing health conditions, James says.

But James' role is more than just connecting employees to counseling. He says the UM System EAP has three focuses: positive work environment, health education, and counseling interventions. "Mental health is being acknowledged as one of the most significant drivers of indirect business costs such as lost productivity, absence, and turnover," James says.

And investing in workplace mental health initiatives yields a positive return on investment, James says. According to a 2004 article from The Journal of Employee Assistance, 30% of surveyed employees had extreme or quite a bit of difficulty being productive due to poor mental health, but after the implementation of an employee assistance program, this decreased to 8%, which shows a 73% improvement. "Savvy business leaders appreciate the critical role that mental health factors play in the global success of their organizations," James says.

From parenting to health problems, addiction to anxiety, Amy understands employees are under stress. "We take a holistic approach to employee wellness, of which mental health is one key component of an overall approach to wellness," she says.
Advice from the Professionals
Stephanie Parsons has been counseling for over a decade and is the owner of Counseling Associates. She says when employers acknowledge employees' mental health concerns, whether it's a diagnosis or stems from other circumstances, it allows them to feel more supported. When it comes to work-related stress, Stephanie hears from her clients mostly about feeling overwhelmed. "Many companies tend to assign heavy workloads to their employees, and oftentimes employees feel like they are doing the workload of 1.5 to two full-time people," she says.

Along with discussing how they're handling stress at work, Stephanie recommends employers hold interest in their employees' lives, whether it's their family or pets. She says it's important to invest in them as a person, not just an employee. Translation: Be a human. In turn, this leads to a more productive, happier person, Stephanie says.

Over the years, Jared Torbet has heard accolades for other Columbia businesses' approach to wellness, especially Veterans United, and has incorporated some of that ideology into his own business, Anxiety & Depression Clinic of Columbia. Although Jared doesn't have a large enough company to offer free gym memberships like Veterans United, he pays for half of his employees' gym fees.

For Jared, mental health isn't an employer's responsibility, but he says it's advantageous to make it one, even if it might not directly translate to the bottom line immediately. For example, one of Jared's counselors on staff asked for a weighted blanket for clients to use, and although it didn't help the bottom line, it contributes to a positive workspace. "If we create a better work environment and healthier employees, then the company is going to benefit from that," he says.

There's no "right" way for employers to establish a healthy atmosphere when it comes to mental health, says Michael Mayer, a licensed psychologist and consultant. But he says it's important that employees know what's expected of them and that employers both listen and appreciate them. "Mental health awareness is way up," Michael says. "How much we're willing to do about it is only slightly up."

Several local businesses now offer meditation spaces and flexible hours for employees, Stephanie says. Jared recommends employers ask themselves if they're providing benefits that include mental health coverage and if they have a generous EAP.

Beyond policy, Jared says it's a good idea to allow breaks and even invest in better lighting, so as not to cause headaches. "Employers aren't going to do this out of the kindness of their own heart," Jared says, "but if employers look at it as a way to increase productivity or employee satisfaction, performance probably will increase."

Although some improvements require financial investment, others come at no extra charge. "Listening to someone, giving them credit for who they are and what they're doing, is the best mental health there is," Michael says.

There's an elephant in the room that needs to be addressed, Wendy says. "It's being intentional that (companies have) developed a true program that doesn't just talk about it once a year during insurance enrollment," she says, "but is actually pushing out these programs and normalizing it across the workforce."

HOW TO FIND A COUNSELOR
Ask Around
Stephanie recommends asking friends, family, or co-workers for a suggestion. "Far more people receive mental health counseling than you probably realize," she says.
Research
Google the counseling center's website and poke around. Look at the descriptions of the counselors and their specialties to see if something stands out, Stephanie says.
Reach Out
Don't be shy about asking your workplace for options. Erik Morse, associate director of people services, says Veterans United Home Loans has compiled a list of providers with contact information. "Our team has curated a list of therapists, counselors, psychiatrists, and other mental health care providers based on what someone feels they need," he says.
It's Me, Not You
If you don't end up clicking with the counselor you choose, say something. "We are not offended if a client doesn't feel connected to us," Stephanie says. "We would much rather hear that you don't feel connected and get you connected with somebody that can be a better fit for you."