November: Briefly in the News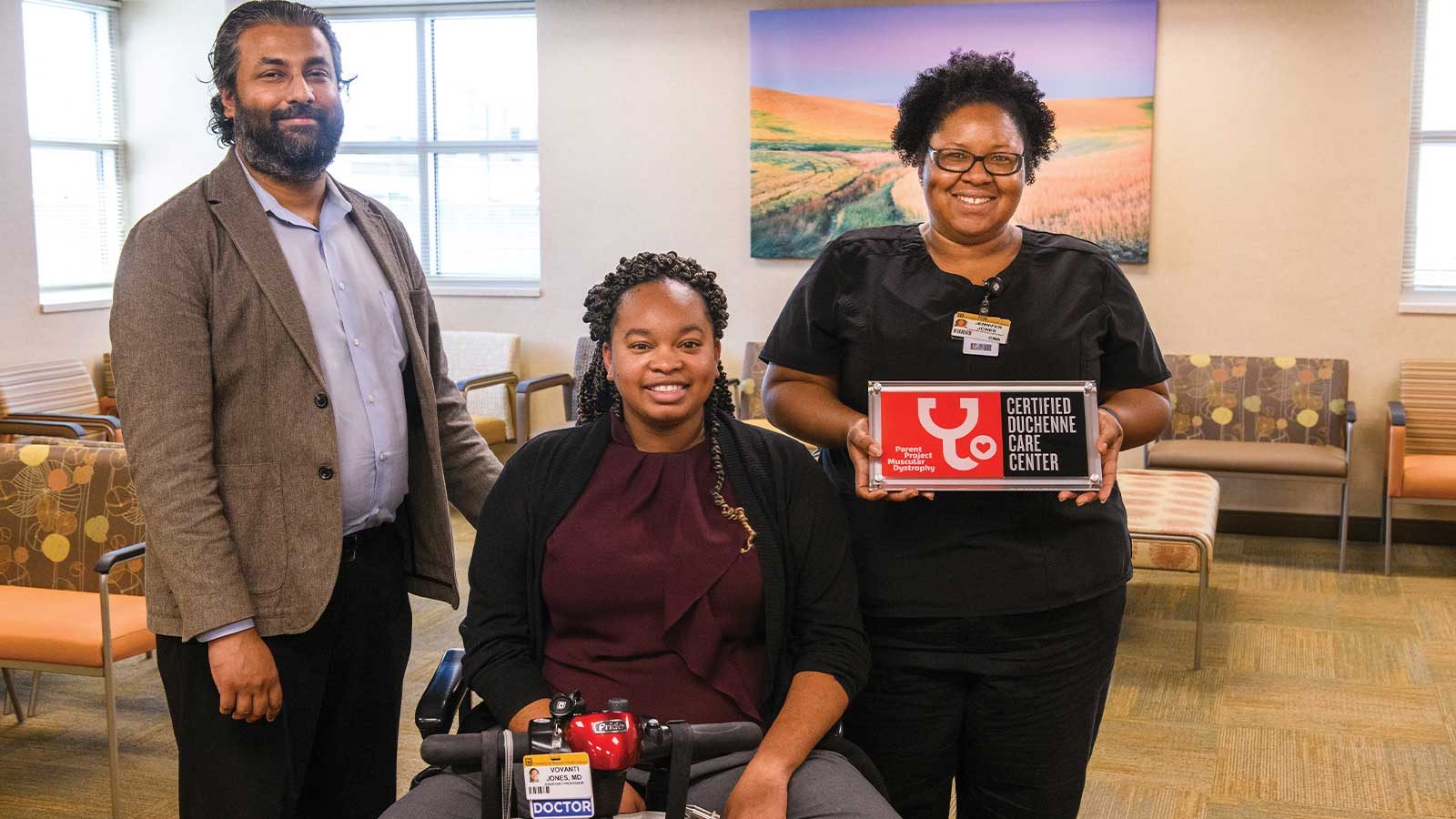 The latest news featuring MU Health Care, Shelter Insurance, Job Point, and more.
First Adult Certified Duchenne Care Center
MU Health Care has been named the first Adult Certified Duchenne Care Center by Parent Project Muscular Dystrophy; a nonprofit organization dedicated to leading the fight to end Duchenne muscular dystrophy. The new adult certification means MU Health Care maintains the highest standards in clinical and sub-specialty services for Duchenne patients, rapidly implements new evidence-based knowledge, and complies with standards and care established by the Centers for Disease Control and Prevention.

Job Point & Missouri River Relief Team Up
In October, Job Point and Missouri River Relief hosted the second annual Stewardship on the Missouri River, an education program with the goal of taking YouthBuild AmeriCorps students on the Missouri River for hands-on learning about the Big Muddy. Coming from St. Louis, Columbia, and the Kansas City area, students spent half their time learning about wildlife and careers on the Missouri River and half their time working together in service to the Missouri River.

Shelter Insurance Wins Award
J.D. Power presented Shelter Insurance an award for being "Highest in Customer Satisfaction among Auto Insurers in the Central Region" in the J.D. Power U.S. Auto Insurance Study. This is the third time Shelter has received this honor. The study asked customers to provide feedback about their overall satisfaction with their auto insurance company in the following study factors: interaction, policy offerings, price, billing process and policy information, and claims. The study, which was fielded from February to April, is based on evaluations from 3,447 customers.

Hickman Students Compete in Esports Competition
Students at Hickman High School recently competed against CPS Superintendent Dr. Peter Stiepleman and Abe Bahadori, president-elect of the Columbia Public Schools Foundation, in an esports competition. The students are part of Hickman's first esports club. Hickman currently has two clubs, with two teams for each game, League of Legends and Overwatch. Andrew Bechtel, learning specialist for math at Hickman, serves as the clubs' sponsor and coach.

Compassus Awarded Hospice Accreditation
The Compassus hospice program, which has a location in Columbia, has been awarded Community Health Accreditation Partner accreditation under the Hospice Standards of Excellence. The accreditation demonstrates that Compassus meets the industry's highest nationally recognized standards for quality and compliance. The mission of Compassus is to provide high-quality, compassionate hospice care to improve quality of life for patients and their families.

Global First Responder Partners with U.S. Navy
A Columbia-based nonprofit humanitarian relief organization, Global First Responder, is deploying a team of medical personnel to join the U.S. Navy ship USNS Comfort for the ongoing operation "Enduring Promise." Led by Dr. Adam Beckett, an emergency room physician at MU Health Care and founder of GFR, the team will consist of eight volunteers. They will work alongside USNS Comfort's crew to provide medical, dental, and surgical services to those in need.

10th Annual Harvest Hootenanny
The Columbia Center for Urban Agriculture hosted their 10th annual Harvest Hootenanny in early October. The event celebrated local agriculture and the completion of another successful growing season. CCUA closed down Smith Street, in front of the Urban Farm, to serve a large Missouri-grown meal with local beer and wine in the Biergarten. Attendees also listened to live music, played games, entered into a raffle, and hung out in the garden.