Nourishment for the Mind, Body, and Spirit
Photos by Sadie Thibodeaux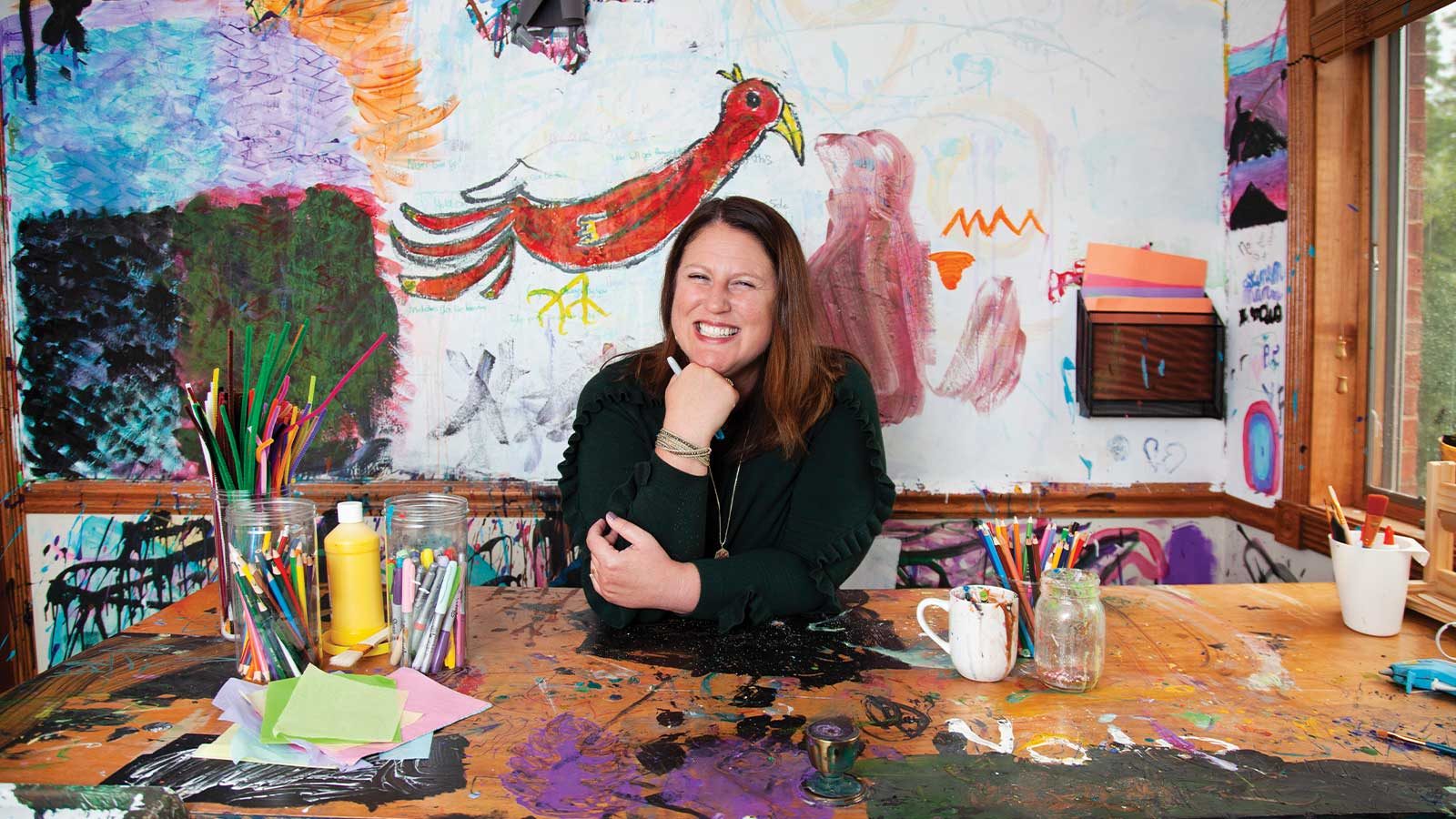 Kate Weir brings wellness professionals and mental health specialists together under one roof.
Mental illness continues to be misunderstood and highly stigmatized in the U.S., though a more holistic awareness of mental health issues is on the rise — perhaps because suicide is the second leading cause of death in people ages 10 to 34. But the stigma might explain in part why, despite the fact that as many as one in five American adults experienced a mental illness in 2018, only 43.3% received treatment, according to data from the National Alliance on Mental Illness.

Despite, or perhaps because of, this stigma, some half a million Americans like Kate Weir are licensed professional counselors.

"I've always been interested in humans and how we work," Kate explains about her decision to become a professional therapist. "I also feel things very deeply, which is a blessing but also something I've had to learn how to navigate. And I like helping others learn to navigate that, too. I'm a helper."

When you first meet Kate, it's not hard to see that she chose the profession for which she is most suited.

The Columbia native, Hickman High School alum, and MU grad is a licensed professional counselor supervisor, registered play therapist supervisor, mom, wife, and business owner who effortlessly exudes warmth and empathy. With a generous spirit and bright smile that could put anyone at ease, it's no wonder that she's a natural at working with children.

Kate is the founder and owner of a unique business called the Kindred Collective, a healing, wellness, and expressive arts collective that "offers nourishment for the mind, body, and spirit." The collective, which is housed in two floors of an office building in Victoria Park on Forum Boulevard, opened in February of 2018.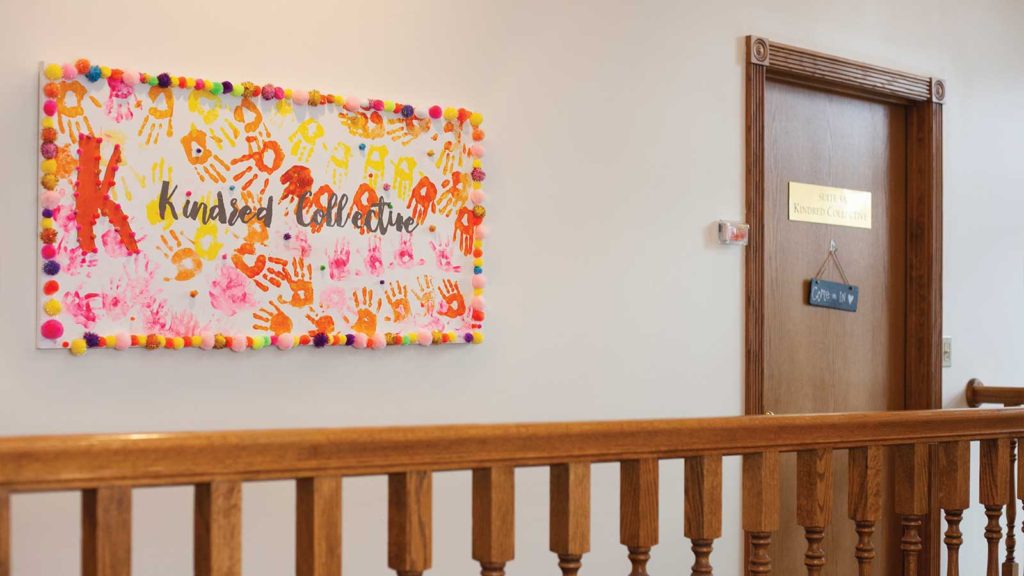 A Sense of Community
Each room reflects Kate's unpretentious, playful vibrancy, with comfortable furnishings, fun art, and framed inspirational quotes hung all around. A wooden sign in the second floor waiting room succinctly captures her approach to mental health with an inscription that says, "Together is a wonderful place to be."

The collective has 20 wellness professionals and mental health workers specializing in different areas of healing, such as play, movement, and music therapies; massage; Pilates; Emotional Freedom Technique; psychiatry; and group, family, and couples counseling. (She has plans for bringing on a registered yoga instructor, too.) Kate's vision for the collective was to "shepherd them all together."

"I'm a huge believer in the power of community," Kate says. She was an elementary school counselor for many years, where she got used to being surrounded by colleagues and co-workers who worked collaboratively to solve problems or teamed up in supporting a student. After leaving, she went into private practice because she wanted to do play therapy all of the time.

"In play therapy, a child works through their emotions and learns new skills and processes their feelings and events primarily through play, the same way that an adult would process through language," Kate explains. "Play is their natural language because they can't yet process verbally like we do [as adults]."

But she quickly learned that being a private practitioner can be isolating. She missed the collaboration and pooling of talents to support a child. And so her idea for Kindred Collective was born.

"We are a wellness collective, so we're made up of practitioners that represent all different aspects of the wellness field," she says. "We have several different types of counselors and wellness professionals — several of us are registered play therapists, so many of us specialize in working with kids and families, while others specialize in adults and adolescents. We cover all ages."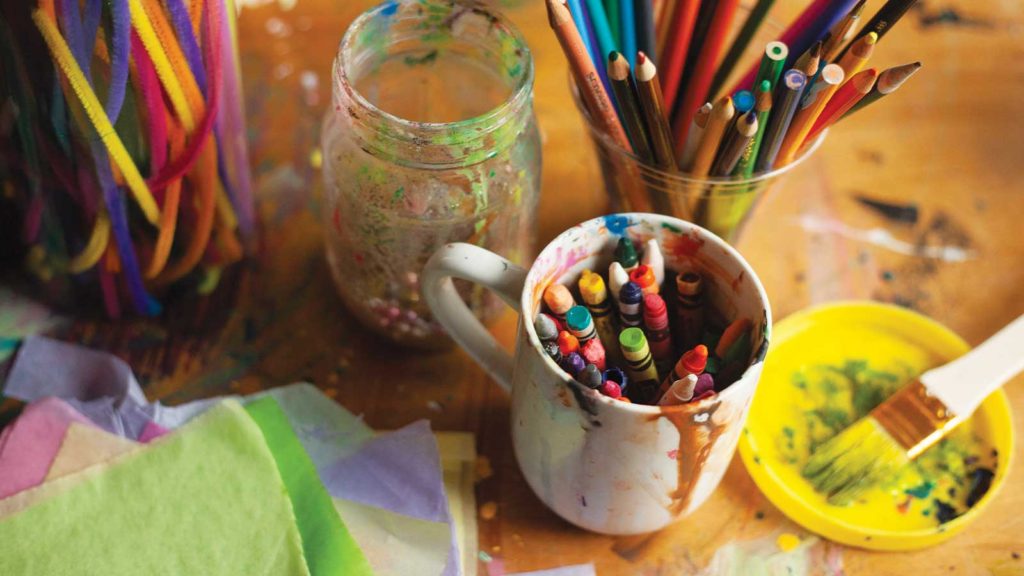 A Varied Membership
Each member of the collective owns their own business or practice, which allows each the freedom to set their own pricing and payment options, as well as hours and caseload, while benefiting from the collaboration of collective members. Giving Song LLC, for example, is a collective member comprised of several certified music therapists. The company's website describes music therapy as "the clinical and evidence-based use of music interventions to improve communication, enhance memory, promote physical rehabilitation, alleviate pain, and manage stress" and says it can benefit those with learning disabilities, autism, Alzheimer's and dementia, and traumatic brain injuries, as well as expectant mothers.

Dedicated play therapy rooms are stocked with toys, sand trays, and artwork depicting various emotions. There aren't any art therapists in the collective currently, but art rooms stocked with paint and all manner of crafting supplies are actively integrated into the work of the various members.

The second-floor art room has been splashed in many layers of paint from floor to ceiling. Kate jokes that she's in denial about getting the deposit back on the rented space as she eyes paint that was flung onto windows, blinds, and trim.

Corri Flaker, licensed massage therapist, practices craniosacral therapy, or CST, at the collective. CST is an alternative therapy; practitioners claim that CST's light-touch technique improves the functioning of the central nervous system to alleviate stress and pain. Corri offers CST to expectant mothers, new mothers and their babies, and anyone else who could benefit from the therapy.

Even the second floor waiting room was designed with the intention of providing activities and refreshments that waiting parents and siblings can enjoy together.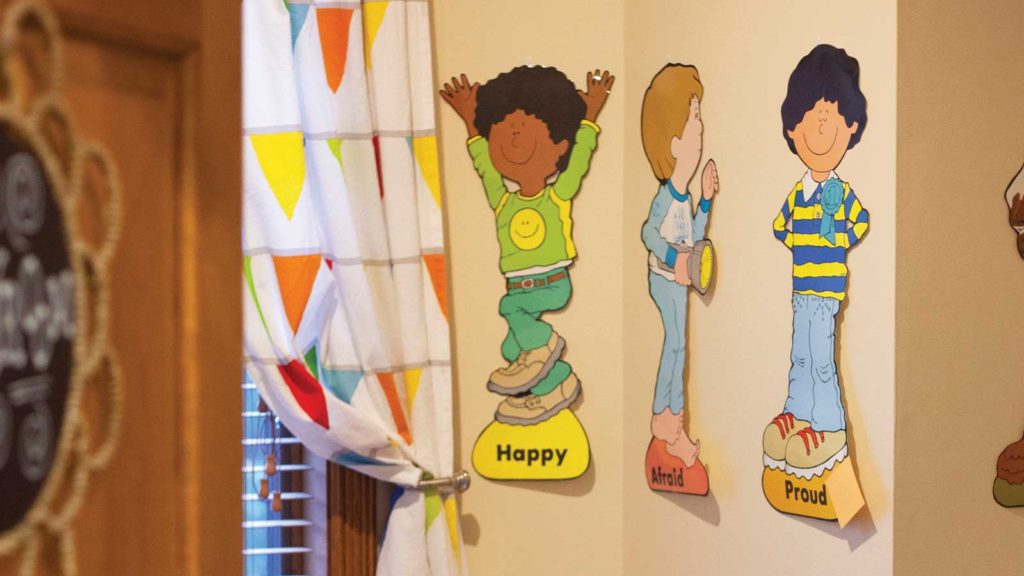 An Integrated Approach
"We have some clients who might come to see one of us," says Kate, "and then we have some clients who might work with a few of us, and that's really cool because then we have a wellness team that works together to support an individual or family. It's this whole idea that, as humans, we're multifaceted and we have all these different aspects to our being and to our wellness, and it's really cool to be able to offer an environment where all different components of our wellness can be supported."

Kate says that this kind of integrated approach is gaining more and more attention in the mental health field. She adds that it's awesome to be able to help multiple members of the same family, because "if a kiddo is struggling, a lot of times a parent is also struggling because of their child's struggle."

"It's a privilege and an honor, but very challenging," Kate says of the work the collective does. "It's beautiful people doing beautiful work."