Photo courtesy of Kaci Smart at Columbia College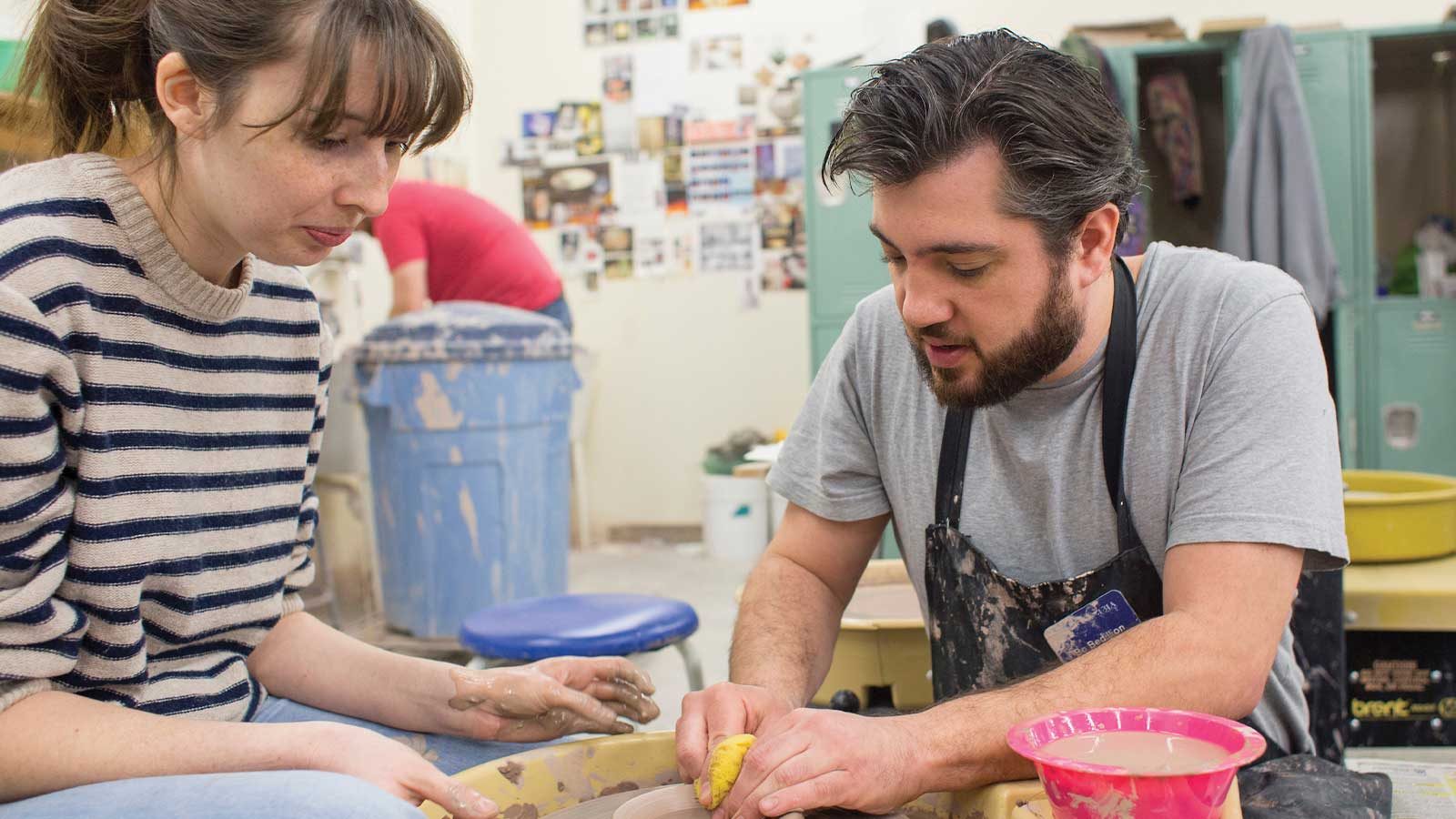 Potter Bo Bedilion stays active in the world of ceramics.
Bo Bedilion isn't afraid to put a lot on his plate. For almost ten years, Bo has been juggling responsibilities as a professor and gallery director at Columbia College; all while maintaining his personal artistic career as a potter. While fulfilling three distinct roles has its challenges, Bo says that passion for the pottery drives his artful balancing act.

Bo was first introduced to pottery during his senior year of high school. "I just fell in love with it," he says. "At the time, I was really unsure about what I wanted to do with my future. My art teacher told me that I could go to college and study pottery. In the late 1990s, I had no idea that was an option for me, that I could make a career out of pottery." He embraced that new option soon after, eventually completing both his BA in Art from California University in Pennsylvania and his Master of Fine Arts in Ceramics from Kansas State University.

After finishing school, Bo moved to Columbia in 2010 to teach as a ceramics professor at Columbia College. Two years later, he became the director of the Greg Hardwick Gallery. As director, Bo says he curates artists to include in the gallery, organizes special events, and maintains the gallery space. "We bring in regional, national, and international artists to show in the space," he explains. "As well as hosting students' Bachelor of Fine Arts degree exhibitions."

Being busy hasn't prevented Bo from committing his attention to both his students and his personal projects. At the college, Bo says he enjoys experimenting with new equipment and showcasing student work.

"We have two new kilns at Columbia College," he says. "I'm really excited about introducing some new techniques and new glaze surfaces to students this fall."

Additionally, Bo helps host a student-run pottery sale at the end of every semester. "It's been really great for the students to be able to showcase their work, as well as introduce functional and sculptural pottery to the larger community on campus," he says. "It's almost a celebration of our achievements and our creations throughout the semester."

Outside of teaching, Bo's professional creativity is able to flourish thanks to careful time management.

"I get a lot of my personal work done over the school breaks," he explains. "If I'm not traveling, I'm in the studio. I split my time between my home studio and my working studio at the college, so wherever I'm at, I have access to work."

Bo describes how he has broadened his artistic horizons even in the past year. He says he used to concentrate on making round, wheel-thrown pieces, but lately, he's been crafting collections of seven-by-seven inch plates (pictured above). "I've been interested in the idea of being able to hang up these groups of plates, developing a composition as a group, and then taking them down and being able to use them for dinner service," he describes.
For Bo, the plates represent a new creative angle. "I found that once I made these plates, I was dealing with this flat, almost two-dimensional surface," he says. "I had this canvas to showcase glazes. So I'm developing new designs and patterns, drawing from different sources of inspiration and influence." He cites Columbia's lakes and streams as sources of inspiration, as well as colors and textures from his urban travels.

Whether he's scheduling a gallery lecture or glazing in his home studio, Bo is sure to stay busy with one pottery project or another. "Pottery has taken me all over the country, to different opportunities, and I finally landed here in Columbia," he says. "It's evolved and I've stuck with it."