Teamwork Makes the Dream Work
photos by Keith Borgmeyer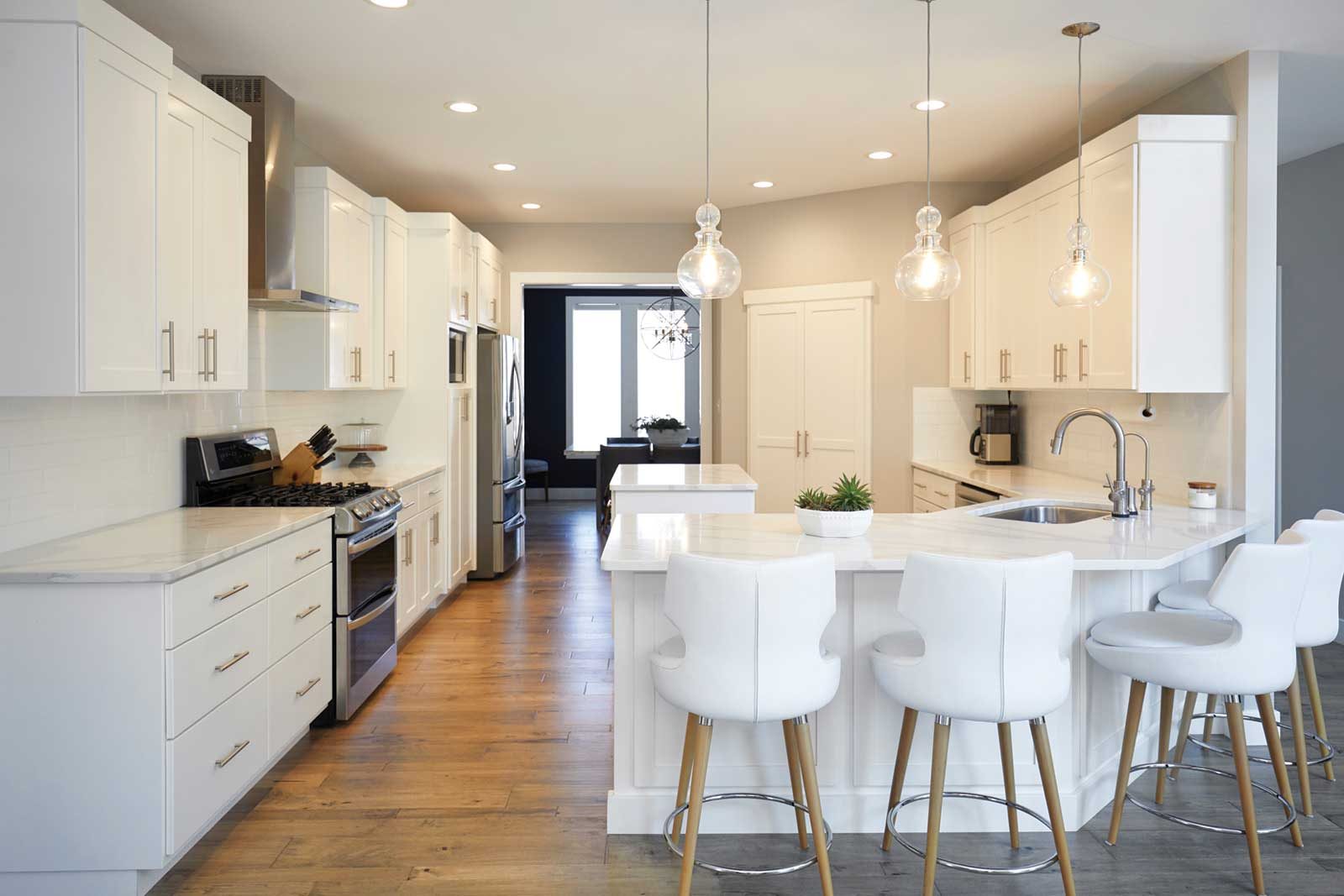 At home with Darin and Holly File.
When it comes to sports, Columbia couple Darin and Holly File are real, well, sports.

"I would classify myself simply as a fan of sport," says Darin, owner of File Construction. "I enjoy competition, so I will watch about any sport no matter what teams are playing."

Darin is a self-proclaimed "huge Mizzou fan," but the fandom doesn't end there.
"I grew up a big Kansas City fan, so I still root for all KC sports," says Darin. "Holly grew up a Cardinals fan, so I also pull for them now."

Holly, who grew up in Springfield, says she simply "loves sports," but especially soccer and baseball.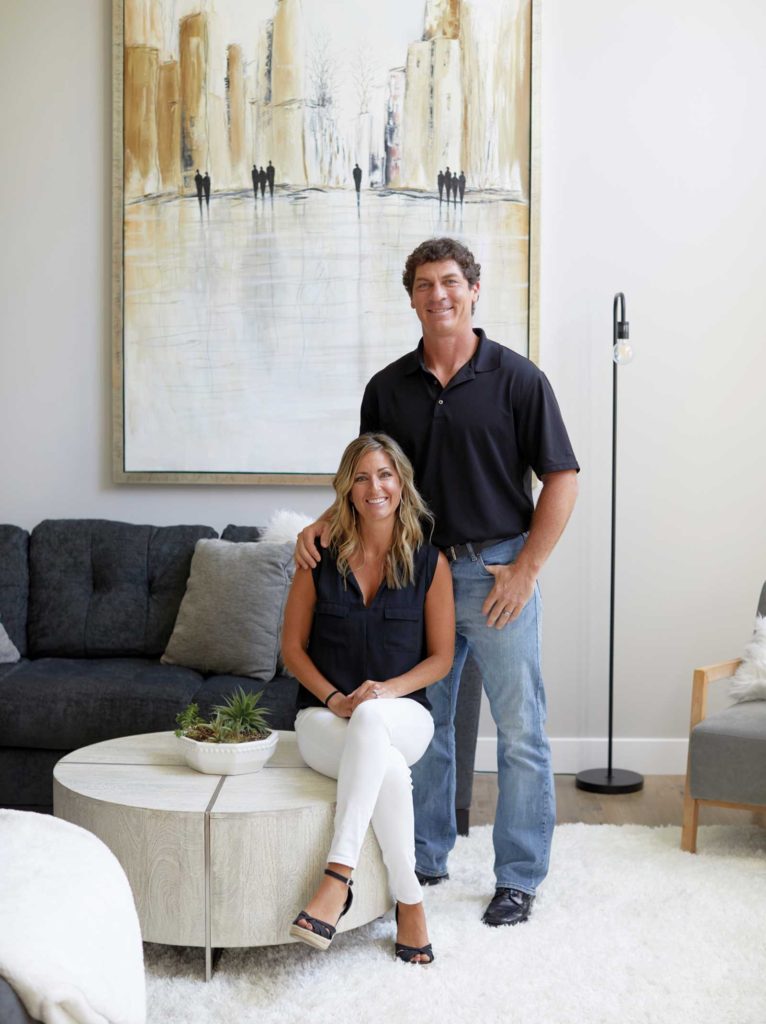 "I have always been a St. Louis Cardinals fan," says Holly, "but my favorite games to watch now are of our very own little athletes."

The Files' son Carson, age 9, plays competitive soccer and baseball, as well as basketball. Their daughter Kylin, age 7, does gymnastics and dance and is looking forward to starting softball.

As young athletes, the File children are naturally following in dad's footsteps.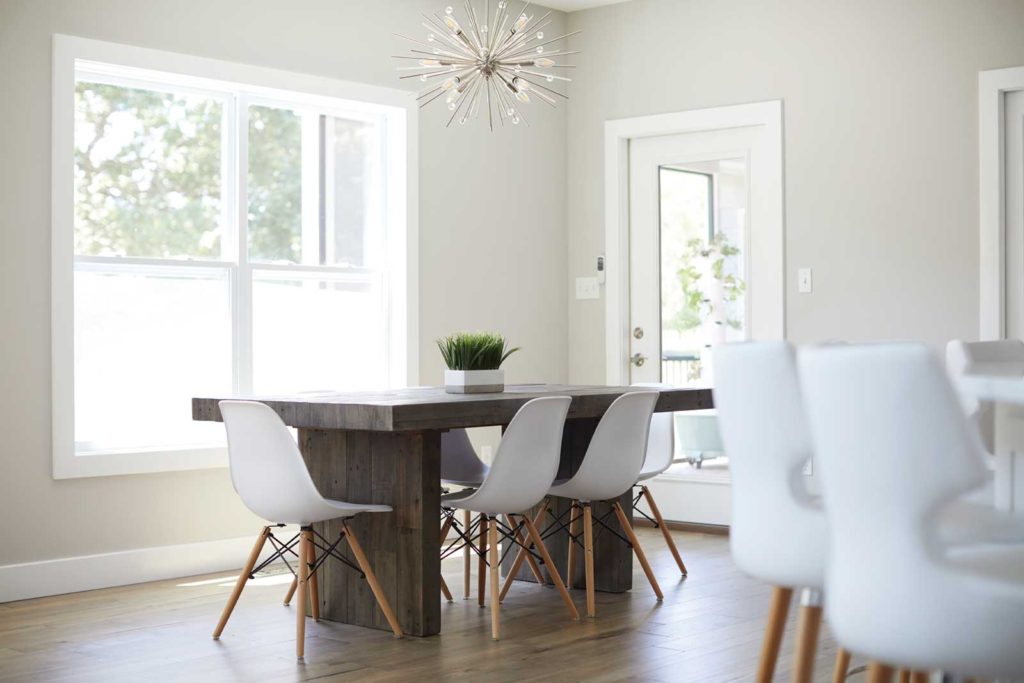 The Road to Greatness
Darin was born and raised in Beloit, Kansas, a small town in north central Kansas. He claims he has never liked the Jayhawks. (He kindly asks that you don't hold his home state against him).

A track scholarship first brought Darin to Columbia in 1995, which led to a successful javelin career at MU.

"It was a challenge adjusting from small-town living to Columbia," says Darin. "I came from a town of 4,000 people, where I knew everyone, to Columbia, where I only knew the coaching staff. Coach Rick McGuire and Coach Brett Halter helped me get acclimated to Columbia. They were both very involved in my growth as a student-athlete and provided all the opportunities needed to become a successful athlete and ultimately qualify for the Olympic trials."

Darin's legacy as a Mizzou athlete includes a bronze medal at the 1995 Junior Pan American Games in Santiago, Chile; a 1997 Big 12 Championship; participation in the 1999 World University Games in Palma de Mallorca, Spain; three All-American awards; and a ninth-place finish at the 2000 Olympic Trials. Whew!

"Initially, the balance between schoolwork and athletics was a struggle," admits Darin. "I went to two days of class and then left for Chile for 10 days. The athletic department provided all the necessary help to get me caught back up."

"Caught up" would be an understatement. Darin graduated cum laude from MU's business school with a dual degree in marketing and management.

Darin tried his hand at a couple of office jobs before realizing that he truly wasn't a "suit and tie guy." Having grown up on a large family farm, he was more of a "hands-on type of guy," so he tried those hands in the construction industry.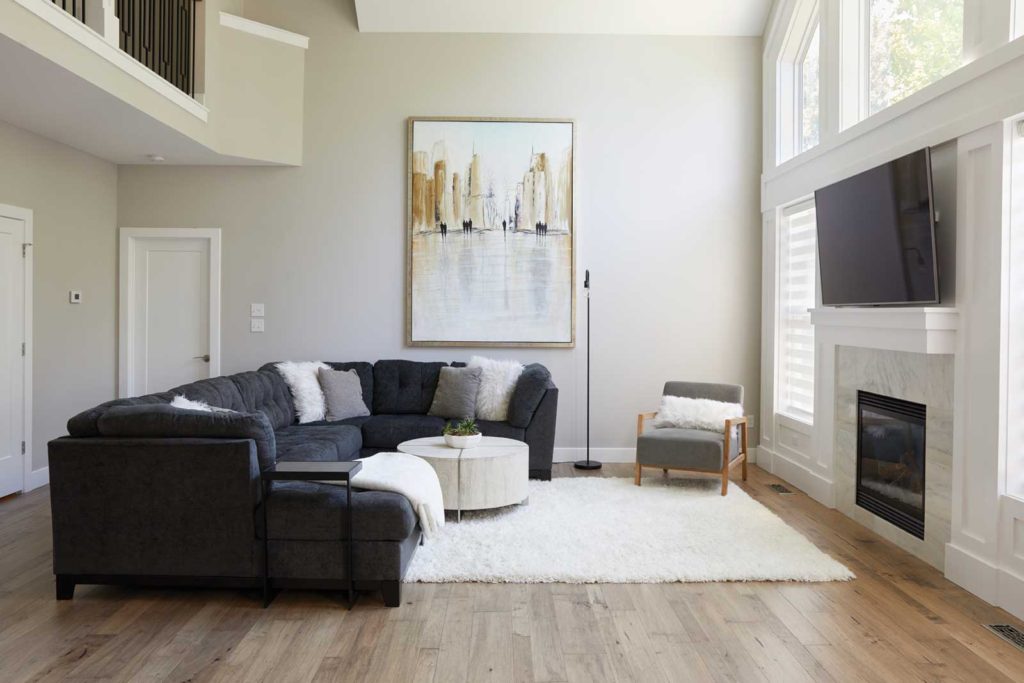 Team Building
Darin and Holly met at the old Shiloh Bar and Grill and were married in 2006, after Holly graduated from MU. After three years of learning the construction business, Darin founded File Construction LLC in 2005.

"I don't know that my athletic career has inspired my business career, but it has definitely influenced it," says Darin. "I run my business as if it were a big team with a lot of moving parts. All of my suppliers and subcontractors serve very important roles in the success of File Construction."

File Construction's services started with basement finishes and small remodeling projects and gradually evolved into larger remodels and additions before the Files decided to offer new construction services.

"One of the greatest satisfactions of construction is taking a project from ground zero and turning it into a beautiful home or addition, exceeding my clients' vision of their dream home," says Darin. "One of the best aspects of my job is being able to meet and work with great people in the community. I have been extremely fortunate to work with some amazing people."

Holly, who has a BFA degree in graphic design with a minor in environmental design from MU, does the design work for the new homes as well as some design for remodel projects and custom homes, depending on the needs of each client. In addition to her own contributions in the construction business, Holly manages the team at home as a full-time mom. She also does some health coaching and creates large, abstract paintings.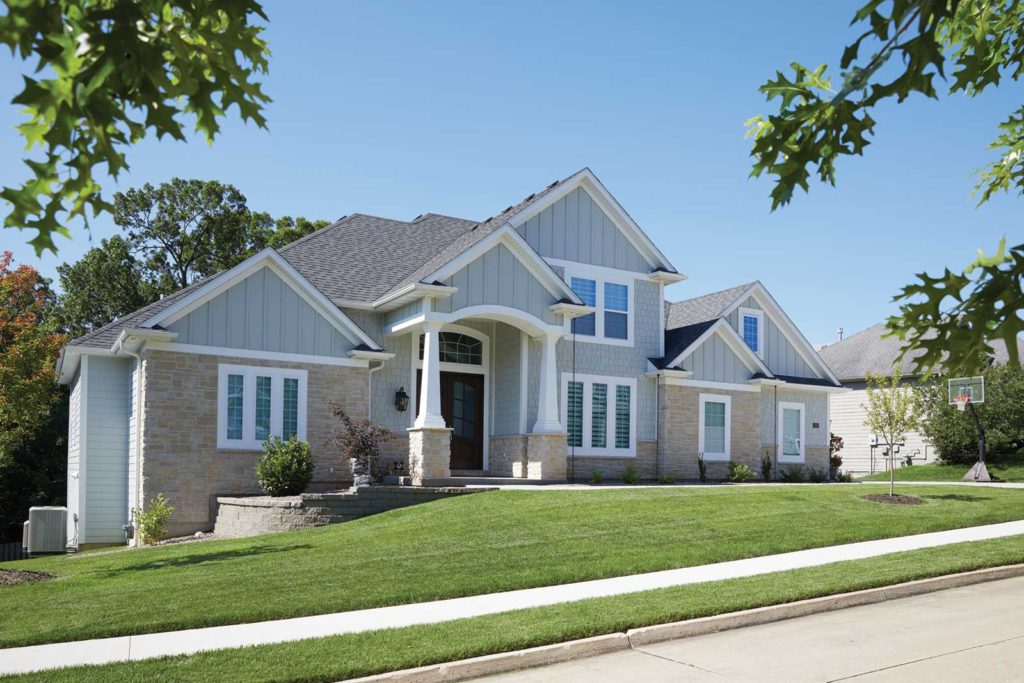 Home Base
The Files' current home in the Cascades subdivision sits right next to one they previously designed, built, and lived in. Practice, indeed, seems to make perfect.

"Holly did an amazing job designing our house," says Darin. "Every room has a unique feature that sets it off."

Accenting the crisp, mostly light gray and white walls and cabinetry of the two-story home could be anything from eye-catching chandelier, deco, or pendant lighting to incorporated, reclaimed materials. Holly notes that attention to design detail was a priority.

"The accent ceilings and walls throughout are my favorite features for sure," says Holly. "Each room was designed with its own personality, with clean lines and a variety of mixed materials to create spaces that are both inviting and beautiful."
Everyone in the family seems to favor a different area.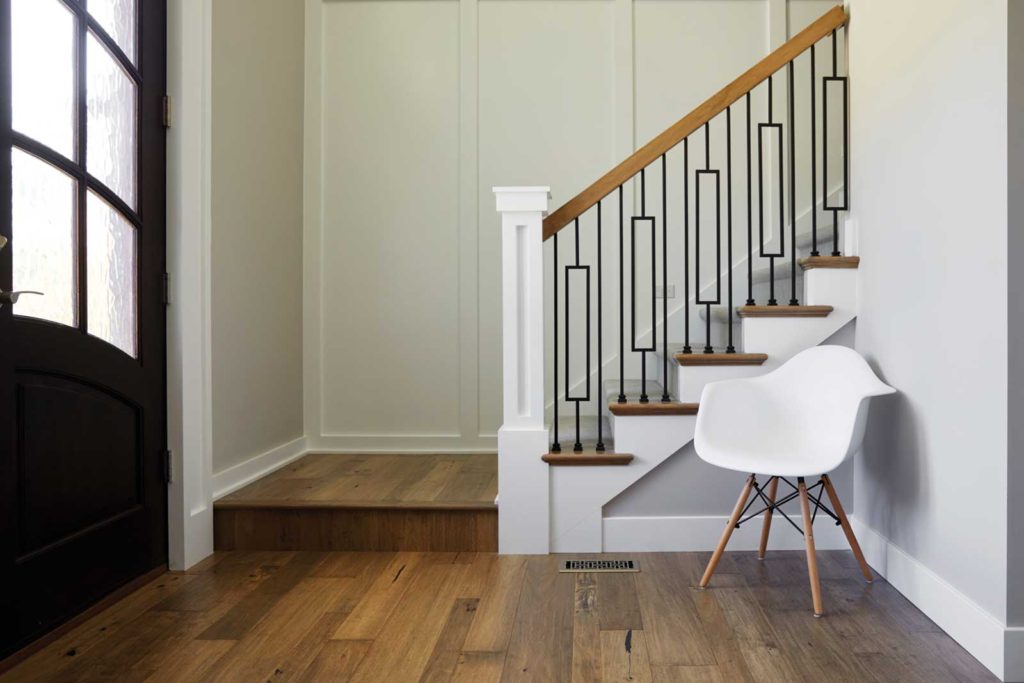 "I would say that the living room is probably my favorite," says Darin. "Its wall of windows, vaulted ceiling with a beam, openness, and functionality make it the most used room in the house."

While the upper levels of the home are reserved for everyday easy living, the basement has been converted into an "indoor outdoors" and game room, complete with a soccer field, pinball, darts, and a ping-pong table.

"The kids' favorite room is the soccer and sports room," says Holly. "We didn't want to do the typical sports bar look with all the memorabilia. We suspended the three-car garage and put turf down, turning it into a multi-purpose sports room where the kids can play year-round."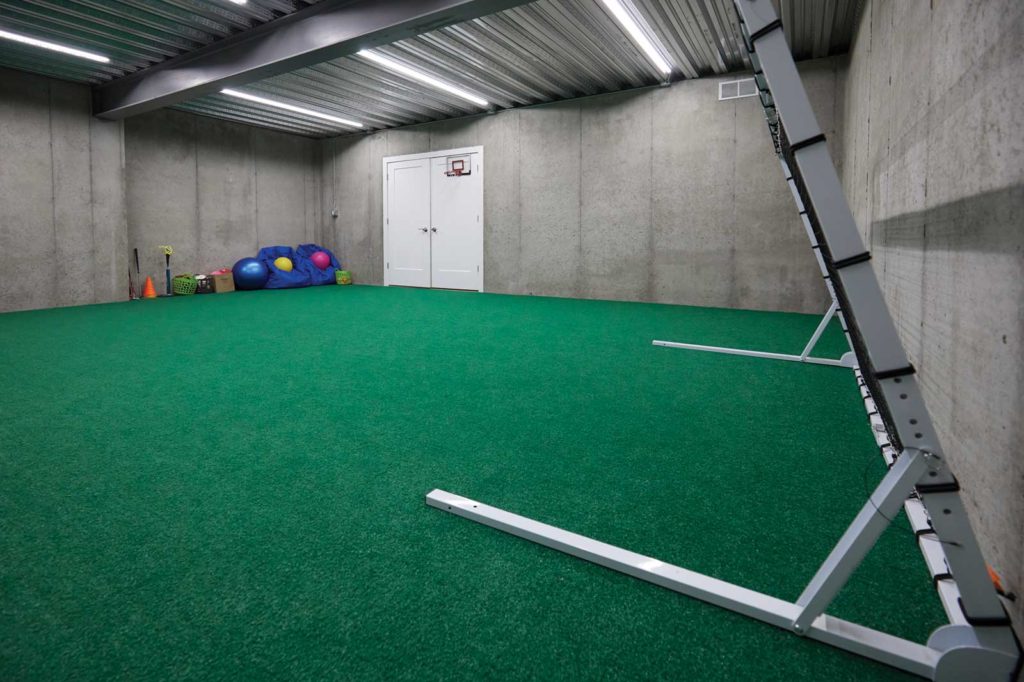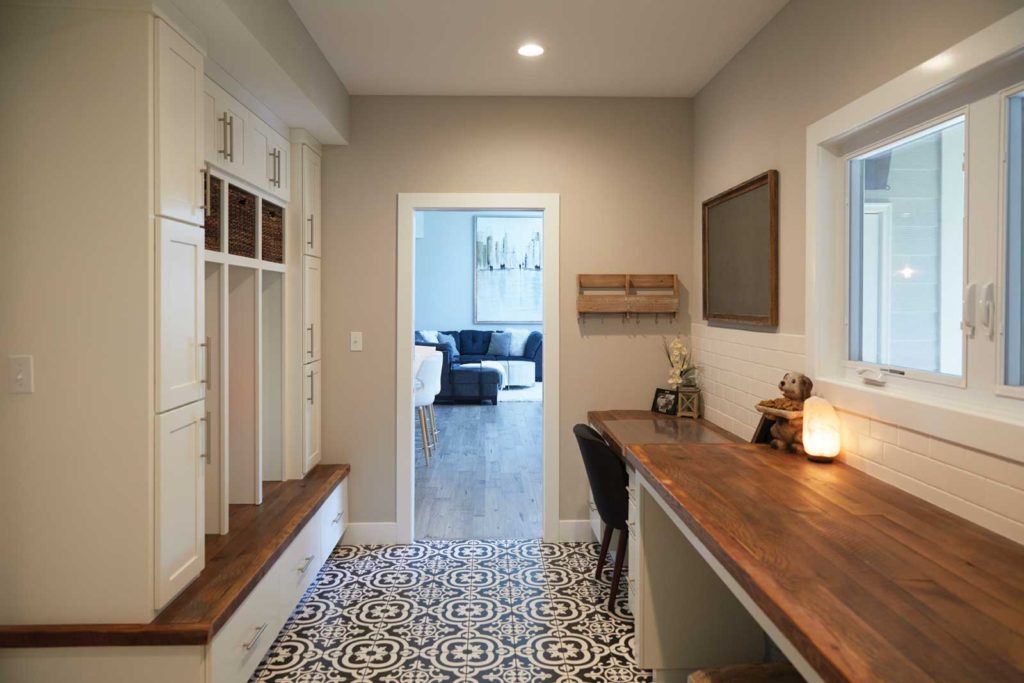 Not only is Holly's keen eye for design reflected around every corner of the home, but she also favors practicality. Her own favorite room is either the laundry room or the kitchen, "because they're the most functional rooms in the home."

"The laundry room is both functional and beautiful, with gorgeous flooring, thick, reclaimed barn wood countertops throughout, ample storage, a desk and command center, and even a space for pets," says Holly. "There really isn't a room that I don't love!"

It looks like this team truly made their dream work.